The Top 11 2014 Recruits Alabama Is After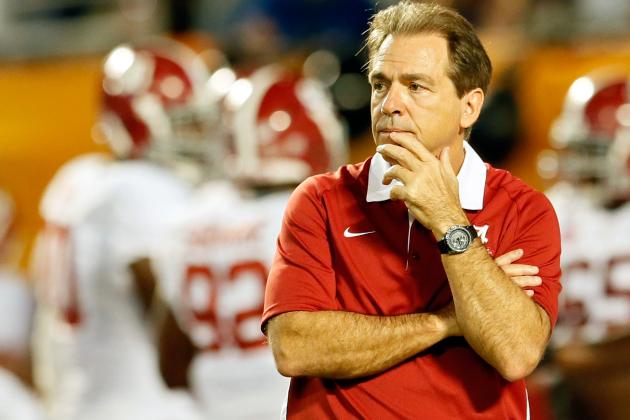 Kevin C. Cox/Getty Images

The Alabama Crimson Tide have won two consecutive BCS titles and three in the past four years. They'll be the favorites to win a third consecutive title this 2013 season and also just signed what many consider to be the nation's No. 1 recruiting class.
Alabama is clearly the premier college football program in the game today.
The Crimson Tide recruit at a high clip, and Nick Saban could go down as perhaps both the best on-field head coach and recruiting head coach in college football history. So when 'Bama goes after a recruit, it's a big deal and the team usually lands its targets.
This piece will be a straightforward look at the top 11 prospects Alabama is after and has a solid chance to land.
Begin Slideshow

»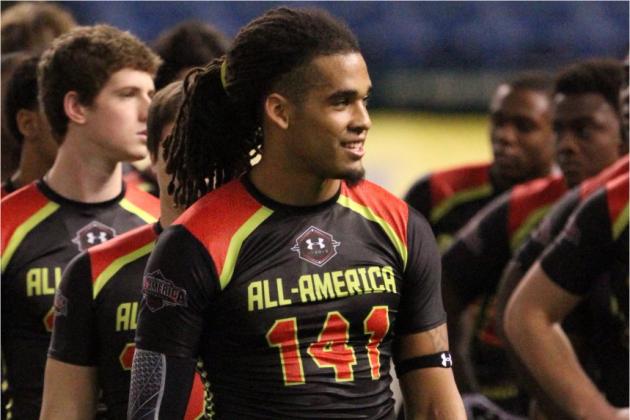 247Sports
I'm not as high on Daub as others are, but he's a good player nonetheless. From Florida, Daub is a 6'3" LB who weighs around 240 pounds.
He's not the most fluid guy when I watch him, but he would fit well in Alabama's 3-4 scheme as an ILB. Daub can attack the line of scrimmage downhill, has good point-of-attack strength and flashes wrap-tackling ability as a thumper.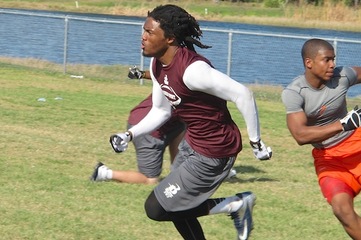 247Sports
Lane is from Florida and is one of the top WR prospects in the country. He's about 6'2" and weighs close to 200 pounds.
Strong in his release off the line, Lane has good speed in his route running and can uncover at junction points more than adequately. His hands and ball skills are his biggest assets, as Lane catches in crowds really well.
Alabama already struck gold with Amari Cooper from Florida, so the Crimson Tide are looking to do it again.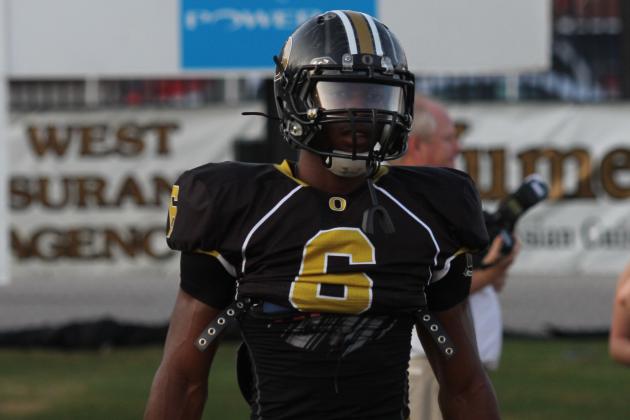 247Sports
After signing four good RB prospects in 2013, you might think 'Bama would be done with RB recruits for two years.
You'd be wrong.
Alabama is after Thomas, a 5'11" RB who weighs just about 200 pounds and has a good skill set. From Alabama, Thomas has good speed and power and likely will get up in the 220-pound range in college.
Auburn and Georgia could be the Tide's biggest competition for him.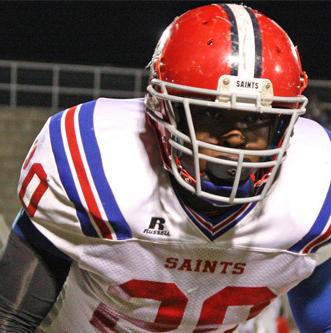 247Sports
Another in-state prospect for the Tide, Williams is a 6'2", 226-pound 'backer who fits just about everywhere. He can play inside and outside, although I like him best in the middle.
Williams has quick ball-location skills, can fill gaps quickly in his run fits and has solid speed to chase to both edges of the box. He'll hustle in coverage and also has a solid work ethic.
If he doesn't land in Tuscaloosa, then he'll likely end up at Auburn.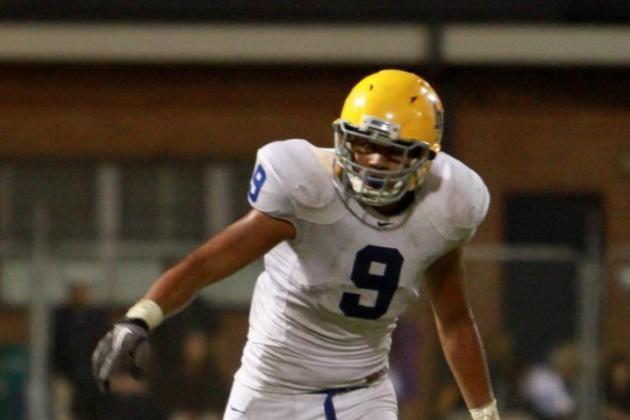 247Sports
It's not often that Alabama goes into California looking for a player, but Luatua's talent is commanding people from all over the country to check him out.
At 6'4" and 230 pounds, he's a great TE prospect who could be a complete seam player. Luatua has soft hands, can work as a joker-TE and also is a willing blocker.
His brother is already at Alabama.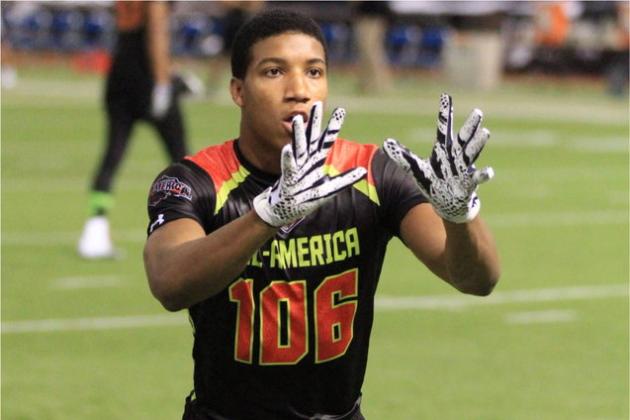 247Sports
Humphrey has been listed as big at 6'1" and 175 pounds by some people, and he looks every bit of it. He's very long and has the ability to reroute WRs and completely wash them into the boundary.
Humphrey also anticipates routes well and can sit in off-man coverage and use his transition quickness to break on passes to make plays. He should become a very good college perimeter defender.
With 'Bama looking for CBs in this class, Humphrey could be a top target.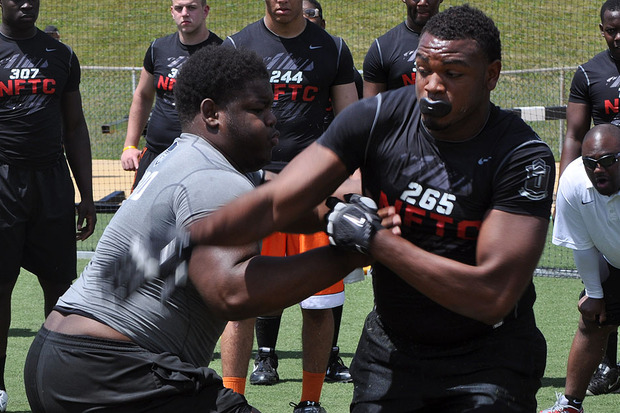 247Sports
The defensive scheme ran by the Crimson Tide calls for strong and versatile DL prospects who can hold up in the interior part of the trenches.
Brown can hold up and then some. From Virginia, he's a 6'4" DT who weighs close to 295 pounds and has excellent play strength, quickness and hand-usage ability.
The Virginia schools and Michigan could be hard to beat, but with Reuben Foster and A'Shawn Robinson last year, we've learned never to count Alabama out for a recruit.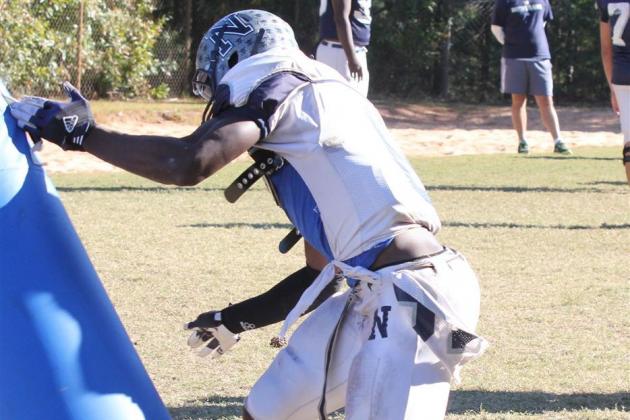 247Sports
Tim Williams and Jonathan Allen signed up last year as hybrid DE/OLB rushers for 'Bama, but the Tide are going to go after more.
Starting with the Georgia native Carter isn't a bad idea. He's already 6'6", weighs 232 pounds and has elite pass-rushing ability.
Carter can fit well as a standup rush end for the Tide who pressures passers while also helping out in combating the run. Alabama could be a team to watch for him.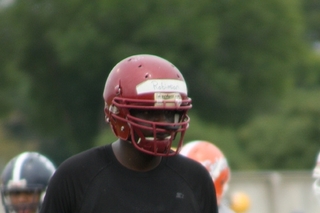 247Sports
Robinson is a high-priority prospect for Alabama for a couple of reasons.
First, he plays LT, and that is a position of need for the Tide in this recruiting class after missing out on Laremy Tunsil.
Second, Robinson is from Louisiana, and one of Alabama's rivals in LSU is also recruiting him.
A program never want to see its rival get stronger. The fact that Alabama can strengthen its OL unit while taking a prospect from a rival has to fire up the Tide coaches.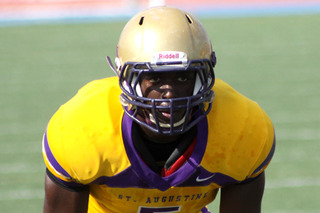 247Sports
Fournette is also a top target of LSU, so it would be sweet for Alabama to steal him away from one of its bitter foes. I think he winds up in Baton Rouge, but what do I know?
Unlike Robinson, the 6'1", 225-pound RB isn't of great need to the Tide, but he's such a special runner that he's wanted by everyone, including Alabama.
Just because Nick Saban got four good backs last year doesn't mean he's going to overlook exceptions like Fournette.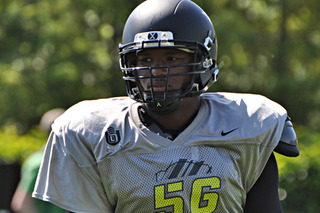 247Sports
Michigan could be the school to beat for the nation's No. 1 player, but Alabama is going to keep pursuing him in all likelihood.
Hand is a great DE prospect. At 6'5" and 247 pounds, he could play in a two-point stance as an OLB and put his hand down in sub-packages. He's explosive at the snap, has very good strength, uses his hands very well and could be a dominant pass-rusher one day.
He's the top prospect for Crimson Tide to to go after in 2014 recruiting.
Edwin Weathersby is the College Football Recruiting Analyst for Bleacher Report. He has worked in scouting/player personnel departments for three professional football teams, including the New York Giants, Cleveland Browns and the Las Vegas Gladiators of the Arena League. He spent a year evaluating prep prospects and writing specific recruiting and scouting content articles for Student Sports Football (formerly ESPN Rise-HS). A syndicated scout and writer, he's also contributed to WeAreSC.com, GatorBait.net and Diamonds in the Rough Inc., a College Football and NFL Draft magazine.