New York Knicks vs. Denver Nuggets: Live Score, Results and Game Highlights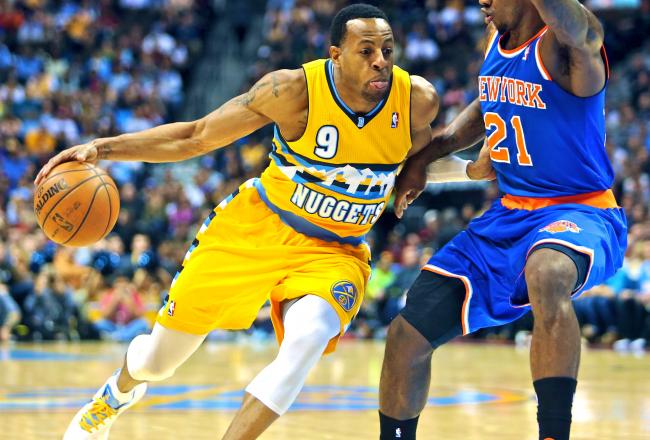 The New York Knicks rolled into Denver with the thought of getting their recent 29-point loss to the Golden State Warriors off their mind. They didn't.
New York fell to the Denver Nuggets 117-94 after the Nuggets ran, ran, and then ran a little bit more to keep the older Knicks on their heels throughout the second half. By halftime the game was over.
Unfortunately for the Knicks, that wasn't the worst part, as Tyson Chandler left just before halftime with a contused knee and Carmelo Anthony didn't make it but a few minutes into the second half.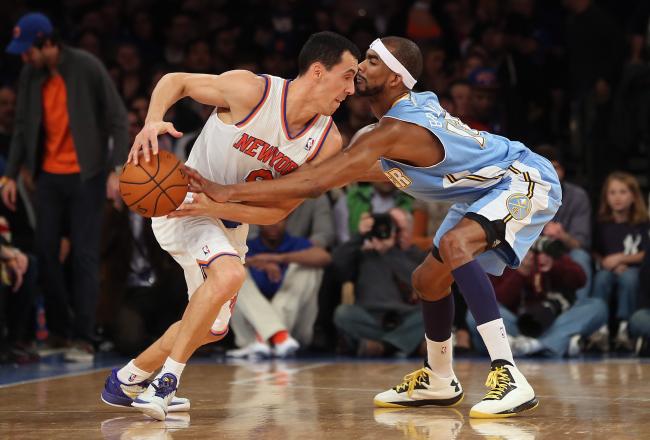 Keys to the Game
Well, this one's a pretty easy call. There's no doubt that the biggest problem with the game was that it only lasted about 24 minutes. Once Tyson Chandler went down there was no reason for the Knicks to try to run themselves ragged to get back into the game.
Denver came into the game ready to run, but the Knicks didn't. Once a lead was created, the Nuggets forced the issue, the Knicks decided they needed to score fast, but instead of getting to the rim they settled on taking jumpers. What happened? Well the jumpers didn't fall.
Only two Knicks players shot above 50 percent on the game, Iman Shumpert going 8-10 and Kurt Thomas with a perfect night from the floor, making both of his jumpers.
Defensively, New York had no way to match the pace of the Nuggets offense. They were a step too slow and collectively about a decade too old. If Denver kept running, New York wasn't going to be coming back.
In the end, Carmelo left a few minutes into the second half and both teams coasted from there.
This Nuggets team has impressed over the course of the past 10 games, impressed so much that they have become quite the talk in terms of what teams have a shot of upsetting the big boys in the Western Conference.
Nuggets 117, Knicks 94, Final.
Let's take a look at the box score from this one. First the Nuggets:

And the Knicks:

Nuggets 117, Knicks 94, Final.
Denver takes the 24-second violation and Chris Copeland dribbles the clock out. Denver has won 10 in a row and the Knicks have lost by an average of 26 points to start their road trip.
Nuggets 117, Knicks 94, Final.
It was a bit short-lived, but the Nuggets crowd breaks out my favorite chant of the night with a chorus of "Who needs Melo?"
Nuggets 115, Knicks 92 with 0:57 left in the fourth.
There's no video out yet, but here's JaVale McGee's insane put-back from the first quarter in GIF form.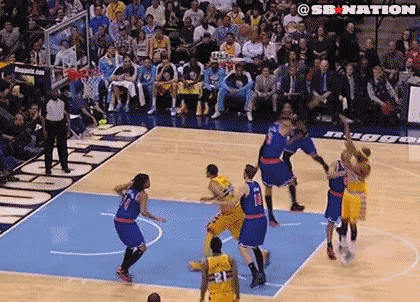 Nuggets 113, Knicks 87 with 2:10 left in the fourth.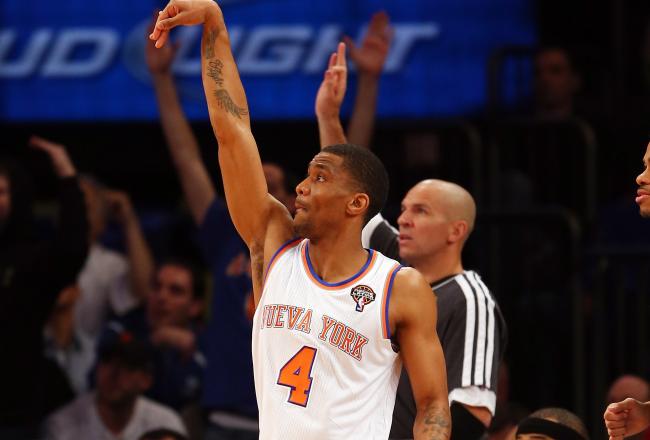 Shocking as it may seem, James White is seeing action past his usual five minutes in the first quarter. He's up to a huge 11 minutes so far.
Nuggets 111, Knicks 85 with 2:54 left in the fourth.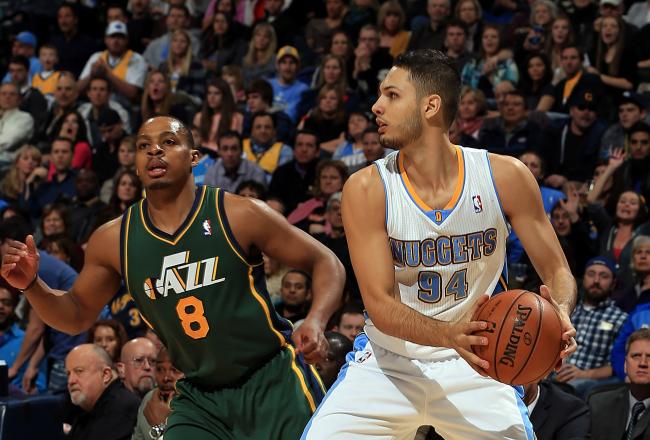 A bit of Italy-on-France crime going on as Evan Fournier gets whacked in the chest by Pablo Prigioni.
Nuggets 102, Knicks 81 with 4:16 left in the fourth.
Crowd is now alternating chants- We Want Melo and Where is Melo

— Al Iannazzone (@Al_Iannazzone) March 14, 2013
Everybody's havin' a good time. Well, except for the 15 guys in Knicks uniforms.
Nuggets 100, Knicks 79 with 5:36 left in the fourth.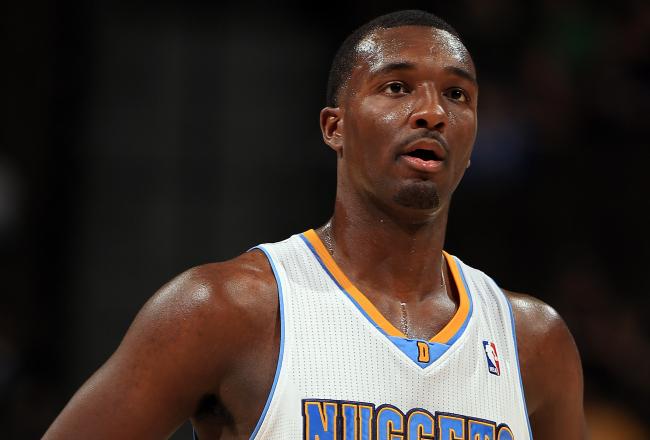 Jordan Hamilton has put in a few energetic minutes here late, grabbing a few contested rebounds and blocking a shot by a wide margin. Oh, and Evan Fournier is on the floor, which is neat.
Nuggets 100, Knicks 79 with 5:36 left in the fourth.
In case anybody missed it, here's Carmelo's introduction from back when this game had an incredibly different vibe.
It started with a few cheers, immediately drowned out by boos.
Nuggets 100, Knicks 75 with 7:50 left in the fourth.
The Nuggets fans are having a ball tonight, chanting "Where is Melo?" with nothing better to do.
That's silenced and replaced with shudders after a JaVale McGee jumper. That did not go well.
Nuggets 100, Knicks 75 with 8:46 left in the fourth.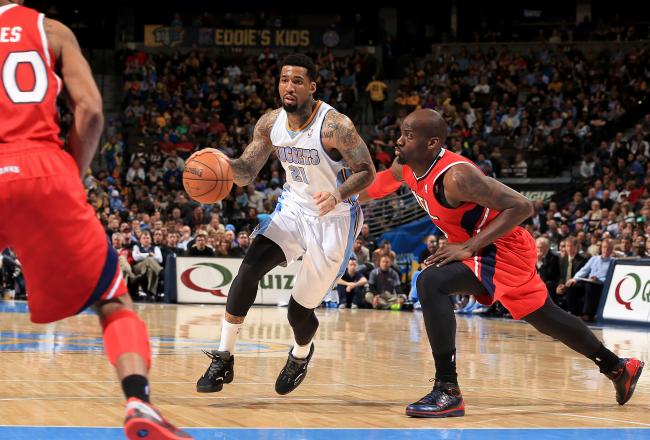 After a little more than three quarters, Denver is led by Wilson Chandler's 17 points with Danilo Gallinari, Corey Brewer, Andre Iguodala, Kenneth Faried and Ty Lawson all with double-figure scoring so far. Faried and Kosta Koufos have 10 rebounds apiece.
Iman Shumpert leads the Knicks with 20 points on 8-10 shooting, J.R. Smith has 15 points, while Carmelo Anthony's night ended with nine points and Raymond Felton is stuck at eight. Nobody else has more than four points.
Nuggets 100, Knicks 73 with 9:48 left in the fourth.
Here's one of about 738 plays in which the Knicks didn't get back on defense, leading to a three-quarters court alley-oop from Andre Iguodala to Wilson Chandler.
Nuggets 97, Knicks 69 with 11:40 left in the fourth.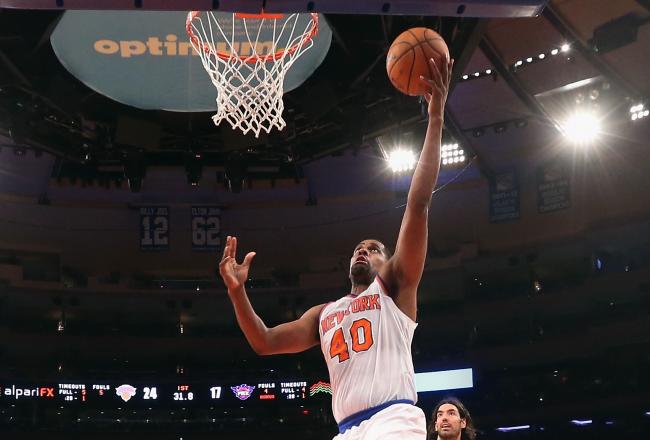 Kurt Thomas' jump shot might have zero jump involved. He might actually sink into the floor a bit.
Nuggets 95, Knicks 69 with 0:32 left in the third.
Wilson Chandler with a drive to the rim and a huge slam. In other news, Chris Copeland is not a good perimeter defender.
Nuggets 93, Knicks 64 with 1:25 left in the third.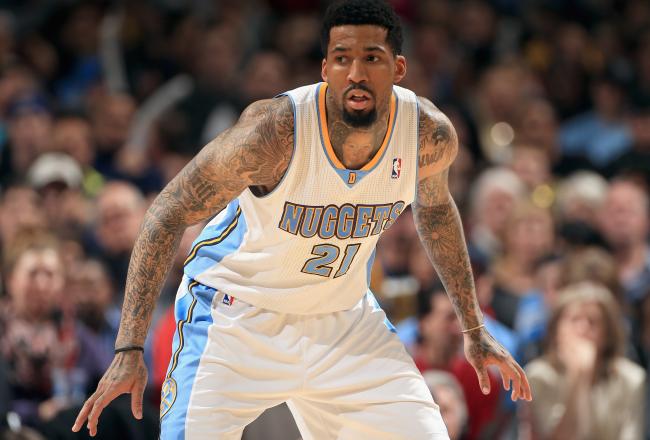 Don't look out now, but the Knicks are only down by 22. Ah forget it, I can't even pretend there's any chance of the Knicks coming back in this one.
Nuggets 84, Knicks 62 with 2:55 left in the third.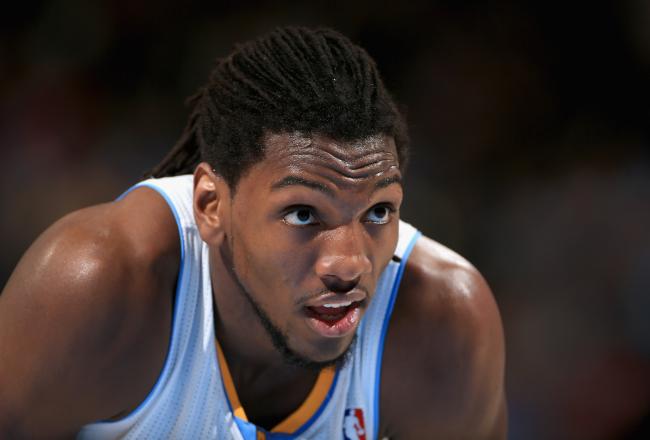 Kenneth Faried will not slow down until he dunks over every member of the Knicks, including Mike Woodson.
Nuggets 84, Knicks 60 with 3:48 left in the third.
And so, Melo finished 3-for-12 from the field, 3-for-4 from line, 0-for-5 from 3 .. nine points, five rebounds, minus-18.

— Benjamin Hochman (@nuggetsnews) March 14, 2013
Faried is accidentally getting offensive rebounds now. Everything imaginable is going wrong for the Knicks.
Oh, and there's this, which might be for the best:
Carmelo Anthony has a sore right knee and will not return, per @ny_knickspr.

— Ian Begley (@IanBegley) March 14, 2013
Nuggets 80, Knicks 49 with 6:01 left in the third.
Kosta Koufus with the truck stick on Raymond Felton. Poor fellow.
Nuggets 75, Knicks 46 with 7:03 left in the third.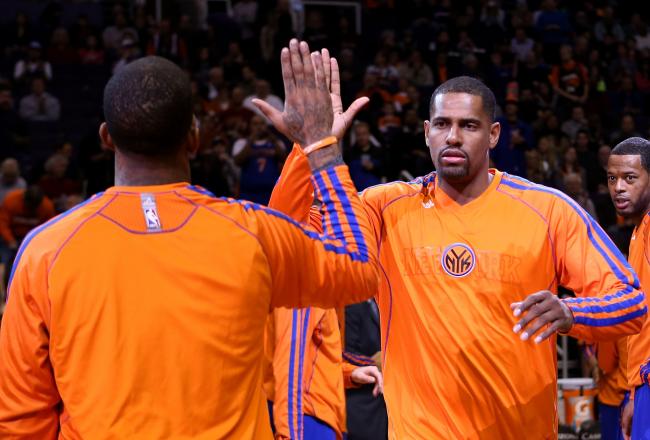 Three times tonight the Nuggets have grabbed an offensive rebound off a missed free throw. It doesn't matter at this point, but it's still happening.
Already this quarter the Nuggets have mad three threes, drawn four fouls and the Knicks have turned the ball over three times. This could be an even uglier loss for the Knicks than it seems to be right now.
Nuggets 73, Knicks 46 with 8:20 left in the third.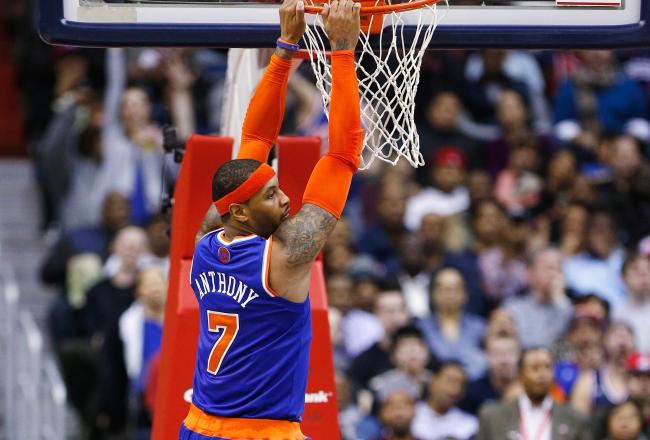 Melo's going to the locker room. His knee is probably sore after playing the majority of the first half, but he also seemed more angry than anything.
Nuggets 70, Knicks 44 with 9:32 left in the third.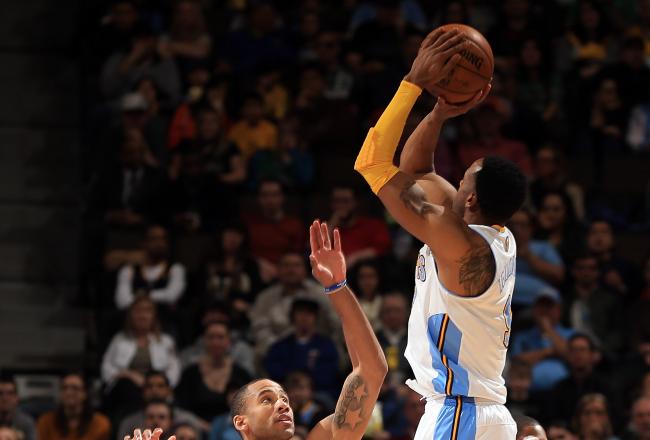 Iguodala for three, which surprisingly goes in. He gets hit by Carmelo after the shot and is either holding his stomach or supporting his arm.
Nuggets 70, Knicks 44 with 9:45 left in the third.
No points in the first minute of the second half. What's happening?!
Nuggets 64, Knicks 42 with 10:46 left in the third.
Same knee he had bone bruise when Gerald Wallace crashed into him in preseason. David Lee had similar injury last week and missed one game?

— Alan Hahn (@alanhahn) March 14, 2013
This article is
What is the duplicate article?
Why is this article offensive?
Where is this article plagiarized from?
Why is this article poorly edited?

New York Knicks: Like this team?