Miami Heat vs. Philadelphia 76ers: Live Score, Results and Game Highlights
Commentary from the Miami Heat's 20th consecutive victory, as they take down the Philadelphia 76ers 98-94 at Wells Fargo Center in Philadelphia, PA on March 13, 2013.
Keys to Miami's Win:
1) Hitting 4th Q Free Throws: The Heat hit their closeout free throws late in the fourth, 4-of-4, and that was huge because they shot just 24-of-37 on the evening.
2) Fighting Through Fatigue: Miami is now 10-1 on the second night of back-to-backs. That's mainly because LeBron James and Dwyane Wade rarely get tired, and when they do they fight through it.
3) Staying Competitive on Boards: Miami was out-rebounded, but kept it close, 38-40.
4) Amazing Second Quarter: The Heat out-scored Philly 30-17 in the second quarter, which really opened the game and had the Sixers playing catchup ball the rest of the game.
Spo after the #HEATgame: We pride ourselves on being a no-excuse team. We found a way to gut it out.

— Miami HEAT (@MiamiHEAT) March 14, 2013
HEAT 98, SIXERS 94 — FINAL
Dorell Wright hit a three-pointer to cut it to two. Wright has eight points in the fourth quarter and was instrumental in the Sixers run to get back in the game. He had a breakout year in Golden State 2010-11, averaging 15 points per game, but he's fallen off since then.
Too late, too late, however.
The Heat made both free throws following the Wright three, and the Heat hung on to win their 20th straight.
HEAT 98, SIXERS 94 — FINAL
Evan Turner zipped a pass to Spencer Hawes for an easy layup, which he promptly blew.
That would have made this a very exciting finish, instead we get a foul shot fest. Hawes fouled Dwyane Wade who went to the other end and hit both free throws to put the game away.
Again, that need for a franchise big man that would have made the goal shake there is blatantly obvious. The worst thing for a point guard or playmaker in Turner's case is when he finds a guy wide open and a blown layup results in no assist.
HEAT 96, SIXERS 91 — 22.1 seconds 4th, Sixers ball
Dwyane Wade's tip in of a LeBron James miss put the Heat up three, and Wade was grinning ear to ear.
LeBron misses 2 heavy contested layups but Wade gets putback to put Heat up 3 with :29 left. Sixers couldn't get a reb.

— Brian Windhorst (@WindhorstESPN) March 14, 2013
19 points isn't a lot for Flash, but those last two were big ones, and Wade rose up pretty high for the tip in.
HEAT 94, SIXERS 91 — 29.4 seconds remaining, Sixers Possession
LeBron James reaffirms that research. Back at the line, putting Heat up one with 1:12 left.

— Henry Abbott (@TrueHoop) March 14, 2013
LBJ got right to the line coming back from timeout, but he made just one of two.
HEAT 92, SIXERS 91 — Under 1 Minute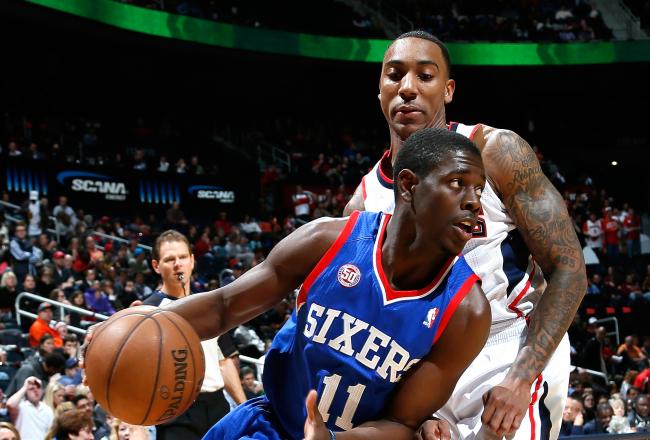 Jrue Holiday's drove through the defense and dunked all over LeBron James. But because I'm watching a Heat broadcast, it was just "Knives his way through the Heat defense."
Holiday has 10 points in the fourth quarter, and that dunk will be seen later tonight on highlight reels. I'll try to find it later on YouTube, but I'll likely forget.
The Sixers are playing well in crunch time, and Holiday is a legit star.
SIXERS 91, HEAT 91 — 1:20 4th, Heat Timeout
Amen, this guy knows his stuff.
The 76ers are showing right now that with a franchise big man (NOT ANDREW BYNUM), they can be true contenders.Holiday/Young/Turner.A+

— Brett David Roberts (@BDRHoops) March 14, 2013
HEAT 91, SIXERS 89 — 1:43 4th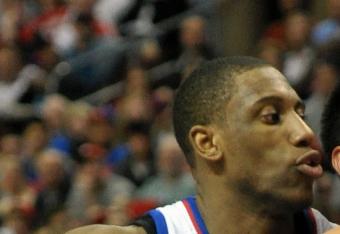 The Sixers have outscored the Heat 21-13 as the game goes to another break. The Sixers have received big games from both Thaddeus Young and Jrue Holiday, who will likely be fixtures of the rebuilding effort.
Young's ability to play either forward slot gives the Sixers some wiggle room with their lineups, while Holiday's ability to cover both guard spots will render the Sixers backcourt a tough one, especially with Evan Turner developing into such a nice talent.
The Sixers really just need a franchise big man, which was why they pursued Andrew Bynum. It just turns out that gamble didn't pay off, and Sixers fans are hoping that Bynum isn't re-signed this summer. Charles Barkley of TNT thinks it is a horrible idea.
SIXERS 87, HEAT 85 — 3:37 4th
Thaddeus Young's 14th rebound led to an Evan Turner bucket which extended the run to 15-2. The Heat's streak is looking like it very well may come to an end.
The thing is, the Heat were really rolling with Birdman on the court, but they are so vulnerable with the defenseless Chris Bosh roaming the paint. Or not roaming it.
SIXERS 87, HEAT 84 — 3:37 4th
The Heat hung tough for a while with LBJ on the bench, but the Sixers are just picking apart their defense right now, and what is hurting more than James being on the bench is that Chris Andersen got too tired to keep playing. He'd been making a big difference.
Jrue Holiday's triple gives Philly the edge and puts the cap on a 13-2 run, and the Wells Fargo Center is chanting "BEAT THE HEAT."
SIXERS 83, HEAT 82 — 5:00 4th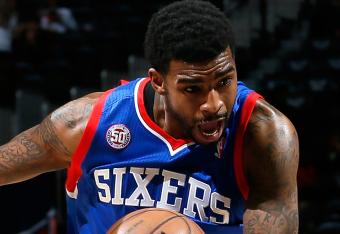 Dorrell Wright is playing a very nice game and capped an 8-2 Sixers run with a powerful dunk as Miami called timeout. Philly is playing like this game is of great importance, despite their fate of being a lottery team.
Wright has eight points and two steals.
HEAT 82, SIXERS 78 — 6:47 4th, Heat timeout
The Heat got off to a 9-4 start to the quarter, and they did it with LeBron James on the bench. The Sixers just aren't getting very good shots, even when they get second shots.
Chris Andersen is still a game changer on the defensive end, and hd a nice block on Spencer Hawes following an offensive rebound by Hawes. Andersen then sank a 20-foot jumper moments later for his 10th point. Andersen has a mid-range jumper.
HEAT 82, SIXERS 78 — 6:48 4th
Heat players getting beaten down the floor. Starting lineup's been outscored 37-29 tonight.

— Ethan J. Skolnick (@EthanJSkolnick) March 14, 2013
The Sixers are playing well in transition, but mostly I attribute this all to the Heat lacking an interior presence to change and block shots. That's why the Sixers are scoring fast break points.
HEAT 71, SIXERS 66 — End of 3rd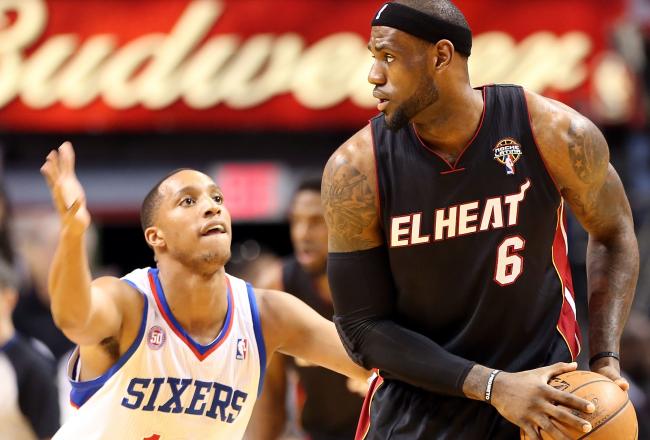 Evan Turner picked up a technical as we went to timeout.
HEAT 68, SIXERS 61 — 2:29 3rd, Sixers Timeout
Over his last 5 games, @yungsmoove21 is averaging 20.4 PPG & 8.2 RPG. He posted 25 pts in last meeting vs Heat - twitter.com/Sixers/status/…

— Philadelphia 76ers (@Sixers) March 13, 2013
Let the good times roll; 22 points and 12 rebounds late in the third quarter. Sixers cutting back into the lead after it ballooned again. They need a definitive run to close the gap and then hope they can get stops down the stretch in this one.
HEAT 68, SIXERS 61 — 2:50 3rd
Damien Wilkins really isn't bringing much to the table. He's matched up against Mario Chalmers, who is ice cold anyway and 2-of-7 from the floor. Wilkins has attempted just three shots in 22 minutes. That's no way for a Wilkins to go out, no way at all.
HEAT 62, SIXERS 55 — 5:00 3rd
Thaddeus Young is arguably out-playing LeBron James. He has 18 points on 8-of-13 shooting and 11 rebounds, while King James is 7-of-10 for 18 points, but has just three rebounds (although he does have five assists).
Even if James is out-playing Young and has a more well rounded line, Young is playing far above expectations with his outing tonight. He's showing a lot of energy and has been aggressively pursuing takes to the basket.
HEAT 59, SIXERS 55 — 6:29 3rd, Heat Timeout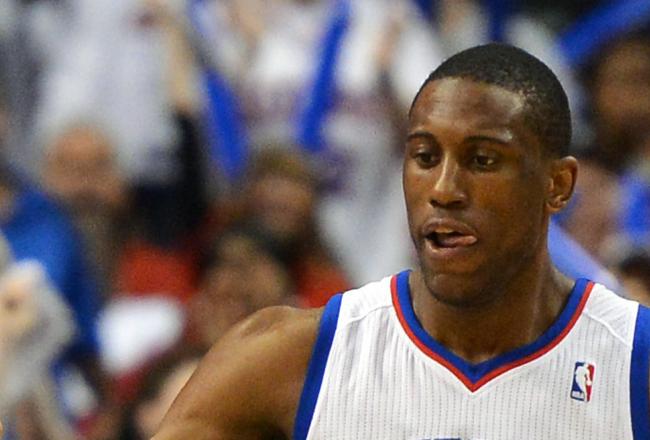 Thaddeus Young has his third straight triple-double now. He has 13 points and 10 rebounds and the Sixers are cutting into this lead.
HEAT 59, SIXERS 53 — 7:55 3rd
That Bosh-Battier-James-Wade-Chalmers played 3:28 in the second quarter. Heat 12, Sixers 2.

— Ethan J. Skolnick (@EthanJSkolnick) March 14, 2013
Effective lineup.
HEAT 57, SIXERS 49 — 8:48 3rd
Evan Turner had scored all three Philadelphia second half points before Thaddeus Young became the second in double figures on a long two-point field goal. Miami will allow as many long twos as the Sixers want. That's not a winning formula.
HEAT 55, SIXERS 47 — 9:22 3rd
LeBron James is on his way to another high scoring, highly efficient game. The Heat are shooting 51 percent from the floor, but James is 7-of-9 and has 18 points. His play is truly making him one of the all-time greats, and the versatility is is showing is just unparalleled, even by the likes of Magic Johnson.
LeBron REALLY wants to keep that win streak going. 18 pts and 78 pct FG in the first half vs the Sixers. Heat up 12 at the break.

— Numbers Never Lie (@ESPN_Numbers) March 14, 2013
No Sixers players are in double figures, though three have eight. The Sixers are going to have to get a franchise talent this summer, whether it be Andrew Bynum or not. Jrue Holiday is a very good point guard, but his talents would be greatly enhanced by having better passing options.
HEAT 51, SIXERS 39 — Halftime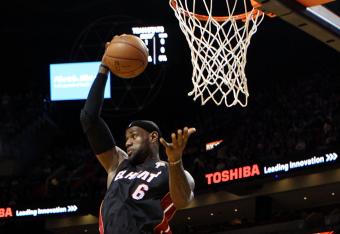 LeBron's powerful dunk gave the Heat 11 unanswered points. The Heat are just over-powering the Sixers at this point.
HEAT 45, SIXERS 35 — 2:47 2nd, 76ers Timeout
A different method to phrase the #Heat's win streak: Miami hasn't lost since Feb. 1. It's March 13.

— Ethan Norof (@Mr_Norof) March 13, 2013
The Heat need to go 14-6 to finish with 62 wins, which would be the most in Miami Heat history. Shane Battier's corner three puts the Heat up four, as the Sixers try to prevent a big Miami run.
HEAT 39, SIXERS 35 — 3:54 2nd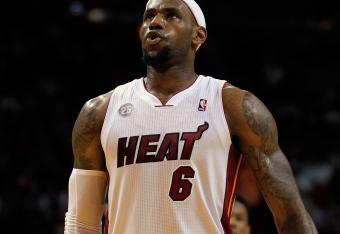 LBJ is 5-of-7 from the floor and made his only free throw. He's shooting two when the game returns from timeout, and he'll have a shot at 13 points. He's begun to score 25 points in his sleep, and in a game that has been as sloppy as this one it's probable that LBJ picks it up in the second half. The Heat have every right to be tired, but James is showing few signs of fatigue.
SIXERS 33, HEAT 32 — 5:38 2nd, 76ers Timeout
Which NBA team can actually challenge the Miami Heat in the playoffs? youtube.com/watch?v=ueT7dD…

— JRSportBrief (@JRSportBrief) March 13, 2013
Video by JR of B/R regarding the Heat's chances of repeating. It's the hot topic right now.
This article is
What is the duplicate article?
Why is this article offensive?
Where is this article plagiarized from?
Why is this article poorly edited?

Miami Heat: Like this team?