The NHL Oscars: The Game's Best Embellishers (Video)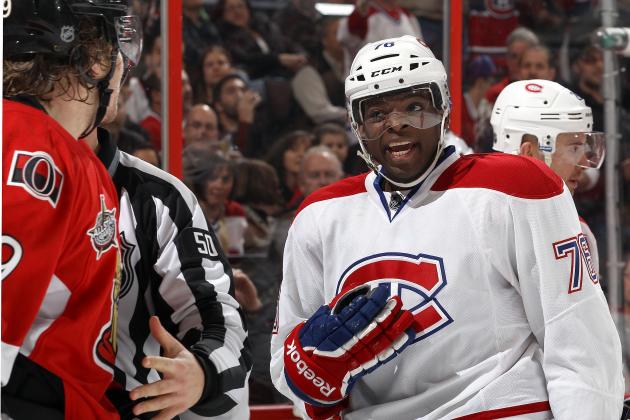 Jana Chytilova/Freestyle Photo/Getty Images

Few subjects bring the bitterness and ugliness out of an NHL fan like the subject of diving.
Every devotee seems to think that their favorite squad is 100 percent diver-free while rivals are filled with nothing but swans. Here's the fact of the matter before we go any further: Every player on every team has dove or embellished at some juncture.
And every fan remembers one particular instance where one particular opposing player drew a call against a rooting interest, and that player will forever and always be known as a dive artist.
In reality, no subject in the sport brings the homer out of fans like diving.
Yet a handful of players around the league have reputations that go beyond simple rooting interests. In a way, embellishment embodies everything that is wrong with the game right now. Instead of working hard along the boards, forwards just wait for a stick to hover somewhere above their midsections so they can turn their backs and snap their heads back.
Instead of pushing the play forward when feeling a stick around the ankles, guys are often rewarded for the act of diving in the form of a power play. This whole issue really comes down to positive reinforcement.
If the guys who dive continue to get calls in their favor, there is zero reason (aside from honor) for them not to dive. And let's face it, a lot of players in the NHL aren't quite as "death before dishonor" as we'd all like to believe.
Still, there's a gap between diving occasionally and diving as a team's "penalty drawer" on a nightly basis. While everyone has done it, here are some guys who have made a mockery of the game and the refs more often than most.
(Diving, in its very nature, is a controversial subject and any discussion involving the topic can very quickly escalate from discussion to flaming. Call me old fashioned, but I'd much rather make fun of the divers than insult their wives and fans. So instead of vehemently firing off a few "if you ever watched hockey, you'd know blahblahblah" comments, lets try to have some fun with this. Lay your evidence on the table in a well-mannered fashion, and others involved will do the same...I hope.)
Begin Slideshow

»
Believe it or not, I did a little bit of research for this slideshow and was mildly surprised to see Dustin Brown near the top of nearly every diving/embellishing thread and discussion.
Upon viewing the evidence on YouTube, however, I can certainly see where viewers are coming from.
Perhaps it's just the fact that I live in Ohio and don't get to see many L.A. Kings games, but it would appear that if the NHL had an offseason diving team, Brown would be in the running to captain that team, too.
The list of guys around the league who would invite Alex Burrows to any kind of party besides a pool party (because he's a good diver, get it?!?) is most likely pretty short.
He's one of the more notorious embellishers around, and people still vividly recall him acting like a child through portions of the Stanley Cup Final between the Vancouver Canucks and the Boston Bruins. That isn't to say Beantown doesn't have any divers of its own...
Brad Marchand gives professional wrestlers a run for their money when it comes to selling contact, and those guys do it for a living.
Kris Letang only seems to really dive when he plays against the Philadelphia Flyers. Still, being considered a diver through anywhere between six and 12 games a year is enough to land you on this frequent diver card ownership list.
If there is a Frequent Diver Black Card , Mike Ribeiro is without a doubt a proud owner.
No other active player has the embellishment and diving resume that the current Washington Capitals forward possesses, as I could do an entire slideshow on just this man alone and it'd carry plenty of weight.
The players that are going out of their way to sell "head shots" that aren't there are the lowest of the low. The NHL has tried to implement rules to protect the guys out on the ice, and some players have taken to covering their head after every hard body check, hoping for the call.
'Tis sad. Very sad indeed.
Alexander Semin is Example A when it comes to this form of tomfoolery. It's embarrassing to the league and embarrassing to the players every time this occurs.
You'll be hard-pressed to find a netminder who doesn't embellish when contact is made. It's become part of their jobs to draw goaltender interference penalties. So, to a degree, there's some wiggle room.
Few goalies have perfected the art of diving like Roberto Luongo, though. Like Chris Osgood, Marty Turco and Dominik Hasek before him, Luongo is always on the lookout for brushes to turn into shotgun shells.
I wouldn't be surprised if Dan Carcillo kept a razor blade tucked away in his glove to draw blood on "high stick" calls that so often come his way due to his acting ability.
He's Tom Cruise-in-Tropic Thunder good (NSFW language video...unlike the video to the left, which is totally SFW if you turn up the volume and listen closely) at selling no-contacts for two-minute calls. And that's saying a lot.
A simple YouTube search will show you why P.K. Subban has such a bad reputation as a diver and embellisher. He seems to do a lot of his work against the Boston Bruins, but there's more than enough evidence to earn him a place on this list.
On these lists, I put a lot of effort into spreading the love (or in this case, annoyance) among different players from different teams. So I don't want Vancouver Canucks fans to take it personally that I included three of their players.
It wasn't my intention, and I have nothing against the 'Nucks. Scout's honor, or whatever.
That said, all three guys that are on this list grace it for good reason. Henrik Sedin is another notorious diver who laces up the skates for Vancouver, and I'd be remiss if I didn't include him.
I've watched enough San Jose Sharks hockey over the years to know that "Jumbo" Joe Thornton embellishes from time to time. In fact, I think he is the NHL's version of LeBron James. And by that I mean he is an incredibly large and strong man who seems very easy to knock over when the time is right.
No. No Sidney Crosby.
I could do an entire article on this subject alone, but I figured just cut the question off at the pass and explain why I didn't include the Kid now.
Is Crosby a player who's ever embellished and dove? Absolutely. Early in his career, I would have included him and made him the poster child for guys who have this cheap kind of element to their game. I could go back and watch the reels on YouTube highlighting these displays of embellishment and I might not see the same thing you do.
What Crosby-bashers see is a guy who whines to refs all the time, tries to capitalize on his stature as the best player in the game and dives to draw calls. What I see is the same thing, except I recognize that these are things Sid did when he was a kid.
What does that mean exactly?
It means that while these are actions, too, there were more prevalent when he was an 18- or 19-year-old teenager. They aren't the same actions that he takes now as a man. He's grown up in front of us, and I strongly feel that he's eliminated the nonsense since his first year or two in the NHL.
Let's be real here. If we dug up things that you did as a 19-year-old and waved them around as still-accurate portrayals of who you are as a 25-year-old, we wouldn't have a clear picture of who you are at all. The same goes for Crosby.
I'm willing to allow the actions of a child (more or less) pass as the actions of a child. If you aren't, then that's your business.
The greatest dive of all time.
Follow Franklin Steele on Twitter.