Toronto Raptors vs. Boston Celtics: Live Score, Results and Game Highlights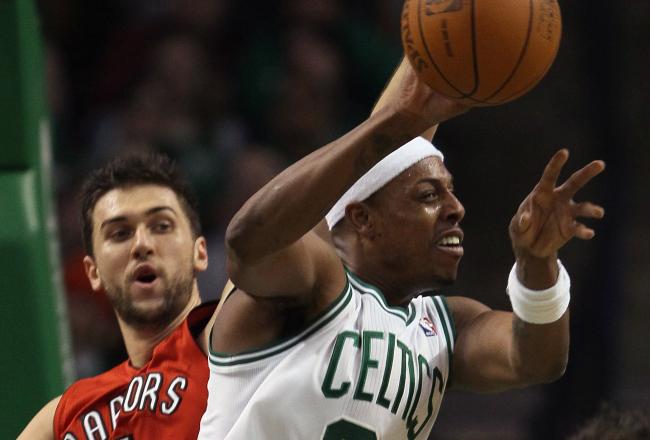 Elsa/Getty Images
The 34-29 Boston Celtics are attempting to shake off their worst loss since Rajon Rondo tore his ACL as they welcome the 25-39 Toronto Raptors to Boston for an Atlantic Division showdown. Keep it here for all the live updates, highlights and analysis along the way.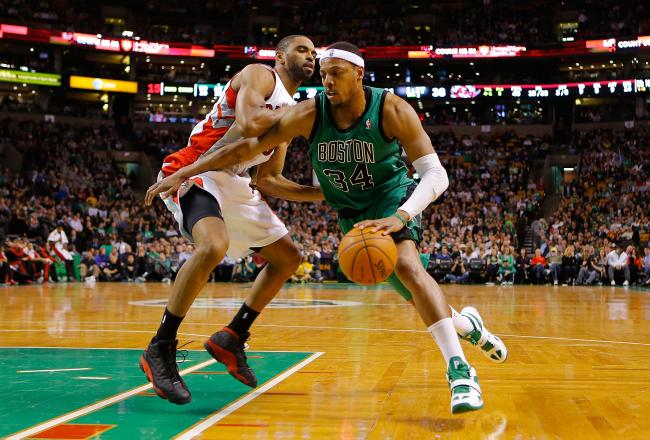 Keys to the Game
The key to tonight's game? Paul Pierce. Well, there's a lot more than that to talk about, but it was a 50-point swing with Pierce on the bench and Pierce starting, as the Celtics lost by 26 without him and then won by 24 with him.
Boston was constantly moving the ball, their isolation plays were cemented by a dozen or so dribble-drive-and-kick plays, completely leaving the Toronto defense on their heels all night long.
Basically, Boston took better shots, while Toronto relied on Rudy Gay fade-aways.
They took the open three-pointers, settled for the correct jumpers, and spent most of their time on offense looking for a way into the post. If they couldn't get into the lane, their jump shots were as close to the basket as possible.
It was a much better executed game from all angles for Boston compared to their game last night against the Bobcats.
Celtics 112, Raptors 88, Final.
Let's take a look at the box score from tonight's game. First the Celtics.

And the Raptors.

Celtics 112, Raptors 88, Final.
Shavlik Randolph goes for his Brian Scalabrine moment as he tries to shake Jonas Valanciunas and gets annihilated with a block.
Ball game.
Celtics 112, Raptors 88, Final.
Back-to-back dunks for Terrence Ross. If the Raps were playing the Celtics, Tom Thibodeau would put his starters back in.
Celtics 110, Raptors 86 with 0:59 left in the fourth.
Now we're talkin' Williams, Randolph and DJ White are all on the floor for the Celtics right now.
Kevin Garnett loves Gino Time as much as you love anything.

— Baxter Holmes (@BaxterHolmes) March 14, 2013
Celtics 107, Raptors 86 with 1:22 left in the fourth.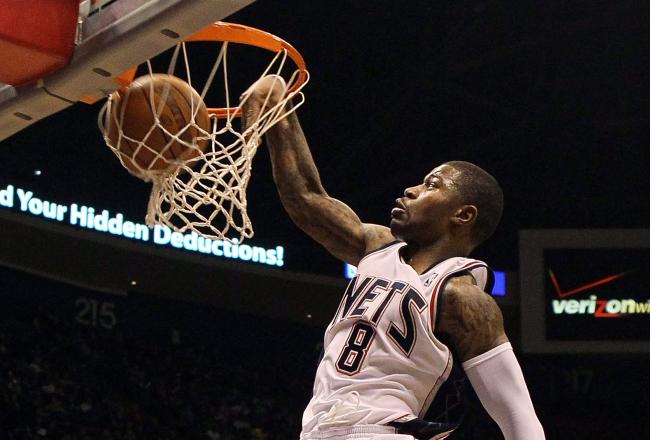 Terrence Williams is either wearing capri pants, the longest compression shorts ever, or the most ridiculous knee pads since Patrick Ewing. I'm hoping it's all three.
Celtics 104, Raptors 80 with 2:38 left in the fourth.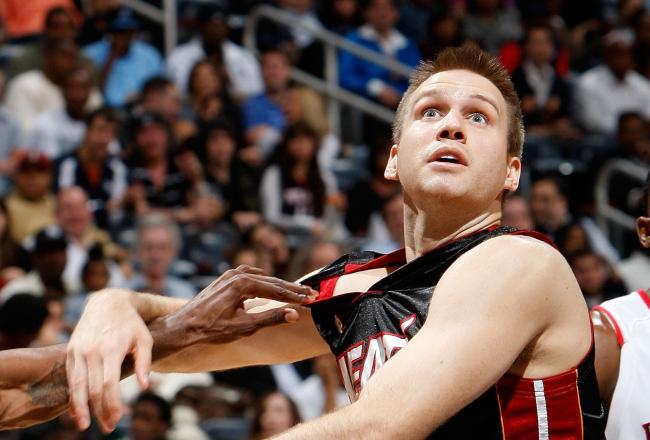 Terrence Williams comes into the game, but I'm still wondering when we're going to see Shavlik Randolph.
Use the victory cigar like it should be used, Doc.
Celtics 100, Raptors 78 with 4:00 left in the fourth.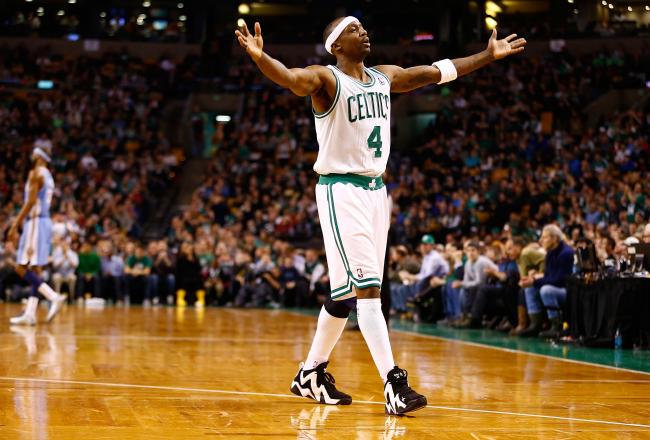 Boston with a bit of Globetrotting here, a deep outlet pass as Terry fakes the shot in the paint turns around and just puts a bit of air under the ball for a Jordan Crawford layup.
Time to wind this one down.
Celtics 96, Raptors 72 with 5:28 left in the fourth.
Matt Devlin is begging for foul calls with six minutes to go in the fourth. Referees are in full-on coast mode at this point. The only whistles getting blown are obvious shoves and blows.
Celtics 94, Raptors 72 with 6:28 left in the fourth.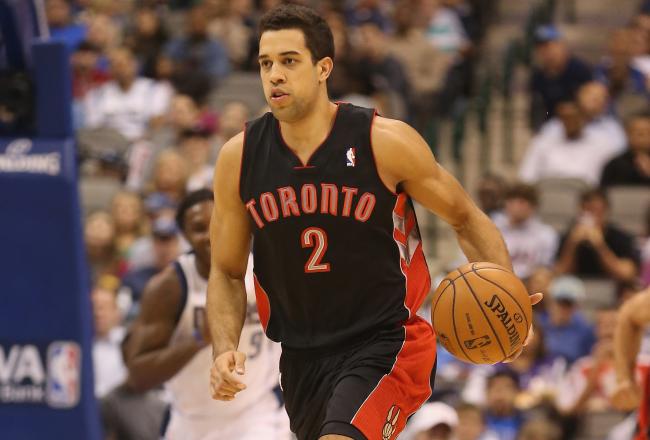 Landry Fields gets caught in a screen and NOBODY is in the paint for Toronto. That means an easy Crawford-to-Lee alley-oop connection.
It was more embarrassing for Toronto than it was impressive for Boston.
Celtics 89, Raptors 69 with 7:47 left in the fourth.
Toronto has two things to smile about today, at the very least. First there's this Lowry-Gay alley-oop.
And second, it's the anniversary of Donyell Marshall's 12 three-pointer game.
Awesome game... #RTZ RT @a_rivera13: @dmarsh42 twitter.com/A_Rivera13/sta…

— Toronto Raptors (@Raptors) March 14, 2013
Celtics 87, Raptors 64 with 8:54 left in the fourth.
There are nine hands in every passing lane Toronto tries to create. Boston is up by a ton-and-a-half.
Celtics 87, Raptors 64 with 9:12 left in the fourth.
Boston's crowd makes use of the "Aaaaiiiirrr-baaaaallllll" taunt as well as any high school student section in America. That's seriously a compliment.
Celtics 84, Raptors 64 with 9:43 left in the fourth.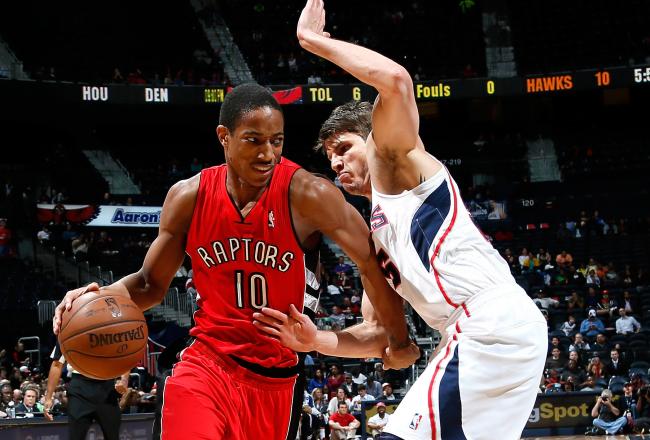 DeMar DeRozan leads all scorers with 17 points, followed on Toronto by Rudy Gay's 11. Amir Johnson is up to eight, while Jonas Valanciunas has seven points and six rebounds.
Paul Pierce leads Boston with 15 points, four rebounds and four assists, Jeff Green has 14 points and five rebounds, while Kevin Garnett has 10 points, seven rebounds and three steals.
Celtics 81, Raptors 62 with 11:45 left in the fourth.
Telfair just got himself another technical as we were going to commercial break. His night is over. Nobody seems to want to do anything bad with the camera on them.
Celtics 81, Raptors 62 after the third.
Jeff Green finishes us off in the third with a pair of freebies.
Celtics 81, Raptors 62 after the third.
Paul Pierce's ridiculous layup has to be the best highlight of the night so far. There have been a few cool dunks throughout, but give me this layup every time.
Celtics 79, Raptors 62 with 0:22 left in the third.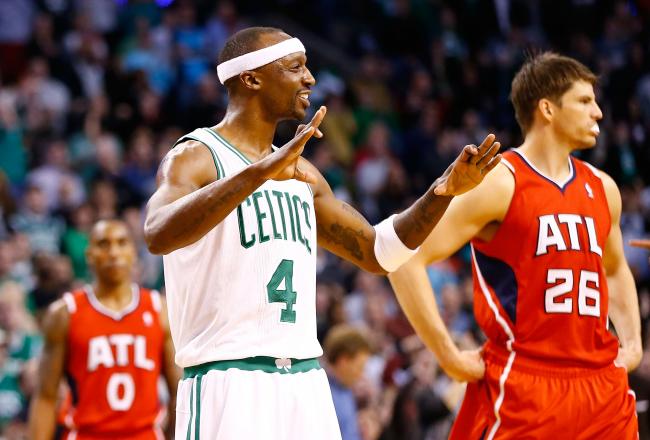 Jason terry with a three-ball. This Boston crowd is enough of an advantage to make me start to think they could make noise in the playoffs...almost.
Celtics 76, Raptors 62 with 1:58 left in the third.
Telfair was hit with a technical foul during the break. He was jawing a bit with the referee from the bench and it went a bit too far.
That's two commercial-break techs tonight, which is wayyyy above average.
Celtics 71, Raptors 60 with 2:44 left in the third.
Oh hi, DeMar's 15 points in the third.

— Holly MacKenzie (@stackmack) March 14, 2013
It's all thanks to Rudy Gay stretching the floor and drawing the defense's attention. Oh, he's 5-14? Never mind.
Celtics 69, Raptors 60 with 3:25 left in the third.
DeMar DeRozan rocks the rack with a roll right to the rim. I promise that was totally unintentional alliteration.
Celtics 68, Raptors 58 with 3:45 left in the third.
Minutes after moving into the Top 20 in scoring, Paul Pierce (6,376) just tied Allen Iverson for 10th in all-time made @nba free throws.

— Sean Grande (@SeanGrandePBP) March 14, 2013
Jeeze, slow down Celtics! Next you're going to tell me that Jason Terry is now the all-time leader in consecutive games wearing an off-kilter headband.
Celtics 62, Raptors 56 with 5:13 left in the third.
Rudy looks normal on some possessions and limited by the back on others. I wasn't expecting him to play tonight, so yeah.

— Holly MacKenzie (@stackmack) March 14, 2013
His back hasn't limited him from taking fad-o's.
Celtics 60, Raptors 56 with 6:04 left in the third.
The Celtics are incredibly smart. Scratch that, Pierce and Garnett are incredibly smart.
Every time the Raptors have gone on a bit of a run they work together to slow the game down and do everything possible to get to the line.
Also, this:
After those free throws, Paul Pierce has just passed Charles Barkley and now ranks 20th on the @nba scoring list with 23,758 points.

— Boston Celtics (@celtics) March 14, 2013
Celtics 58, Raptors 53 with 6:27 left in the third.
Valanciunas jumpers are falling, the floor is spreading and the Raptors are working.
Toronto on a 9-0 run: "This is your A-unit that's giving up these points."

— Tommy Heinsohn (@CSNTommy) March 14, 2013
Celtics 57, Raptors 51 with 7:08 left in the third.
This article is
What is the duplicate article?
Why is this article offensive?
Where is this article plagiarized from?
Why is this article poorly edited?

Boston Celtics: Like this team?