Arizona Basketball: Ranking Wildcats' Most Likely March Madness Heroes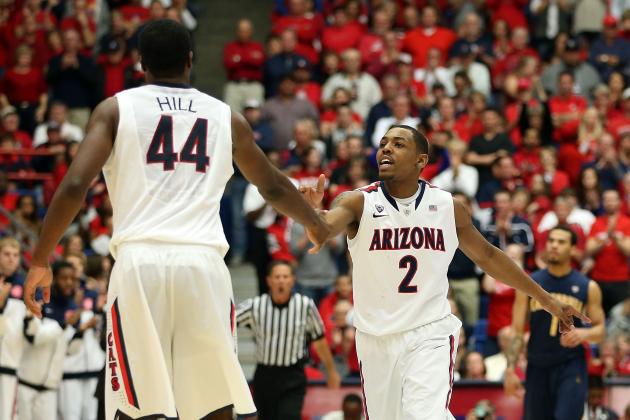 Christian Petersen/Getty Images

Arizona Basketball needs a hero in March if they are to have a serious run. When I say hero, I do not mean a guy who has a one great game or who hits a game-winning shot. A March Madness hero is one who carries the team on his back to victories.
Guys like Danny Manning in 1988, Christian Laettner in 1991 and Richard Hamilton in 1999 come to mind. More recently, Kemba Walker willed UConn to the title in 2011. Carmelo did it in 2003. And back in 1997, Miles Simon drove the Wildcats to the championship with a series of incredible performances.
Many teams don't need singular performances. The Florida championship teams in 2006 and 2007 were bursting at the seams with talent; an epic run from one guy was not needed. The North Carolina championships in 2005 and 2009 were the same way.
But Arizona isn't that type of a team. It doesn't score or defend particularly well. The Wildcats need a guy to take charge, to step up when the offense stagnates and to score tough buckets. This lists ranks the players most likely to take the reins in March and play the hero come tournament time.
Begin Slideshow

»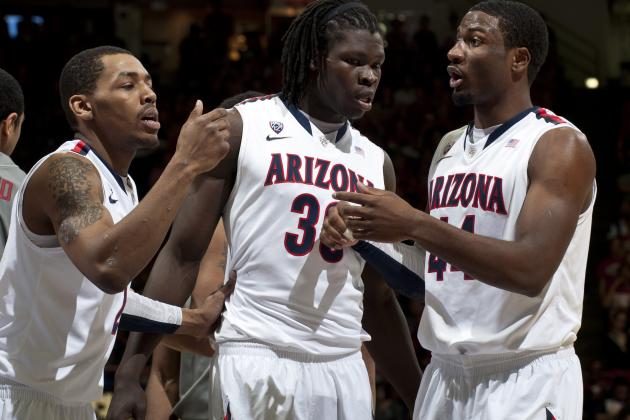 Casey Sapio-USA TODAY Sports

While Angelo Chol has the ability to make an impact, he will not have the opportunity in the NCAA tournament. So far this year, he has played only 8.8 minutes a game. He will likely see fewer minutes from here on out. He is the least likely player in the regular rotation to be a hero come March.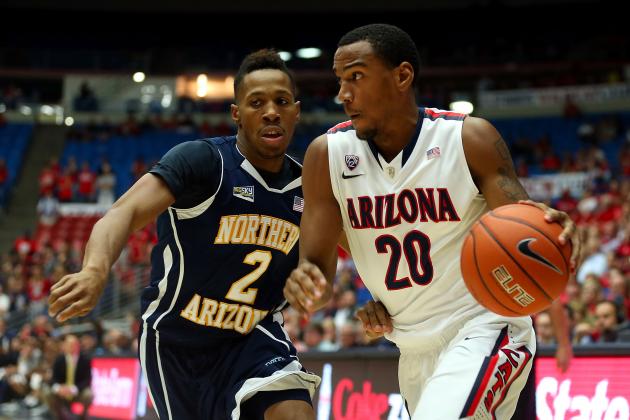 Christian Petersen/Getty Images

Jordin Mayes, much like Chol, doesn't get a whole lot of minutes. Moreover, Mayes has only scored double digits five times in his career at Arizona—only once this season. He has never done it in consecutive games.
The Miles Simon-type player I am talking about needs to score well into double digits in every game for the rest of the year. While he has played well in the last two games, Mayes is very unlikely to be a stud in the next few weeks.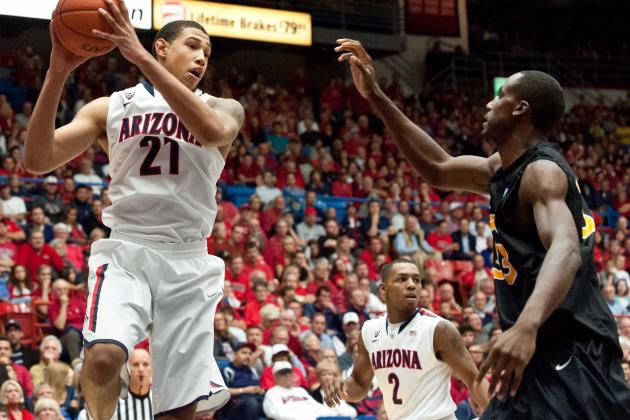 Casey Sapio-USA TODAY Sports

Brandon Ashley has put together a good freshman season. He has proved himself to be a solid player, one able to score, board and play tough defense.
Despite this, he is not a serious threat. While he may have the ability to put up double-digit points every so often, his ceiling is about 15 points, and he cannot do it consistently. Again, this list is about a guy dominating all the games he plays from here on out. Ashley, at this point in his career, is not able to play at that level.
Stephen Dunn/Getty Images

Kaleb Tarczewski is playing his best basketball of the season. In his last six games, he's averaging 9.0 points and 7.3 rebounds per game (compared to 6.6 and 5.9 on the season). He is more confident with the ball and has missed fewer shots close to the basket. He is becoming a good college center.
Yet, Tarczewski is not someone who is going to impact the game much with his scoring. He is a bigger force on the glass and on defense. But very few players can change the game with just defense. Anthony Davis is one of the only exceptions to that rule. But Tarczewski isn't the defender Davis was.
While he will be a very important piece of Arizona's success, "Zeus" won't be the guy Arizona leans on to carry the team to victories in March.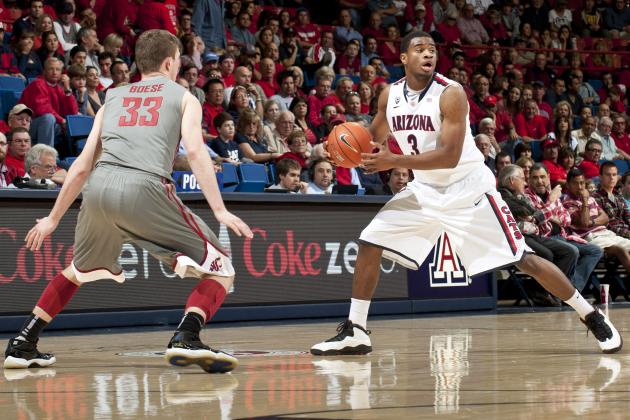 Casey Sapio-USA TODAY Sports

Since late February, Kevin Parrom is playing the best basketball of his career. In the last four games, he is averaging 14.8 points, 5.5 boards. But more impressively, he is shooting an awesome 66 percent (19-of-29) from the field, and even more incredibly, 60 percent (12-of-20) from three-point range.
Everything Parrom puts up is going in right now. It is a push that the Wildcats have desperately needed as they have struggled to score so many times this season. His continued offensive efficiency is going to be huge for the Cats to compete with the best teams in the country.
Despite his solid play, Parrom has reached his ceiling during his current streak. Even when shooting like Steve Nash, Parrom averages less than 15 points a game. While he is an integral part of Arizona's success, he is not a guy who can carry the team.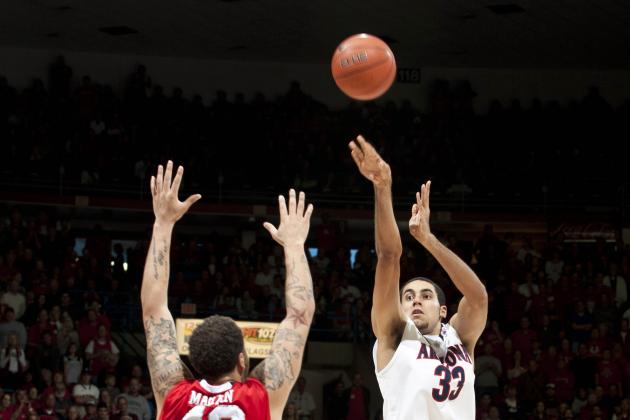 Casey Sapio-USA TODAY Sports

Grant Jerrett is ranked above the other freshman and Kevin Parrom because he, more than all the aforementioned players, has the ability to fill it up on the offensive side of the ball.
Do I think he is likely to play better than Parrom or Tarczewski? No. Those guys will play solid basketball for sure. But Jerrett can do things those guys can't. If there is to be a tournament hero, one who can carry the team offensively, Jerrett is the most likely of that bunch.
With his combination of skills and his size, he is a guy who could go out and score 20 a night. And while this is a stretch because he hasn't scored more than 15 points all season, Jerrett has the potential to do it.
Before a dismal performance against ASU, Jerrett was on a bit of a roll. He had scored double figures in consecutive games and had his best single performance against UCLA. He was confident and just let loose for the first time all season.
If Jerrett were to catch fire, because of his ability to do so many things on the offensive side of the ball, he is the type of player who could carry a team in theory.
Reality however, says that he is a freshman who is yet to show he can put together long streaks of high-level basketball. Reality will probably win out, but he is still fourth most likely to play hero during the tournament.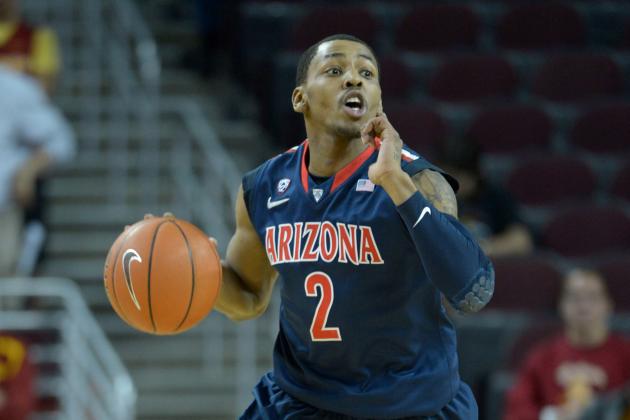 USA TODAY Sports

In all likelihood, Arizona has three guys who can put on a performance like the greats of college basketball's past. Mark Lyons is one of those guys. The All-Pac-12 first team member had 15 games of more than 15 points and six games over 20 points.
When his shot is falling, he is a dangerous player. Not only can he knock it down from just about anywhere beyond half court, but he spreads the court for his teammates. Further, when playing well, he is able to penetrate and get to the line.
Lyons has also played to the Sweet 16 twice and seven games overall in the tournament, easily making him Arizona's most experienced player. The pressure of March Madness will not be getting to this guy.
The reason Lyons doesn't rank higher is he has not been playing well of late. He has been taking too many ill-advised shots, has not gotten his teammates involved and has turned the ball over at a rate far too high for the Wildcats to be successful.
I think Lyons is the Wildcat most capable of scoring 20 points for five or six games straight. But he is also the most likely to turn the ball over five times in each of these games. If he can rein in his bad decisions, Lyons could become the hero this Arizona team needs to win it all.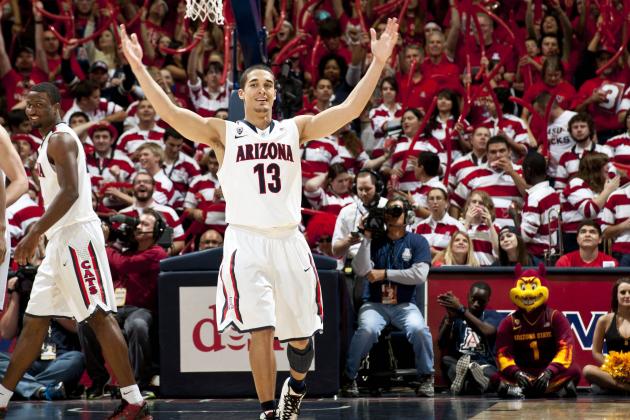 Casey Sapio-USA TODAY Sports

Nick Johnson has been the most up-and-down player on the Wildcats' roster. For the first 20 games of the season, he scored in double figures 17 times. The other three, he scored seven—still a factor.
In the last 10 games he has scored double figures just three times. In three of those games, he scored four points or less. He has not been the offensive force he was early on.
The reason for the drop-off isn't because he isn't making his his shots (he is shooting 40 percent), it is because he is not taking shots at all. In his last 10 games, there have been three games where he has taken just five shots, two games he took only six and one game he took three.
When watching Johnson, you can see his hesitation. He has an open shot, but he will dribble the ball instead of shooting, or he will wait just a second too long. Down the stretch last season, he was the same way—very trigger shy.
When he plays this way he is simply not that good. He doesn't make himself a threat and basically disappears on the court. This is habit too many Arizona players have formed this season.
Johnson can reverse this without much tinkering. With some intelligence, he needs to be aggressive at every opportunity. If he can do this, he can go on a nice scoring run. He is the second most likely Wildcat to play hero in March.
Casey Sapio-USA TODAY Sports

This may be an obvious choice, but Solomon Hill is the guy. The First-Team All-Pac-12 senior is the Wildcats' best player. When he is looking to score, he is the best scorer. He is also the best passer. He can defend three or four positions on the court. He is a package not available to many teams in the country.
So he is an easy choice. Yet, if he is to do what Miles Simon did 16 years ago (I will use any excuse to watch this video—sorry), he must up his game from where it has been all season. While many players' plateaus on the season have been reached, Hill is far from his.
He has the ability to get 20 to 25 a night, but his mindset is not there. So often this season, he watches the game pass him by. He settles for threes instead of taking his guy off the dribble or in the post.
If the Wildcats are going to make any waves in the NCAA tournament, Hill must be on the attack every minute he is on the floor. He needs to apply the pressure in all the ways his skill set allows him to do. Pressure, pressure, pressure. All game long.
He needs to take the ball from Mark Lyons and allow himself to be the biggest creator of offense. For Hill to be on the court, but not aggressive, is a waste of one of the most versatile players in the country.
To do this, Hill needs to get back to his bread and butter. Lately, he has been using the three to set up other parts of his game. He needs to forget the three. He needs to be slashing first.
He should be getting to the hoop in all the ways he can first and using the advantages he has with quickness and size to create threes from the inside out. In all of his best games, this is how he played.
If Hill can do what makes him great, he is the type of player who can take a team all the way. For this reason, he is the Arizona player who is most likely to be a Danny Manning or a Carmelo or a Kemba Walker or a Miles Simon.