Phoenix Suns vs. Houston Rockets: Postgame Grades and Analysis for Houston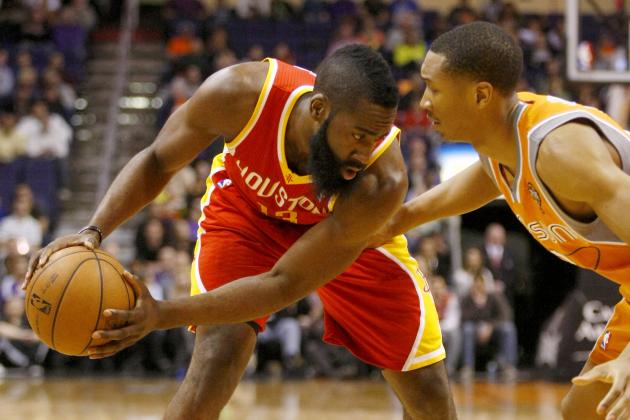 Rick Scuteri-USA TODAY Sports

The Houston Rockets demolished the Phoenix Suns 111-81, rolling through to a much-needed home win. After ending the first half on a 20-2 run in the final five minutes, the Rockets never looked back, destroying their opponent with a barrage of quick three-pointers and drives to the basket.
All Houston's starters finished in double figures, with Donatas Motiejunas scoring a career-high 19 points and James Harden contributing 18 of his own. Houston dominated the charity stripe, attempting 30 free throws to Phoenix's paltry 10.
Begin Slideshow

»
Jeremy Lin
Lin was effective on the offensive end, getting into the lane seemingly at will in the first half. He scored 13 points and had six assists in just 25 minutes of play, pulled because the game was a blowout. In the third quarter he flashed that beautiful no-look pass, this time from his hip to Motiejunas, who finished with a pretty floater.
Lin's passing skills and ability to read the court while moving at full speed has grown leaps and bounds as the season progressed.
Grade: B+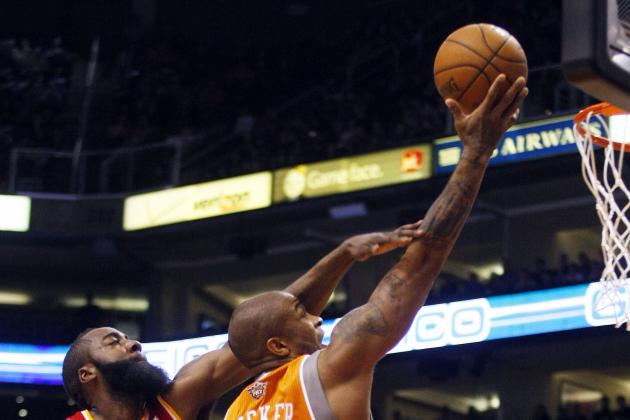 Rick Scuteri-USA TODAY Sports

James Harden
Harden had a solid first quarter, getting to the free throw line for four attempts, and scoring six points. His defense on Wesley Johnson, however, was lackluster. While the defensive struggles continued in the second half, Harden's offensive output was well worth the price of admission as he distributed the ball with ease, knocked down three-pointers and got to the free-throw line at will.
Harden finished with 18 points, including three three-pointers and eight free-throw attempts.
Grade: B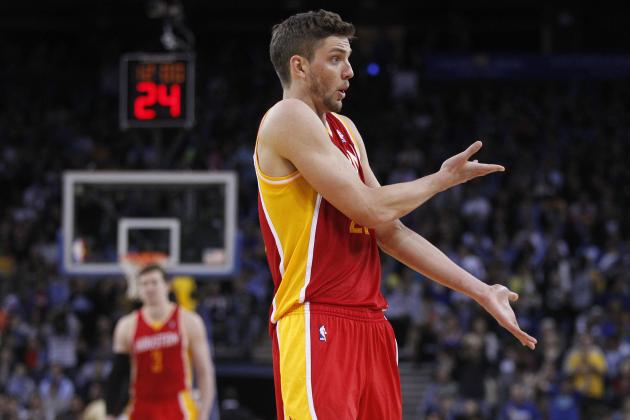 Cary Edmondson-USA TODAY Sports

Chandler Parsons
Parsons couldn't quite get his shot to fall early on, but hit a pretty baseline floater to put himself at 2-6 shooting at the time. He followed it up by curling around a screen to knock down a jumper from the right elbow, giving the Rockets a six-point lead and eventually pushing them into their runaway victory.
Overall it was a quiet night for the improving forward, as he scored 11 points on 11 shots, grabbing three rebounds to go along with four assists.
Grade: B-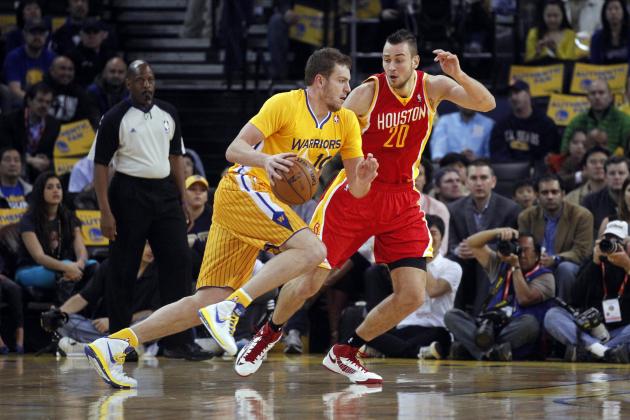 Cary Edmondson-USA TODAY Sports

Donatas Motiejunas
Motiejunas flashed some seriously brilliant vision early on, throwing a behind the back bounce pass in the paint to Omer Asik for a dunk. He also knocked down corner threes and finished in transition with ease on the way to a career-high 19 point effort.
It only took the rookie 12 shots in 27 minutes to get there, a great game from Motiejunas.
Grade: A-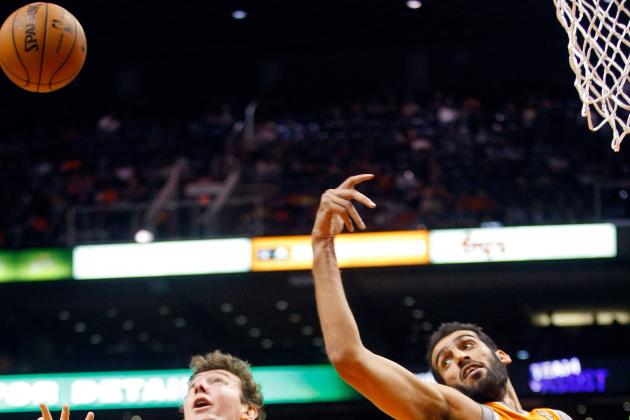 Rick Scuteri-USA TODAY Sports

Omer Asik
Asik struggled on the offensive end early on, mishandling a beautiful entry pass early in the second quarter and later failing to capitalize on an interior mismatch. But that's to be expected from a player with Asik's skill set. His defense was better than normal, despite grabbing just five defensive rebounds (seven total).
Asik's game isn't about numbers though and his ability to seal up the opposition's ability to operate in the paint can't be quantified on most nights.
Grade: A-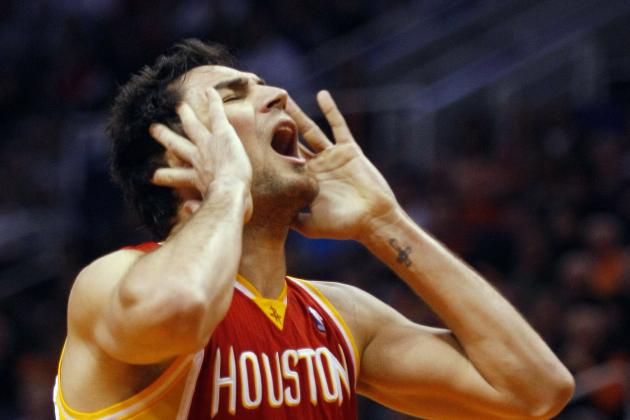 Rick Scuteri-USA TODAY Sports

Carlos Delfino
Through the game's first three quarters Carlos Delfino failed to score, missing two shots and attempting no three-pointers. He started the fourth by draining one, but the game was already decided by then.
He finished with five points and three rebounds in just 15 minutes of action.
Grade: C-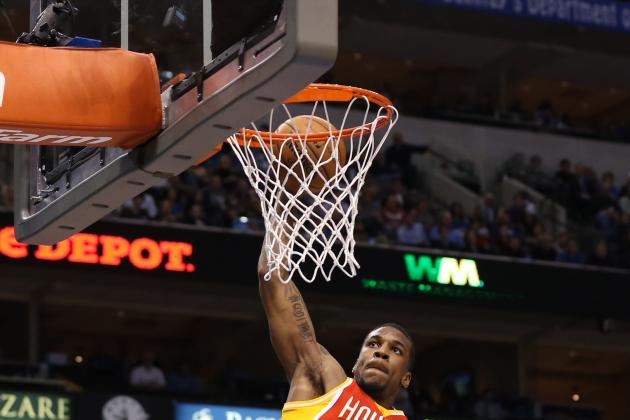 USA TODAY Sports

Bench
Thomas Robinson played with a confidence we haven't really seen yet, going hard at the rim in traffic and even attempting a no-look pass late in the game with Houston up 30 points. He finished with 12 points in 20 minutes of play.
Aaron Brooks made his return to the team, getting a standing ovation from the crowd after the game had already been decided. He made his only shot, a deep three-pointer.
Also, Greg Smith came in and logged some solid minutes down the stretch. His consistency is something Houston's been monitoring in recent weeks.
Grade: B