How to Know Your Team Is Ready for March Madness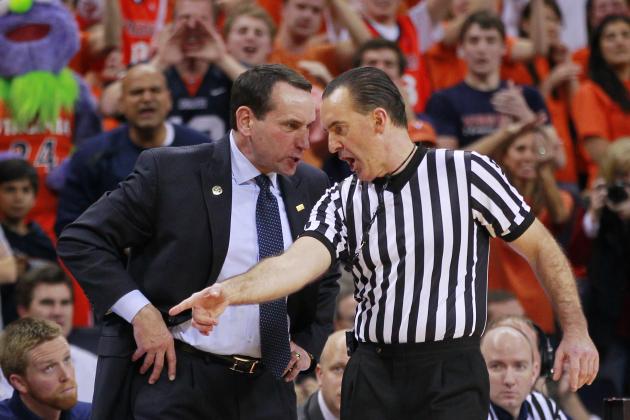 Geoff Burke-USA TODAY Sports
Coach K will try for his 12th Final Four.
We're less than a week away from Selection Sunday and all that's sitting in between us and that field of 68 is a week long feast of conference tournaments.
The fans have it rough, don't they?
There's no time for massive overhauls. The only improvements will be marginal.
Seniors are gearing up for their last run, freshmen mentally preparing for their first dose of basketball nirvana.
And the only question that matters is whether your team is fit for a deep March run.
There's no guaranteed formula, but that won't stop tireless coaches from trying to discover one. Experience, perimeter shooting, guard play, size, coaching, momentum, defense and reserves all play a role in winning a championship. But lacking a few of those components doesn't necessarily disqualify a team. That's why, in its truest form, the tournament is madness.
It's the coaches' job to find to find the right calibration of each, even if there's no exact science.
Here's how you can be sure that your team is ready to roll once the field is announced.
Begin Slideshow

»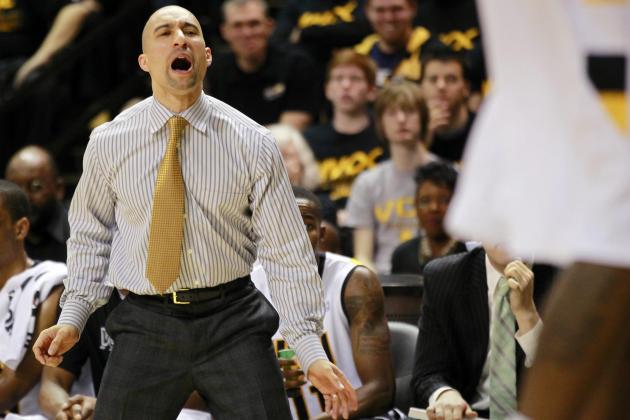 Geoff Burke-USA TODAY Sports

Knowing whether to sub a player or call a crucial late-game timeout is as vital as anything that takes place on the court.
It's up to the coach to recognize mismatches, identify defensive schemes, implement the best plays and cater those adjustments to his team. It's also imperative for a coach to have his finger on the pulse of his team, not losing touch in the most stressful portion of the schedule.
Scanning the list of the past 40 Final Four participants, the team names mostly elicit images of the coaches rather than the players. The coaches are the ones with the staying power, the endurance to go through the grind season after season.
Two years ago, Butler and VCU crashed the Final Four party and highlighted the coaching expertise of both Brad Stevens and Shaka Smart. Despite a supposed talent disparity, those two teams are back at it again, the Bulldogs and Rams both having won 24 games in the ultra-competitive Atlantic 10.
Three other coaches, who've done a marvelous job at their respective situations, are Jim Larranaga (Miami), Bruce Weber (Kansas State) and Buzz Williams (Marquette).
Larranaga led the Hurricanes from the NIT last season to an outright ACC championship this year. After being run out of Champaign, all Weber did was lead the Wildcats to a share of the Big 12 title along with potential No. 1 seed Kansas. Half of the Cats' conference losses this season are to the Jayhawks.
Finally, Williams guided the Golden Eagles to the school's first-ever Big East crown despite losing two NBA players off of last year's squad. The Golden Eagles have been to two straight Sweet 16s. I wouldn't bet against a third.
If the coach of your favorite team has his squad overachieving, you can be sure the players trust him, which is vital in the do-or-die format.
Other notable coaching efforts: Saint Louis' Jim Crews, Wisconsin's Bo Ryan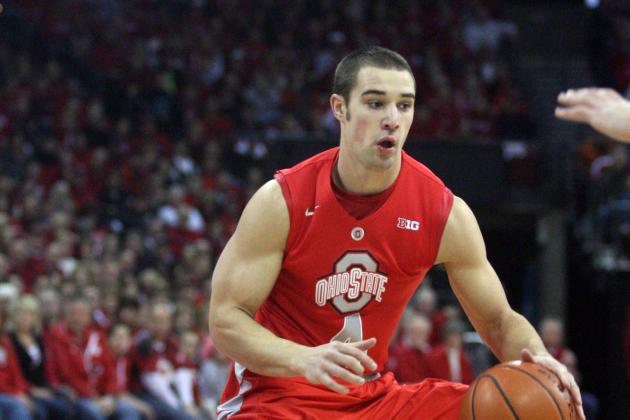 Mary Langenfeld-USA TODAY Sports

Kemba Walker set the standard, but his unbelievable run throughout the Big East Tournament and NCAAs isn't a prerequisite for success. Teams have won with far less production out of the backcourt.
What is a necessity, however, is that your team has a backcourt both capable of running a proficient offense while also taking care of the ball.
Of the recent champions, only the back-to-back Florida teams in 2006 and 2007 were built primarily on offensively capable big men. Since 2008, the only champion whose turnover rate was worse than 26th in the country was the Jayhawks, who coughed the ball up on 19.1 percent of possessions (61st via KenPom).
Frontcourt guys, on championship teams like Tyler Hansbrough and Anthony Davis, benefitted from reputable guards who could get them the ball in the post.
This season, strong backcourt teams like Duke (6th-lowest turnover percentage) with guards Quinn Cook and Seth Curry along with Michigan (lowest TO percentage), should have an advantage once the field is announced. Those teams' guards protect the ball, yet still provide potent offensive threats at the same time.
Ohio State is also a team to monitor due to the tandem of Aaron Craft and Shannon Scott, who each average around four assists per game. If Craft can balance out the scoring of Deshaun Thomas, it could negate the Bucks' lack of size in the interior.
Other teams with notable backcourts: Louisville, Oklahoma State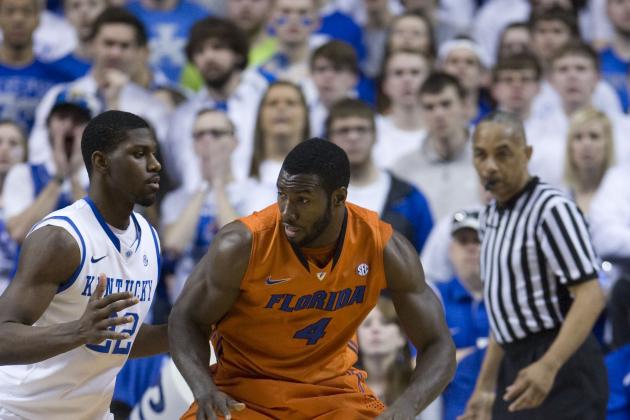 Mark Zerof-USA TODAY Sports

Experience typically trumps talent, especially in a condensed, pressurized environment like the NCAA tournament.
Kentucky would be the obvious exception.
That doesn't mean that underclassmen won't play a vital role, but juniors and seniors have typically been through the ebbs and flows of a tournament game. It's important to not let a slow start manifest itself into a poor half and ultimately create a lead too big to overcome. Juniors and seniors have been there before. Ride them.
Take Michigan for example. It's as young of a team as has a realistic shot of contending, but aside from a first-round upset last year to Ohio, Big Ten Player of the Year Trey Burke has zero NCAA experience. Neither do freshmen Glenn Robinson III nor Nik Stauskas, both of whom play extended minutes.
In its defense, the Big Ten was essentially a week-in, week-out tournament in which Michigan fared pretty well. But it wasn't a do-or-die situation.
Teams like Florida or Gonzaga each have key contributors who've been battle tested. Last season the Gators got huge contributions from Patric Young, Erik Murphy and Kenny Boynton en route to their Elite Eight appearance. The Bulldogs' Kevin Pangos, Elias Harris and Sam Dower are all experienced players who see heavy minutes in the Zags' rotation.
Another experienced team to keep an eye on is Saint Louis, which starts four upperclassmen. The Billikens lost in the second round to Michigan State last year, but nearly swung the upset over the top seed. Saint Louis' chemistry, after losing coach Rick Majerus earlier this season, should be unparalleled.
Other notable veteran teams: Miami, Illinois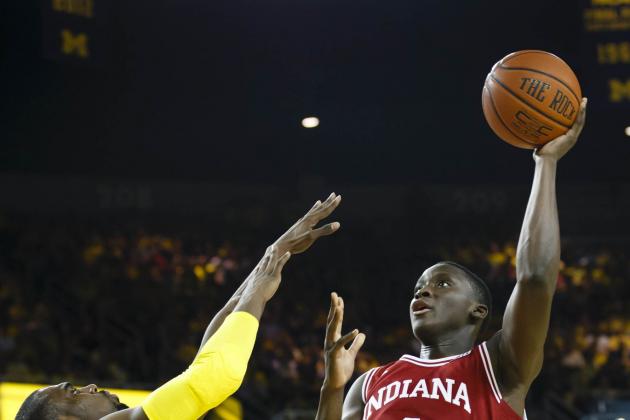 Rick Osentoski-USA TODAY Sports

Rarely does a team ride a single scorer all the way to the championship.
Of the last 10 NCAA champions, only Connecticut won without a consistent second option. Kemba Walker was fabulous two years ago, averaging 23.5 points per game, but championships are rarely won without balance on the offensive end.
Even when the Orange won in 2003, Carmelo Anthony had Hakim Warrick and Gerry McNamara ready as sidekicks.
The three teams that could expose that relatively firm rule this season are Ohio State, Louisville and Georgetown. All three have a single, clear first option (Deshaun Thomas, Russ Smith and Otto Porter), but the biggest similarity is that all three teams are excellent defensively.
According to KenPom.com, the Cardinals are the top defensive team in the country while the Hoyas are fourth and the Buckeyes are eighth. Those teams don't have to score in bunches as long as their defenses are sound. In fact, many times it's their defense which can cause transition run outs and lead to offense.
But the question still remains whether these teams can survive and advance should their go-to scorer falter on a given night.
Teams like Indiana, Duke and Kansas have many more options on the offensive end and won't need to rely on a single scorer to carry it throughout the tournament.
Other notable balanced teams: Michigan State, Syracuse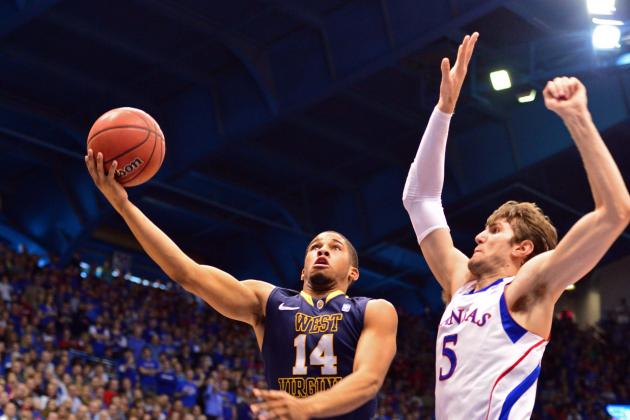 USA TODAY Sports

Look at last year's Final Four: Kentucky, Kansas, Ohio State and Louisville.
All had massive frontcourts that were either huge offensive contributors, raked in dozens of boards, or maintained game-changing shot blockers.
Of those four teams, two (Kansas and 'Ville) retained the size necessary to compete for this year's title. Kansas' Jeff Withey ranks third in the Big 12 with 8.6 rebounds per game, while his four blocks per game are the second-most in the country. As for the Cardinals, Gorgui Dieng (10.1 rebounds) and Chane Behanan (7) are more than handful on the low block. The latter is a force in transition and a capable jump shooter in halfcourt sets as well.
Other teams with excellent frontcourt size include Michigan State, Indiana, and of course, Gonzaga. All will be three seeds or higher.
The Bulldogs' interior size is the primary reason they will earn a No. 1 seed on Selection Sunday. Center Kelly Olynyk is excellent on second-chance boards and is mobile enough to crash the glass yet still get back on defense. Olynyk, the WCC player of the year, and forward Elias Harris hauled in 14.5 rebounds per game over the season. In the West Coast Conference's championship game vs. Saint Mary's, Olynyk had 12 boards himself.
Other notable froncourts: UCLA, Villanova, Arizona