Georges St-Pierre vs. Nick Diaz: A Career Time Line to UFC 158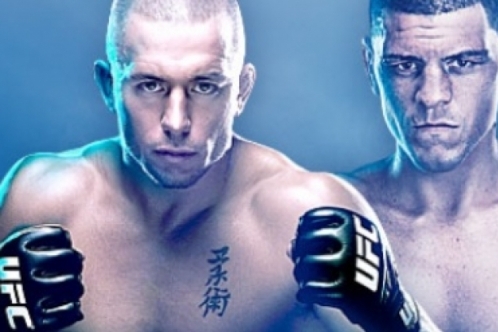 Courtesy / vancouverobserver.com
UFC 158 is set to go off in a few days and will headline a fight between good and evil for the welterweight championship of the world. Canada's own Georges St-Pierre represents the hero image, set to defend his belt for the eighth consecutive time, while Nick Diaz has been the bad boy at the top of MMA for years, and will finally get his chance to take down the champion in his backyard in Montreal.
GSP and Diaz represent very different sides of the professional athlete spectrum, but they have been two of the very best fighters in the world over a span of the last decade. It was only a matter of time before these two forces met in the center of the Octagon.
Here is a career time line for both fighters leading into UFC 158.
Begin Slideshow

»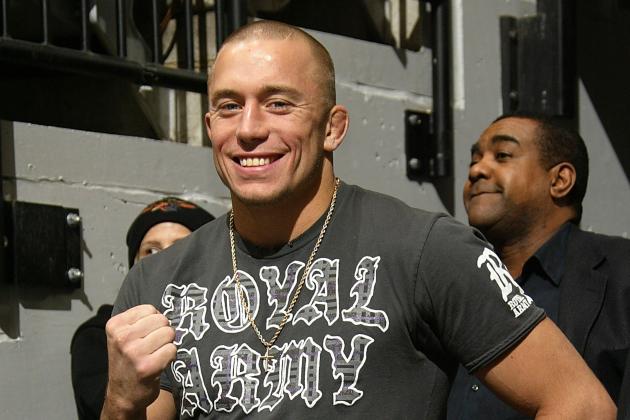 Dave Sandford/Getty Images

Georges St-Pierre—16 years old
St-Pierre has been practicing Kyokushin Karate for nine years, after starting in order to deal with a bully at school. He studies first under his father and then under a Kyokushin Master. He has dabbled in boxing as well. After his master dies, St-Pierre starts learning Brazilian Jiu-Jitsu and wrestling.
Nick Diaz—14 years old
After attending high school for one year in Lodi, Calif., where he was an avid swimmer, Diaz drops out of school. He begins training in the combat arts because he is being bullied around town.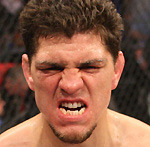 Courtesy / MMAjunkie.com
Georges St-Pierre—21 years old
St-Pierre was a professional bouncer for a club in Montreal before he turned to pro fighting in 2002. He made his professional debut against local veteran (and current UFC fighter) Ivan Menjivar.
Menjivar was already 4-0 in his career, and St-Pierre stopped him in his tracks with a TKO at four minutes, 59 seconds of the first round. GSP was on his way, as he would have two more fights and wins in 2002, winning and defending the Quebec regional TKO welterweight title in the process.
Diaz—19 years old
Diaz fights five times in 2002, starting his year with three fights in one night in a tournament in California. He wins the first two before losing in the finals to Jeremy Jackson.
Diaz fights two more times and goes 1-1, losing to Kuniyoshi Hironaka in his first fight in Japan.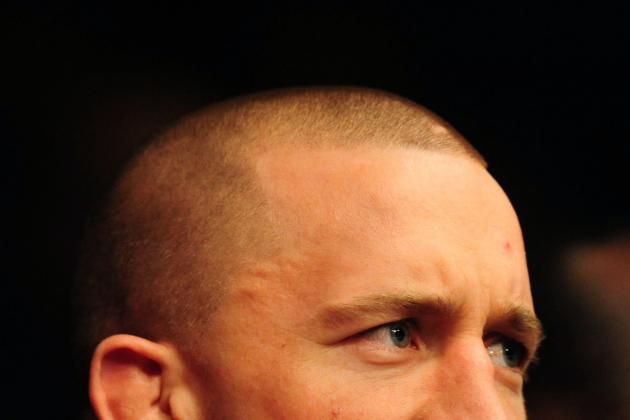 Mark J. Rebilas-USA TODAY Sports

Georges St-Pierre—24 years old
St-Pierre is just coming off losing his first UFC title fight, a submission loss to dominant champion Matt Hughes to suffer the first loss of his career. He fights four times in 2005, including a fight back in the TKO promotion in Canada. He gets wins over Dave Strasser, Jason Miller, Frank Trigg and Sean Sherk to climb back into title contention to start the following year.
He is 11-1.
Nick Diaz—22 years old
Diaz is four fights into his UFC career and has three fights in 2005. He TKO's Drew Fickett, knocks out Koji Oishi and then loses a tight decision to Diego Sanchez in an epic fight that has landed on the UFC Ultimate 100 Fights of All Time.
In 15 fights, Diaz is 11-4.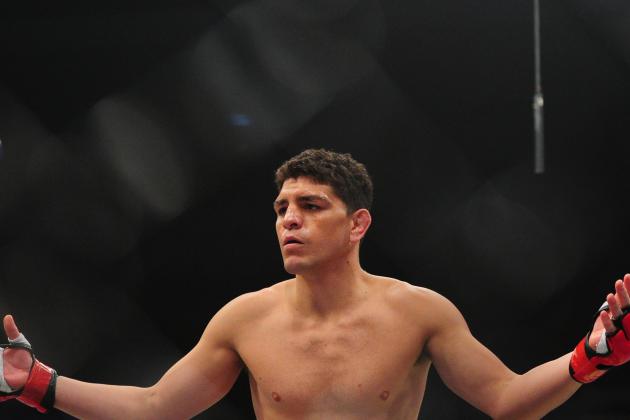 Mark J. Rebilas-USA TODAY Sports

Georges St-Pierre—26 years old
St-Pierre suffers the worst upset loss of his career against Matt Serra to start off his year at UFC 69 in Houston. To make it worse, he loses the welterweight title in his very first title defense. He bounces back with a win over Josh Koscheck, and then defeats Matt Hughes via submission in a rubber match for the interim welterweight title.
He gets the "Submission of the Night" bonus and his record moves to 15-2.
Nick Diaz—24 years old
Diaz fights his final bout in the Pride organization in a famous no-contest against Takanori Gomi. Diaz submits Gomi via gogoplata in what many considered the fight of the year. He then fought two times in Elite XC, getting a win and then a controversial loss against KJ Noons.
Diaz is 15-7-1.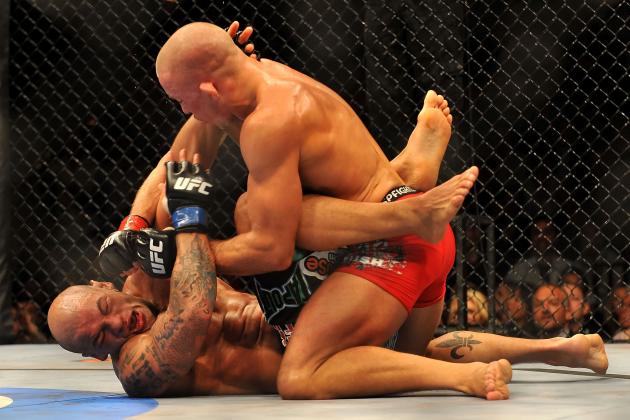 Jon Kopaloff/Getty Images

Georges St-Pierre —28 years old
St-Pierre is now back on top and leading the UFC to new heights as the poster boy for the promotion.
Coming off a war in which he defeated Jon Fitch, GSP enters the year set to take on BJ Penn in the biggest UFC super fight in years. It is champion vs. champion for the first time in a long time, and St. Pierre is more than ready for it.
He batters Penn for four rounds before Penn's corner throws in the towel before the start of the fifth round. St-Pierre is on top of the MMA world.
He has one more fight in 2009 with a solid decision win over the dangerous Thiago Alves where he injures his groin badly and is out of action until March 2010.
GSP is 19-2.
Nick Diaz—26 years old
Diaz is battling hard in the Strikeforce organization and fights two times in 2009. He beats Frank Shamrock by TKO and then submits Scott Smith via rear naked choke. He is the top dog in the organization and has set himself up for a shot at the inaugural Strikeforce welterweight title.
Diaz is 20-7-1.
The MMA world is starting to talk and call for a GSP-Diaz fight.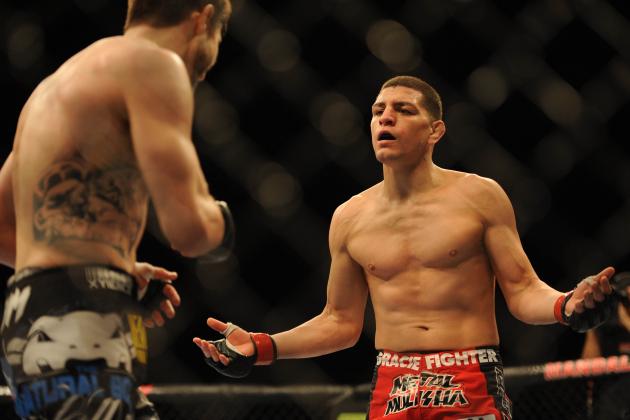 Kelvin Kuo-USA TODAY Sports

Georges St-Pierre—31 years old
St-Pierre comes off major knee surgery and fights one time in 2012. He defeats Carlos Condit via unanimous decision in one of his best performances in years. The victory is an incredible first fight back after a 14-month layoff and once again declares that he is the undisputed champion of the welterweight division.
GSP is 23-2.
Nick Diaz—29 years old
Diaz only fights once in 2012 as well, suffering a tough loss to Condit in February, to lose his chance at St. Pierre at the end of the year. The loss is compounded as Diaz gets suspended for a year for testing positive for a banned substance. This fight will be his first fight back in just over a year and the first time he fights for a legitimate UFC title.
Diaz is 26-8-1.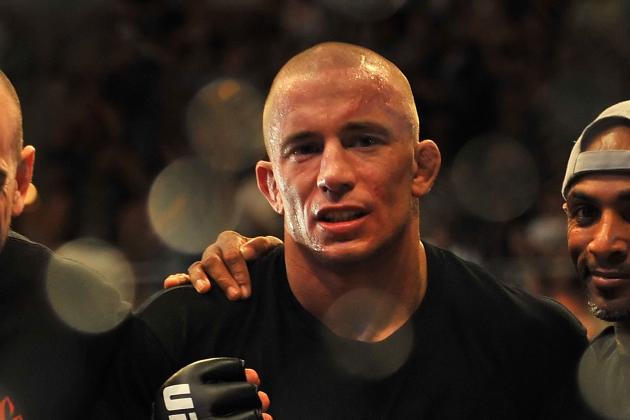 Jon Kopaloff/Getty Images

A few days before the fight and it still may be in jeopardy as Diaz missed today's open workouts in Montreal. MMAFighting.com reported that Dana White has already stated that there may be repercussions if Diaz misses tomorrow's press conference.
It has been confirmed that Diaz is indeed in Montreal, so this fight will most likely be a go and here is how I see it going down.
This fight is going to be very similar to the GSP-Condit fight with takedowns and top-game dominance ruling the day for the champ.
Diaz will try to entertain and frustrate GSP with his hands, but as soon as he hits Georges with anything significant, he will be unable to sustain it because he will have to stuff the takedown.
The only difference may be in the fact that GSP wants to finish and even hurt Diaz, so he may open himself up a little more for a mistake. Diaz may be able to capitalize on that if St-Pierre steps too much out of character.
In the end, I see GSP winning a unanimous decision like he always does, and defending his title for the eighth consecutive time.
Dwight Wakabayashi is a featured columnist for Bleacher Report UFC and regular contributor to Sportsnet.ca's UFC section. Follow him on Twitter @wakafightermma.