Picking 1 Free Agent to Fill Each of the St. Louis Rams' Holes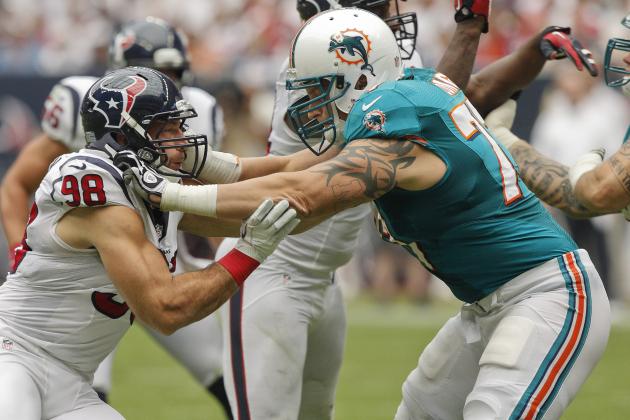 Bob Levey/Getty Images

Apparently, the St. Louis Rams are finding a way around the salary cap—or some way to manipulate it in their favor—as they pursue free agents to fill their positions of need.
Though the figures showed only about $13 million with which to work, the Rams have already signed former Tennessee Titans tight end Jared Cook to a five-year $35.1 million deal, and they appear on the verge of signing former Miami Dolphins left tackle Jake Long for considerably more than that. According to NFL.com's Dan Hanzus, Long wants $11 million per year.
OT Jake Long will take a physical in St. Louis tomorrow, and the chances he signs there hinge on its results.

— Albert Breer (@AlbertBreer) March 13, 2013
Surely, some creative structuring will be involved, but even so, it would be shocking to see them invest $18 million per season to two players, both of whom carry significant question marks (which we'll get into later).
If the Jake Long move gets done, the Rams will be finished in free agency. Their change purses empty of everything but lint, they will choose to fill the rest of their needs through the draft.
But, if it doesn't, they will still have the money to address one or two or their remaining needs—needs we will look at in the following slides.
Begin Slideshow

»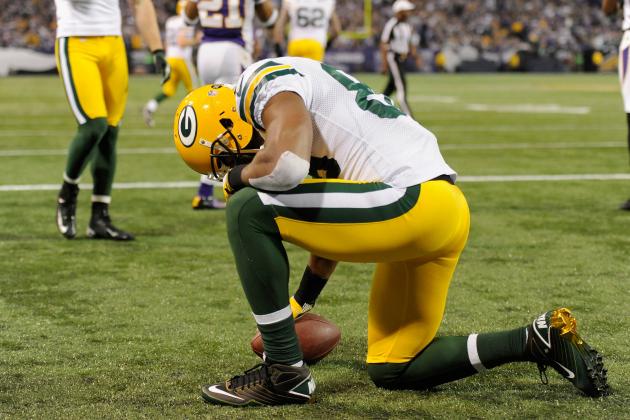 Hannah Foslien/Getty Images

Now that Danny Amendola has signed with the New England Patriots, the Rams have no choice but to add a wide receiver at some point in the offseason.
It's looking less and less likely to happen, but I'm not hopping off the Greg Jennings train until I'm sure it's not headed anywhere near St. Louis.
If the Rams are willing to spend $11 million per year on Jake Long, why not hand that money to Greg Jennings if the Long deal falls through? $11 million should be enough to lure Jennings to the gateway city.
Both Long and Jennings are coming off of injuries. Both were once among the elite at their respective positions. Both could possibly reattain that status.
Jennings is older, but he is still only 30, and the length of his contract would reflect his increased age. Also, one positive thing that comes through missing time with injuries is that he saved a lot of wear and tear on his body. Well, the parts that weren't injured, anyway.
Any concern over his injuries should be alleviated by the fact that the Packers, the team that knows those injuries and his response to them the best, offered him a $10 million contract. Obviously, they are not overly concerned about his ability to stay healthy.
Ideally, the Rams would acquire an established No.1 to come in and show the kids (Quick, Givens and whomever else they draft this year) how to play the game at its highest level.
Greg Jennings would fill that role as mentor while simultaneously providing Pro Bowl-caliber play on the field—if he can stay healthy. But that same caveat applies to Jake Long, too. If the Long deal falls through, throw the money at Jennings and take a tackle in the draft.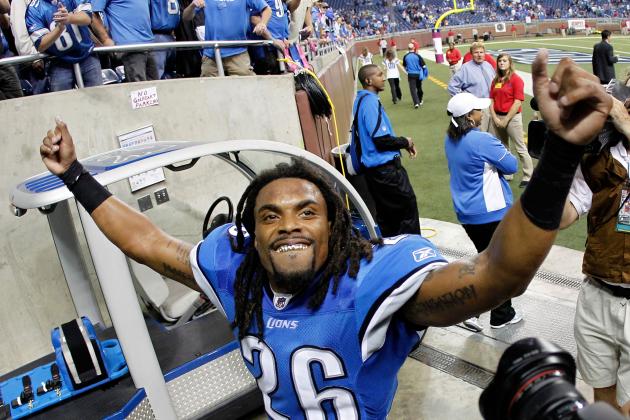 Gregory Shamus/Getty Images

The Rams' decision to cut Quintin Mikell means they will need to add two starting safeties this offseason.
They won't want both of them to be rookies.
Former Detroit Lion Louis Delmas is the free agent most heavily linked to the Rams at this point (03/13).
It makes sense in that Delmas is a stud when healthy, and the Rams new defensive coordinator, Tim Walton, was Delmas' secondary coach in Detroit.
What gives pause is Delmas' injury history. He has missed 13 games over the last two seasons, including eight in 2012.
If the Rams sign Delmas and Jake Long, all three of their free-agent acquisitions (including Jared Cook) will come into camp with significant question marks (health for Delmas and Long, ability to reach the potential that garnered his contract for Cook).
That former Houston Texan Glover Quin is now the newest member of the Detroit Lions is both good and bad for the Rams. It means that Delmas' suitors have narrowed, but Quin is off the market if Delmas fails his physical.
Another free-agent candidate to play safety for the Rams is the recently released Bernard Pollard. Considered a liability in coverage, he is one of the hardest hitters in the league. As such, he would fit perfectly with the Rams new hard-nosed defensive image while also scaring the daylights out of any receivers brave enough to go over the middle.
If Pollard comes to town, the Rams could draft a center fielder (Kenny Vaccaro) to play free safety in order to make up for Pollard's deficiencies in coverage.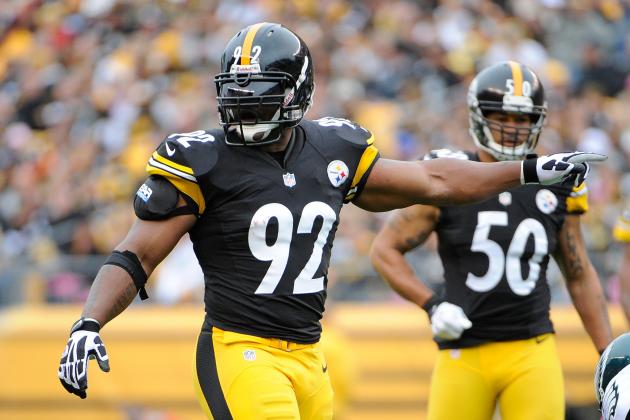 Joe Sargent/Getty Images

Just for fun, imagine James Harrison standing on the field at the Edward Jones Dome in a few months' time with James Laurinaitis next to him and Jo-Lonn Dunbar on the other side of Laurinaitis.
The circumstances to make this happen are in place. The 34-year-old Harrison is probably not looking for anything more than a two-year deal. With no young, affordable outside linebackers available in free agency and bigger needs to fill with their two first-round picks, the Rams wouldn't mind someone to come in for a year or two and fill that void until they can draft a replacement.
Despite its awesomeness, it is most likely a futile fantasy; the Rams probably don't have interest in a 34-year-old player, and Harrison surely wants to go to a contending team. But just imagine the 2012 Rams defense with Harrison, Bernard Pollard or Louis Delmas and Kenny Vaccaro added to it. Incredible.
The more likely scenario is that the Rams pick up an outside linebacker in the middle rounds of the draft, but that's not nearly as fun to think about.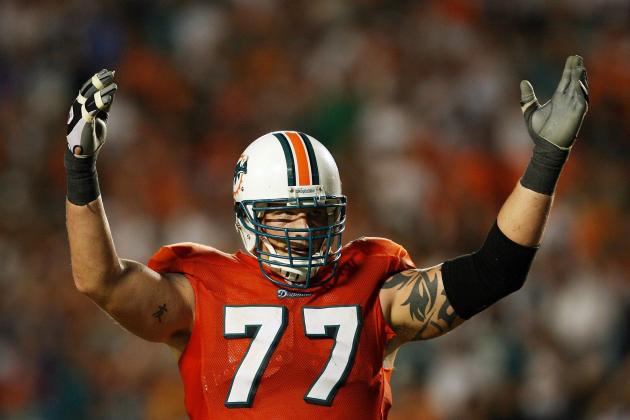 Doug Benc/Getty Images

If Jake Long is to join the Rams, you may already know by the time you're reading this.
Word from the longest physical in the history of physicals: If anything happens with Jake Long and #Rams… it'll be tomorrow #rest#longpuns

— Ian Rapoport (@RapSheet) March 14, 2013
If the Rams miss out on Long, that's okay; there are still intriguing names available. Sebastian Vollmer and Eric Winston are two who could come in and provide an upgrade at the starting right tackle position—a scenario that, apparently, would make Rodger Saffold happier than if Long came to town.
Saffold has taken it upon himself to complicate matters by reportedly stating that he will demand a trade if Long comes to St. Louis. Is there any other motivation for this than his own financial future? If not, would getting rid of a me-first guy be that big of a loss?
The Chicago Bears having signed Jermon Bushrod means that they won't be in competition for Long's services or for a tackle in the draft if the Rams can't lure one to St. Louis via free agency.
The team's obvious No.1 choice is Long. But, if that doesn't work out, Vollmer would come cheaper and prevent Saffold from having to act like a big baby. Win-win.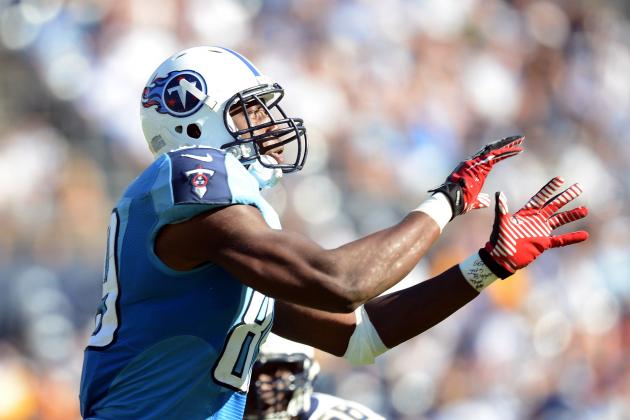 Harry How/Getty Images

The Rams wasted no time in filling their need for a pass-catching tight end, having signed Jared Cook to a five-year $35.1 million deal on the first day of free agency.
It was a bold move. Cook's production to this point in his career does not justify $7 million per year. But, if he plays up to his potential, that contract will be a bargain.
In 2012, Cook ranked 24th among NFL tight ends in targeted passes. Understandably, he wasn't very happy about that and voiced his frustrations. His disapproval of the way he was used—or more to the point, not used—earned him the condemnation of many Titans fans who professed their satisfaction with his departure.
To keep a similar situation from playing out in St. Louis, the Rams will have to get creative with their offensive play calling in order to fully utilize all that Cook brings to the table.
He stands 6'5" and weighs 240 pounds. He has great hands and runs a 4.49 second 40-yard dash. He is a wide receiver in a tight end's body—an extraordinary weapon that, if kept happy, will provide the Rams with top-tier production for the length of his contract.