Alabama Football: Complete Pro Day Analysis and Results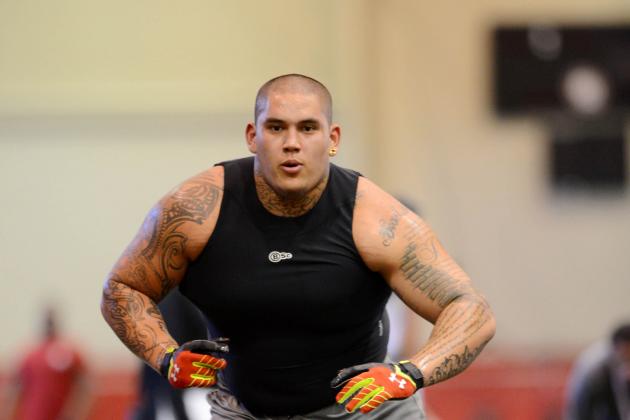 Kelly Lambert-USA TODAY Sports
Former Tide DL Jesse Williams may have helped himself the most during Alabama's pro day.
After a majority of Alabama's 10 attendees at February's NFL combine skipped the workouts in Indianapolis, a large number of NFL personnel descended upon Tuscaloosa to get a good look at the Crimson Tide's talent during the school's pro day on Wednesday afternoon.
However, the injury bug caused star running back Eddie Lacy to bow out of the workout, per ESPN. Additionally, corner Dee Milliner—who did work out at the combine—missed pro day due to his recovery from a recent surgery to repair a torn labrum, according to Adam Schefter of ESPN.
Other players such as Quinton Dial, Damion Square and Barrett Jones were unable to partake in most of the drills due to various injuries that have been issues since before the combine, according to Andrew Gribble of AL.com.
Still, for former Tide stars such as Nico Johnson, Jesse Williams, Chance Warmack, D.J. Fluker and Robert Lester, pro day represented a chance for each player to leave a final and lasting on-field impression with the draft a little more than a month away.
Furthermore, a handful of players who didn't get an invitation to the combine—such as tight end Michael Williams—got a chance to show their abilities in front of the scouts in attendance.
How did Nick Saban's former pupils fare, and what is the buzz on each of the Tide's draft-eligible prospects heading into the final stretch of the pre-draft circuit?
Here is the complete analysis and results from Alabama's pro day.
All results per ESPN3's online broadcast or via Matt Scalici of AL.com unless otherwise noted. Players are listed in alphabetical order.
Begin Slideshow

»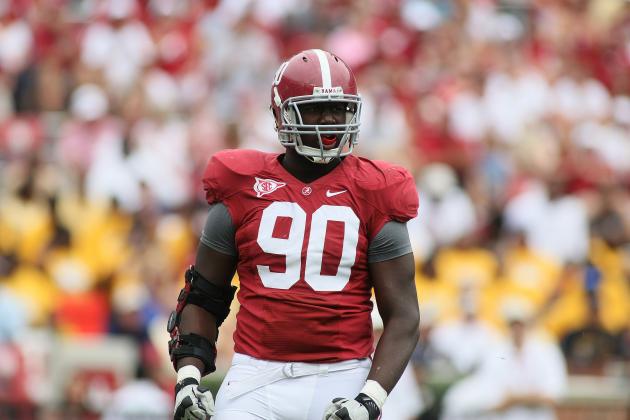 Greg McWilliams/Getty Images

DNP due to injury.
Dial chose to sit out the combine, and he needed a strong showing on his home turf to enhance the chances of hearing his name called in the later rounds.
Unfortunately for Dial, a toe injury hampered his ability to impress scouts on the pre-draft circuit, and he was unable to work out, per rolltide.com.
His experience playing in Saban's 3-4 scheme and his 6'5", 318-pound frame make him a potential late-round value pick.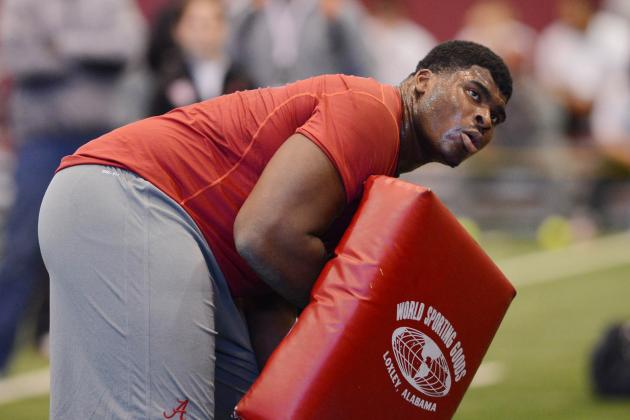 Kelly Lambert-USA TODAY Sports

DNP in testing. Did do position drills.
Fluker put up a solid showing in Indianapolis with a 40 time of 5.39 seconds and 21 reps on the bench press, and he chose to let those numbers stand on pro day.
Those numbers were good enough to quell some concerns about his weight and athleticism.
Fluker didn't participate in any of the testing during pro day, but he did look noticeably trimmer weight-wise and appeared to move with more fluidity during offensive line drills.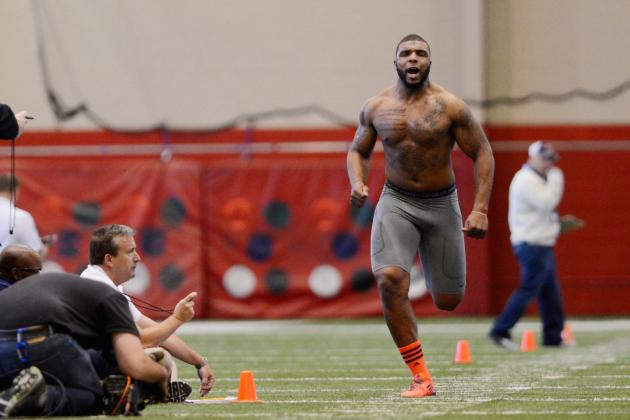 Kelly Lambert-USA TODAY Sports

40-yard Dash: 4.73 seconds
Broad Jump: 9'2.5"
20-Yard Shuttle: 4.47 seconds
After playing through pain during the week of the Senior Bowl and undergoing a subsequent surgery to repair a sports hernia, Johnson was unable to participate in drills in Indianapolis, according to Andrew Gribble of AL.com.
Johnson's predicament is similar, although to a lesser degree, to that of Lacy. None of the other players at middle linebacker have positioned themselves as the top option at that position.
Johnson's 40-yard dash time is a solid effort and should help him ascend into the top five players available at his position.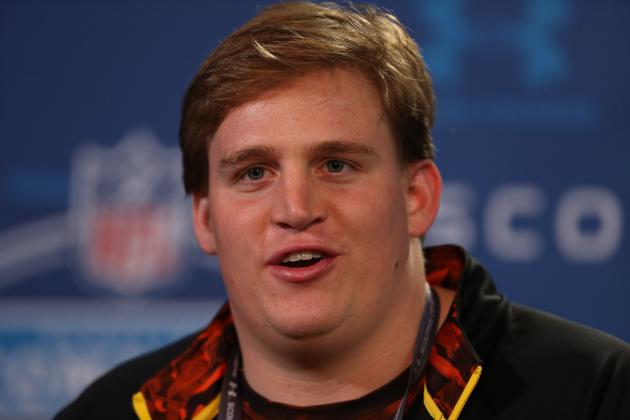 Brian Spurlock-USA TODAY Sports

Bench Press: 27 Reps
Jones underwent foot surgery following the BCS title game and likely won't be fully recovered until after the draft.
While his resume on the field is well-documented, the workout circuit could have alleviated any concerns about his athleticism and helped cement him as a player worthy of a first-round grade.
That goal may have been lost due to the injury, but don't expect Jones to fall too far. The fact that he participated in the bench press is a testament to his competitiveness—which is just another element that will help Jones overcome his inability to participate fully in the pre-draft circuit.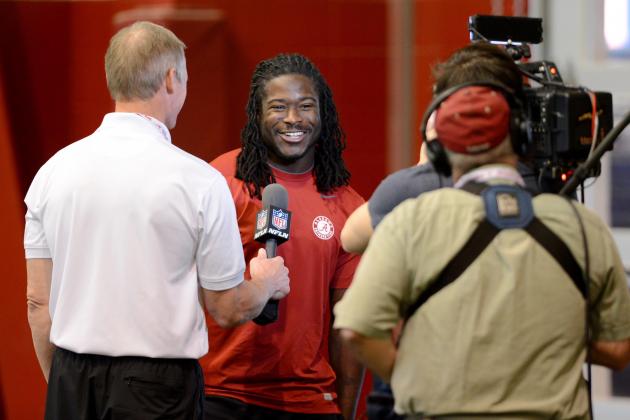 Kelly Lambert-USA TODAY Sports

DNP due to injury.
With no running back in this class having separated from the pack as the top rusher in the 2013 draft class, it seems like NFL scouts and draft experts are patiently waiting for Lacy to wow them.
However, his gimpy hamstring has postponed his workout to a later date. Lacy mentioned on ESPN's telecasts that Alabama will hold two additional pro days, and he will attempt to be ready for the second one.
The biggest knock on Lacy has been his inability to stay healthy, but a torrid finish to his junior season proved what he is capable of when he's healthy.
Given his inability to stay healthy, Lacy remains one of the most intriguing prospects to follow from now until the draft begins.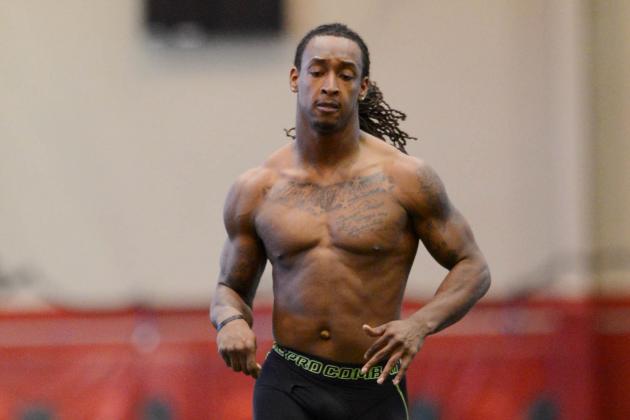 Kelly Lambert-USA TODAY Sports

40-Yard Dash: 4.65 seconds
Bench Press: 7 reps
Vertical Jump: 34.5 inches
Broad Jump: 10'1"
20-Yard Shuttle: 4.25 seconds
60-Yard Shuttle: 11.75 seconds
Lester's numbers at the combine backed up what most in the scouting community already knew—he's not a player who will blow away anyone with his athleticism.
However, his cerebral makeup and instincts make him an intriguing prospect at a position that values those traits.
Lester was able to put together a solid pro day, which should boost his value in a relatively shallow safety class.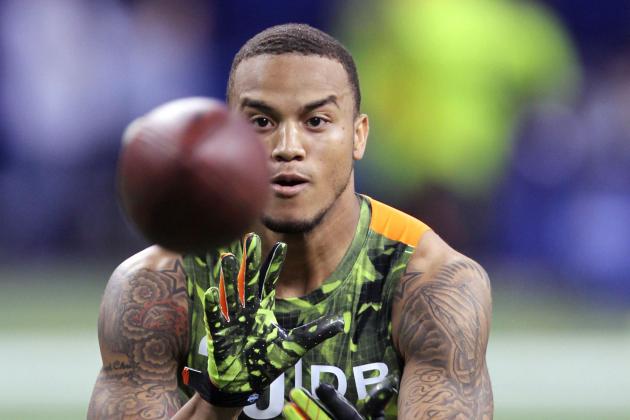 Brian Spurlock-USA TODAY Sports

DNP due to injury.
While a number of his teammates opted to skip the combine, Milliner postponed his surgery and won over a number of his critics by running a blazing 4.37 time in the 40 and showing his will to compete despite a valid excuse to sit out.
Unless something drastic happens between now and April 26, expect Milliner to be a top-10 pick and the first corner taken in this year's draft.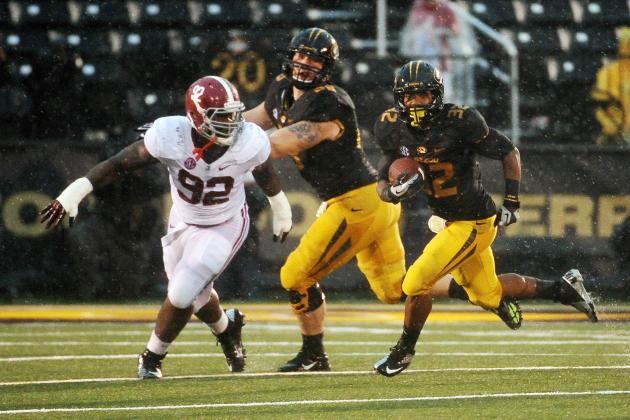 Dak Dillon-USA TODAY Sports

Bench Press: 23 reps
Like Dial, Square has an injury that prevented him from working out in the combine and didn't heal enough for him to partake fully in Wednesday's pro day festivities.
As Gribble of AL.com noted, a knee injury has hindered Square since the season ended.
Like Jones, Square did take part in the bench press and was able to knock out 23 reps at 225 pounds.
A versatile performer who gained experience at various spots on the Tide's front, Square is another big body with value in the later rounds.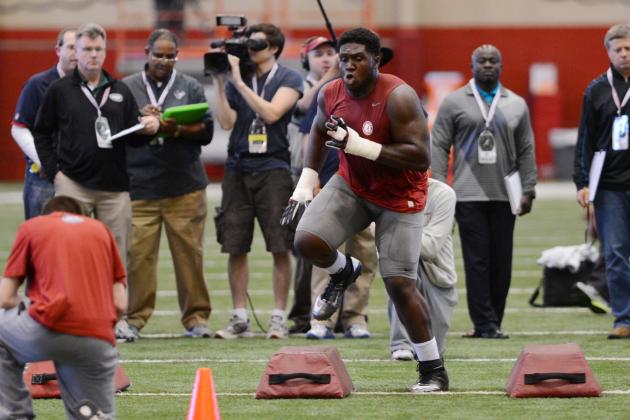 Kelly Lambert-USA TODAY Sports

Vertical Jump: 24.5 inches
20-Yard Shuttle: 4.97 seconds
Three-Cone Drill: 7.90 seconds
Warmack entered pro day as a player who hoped to regain some momentum after a combine that raised some eyebrows and questions about his stock.
Warmack tipped the scales at 319 pounds, according to Don Kausler Jr. of AL.com. He didn't participate in a number of the tests, but like Fluker, he seemed to show quick feet in the offensive line drills.
While scouts may not be blown away with his measurables, Warmack's game tape will still show a player who was dominant all season in helping pave the way for Lacy and T.J. Yeldon.
Note: Times courtesy of Don Kausler Jr. of AL.com.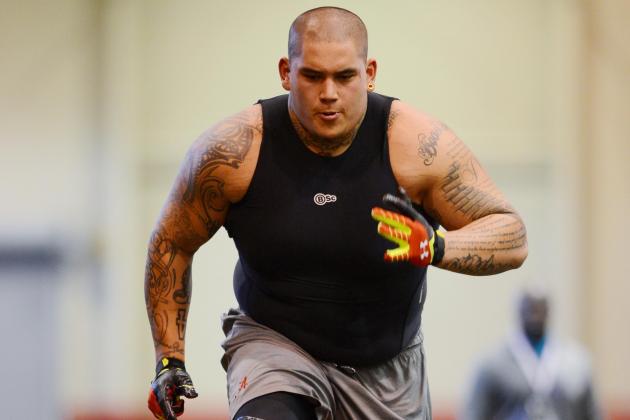 Kelly Lambert-USA TODAY Sports

40-Yard Dash: 4.91 seconds
20-Yard Shuttle: 4.78 seconds
Three-Cone Drill: 7.69 seconds
Williams is another player who needed a strong showing to solidify his status as a potential first-round pick in a strong class of defensive tackles.
The former JUCO transfer certainly improved his case by showcasing his agility at 325 pounds.
By turning heads with a strong pro day, Williams strengthened his bid to add to the Tide's recent haul of first-round picks since Saban has taken over the program.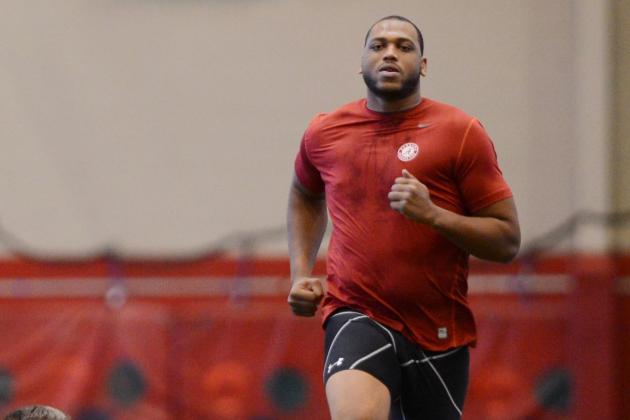 Kelly Lambert-USA TODAY Sports

40-Yard Dash: 5.4 seconds
Broad Jump: 8'1"

Vertical Jump: 35.5 inches
20-Yard Shuttle: 4.88 seconds
Three-Cone Drill: 8.10 seconds
Williams was snubbed for the combine despite having a strong week during the Senior Bowl practices and catching a touchdown pass in the game.
His slow 40-yard dash time certainly will not help the perception that he cannot get up the field vertically in the passing game. However, he has been praised for his blocking, and ultimately that will be his ticket into the draft if his name happens to be called.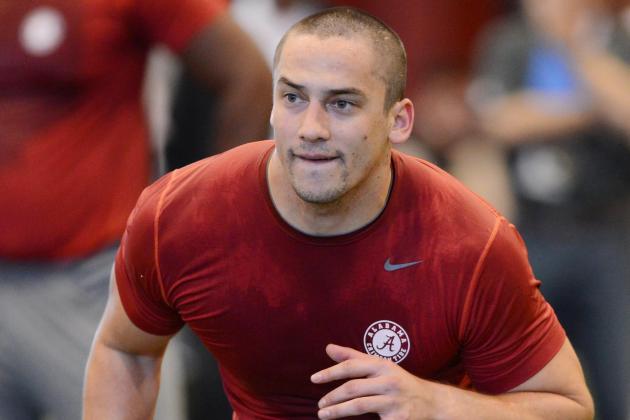 Kelly Lambert-USA TODAY Sports

Kelly Johnson: Tight End, 6'3", 230 pounds
Results
Bench Press: 19 reps
Broad Jump: 9'2"
Carson Tinker: Long Snapper, 6'1", 220 pounds
Results
40-Yard Dash: 5.19 seconds
Bench Press: 17 reps
Broad Jump: 7'9"
Ranzell Watkins: Defensive Back, 5'9", 172 pounds
Results
Bench Press: 10 reps