The 10 Biggest Free-Agency Signings in Minnesota Vikings' History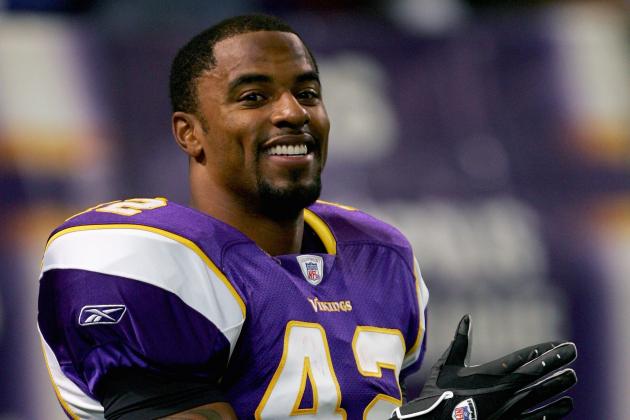 Doug Pensinger/Getty Images
Darren Sharper made an immediate impact with the Vikings. Find out where he lands among the 10 biggest free agency signings.
Free agency has officially started and we find ourselves waiting to see if any big-name players find a home with the Minnesota Vikings. Over the years, the team has had a handful of widely talked about signings—Brett Favre and Randall Cunningham come to mind.
But not all players get personally chauffeured by their head coach from the airport, a la Brad Childress for the border-state rival Favre.
Other players make far less of a splash when they land in Minnesota, but have added value to the team with their contributions over time.
Mike Wobschall of vikings.com recently published his top list of free-agent signings in team history. With differences among the order, we dive into deeper detail of each player and their importance to the Vikings.
The criteria to be considered among the greatest free-agent signings are as follows: 1) immediate impact in a given season, 2) long-term value over time and 3) strong character on and off the field.
Let's run through the best free-agent players to ever wear purple and gold.
Begin Slideshow

»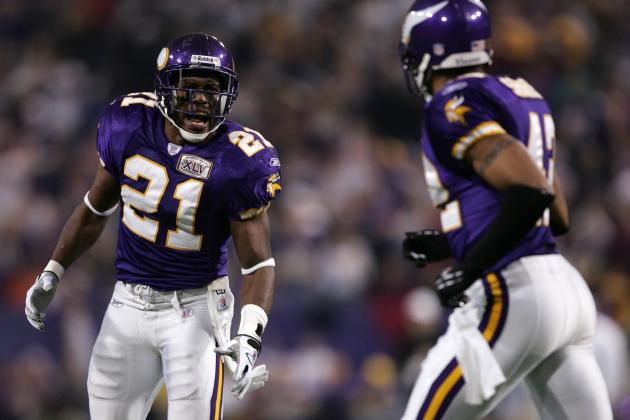 Elsa/Getty Images
Corey Chavous recorded 83 tackles in his first season with the Vikings.
Corey Chavous joined the Vikings after signing a four-year contract in 2002. He went on to start all 64 games in that span, totaling 320 tackles and 14 interceptions.
The former Vanderbilt standout left Arizona where he was drafted in the second round of the 1998 draft. Chavous had moderate production in his four years as an Arizona Cardinal—181 tackles and five interceptions—but exploded with his arrival in Minnesota.
He hauled in eight interceptions in 2003, adding a touchdown and 143 return yards.
Now known for his draft coverage and analysis, Chavous reliably played the safety position with great tackling ability and pass defense.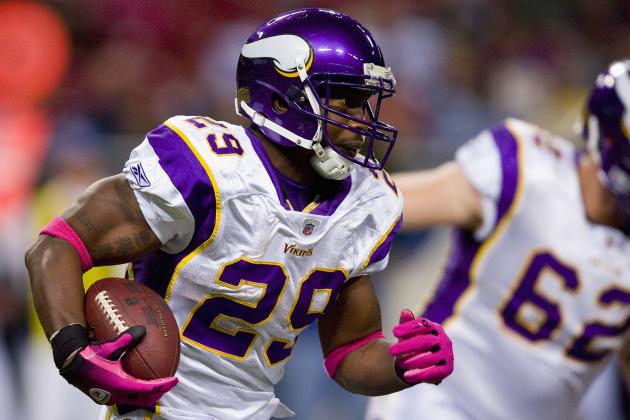 Dilip Vishwanat/Getty Images
Chester Taylor ran for 1,216 yards and six touchdowns in 2006.
Chester Taylor began his career with the Baltimore Ravens and primarily played as a backup to Jamal Lewis from 2002-2005.
Enter the Vikings in 2006 which desperately needed a starting running back after releasing the oft-injured Michael Bennett. Other than Mewelde Moore, the team had few options at running back heading into the upcoming season.
Minnesota signed Taylor to a four-year, $14.1 million contract, and he immediately produced in the Vikings offense. The former Raven rushed for 1,216 yards on 303 carries and six touchdowns in his first season.
Although the Vikings selected Adrian Peterson with the seventh overall pick in the 2007 draft, Taylor continued to produce in a reduced role. He finished with 2,797 yards and 18 touchdowns in four years with Minnesota.
Tom Hauck/Getty Images
Jeff Christy started 16 games in five of his seven years in Minnesota.
Who could forget Jeff Christy?
The intimidating center was a force on the offensive line from 1993-1999 and was named to the Pro Bowl and All-Pro teams twice—but his career didn't start in Minnesota.
The Phoenix Cardinals drafted Christy in the fourth round, although they later dropped the Pittsburgh prospect, and he missed all of the 1992 season.
The Vikings swooped in and signed the eventual offensive anchor who helped the team reach the playoffs six times in his seven seasons at center.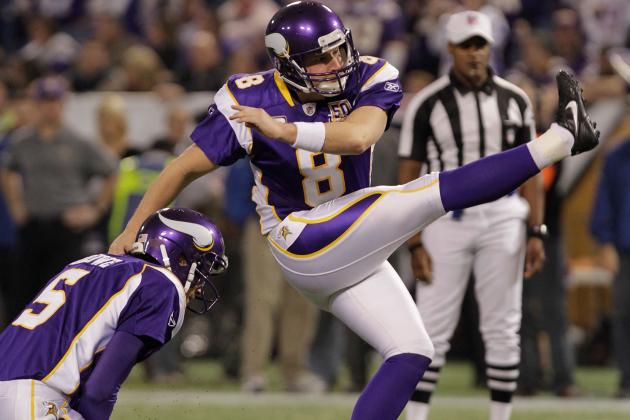 Nick Laham/Getty Images
Ryan Longwell left Green Bay after nine seasons to kick for the Vikings.
Prior to joining the Vikings, Ryan Longwell was calmly kicking field goals for the rival Green Bay Packers. Fans in Minnesota knew far too well how steady of a leg Longwell possessed—he kicked back-to-back, game-winning field goals against the Vikings in 2004.
When the Packers decided not to sign the reliable kicker heading into the 2006 season, the front office in Minnesota sprung at the chance to have Longwell kicking in purple.
Over his career in Minnesota, Longwell was an 86 percent field goal kicker and holds the Vikings career record with 11 field goals of 50 yards or more. Blair Walsh is already on his heels, though, with a single-season record 10 50-yard-plus field goals in his rookie campaign.
Longwell was a class act who made his presence felt in Minnesota after signing as a free agent and even when leaving the organization in 2012.
To all in Viking Nation.Can't thank you enough for your cheers over the past 6 years!You've been awesome to me and my family. God Bless!

— Ryan Longwell (@4thandLongwell) May 7, 2012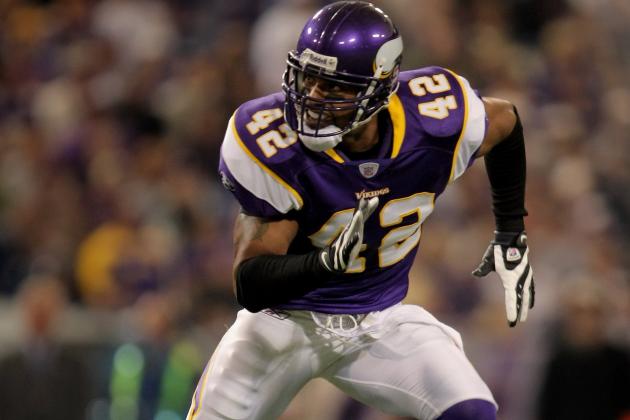 Doug Pensinger/Getty Images
Darren Sharper led the NFC with nine interceptions in 2005.
The Vikings signed Darren Sharper in 2005 after an illustrious eight seasons in Green Bay. He left the Packers, having hauled in 36 interceptions and five touchdowns.
Once arriving in Minnesota, Sharper didn't skip a beat. He led the NFC with nine interceptions in his first season, racking up a league-leading 276 return yards and added two touchdowns.
Known for his big smile and better playmaking skills, Sharper finished his four years in Minnesota with 18 interceptions and three touchdowns.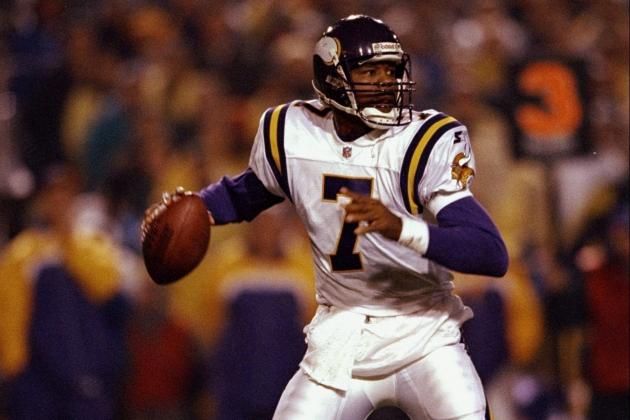 Vincent Laforet/Getty Images
Randall Cunningham led the Vikings to a 15-1 season in 1998.
After being out of football entirely in 1996, the Minnesota Vikings signed free-agent Randall Cunningham to a one-year contract as backup to quarterback Brad Johnson.
Stepping out from retirement where the former Philadelphia Eagle was working manual labor cutting marble and granite, Cunningham eventually cut through the record books in 1998 with a then-NFL record 556 points in a season.
Cunningham led one of the most prolific offenses in NFL history to a 15-1 record, with a receiving corps made up of Cris Carter, rookie Randy Moss and Jake Reed.
While the final outcome was not a Super Bowl berth, this free-agent signing still marked one of the biggest signings in franchise history.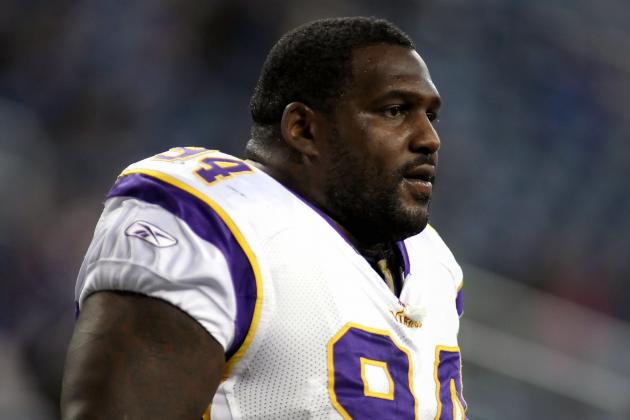 Christian Petersen/Getty Images
Pat Williams comprised one-half of the nearly impenetrable "Williams Wall."
The Minnesota Vikings landed a giant free-agent signing with the run-stopping Pat Williams in 2005.
Joining forces with Kevin Williams on the defensive line, the two formed the aptly named "Williams Wall," which helped the Vikings lead the NFL in rushing defense for three consecutive years from 2006-2008.
The duo slipped to No. 2 in 2009.
Pat Williams was flat-out dominant for the Vikings in six seasons. Since his departure in 2011, the team finished 11th in rushing defense for the last two years and are looking to free agency once again or the draft to fill the void left by Williams.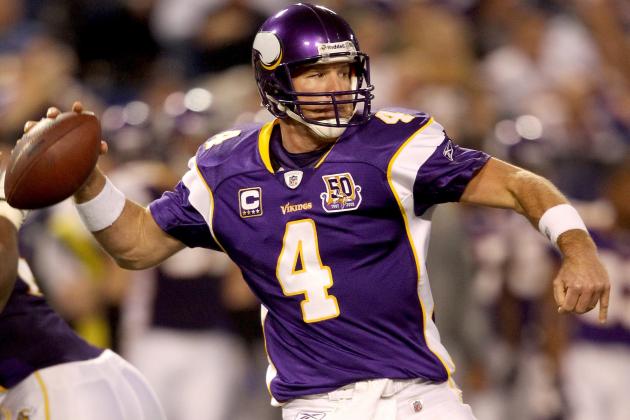 Matthew Stockman/Getty Images
Brett Favre came out of retirement to sign with the Vikings in August 2009.
If there was a list for most dramatic free-agent signings in Vikings history, Brett Favre would be No. 1.
A player nobody thought would ever wear purple after playing 16 seasons in Green Bay, the three-time MVP sent shock waves through Wisconsin when he signed with Minnesota in 2009.
Favre led the Vikings to a 12-4 record in his first season and a near-Super Bowl appearance after a gut-wrenching loss in the NFC Championship Game. He threw for his best touchdown total (33) in 12 years and amassed 4,202 yards and only seven interceptions—the first time the Mississippi native ever had a single-digit total in interceptions for a full season.
Although his 2010 campaign couldn't rekindle the magic from 2009—the team finished with a 6-10 record—Favre provided one of the most exciting seasons in recent memory and showed us the gunslinger still had some life left in that arm.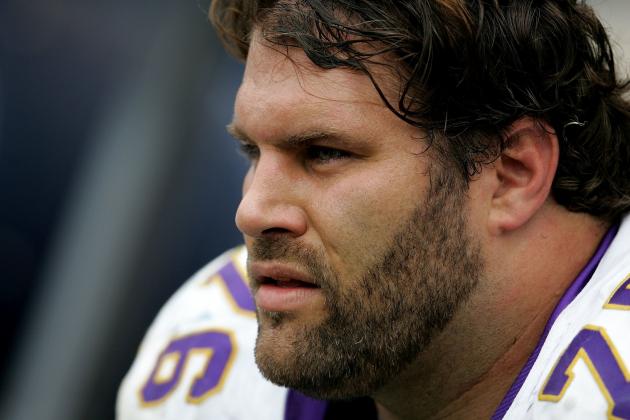 Jonathan Daniel/Getty Images
Steve Hutchinson earned All-Pro and Pro Bowl honors in four straight years with the Vikings.
Steve Hutchinson signed a seven-year, $49 million contract with the Vikings as a free agent in 2006. He became the highest-paid guard in NFL history.
The signing actually caused a change to the new CBA, where a "poison pill" feature could no longer be utilized. The Seattle Seahawks were unable to match the Vikings offer, as it would have guaranteed Hutchinson's salary as a transition player.
The Seahawks loss was the Vikings ultimate gain.
Hutchinson played in Minnesota for six years, helping the team average over 2,000 yards on the ground during that span. He collected All-Pro and Pro Bowl honors in four straight years (2006-2009) and was named to both the NFL 2000s All-Decade Team and 50 Greatest Vikings team.
A potential Hall of Fame candidate, the Vikings signed a player considered one of the best linemen to ever play the game (via Jay Glazer):
One of best lineman I've ever seen play Steve Hutchinson just texted me that he's retiring tomorrow. Big congrats to him on a great career

— Jay Glazer (@JayGlazer) March 12, 2013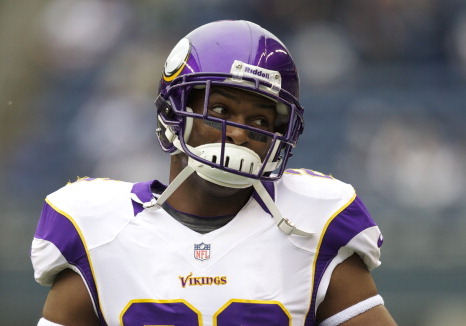 Stephen Brashear/Getty Images
Antoine Winfield played in 119 games in nine seasons with the Vikings.
A bittersweet choice as the biggest free-agent signing in team history, the Vikings announced the release of cornerback Antoine Winfield on Tuesday, March 12 (via Tom Pelissero).
Signing with Minnesota in 2004, the former Buffalo Bill has been part of four playoff teams with the Vikings. He was named to the 50 Greatest Vikings team in 2010 and received Pro Bowl honors in three consecutive years (2008-2010).
Winfield epitomizes the criteria for being the top free-agent signing and has played in 119 games over nine seasons. He has a total of 729 tackles with the Vikings and 21 interceptions.
As Rick Spielman looks to replace the veteran cornerback, the team can only hope that future players have a fraction of the class and ability that Winfield exhibited.
Honorable Mention
Ben Leber, Jack Del Rio, Gary Anderson
Follow me on Twitter and Google+