The 10 Worst Strikers in the Premier League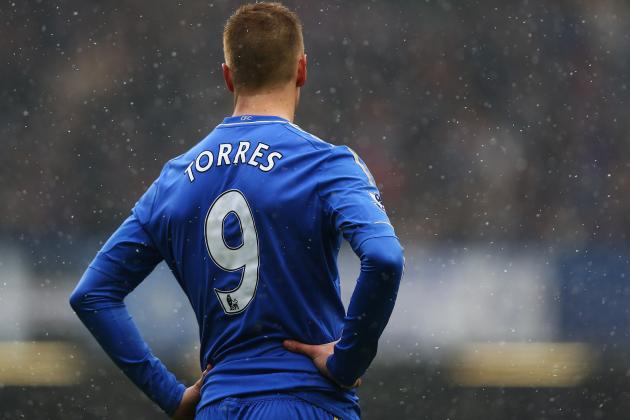 Clive Rose/Getty Images

Strikers...they're the guys that put the ball in the back of the net, right?
Well, yes, if your name happens to be Robin Van Persie, Luis Suarez or Edin Dzeko.
Otherwise, the answer to that question is "sometimes", "occasionally" or "not really, no, I'm afraid, been having a bit of a barren run lately, not quite sure why…"
It's a sad fact that for every exceptional Premier League striker, there are half a dozen extremely ordinary ones who find the task of knocking the ball over the line pretty damn difficult.
Since they don't score all that often these players rarely hit the headlines.
However, we thought their efforts should be acknowledged. So we created this slideshow of the 10 least prolific Premier League strikers this season.
Amazingly, Fernando Torres doesn't make the cut despite all his travails with Chelsea this term.
But nonetheless there are some very famous names on the following list.
Begin Slideshow

»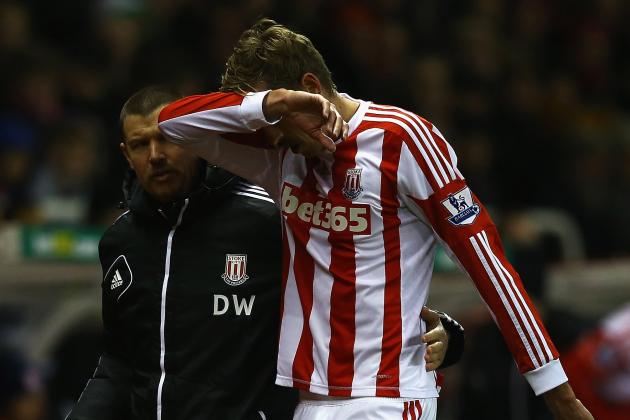 Matthew Lewis/Getty Images

Five goals; 1,752 minutes on the pitch
It's often remarked that Peter Crouch looks more like a basketball player than a footballer.
Well it may be time for the beanpole striker to consider a career switch. After all, the goals have pretty much dried up for the former England man this season with just five to his name in the Premier League.
That's a desperately poor return, especially for a towering man who plays in a team which sends more high balls into the box than most.
So, Pete, how about it? You never know, the NBA might just welcome you with open arms.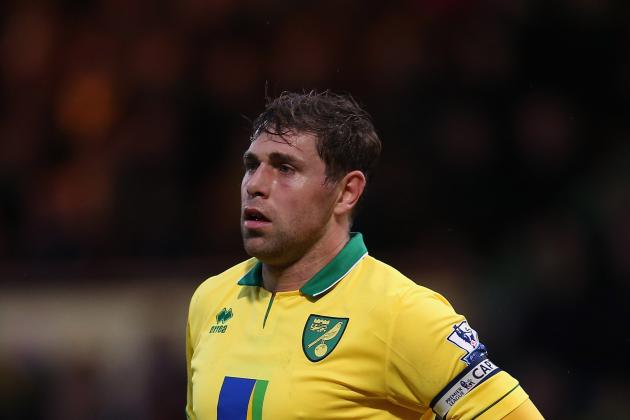 Julian Finney/Getty Images

Five goals; 1,989 minutes on the pitch
Have you seen that TV ad for a well-known bookmaker? "I'd like a pony on that donkey to score for the Canaries," says a weird-looking chap called Maurice, played by actor/comedian Paul Kaye.
Just who might he be referring to, one wonders?
On balance, it's probably not Grant Holt. The Norwich frontman is more of a carthorse than a donkey, wouldn't you say?
Anyway, getting back to that bet. If it is Holt you're thinking of Maurice, don't do it. He's only got five goals this season, so it'll probably just be money down the drain.
Clive Brunskill/Getty Images

Four goals; 1,500 minutes on the pitch
With his pace and venomous shooting ability, Gabriel Agbonlahor should be a regular goalscorer for Aston Villa.
It hasn't worked out that way this season, though. The England international has managed a measly four goals in the league to date.
True, Villa have been struggling this term, but that doesn't seem to have stopped Agbonlahor's strike partner Christian Benteke from grabbing his fair share of goals.
Like a number of Villa players, Agbonlahor has just been having a rotten season. However,there have been recent signs, notably that well-struck goal at Reading last weekend, that his form is beginning to pick up.
He'll need to keep performing at that level, otherwise Villa could easily lose their longstanding Premier League status.
So, come on, Gabby, time to step it up!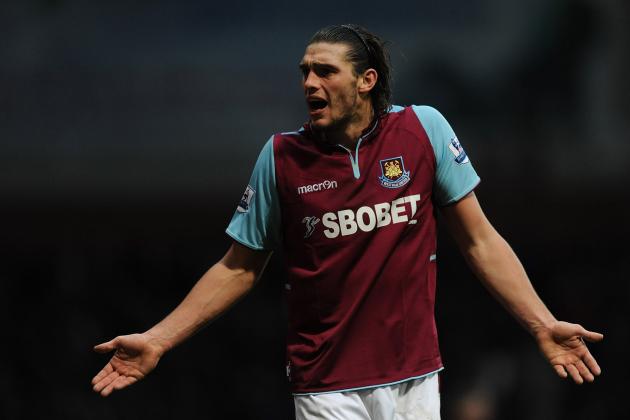 Steve Bardens/Getty Images

Three goals; 1,147 minutes on the pitch
If Andy Carroll really is worth £35 million, then it's tempting to think that football has gone truly mad.
Yes, the pony-tailed striker is a superb header of the ball, but on the deck he has all the finesse of a drugged baby elephant. His limitations have been evident this season for West Ham during a campaign that has brought him just three league goals—one of which came from the penalty spot.
If Roy Hodgson is reading this he might now be thinking, "Crikey, I don't believe it, all these duffers are English!"
Well, Roy, the good news is that it gets better from this point and, in fact, you can only pick three of the next six players.
So cheer up!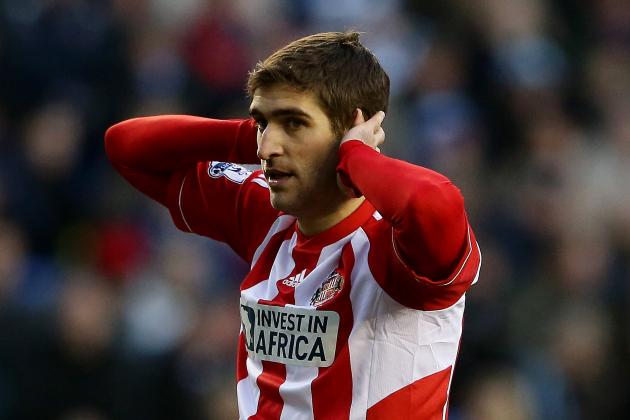 Scott Heavey/Getty Images

Has Danny Graham been "found out" by Premier League defences this season? He enjoyed a good first term in the top flight in 2011-12, scoring 12 times, but this time round has notched a mere three goals.
It really makes you wonder why Sunderland splashed out £5 million to bring him to the Stadium of Light from Swansea in January. Yes, Martin O'Neill loves British players with Premier League experience but, really Mart, there's not much point buying a second-rate striker just because he holds the right passport.
After some of the other duds he's brought to the club in the past, you'd have thought he might have learnt that lesson by now.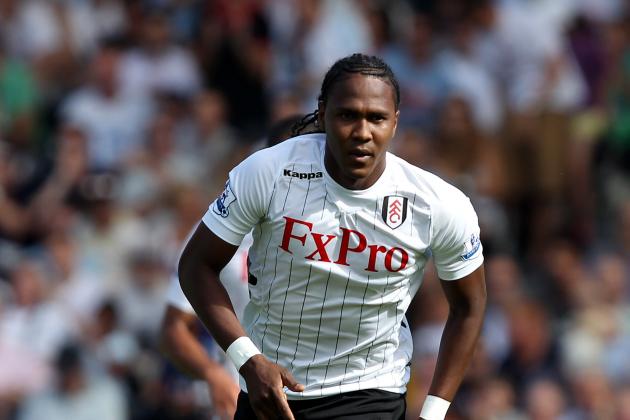 Jan Kruger/Getty Images

Three goals; 1,402 minutes on the pitch
Fulham must have thought it was their lucky day when they signed a player who was his club's all-time leading Premier League goalscorer on a free transfer last summer.
Oh, except the player was Hugo Rodallega and his 24 goals for Wigan was hardly a stat to set the pulses racing. The Colombian striker has even failed to live up to those low expectations at the Cottage, managing just three league goals in a dismal campaign.
Perhaps he should just keep it simple and follow Dimitar Berbatov's famous T-shirt instruction: "Keep calm and pass me the ball."
Come on, Hugo, you know that makes sense.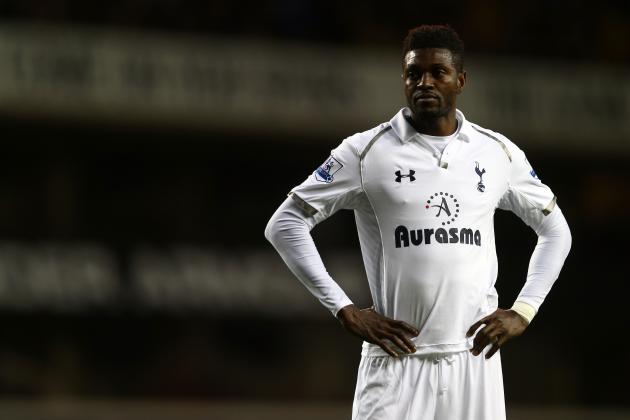 Clive Rose/Getty Images

Two goals; 985 minutes on the pitch
Just what has Emmanuel Adebayor been playing at this season?
Last term he was the joint-fifth highest scorer in the Premier League with 16 goals; this time round, he's managed just two.
That really is a pitiful record when you consider the Togo international has the likes of Gareth Bale and Aaron Lennon supplying the ammunition.
So, what's the problem, Emmanuel?
From the outside, it looks as though since you signed your contract with Tottenham last summer you've been strolling down Easy Street while puffing on the world's fattest cigar.
If that's the case, and you really can't be bothered to put a proper shift in, you're an absolute disgrace to your profession.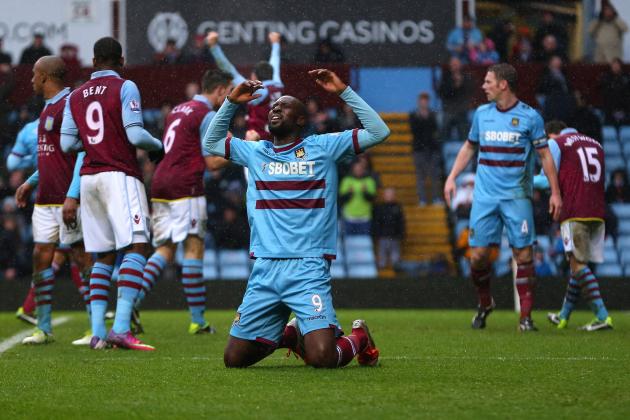 Julian Finney/Getty Images

Two goals; 1,282 minutes on the pitch
Former Chelsea boss Claudio Ranieri famously described Carlton Cole as "my young lion" when the teenager first broke through at Stamford Bridge.
But this season the West Ham striker has been more like a very tame tabby.
With just two goals to his name all term, Cole couldn't have complained if he'd been relegated to the Hammers' bench for most of the campaign. Fortunately for him, Andy Carroll has been almost equally inept in front of goal.
So, West Ham boss Sam Allardyce has had to rotate his pair of non-scoring England strikers in the vain hope that one of them finds a bit of form.
There's still time for that to happen, of course, but based on the evidence so far you wouldn't bet on it.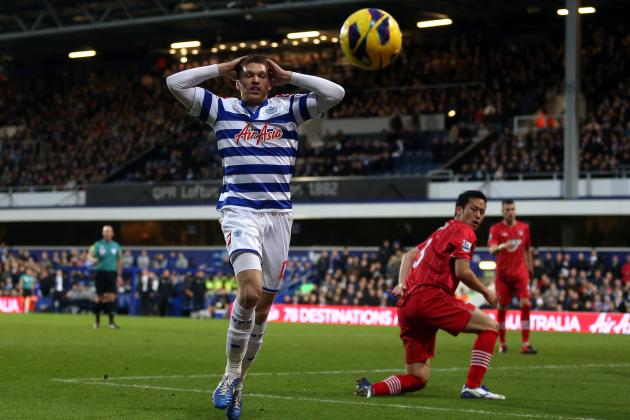 Julian Finney/Getty Images

Two goals; 1,637 minutes on the pitch
Boy, can that lad Jamie Mackie run!
He runs down the left.
He runs down the right.
He runs down the middle.
Got a lost cause? Mackie will chase it.
You certainly can't fault him for effort, but when it comes to putting the ball in the net, we hit a slight problem: He's not very good.
This is a real shame because everyone likes to see a trier rewarded.
So, let's all hope that young Jamie adds to his meagre tally of just two Premier League goals soon. No one would claim he's one of the league's most gifted strikers, but he's quite possibly the hardest working.
And, in my book at least, this means he doesn't really deserve to be on this list of flops, has-beens and prima donnas.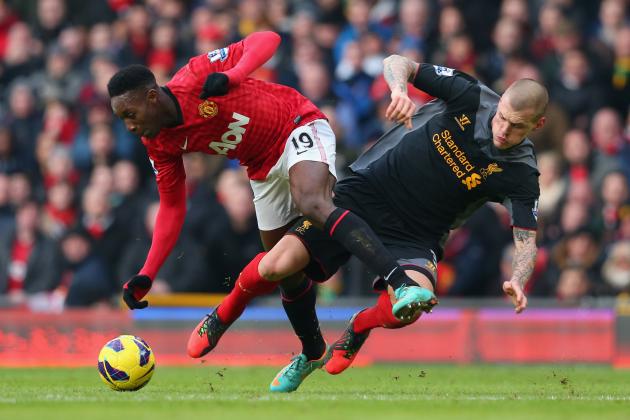 Alex Livesey/Getty Images

One goal; 1,012 minutes on the pitch
Remember when Usain Bolt expressed an interest in joining Manchester United last summer? I don't know for sure, of course, but I'd like to imagine the Boltster's telephone conversation with Sir Alex Ferguson went something like this:
UB: "Hi, Sir Alex, my man! It's Usain here! I'd just love to play for you guys! I'm not very good at soccer, but I sure can run fast!"
SAF: "Thanks, Usain, but I've got someone like that in my squad already—a lad called Danny Welbeck."
In all seriousness, what has happened to Welbeck this season? One Premier League goal all term for a team as dominant as United is a truly pathetic return.
It's a stat that really makes one wonder why Fergie chose him ahead of Wayne Rooney against Real Madrid last week. A puzzling selection, to say the least.