The Bandwagon Guide to Becoming a Bruins Fan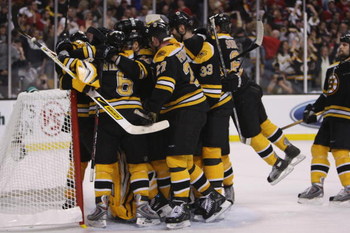 As a student at Boston University, the best part of my week used to be hopping on the Green Line every Thursday night and heading down to the TD Banknorth Garden for "Student Night" and getting great seats for $20. During those days, a 1/2 filled arena was a good turnout.
Now, with the Bruins atop the Eastern Conference, tickets are a little harder to come by. With success, comes the inevitable bandwagon fans. I have nothing against them. It's completely natural that success breeds fans, and it's time the Bruins shed this persona as Boston's forgotten team.
With the playoffs starting tomorrow, I thought I would try to educate my friends over in Beacon Hill who will be sitting in the Premium section with a Garnett Jersey and a Red Sox hat on, not knowing the difference between Krejci and Kovalev.
I will give a quick rundown of names every Bruins fan must know, and explain them in terms of other Boston sports figures
*Quick note: The Boston Herald did something similar in November of 2008. I not only found that inadequate, but terribly inaccurate. Again, I have nothing against newly converted Bruins fans. The more the better.
Marc Savard: Tom Brady
Calm down, I'm not saying that Savard has accomplished anything close to what Tom Brady has. But, like Brady, Savard is one of the premier playmakers in the entire league.
His vision on the ice is unparalleled, and he consistently makes passes that leave opposing defenses scratching their heads. Whenever No. 91 has the puck, pay attention because he's about to do something cool. (Now do you understand the Brady comparison?)
Zdeno Chara: Kevin Garnett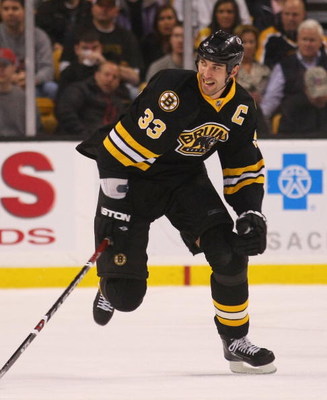 Chara is the freakishly big human who's not afraid to mix things up and knock around his opponents. He has a tremendous work ethic, and is one of the frontrunners for the Norris Trophy as the league's top defensemen.
He is the backbone of the Bruins D, but has great offensive prowess as well, leading the team with 11 extra man goals.
Tim Thomas: Paul Pierce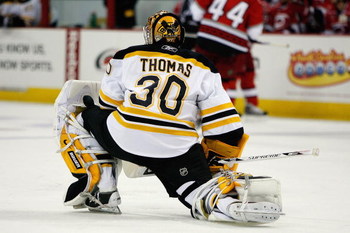 Paul Pierce had to play a lot of seasons with a lot of bad Celtics teams before he got a shot at winning it all. Tim Thomas had to play a lot of seasons in Europe before he even got a shot at playing in the NHL.
Now, the 35-year-old goalie has established himself as an elite goaltender, and is a lock for the Vezina trophy. He is the heart and soul of this Bruins team, and so much of their success rests on his shoulders.
Phil Kessel: Dustin Pedroia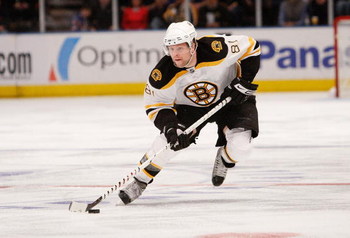 Both Kess and D-Peds are young guys who love the game, and who can flat out play. Kessel had a breakout year in 08-09, leading the team with 36 goals, despite missing 12 games with a variety of injuries (including mononucleosis).
He is one of the most exciting Bruins to watch, and will be instrumental for the Bruins to make a serious run at the Cup.
Dennis Wideman: Rodney Harrison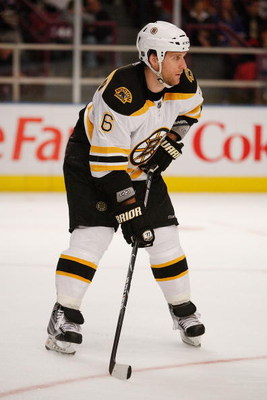 Like Harrison, Wideman is a smart and skilled veteran defenseman who's always in the right place at the right time, and isn't afraid to sacrifice his body for the team (as evidenced by his 135 blocked shots).
He couples with Chara to form one of the best blueline tandems in the NHL. If defense wins championships, the Bruins are in good shape.
P.J. Axelsson: Tim Wakefield
Axelsson (like Wakefield for the Sox) is the longest tenured member of the team. He is the ideal role-player, and is one of the best defensive-forwards in the game, and is pivotal on the penalty kill.
If the Bruins win it all, don't be surprised if Chara immediately hands the Cup to Per-Johan.
David Krejci: Jacoby Ellsbury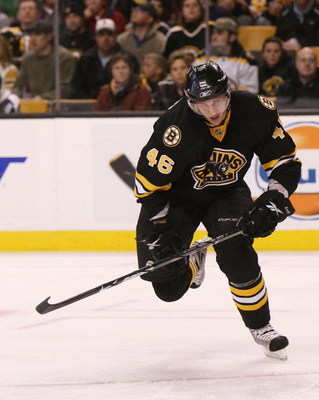 Both are fresh-faced young stars with limitless potential. Krejci was second to Savard in points with 73 (22 G, 51 A). He has been nothing short of electrifying this season, even if his scoring pace tapered off.
He proved last year that he can produce in the playoffs (1 G, 4 A), and look for those numbers to increase this year.
*Note: To avoid embarrassment in front of other Bruins fans, it's pronounced KRAY-chee)
Patrice Bergeron: Laurence Maroney
They are both young players who have yet to show their full potential due to injuries.
Bergeron has missed a total of 90 games over the past two seasons, all due to problems with concussions. But he is a smart, physical player who will outwork anyone on the ice.
His eight goals in 64 games this year isn't the mark of an offensive powerhouse, but he is a valuable asset for the Bruins, especially during playoff time.
Montreal Canadiens: New York Yankess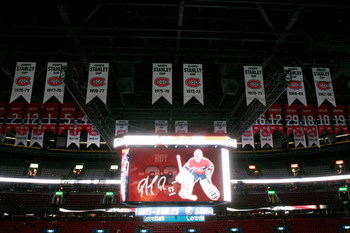 The parallels of the Bronx Bombers to Les Habitants are eerie. The Yanks have 26 World Series titles to the Sox's seven, while Montreal has 25 Stanley Cups to the Bruins five. They continually flood the TD Banknorth Garden, and subject the Bruins fans to "Go Habs Go," or the insufferable "Ole" chant for a full 60 minutes of hockey.
The Habs have broken the Bruins' backs and hearts recently, especially during their playoff upsets of the B's in 2002 and 2004. The Bruins showed a lot of grit last year taking the series to seven games, but another loss to the Canadiens is unacceptable for Boston this time around.
So climb aboard Bandwagon fans! The B's haven't won a playoff series since 1999, but they're poised to make a serious run at Lord Stanley's Cup this year. Let's get excited about the playoffs, and make Boston a hockey town once again.
Keep Reading

Boston Bruins: Like this team?