WWE WrestleMania 29: Predicting the Full 'Mania Match Card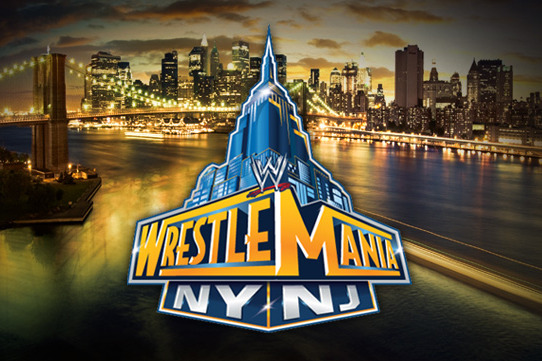 Photo courtesy of WWE.com
WrestleMania XXIX may be less than a month away, but the majority of the card is still quite unsettled. We already know about The Rock vs. John Cena, The Undertaker vs. CM Punk and a couple other matches, but the undercard is still pretty much a clean slate, which needs to be addressed over the next week.
There are a lot of fans out there who seem to be upset by the card thus far as it contains some rematches and what are perceived to be predictable results. Perhaps that is the case when it comes to the main-event bouts, but there is a lot of uncertainty otherwise and there is potential for plenty of depth throughout the card if the WWE handles things correctly.
The WWE has clearly been much more focused on its big feuds as of late, and that has resulted in the mid-card being placed on the back burner to some degree. Now that things appear to be settled at the top of the card, though, the creative team is free to develop some lesser rivalries. It's tough to say for sure what matches those feuds will lead to, but I feel as though I have a pretty good idea.
Here are my predictions for the entire WrestleMania XXIX card, including thoughts on how each match will ultimately play out.
Begin Slideshow

»
Many fans expected it from the second that The Rock defeated John Cena at WrestleMania XXVIII, but it didn't become official until a couple weeks ago that The Rock and Cena would once again do battle on the grandest stage of them all. When The Rock won the WWE Championship and Cena won the Royal Rumble match, they were on a collision course. Cena then defeated CM Punk to retain his title shot against The Great One.
The Rock and Cena reignited their feud last week as they engaged in a solid promo that saw both men using a largely serious tone. Last year's feud seemed to be more about The Rock and Cena trying to one-up each other with lame jokes than actually proving who the better man was. This year's rivalry is built on Cena trying to get revenge, but The Rock made it clear that it wouldn't be easy.
It's fair to say that essentially every diehard fan expects Cena to win this match and walk away with the WWE Championship. It only makes sense that the rematch was made in order for Cena to earn redemption. Even so, I'm excited for the match and the pageantry that is sure to surround it. Unless the WWE is really planning on swerving us all, Cena will be victorious and avenge what has been called his "nightmare" year of 2012.
When it was first announced that The Undertaker would put his WrestleMania streak on the line against CM Punk, there was a large legion of fans that let out a collective groan. The main issue that many seemed to have was that there wasn't a real reason behind their feud. Perhaps that was technically true, but after what happened on the most recent episode of Raw, I can't imagine that there is anyone left out there who isn't excited about this match.
I was actually fine with the match from the very start as it made sense that Punk would want to end the streak. He calls himself the best in the world, and if he can't win back the WWE Championship, then it makes perfect sense that he would want to end the streak, which is something nobody has ever done. In addition to that, Punk interrupted The Undertaker's tribute to the late Paul Bearer on Monday, and he then proceeded to steal the urn at the close of the show.
There is suddenly a ton of heat fueling this angle, and it should lead to a spectacular encounter at WrestleMania. Although most of us expect The Undertaker to win at 'Mania on a yearly basis, doubt creeps into our minds with each passing year as Taker gets closer to retirement. Punk is a guy who has great enough stature and is young enough to end the streak while also being able to reap the benefits. With that said, I fully expect Taker to have at least one more 'Mania match against someone like John Cena, so I can't imagine that the WWE will end the streak yet, if ever.
After their match at SummerSlam, both Brock Lesnar and Triple H stepped away from the WWE. Lesnar claimed that he was retiring because he had nothing left to accomplish, while Triple H insinuated that he was retiring as well. Lesnar returned several weeks ago by attacking Vince McMahon, however, and Triple H eventually followed suit in order to prevent Lesnar from injuring his father-in-law yet again. A huge brawl ensued and now a WrestleMania match is on the horizon.
Triple H officially issued the challenge last week. He claimed that after losing to Lesnar at SummerSlam, he no longer had the desire needed to compete. When Lesnar attacked McMahon, though, it sparked something inside him. Lesnar accepted Triple H's challenge on Monday after destroying the New Age Outlaws. Paul Heyman said that Lesnar would only accept on the condition that Triple H signs the contract without knowing the stipulations attached to the bout.
Since Triple H obviously wants to prove his toughness, he is clearly going to sign the contract. There are tons of potential options, but in the interest of making their match resemble an all-out brawl, the most likely stipulation appears to be a street fight. Also, since Heyman used the plural word "stipulations," I expect a clause to be added that states Triple H must retire if he loses. Regardless of what the creative team decides, this match is set up for Triple H to avenge his SummerSlam loss and stand tall over Lesnar.
The final match on the card that is set in stone at this point is the World Heavyweight Championship bout between incumbent titleholder Alberto Del Rio and challenger Jack Swagger. The fans seem to be split on whether or not they're excited for this showdown, but the fact that the WWE has actually dedicated time to this feud and built it since Elimination Chamber means that we all should at least give it a chance.
Things have cooled down a bit between Del Rio and Swagger over the past couple weeks, but their feud was the talk of the company for a couple weeks. The main reason for that is the partnership between Swagger and Zeb Colter. Since debuting alongside Swagger a couple months ago, Colter has spoken about what is wrong with the United States. The main issue that he continues to bring up is immigration. He claims that foreigners "sneak across our borders" and steal jobs from hardworking Americans. Because of that, he has targeted Del Rio in particular.
Swagger surprisingly won at Elimination Chamber to become No. 1 contender, which resulted in he and Colter getting increased television time. Colter's rants received mainstream media too as political pundits such as Glenn Beck accused him of demonizing the Tea Party. Things haven't been as intense recently, but there are still a few weeks left before WrestleMania, so there is plenty of time to get the fans excited.
The consensus following Swagger's DUI and marijuana possession arrest was that he would lose at WrestleMania, but the fact that so many faces figure to go over gives me pause. With that said, I do anticipate Del Rio winning the match, but it will then result in Dolph Ziggler finally cashing in his Money in the Bank contract successfully.
Since debuting at Survivor Series, The Shield has decimated everyone in its path. The group's main targets as of late have been Sheamus, Randy Orton and Big Show. Sheamus and Orton have been adversaries of the The Shield for quite a while, but Big Show only recently entered the fray. He punched out Roman Reigns based purely on instinct a few weeks ago, but The Shield hasn't forgotten as the young trio has triple powerbombed him on two occasions.
Even though Big Show is a heel, it is blatantly obvious that he will end up teaming with Sheamus and Orton. The appeal in this situation is that Big Show has had issues with both Sheamus and Orton, so they're team figures who are dysfunctional. The Shield, on the other hand, has been a well-oiled machine and has used incredible synergy in order to beat star-studded teams such as Ryback and Team Hell No as well as the triumvirate of Ryback, Sheamus and John Cena. There will be plenty of intrigue with regards to whether Sheamus, Orton and Big Show can put their differences aside in order to vanquish a common enemy.
The Shield beating Ryback, Sheamus and Cena at Elimination Chamber took many by surprise, but it was ultimately the right decision. If the WWE wants to keep The Shield's momentum moving in the right direction, though, Reigns, Seth Rollins and Dean Ambrose need to win again at WrestleMania. Most probably expect Big Show to cause a rift, but I figure The Shield will win the match cleanly, which will then send Orton into a rampage after the bout. Perhaps Orton can RKO both Sheamus and Big Show, which would lead to the heel turn that so many of us have been calling for.
Chris Jericho may very well be the best all-around talent on the WWE roster, but he hasn't really been treated as such since returning at the Royal Rumble. Y2J's return was fantastic in and of itself as he was a surprise entrant in the Rumble match and lasted well over 45 minutes, but the WWE has failed to capitalize on it. Next week will represent the three-week mark until WrestleMania, so the WWE absolutely must figure out what to do with him.
Since his return, Jericho has bounced from Dolph Ziggler to The Shield to Wade Barrett and The Miz. I like the fact that he is being used to help get mid-card guys over, but there is no rhyme or reason to the manner in which he has been booked. The WWE had a great angle in place between Jericho and Ziggler as they were the first two men to enter the Rumble and had already feuded briefly during the summer. The creative team should have stuck with that and built it over the past few months, but that hasn't been the case.
Not only has it been a waste of Jericho, but Ziggler has been toiling in mediocrity as well. Mr. Money in the Bank should be in a high-profile program; however, the WWE has treated him like a nobody. Since Jericho is scheduled to face The Miz and Wade Barrett in a triple threat for the Intercontinental Championship on Raw next week, I anticipate Ziggler interfering and costing Jericho the match. That will lead to a bout at WrestleMania that will be capable of stealing the show with The Showoff coming out on top.
While the WWE hasn't exactly done a lot to build this feud, it is quite clear that Mark Henry and Ryback are en route to having a match at WrestleMania. It all started on Old School Raw following Ryback's victory over Antonio Cesaro. As he was exiting the ring, he crossed paths with Henry, which resulted in them staring each other down. They did the same thing backstage on SmackDown and then tried to one-up each other on Raw by tossing Drew McIntyre around like a rag doll.
Henry and Ryback are easily two of the strongest and most intimidating men in the WWE, so it makes perfect sense for them to face each other. They may not really have any history together, but it seems like the WWE is making this feud based on a matter of pride. Both of them want to prove that they are the most unstoppable force in the company, and the only way to do that is to beat the other. Their match won't be a technical exhibition by any means, but simply seeing two superstars of their ilk colliding will be extremely entertaining.
Since Ryback has lost at every pay-per-view since Hell in a Cell, it's clear that he desperately needs a victory. He is still over with the fans and quite popular, but he is no longer in the main-event scene. If the WWE wants to get him back to that level, then he must defeat Henry. Also, there is a decent chance that WrestleMania XXIX could be Henry's final event as his contract is set to expire. He obviously could re-sign, but putting over a rising star like Ryback wouldn't be a bad way to go out.
When The Miz began feuding with Antonio Cesaro over the United States Championship a couple months ago, it seemed likely that their rivalry would carry over to WrestleMania XXIX and culminate there.
Cesaro beat Miz at the Royal Rumble as Miz suffered a knee injury and then Cesaro proceeded to escape with his belt at Elimination Chamber as The Miz accidentally got disqualified. The Miz then defeated the Swiss superstar on Raw, so the stage was set for a WrestleMania match. Cesaro went over Miz in a title match on SmackDown, though, which effectively ended their feud.
It made very little sense, especially with The Marine 3 coming out. The Miz plays the lead role in that film and the WWE was trying to build him up into an American hero who could vanquish the foreign Cesaro. Without any explanation, The Miz seems to have moved on to Wade Barrett and the Intercontinental Championship. He and Barrett argued over whose movie was better during Chris Jericho's Highlight Reel on Monday and the three of them will take part in a triple threat for the IC title next week.
Since I anticipate Jericho moving on to Dolph Ziggler, I imagine that The Miz and Barrett will carry on as a singles feud. I don't hate it since it hasn't been done before, but The Miz already held the Intercontinental Championship last summer and it was a failure. Both guys could really use a win at WrestleMania, but I suppose that The Miz will get it based on the fact that Barrett has been losing left and right lately. The match itself should be solid; however, I can't imagine the build will be anything special.
Kane and Daniel Bryan have never really gotten along, but they have somehow managed to keep the Tag Team Championships since Night of Champions. As entertaining as Team Hell No has been, the duo is clearly on the brink of collapse. With that in mind, they'll likely drop the belts at WrestleMania. I suppose the WWE could put them in a regular match against Team Rhodes Scholars, but we have already seen that on multiple occasions, so a tag-team turmoil match appears to be in order.
The WWE's tag division has fallen off a bit in recent months after really heating up for a while, but there are a lot of teams on the roster who deserve to be included on the WrestleMania card. In addition to Team Hell No, I would anticipate Team Rhodes Scholars, Brodus Clay and Tensai, Prime Time Players, 3MB, Primo and Epico, The Usos and hopefully the New Age Outlaws entering the match as well. If the WWE is so inclined it can add a couple makeshift teams like Kofi Kingston and R-Truth or Zack Ryder and Santino Marella in order to get more superstars on the card.
Whatever the case, it seems like a no-brainer to me that the New Age Outlaws should become six-time WWE Tag Team Champions. They have proven over the past couple weeks that they can still go in the ring and Road Dogg is still incredible on the mic. Having them win the titles would be a feel-good moment and it could set the stage for a great feud with Team Rhodes Scholars, resulting in Cody Rhodes and Damien Sandow eventually taking the straps.
Since Kaitlyn defeated Eve for the Divas Championship a couple months ago, women's wrestling has barely been featured on WWE programming. It seems as though the WWE has been building an angle over the past few weeks, however, which is likely to result in Layla turning heel. Layla has been portrayed as Kaitlyn's friend, but her antics have been erratic as of late. She admired Kaitlyn's title following a tag-team match recently and she accidentally cost Kaitlyn a match against Tamina last week, so something is on the horizon.
I can't say that I'm particularly intrigued by the divas division right now, but I would definitely support a Layla heel turn. She was entertaining as one half of Laycool alongside Michelle McCool and she has proven capable of playing the role of antagonist. Layla is also fairly underrated as an in-ring competitor, so I have no issue with her being elevated. I would rather see a feud between A.J. and Kaitlyn due to their history together, but the WWE obviously prefers to utilize A.J. as Dolph Ziggler's valet right now.
If this comes to fruition, then my guess is that Layla will win since her character will be new and fresh. I know it's unlikely, but I would love to see McCool make a one-time appearance and distract Kaitlyn on Layla's behalf. McCool is a mother now, so it isn't feasible for her to return full time, but a cameo would be great. Should Layla win, then it would behoove the WWE to potentially call up someone like Summer Rae from NXT as she and Layla could form a new version of Laycool and add some spice to the divas division.
What the WWE is going to do with United States Champion Antonio Cesaro is really anyone's guess at this point, but I have to imagine that he'll be involved with WrestleMania in some way. Cesaro had been feuding with The Miz and seemed likely to face him at WrestleMania, but that angle was dropped quite abruptly. There aren't many other suitable mid-card faces on the roster; however, Sin Cara scored an upset victory over Cesaro on Main Event last week, so he figures to be the top contender.
With Rey Mysterio nursing an injury and unlikely to compete at 'Mania, it leaves Sin Cara in a state of flux. Perhaps he isn't what the WWE hoped he would be, but Sin Cara is still fairly popular and is a guy the company should utilize. Since WrestleMania's televised card figures to be fairly stacked, I anticipate this match taking place on the pre-show in all likelihood. There is no real heat behind their feud and it isn't really even a feud to begin with, so the WWE can't waste valuable pay-per-view time with Cesaro vs. Sin Cara.
Regardless of that, Cesaro has really good in-ring chemistry with smaller wrestlers like Sin Cara, so it would be a pretty entertaining match. In an ideal world the WWE would have a meaningful feud in place for Cesaro and he would be featured on the main card, but the WWE simply hasn't booked the mid-card effectively. Getting him on the pre-show is better than nothing, though, and I expect Cesaro to retain his title yet again.
Follow @MikeChiari on Twitter and listen to him on Ring Rust Radio.