The Biggest Free Agent Busts in San Diego Chargers History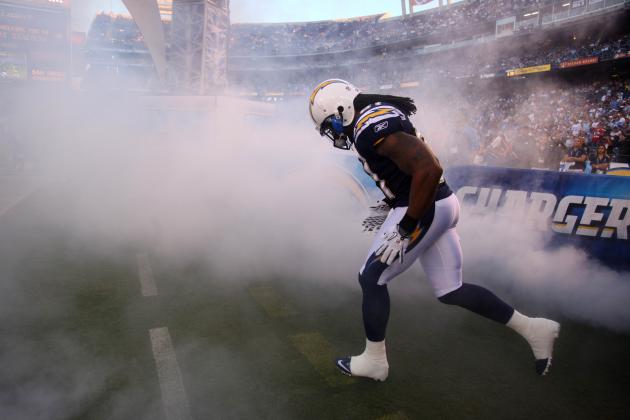 Donald Miralle/Getty Images

The San Diego Chargers 2013 season officially began Tuesday afternoon with the start of free agency.
It can be an exciting time for fans as new pieces are added to the roster. That excitement can turn to sorrow and regret rather quickly if it becomes apparent the new pieces are overpaid and under-performing.
The Chargers are no strangers to players who failed to deliver on high expectations. The most famous example being Ryan Leaf, the second-overall pick in the 1998 NFL Draft, a player whose last name is literally and figuratively a four-letter word in San Diego.
The Chargers also have a history of free agent moves that over-promised and under-delivered.
Free-agent busts can be caused by injuries, unrealistic expectations or problems in the locker room, and the Chargers have had a little of each.
The difference between a bust and a player who failed to live up to expectations can be a blurry distinction, and it may not be the player's fault. But the following 10 players are free agents acquired by San Diego who did not live up to the contracts they signed.
They are arranged in order from disappointment to full-fledged bust.
Begin Slideshow

»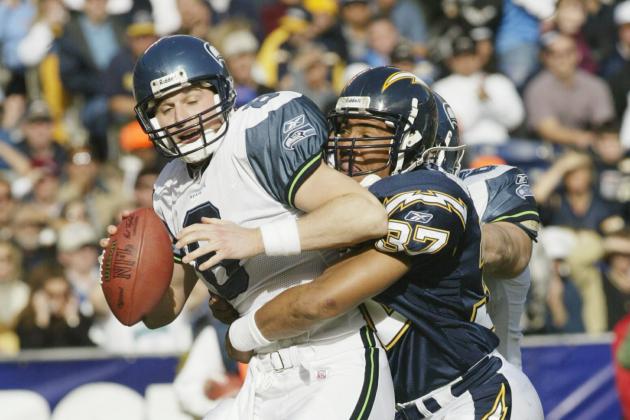 Stephen Dunn/Getty Images
Releasing Rodney Harrison (37) haunted the Chargers for years.
It is easy to focus on the free-agent signings San Diego made that did not pan out. But free agency also involves re-signing your own players.
Former general manager A.J. Smith was notorious for playing hardball with veterans. His decisions to either offer low contracts or no contracts to running backs Darren Sproles and Michael Turner and wide receiver Vincent Jackson proved to be disastrous for San Diego but gold for the three teams in the NFC South where they ended up.
While Drew Brees was also allowed to walk via free agency and eventually won the Super Bowl with New Orleans (with Sproles,) it is hard to deem his departure a failure. That's because Philip Rivers was in place and Brees had dislocated his throwing arm and was considered an injury risk.
Another veteran allowed to go to another team was safety Rodney Harrison. The Chargers released Harrison in 2003, allowing the New England Patriots to sign the safety in free agency. Harrison played six more seasons after San Diego, including two years with 126 and 138 tackles with the Patriots.
The Chargers' defense missed having a tone-setter on the back end when Harrison left, which caused problems in the draft and future free agency periods.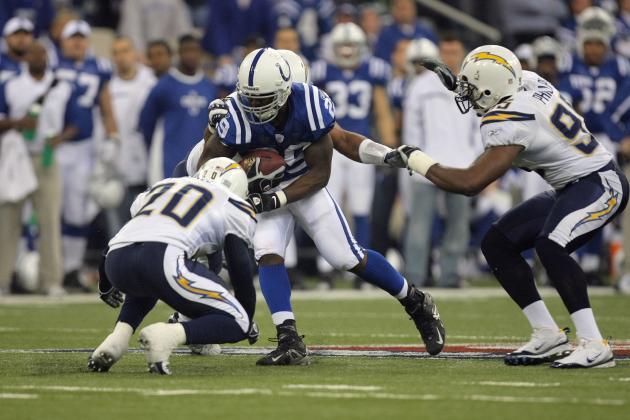 Streeter Lecka/Getty Images
McCree (20) will live in infamy for a playoff blunder.
Marlon McCree actually was not a bad safety for the Chargers. He signed a five-year, $16 million contract in the 2006 offseason. McCree had 126 tackles and 10 interceptions in two years in San Diego and helped solidify the defensive backfield.
McCree, however, will always be remembered in Charger history as the guy who intercepted Tom Brady on fourth-and-5 in the fourth quarter of the 2007 AFC divisional playoff game. It's not necessarily the interception that is so wrong (even though an incompletion on fourth down is just as good as an interception), it is that McCree then tried to run with the ball only to fumble it back to the Patriots.
Brady ended that drive with the go-ahead touchdown, ending the best season in Chargers history with a home playoff loss.
Contract: Five years, $16 million
Statistics: 126 tackles, 10 interceptions, one playoff fumble in two years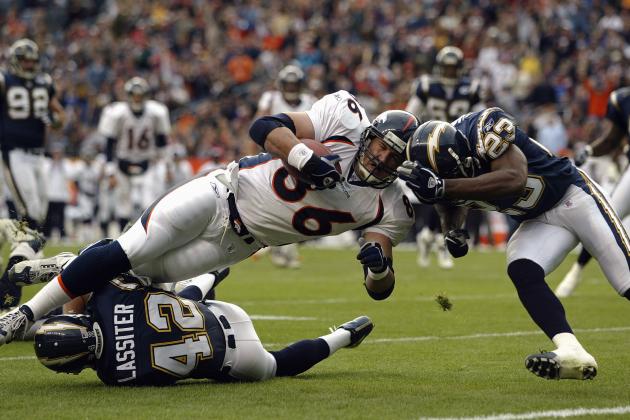 Brian Bahr/Getty Images
Lassiter (42) only played 10 games with the Chargers.
Kwamie Lassiter had eight productive years with the Arizona Cardinals to start his career. He registered a career-high 112 tackles and nine interceptions in 2001.
After the 2002 season in Arizona, in which he had 95 tackles and five interceptions, he signed a three-year deal with the Chargers. Lassiter was expected to help the defensive backfield when Rodney Harrison was let go before the 2003 season, but Lassiter's San Diego career was cut short by a knee injury.
In 10 games, Lassiter had 58 tackles and one interception with the Chargers. He played four games with the St. Louis Rams in 2004, but his knee injury essentially ended his career.
Contract: Three years, $3.3 million
Statistics: 58 tackles, one interception, one MCL injury, 10 games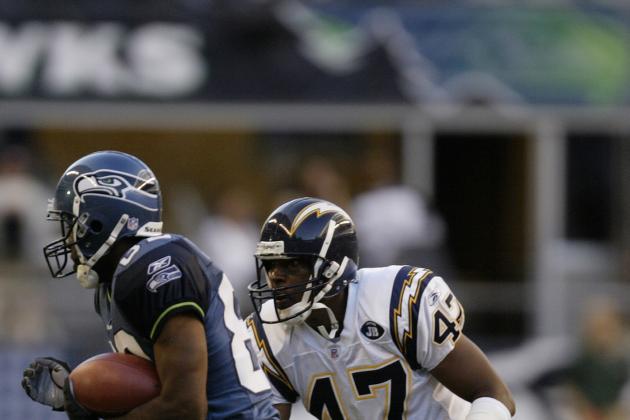 Otto Greule Jr/Getty Images
McNeil (47) lasted two seasons in San Diego.
Ryan McNeil had 22 career interceptions and 589 tackles during his eight-year career before signing a five-year, $15.5 million deal with the Chargers in 2001. He also played for four teams in those eight years.
General manager John Butler ignored warning signs and inked the defensive back to a five-year contract that included a $2.5 million signing bonus.
The San Diego Chargers had the NFL's worst pass defense with McNeil at corner. A switch to free safety did not help, as McNeil had as many interceptions as defensive end Marcellus Wiley—one.
McNeil was cut after two years in San Diego.
Contract: Five years, $15.5 million
Statistics: 157 tackles, nine interceptions, two positions, two years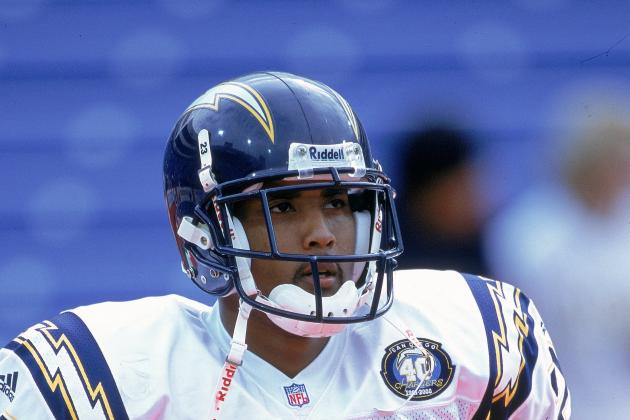 Rick Stewart/Getty Images
Jenkins (23) lasted one year.
In 1999, the San Diego Chargers had the 20th-ranked pass defense in the NFL. The starting defensive backs combined for six interceptions that year, so the front office looked for a new starting cornerback.
The Baltimore Ravens had a cornerback who started 15 games his first three years with the club and then 15 games in 1999. DeRon Jenkins should have had the best statistical season that year. Instead, the former Tennessee standout had zero interceptions.
Still, the Chargers brass thought enough of Jenkins to sign him to a three-year deal that included a $3.6 million signing bonus.
With Jenkins in the lineup, San Diego's defense was 22nd in the league against the pass. He had one of the team's 16 interceptions. He was released after one year and signed with the Titans in 2001, starting six games.
Contract: Three years, $9.6 million
Statistics: 50 tackles, one interception, 14 starts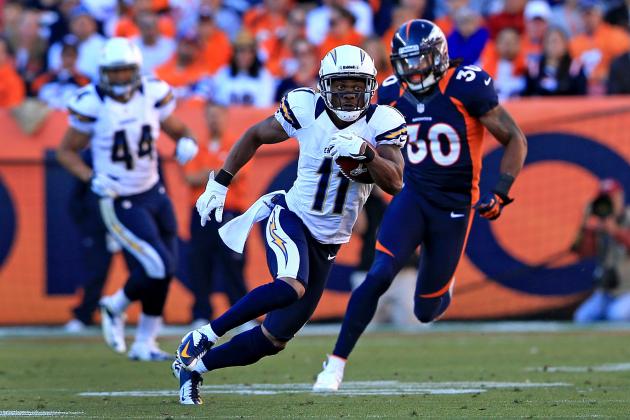 Doug Pensinger/Getty Images
Royal (11) came at a king's ransom, yet played like a commoner.
Eddie Royal was an amazing rookie for the Denver Broncos in 2008. He had 98 receptions for 980 yards and five touchdowns. He also averaged 26.1 yards per kickoff return and 10 yards per punt return.
Royal suffered a sophomore slump in 2009, catching only 37 balls for 345 yards. He had a mild bounce-back year in 2010 with 59 receptions and 627 yards, but fell again in 2011 with a paltry 19 receptions for 155 yards. The numbers that final year in Denver could be explained as a by-product of a Tim Tebow-led offense.
The San Diego Chargers had a hole in the receiving corps because Vincent Jackson was allowed to sign with Tampa Bay. Royal was billed as part of the answer to make up for Jackson's departure. Instead, the former Virginia Tech player hauled in only 23 passes for 234 yards and one score. He also failed to contribute in the return game, averaging a mere 5.3 yards per punt return.
Contract: Three years, $13.5 million
Statistics: 23 receptions, 234 yards, one touchdown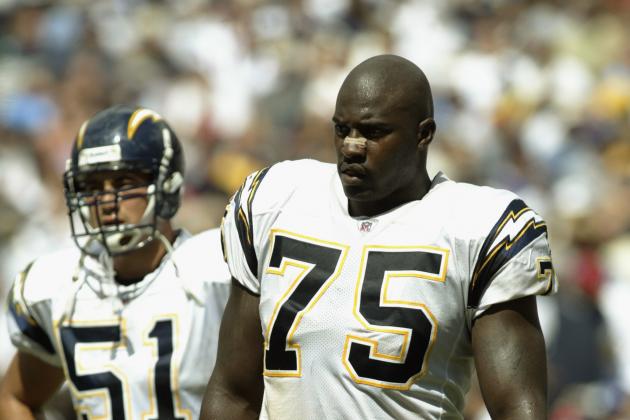 Stephen Dunn/Getty Images
Wiley (75) actually made the Pro Bowl, but his contract was impossible to justify.
Marcellus Wiley was the top pass-rusher available in the 2001 offseason. He had 10.5 sacks in Buffalo in 2000 and was considered to be coming into his prime.
The Chargers gave the former Columbia star a six-year deal worth $40 million. At the time, it was the largest deal in team history.
Wiley performed well his first season, collecting 13 sacks and was named to the Pro Bowl. But he had nine sacks the final two years in San Diego.
Wiley tried to re-work his deal numerous times to save the club cap space, but he was released in 2004.
Contract: Six years, $40 million
Statistics: 22 sacks, 107 tackles, one record-breaking contract in three years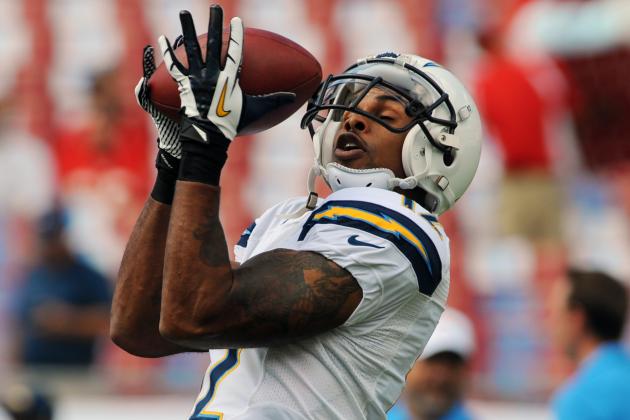 Al Messerschmidt/Getty Images
Meachem (12) has so far failed to live to his enormous contract.
When Vincent Jackson signed with Tampa Bay, the Chargers needed a wide receiver for Philip Rivers to target. Eddie Royal was supposed to be the speed threat and Robert Meachem was supposed to be the size threat.
Rivers had his best seasons when he hurled his passes deep and expected the 6' 5" Jackson to somehow come down with the ball. At 6'2", Meachem was supposed to be the new "go-get-it" receiver.
The only thing Meachem went and got was a four year contract worth $25.9 million and a $7.5 million signing bonus.
Meachem was a non-issue on offense, catching 14 passes for 207 yards. His only two touchdowns came in one game, against his former team, the New Orleans Saints.
Contract: Four years, $25.9 million, $7.5 million signing bonus
Statistics: Three receptions, 67 yards, two touchdowns against the Saints, 11 receptions, 140 yards, zero touchdowns against everyone else.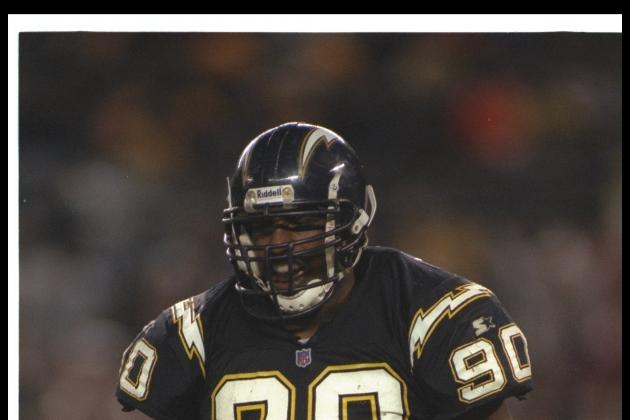 Jamie Squire/Getty Images
Coleman (90) was good before and after he was with the Chargers.
The cap-strapped Chargers were so smitten with Miami Dolphins defensive end Marco Coleman in 1996, San Diego released running back Natrone Means to create financial space.
Means was the center of the rushing attack that helped San Diego to its first and only Super Bowl just two years earlier.
Coleman, on the other hand, did have potential as a pass-rush specialist. He had 24 sacks in four years in Miami.
Coleman signed a three-year deal in 1996 worth $9.6 million, with a $4 million signing bonus.
In three years with San Diego, Coleman had 9.5 sacks.
What makes the sting even more painful for Chargers fans is Coleman had 23 sacks in three years with the Redskins immediately following his release from San Diego.
Contract: 3 years, $9.6 million
Statistics: 9.5 sacks, 119 tackles, one franchise running back run out of town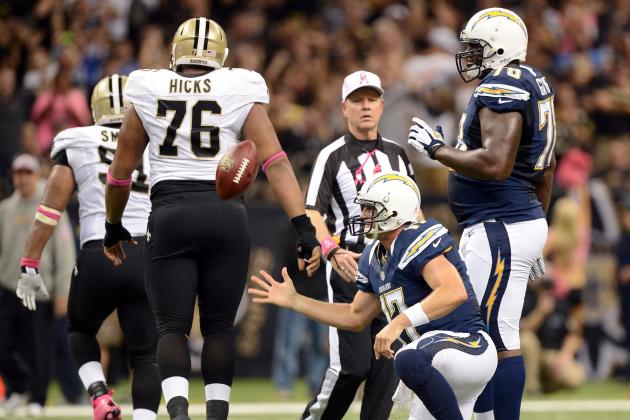 Harry How/Getty Images
Gaither (76) allowed sacks on consecutive plays to end the game against New Orleans.
When a neck injury forced tackle Marcus McNeill to retire from football, the Chargers had a major problem.
McNeill protected franchise quarterback Philip Rivers. If Rivers is protected, San Diego wins games. If Rivers is not protected, well…
In a fortunate turn of events, four-year veteran left tackle Jared Gaither was released by Kansas City at almost the same time McNeill had his injury. The Chargers claimed Gaither and he did a decent job blocking the blind side to finish the 2011 season.
Then came the 2012 offseason.
Despite a history of attitude problems and injury concerns, San Diego signed Gaither to four-year, $24.6 million contract, with a $6.15 million signing bonus.
It seemed the ink was still wet on that contract when Gaither was being questioned for his work ethic, his toughness and his durability.
The ultimate dagger came in the Sunday night game at New Orleans when Gaither allowed sacks on the final two plays of the contest to seal the loss.
Gaither was so well-respected by his teammates and coaches, the front office told him to stay away from the team facilities when he was rehabbing an injured groin.
Contract: Four years, $24.6 million
Statistics: Nine games, multiple mysterious injuries during training camp, two crucial sacks allowed in a season-turning game, one alienated locker room.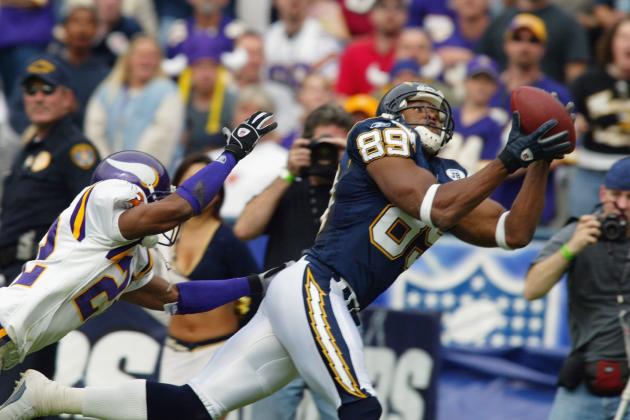 Donald Miralle/Getty Images
Boston (89) could have been a great wide receiver.
David Boston's first four years in Arizona produced two of the best individual seasons in Cardinals' history. In his sophomore season, Boston had 71 receptions for 1,158 yards and seven touchdowns. He followed that with an even more impressive 2001 campaign, grabbing 98 passes for 1,598 yards and eight touchdowns.
Boston could have been one of the very best to ever play in the NFL.
The only thing that stopped him was his desire to be the best-looking player in the NFL, not the best player.
His obsession with bodybuilding meant he had his own personal trainer who traveled with him and stayed in his room during training camp. Boston's private demeanor alienated his teammates to some degree, but it was his refusal to join the team in a postgame locker-room speech that caused a one-game suspension by the Chargers.
To the surprise of no one, Boston tested positive for steroids a year after being traded to the Dolphins.
Contract: Seven years, $47 million, $12 million guaranteed
Statistics: 70 receptions, 880 yards, seven touchdowns, one alienated locker room