Biggest X-Factors for Golden State Warriors' Playoff Success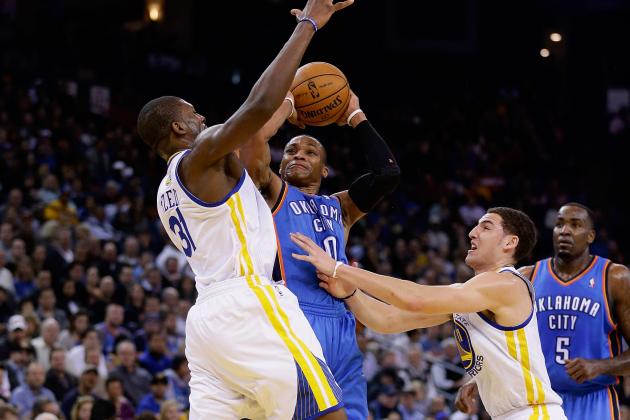 Ezra Shaw/Getty Images

After playing tremendous basketball for over half of the 2012-13 season, the Golden State Warriors found themselves sitting at 30-17, good for the No. 4 seed in the Western Conference.
Since, they've gone 6-12, and have fallen as low as the No. 7 spot. Currently they sit at No. 6, but there is clearly a sense of urgency as the playoffs no longer seem to be a guarantee.
Having said that, this season still has possibilities.
Sure, the Warriors are a poor stretch run away from missing the playoffs entirely, but they are also a strong stretch run away from facing the tough but beatable Los Angeles Clippers or Memphis Grizzlies in the first round.
A mere playoff appearance is still the Warriors' top priority, as an NBA title or even Conference Championship is incredibly far-fetched. Still, a Round 1 upset would make the season a sweeping success.
That will only be possible if the following X-factor players step up down the stretch and in the playoffs.
Begin Slideshow

»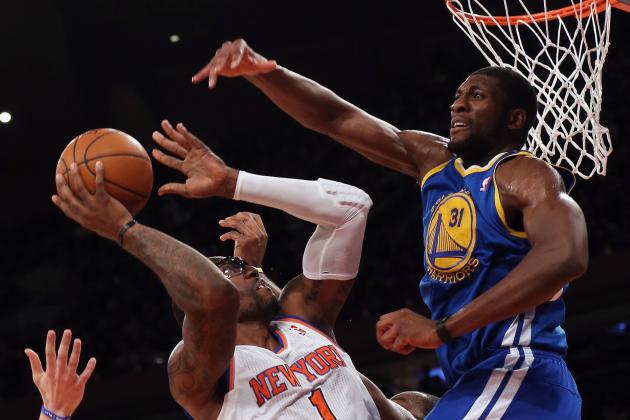 Bruce Bennett/Getty Images

Just to be clear: Andrew Bogut is far more important at the center spot than Festus Ezeli.
There's no way the Warriors can win in the playoffs without their starting center, and they will have a tough time getting in altogether if Bogut is out.
Given that, Bogut is not at full strength and cannot be counted on for more than 25-30 minutes a night. A Carl Landry/David Lee frontcourt will not cut it for long periods of time in the playoffs, either. This leaves 15-20 minutes a night for Andris Biedrins and Festus Ezeli.
Considering the way Ezeli has been playing of late, he figures to get the bulk of these minutes.
If he continues to play with the same defensive energy, rebounding tenacity and increased offensive confidence, the Warriors could create problems in a potential Round 1 matchup with the LA Clippers.
DeAndre Jordan is the only center that plays significant minutes for LA, and the Warriors would have a distinct rebounding and size advantage inside for several stretches if Ezeli can rise to the playoff occasion.
It's asking a lot out of a rookie to make an impact on a playoff series, and Andris Biedrins would have to step up if Ezeli cannot. Considering Biedrins' inability to do anything and lack of strength defensively, the Warriors won't want it to come to this.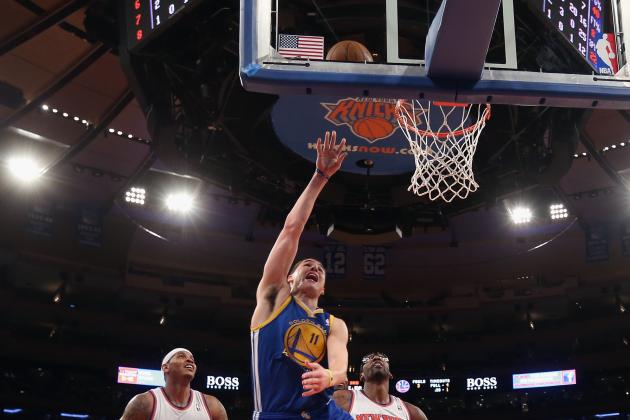 Bruce Bennett/Getty Images

Stephen Curry and David Lee are the two mainstays of the Warriors' offense. They are both usually on, and the team doesn't win if they aren't.
That isn't to say that the team does win if they are; a third main scoring option always needs to step up. Throughout much of the season, it has been Jarrett Jack coming off the bench as that No. 3 scoring option. Unfortunately, he's faltered over the past two weeks.
Klay Thompson has picked up the slack.
Over the past seven games, the second-year shooting guard has averaged 21.3 points, 4.4 rebounds and 2.7 assists on 48 percent shooting from the field, 90 percent shooting from the line and a blistering 50 percent shooting from three-point range.
If that isn't sizzling enough, he's taking 7.4 threes a game. That mean's he's draining 3.7 of them.
Klay Thompson is certainly capable of this type of shooting, and few teams can beat the Warriors when they combine a night like this from Thompson with typical nights from Curry and Lee. However, what has really impressed about Thompson lately is his improved ball handling, driving and finishing.
Once a cringe-worthy open-court ball handler (and by once, I mean three weeks ago), Thompson has suddenly shown a collected calmness on the break, on the drive and around the rim.
Having Jarrett Jack heat it up off the bench is a huge boost, but if Klay Thompson can continue to finally be the player everyone was hoping he'd be all season, the Warriors will have their necessary third option.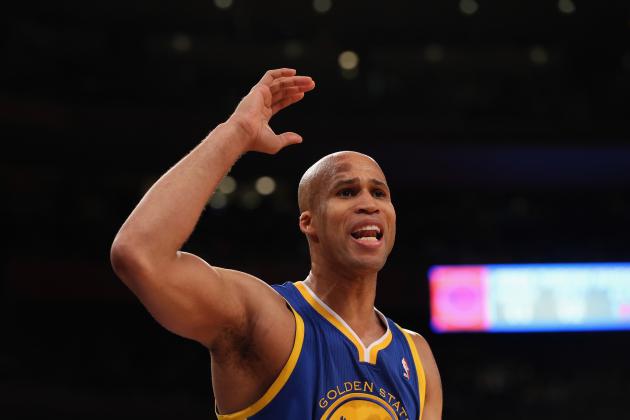 Bruce Bennett/Getty Images

Playoff experience matters.
It matters more than you think, even when you think about how much it matters.
It's not just about the pressure. The more guys a team has who are used to the pressure, the better, but it's not just about that: Playoff basketball is almost like playing in a different league.
Even an NBA veteran can play like a rookie in the playoffs, much like an NBA rookie does during their rookie season.
The Warriors have been able to thrive this season despite having three rookies playing significant roles. If their entire starting lineup was comprised of rookies, they wouldn't be faring so well.
The only players in the Warriors' main rotation with any postseason experience are Jarrett Jack, Andrew Bogut and Carl Landry. Even then, those three have combined to start only 11 playoff games and win one series.
Richard Jefferson has started 74 playoff games, won 10 playoff series and been in the finals twice.
Sure, RJ only plays 11 minutes on a typical night and rarely makes any real difference in determining the outcome of a game. That's now. Come playoff time, should the Warriors get in, Jefferson will see more minutes and play a much bigger role.
No matter who the Warriors face in Round 1 of the playoffs, their opponent will be exponentially more experienced. For the Warriors to advance, they will need Jefferson on the court making plays, leading their bench unit, keeping calm under pressure and channeling his playoff knowledge and mentality through the rest of the team.
If the Warriors pull an upset, Jefferson's $11 million contract will appear, for the first time, somewhat worthwhile.