Indiana Basketball: 3 Unlikely Heroes That Could Emerge in Postseason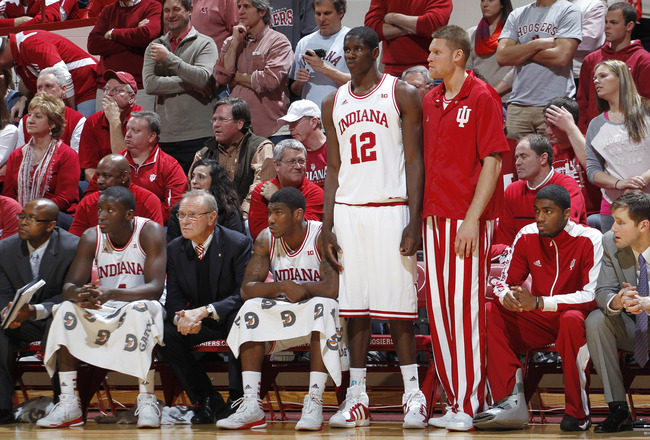 Joe Robbins/Getty Images
The Indiana Hoosiers start postseason play on Friday. This team has high aspirations and wants to end their year as champions.
In order to win games this late in the season, IU will need production from its superstars Cody Zeller and Victor Oladipo. However, what if these consistent performers aren't on their A-game?
Here are three players that could rise to the occasion and be a March hero for the Hoosiers.
Derek Elston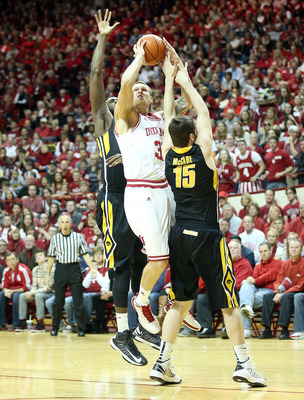 Andy Lyons/Getty Images
When comparing Derek Elston's senior season to last year, it's like night and day. His senior campaign has been full of injuries. He hasn't seen near the amount of playing time he did a year ago.
Recently, he has resurfaced into the lineup as Cody Zeller's backup. This means he could be a key player in March.
At some point in the game, Zeller is going to have to go to the bench. He can't play for 40 minutes. Also, because he is a big man, Zeller is not immune to foul trouble. Throughout the month, Elston should get his chance to make an impact.
Being a senior, Elston has the necessary experience to make big plays. He's seen enough minutes to be ready for the pressures of postseason basketball.
Elston is a post player who can rebound and defend, but also play on the perimeter. Last year he shot 55.2 percent from the three-point line.
When defenses don't pay attention to him and let him slip away to the outside, he can make them pay. If Elston gets in a groove, it will be a big boost to the Hoosiers.
Jordan Hulls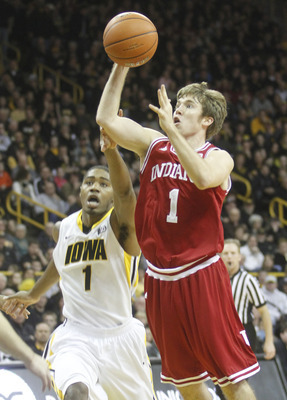 Matthew Holst/Getty Images
While senior Jordan Hulls is a starter, the offense doesn't depend on him like it used to. Since Cody Zeller arrived and Victor Oladipo developed into one of the best players in the country, Hulls is no longer a focal point of the offense.
Despite this, he has shown that he is capable of carrying the scoring load. Against Georgetown, he scored 17 points, had 19 against Minnesota and put up 17 in IU's second game against the Golden Gophers.
The fact that Hulls is generally under the radar and lethal from long range (shooting 48.7 percent from three this season) makes him him the perfect candidate to be a hero for the Hoosiers.
If Hulls gets hot from beyond the arc, he could single-handedly advance Indiana through their upcoming tournaments.
Maurice Creek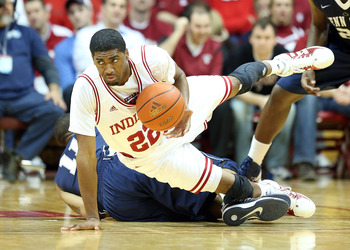 Andy Lyons/Getty Images
Maurice Creek's career hasn't quite gone the way he planned it. He has been constantly injured since he stepped onto campus.
Despite the lack of playing time, he has shown glimpses of greatness. As a freshman, he scored 31 points against Kentucky. Through the first nine games of that season, he was the top scoring freshman in the country (averaging 17.3 points per game).
This season, he has received marginal playing time and made only one key bucket (a three-pointer against Ohio State). He entered the game because the Hoosiers were in major foul trouble.
The reason Creek is on this list is because the guards playing in front of him haven't been especially effective.
Remy Abell has only scored three points total in his last five games. Jeremy Hollowell has improved throughout the season, but hasn't been stellar.
If Indiana gets in severe foul trouble or the bench plays poorly, don't be surprised to see coach Tom Crean give Creek a chance. Like Elston, he has plenty of experience to hold his own on the court. He is accustomed to being a scorer and should have the confidence to make plays.
It may be a long shot, but don't count out Creek from making an impact this March.
Keep Reading

Indiana Hoosiers Basketball: Like this team?