Grading Each Philadelphia Eagles' Free Agent Move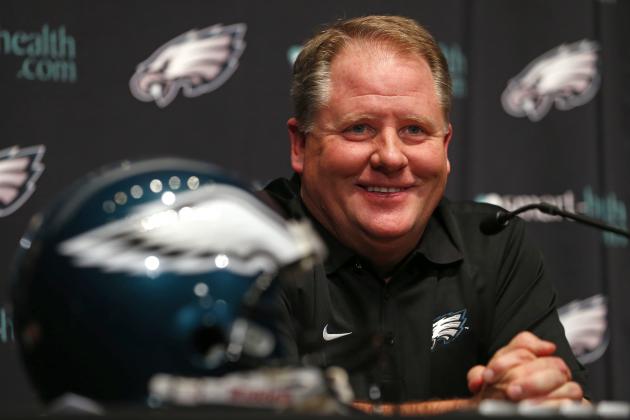 Rich Schultz/Getty Images

The start of the free agency period in the NFL is like Christmas Day for football fans. Chip Kelly seems to have done his homework, as the Philadelphia Eagles made a handful of under-the-radar but solid signings early in the first day.
This won't in any way duplicate the 2011 "Dream Team" signings when the Eagles added six Pro Bowl players to their roster. The Eagles learned it the hard way that year when they struggled to an 8-8 finish and followed that up with a 4-12 record this year.
The 2013 Eagles are trying to build their roster slowly with pieces of the puzzle. Ideally, this will put the Eagles in contention in year one under Kelly.
Begin Slideshow

»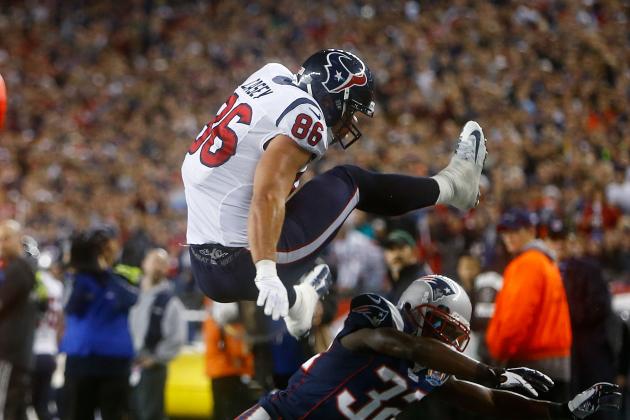 Jared Wickerham/Getty Images

Chip Kelly added an interesting player to the Philadelphia Eagles roster when he signed James Casey. Casey played fullback and tight end for the Houston Texans, and agreed to a three-year, $14.5 million deal with the Birds.
Casey's versatility is his strength, and that's likely what got Kelly's attention. Casey is an underrated receiver out of the backfield, logging 33 receptions for 330 yards and three scores in 2012. In fact, Matt Miller rated Casey as the fifth-best fullback in the league last year.
He rarely carries the ball, having rushed just once for six yards last year. What he will do is line up at a multitude of positions for this team.
Grade: B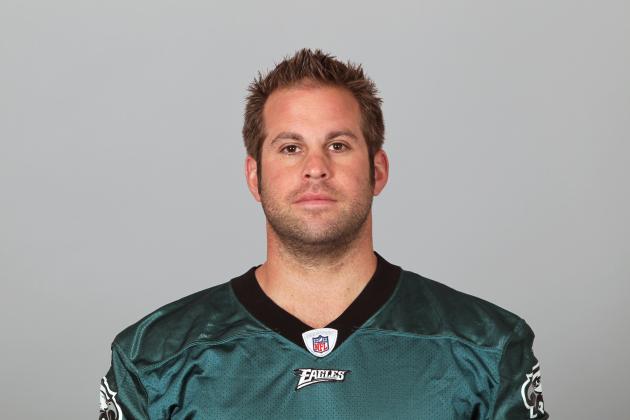 Handout/Getty Images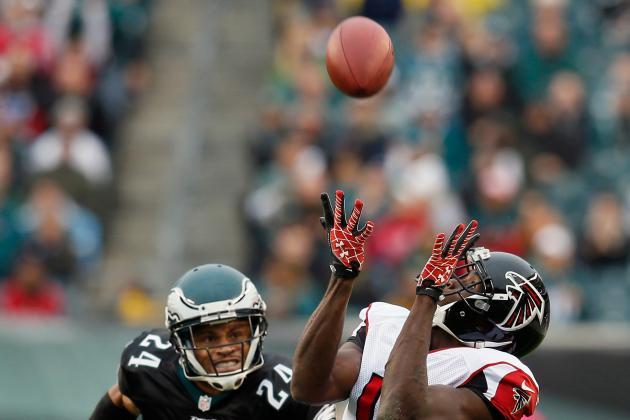 Rob Carr/Getty Images

Chip Kelly righted a wrong of Andy Reid's when he released highly-paid cornerback Nnamdi Asomugha. Just two offseasons ago, the five-year, $60 million deal the Philadelphia Eagles gave Asomugha was supposed to put Philly over the top.
Instead, Asomugha turned in two dreadful seasons for an Eagles team that went 12-20 with him. In 2012, Asomugha allowed a 120.1 passer rating on passes his way. That's the fifth-worst defensive passer rating allowed by any cornerback in the league. Click here to see what Asomugha's season looked like from his point of view.
There had been some talk about the Eagles and Asomugha working out a restructured deal. That never happened, though, and it's probably for the best. Sometimes, a team just needs to move on.
Grade: A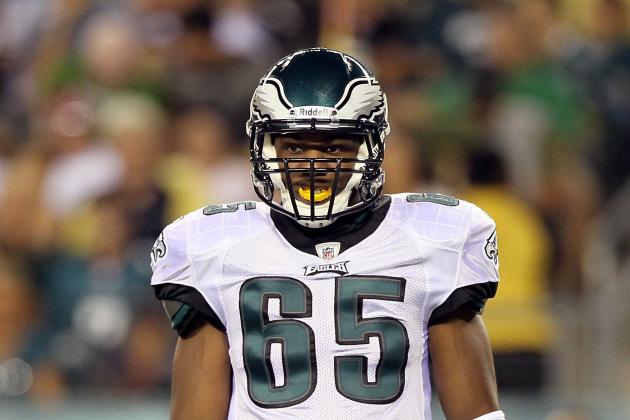 Jim McIsaac/Getty Images

Believe it or not, the only offensive players that had been on the Philadelphia Eagles longer than King Dunlap were Jason Avant, Brent Celek and Todd Herremans.
The Eagles made no effort to re-sign Dunlap in free agency, and Dunlap agreed to a deal with the San Diego Chargers. Dunlap wasn't awful, but he didn't maximize his 6'9" frame and was too frequently beat by speed rushers.
This puts Dennis Kelly, a fifth-round draft pick from last year, as the number one backup.
Grade: B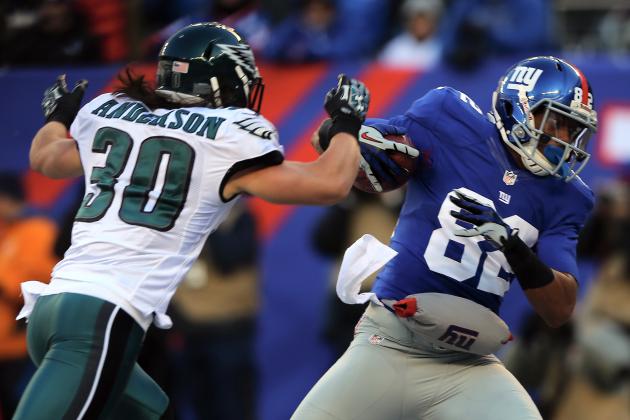 Elsa/Getty Images

Colt Anderson has been a valuable special teams player for the Philadelphia Eagles. He worked his way back from a torn ACL to play at a high level again in 2012. He's extremely limited as a safety, but was definitely worth keeping as a backup and key special teams performer.
In fact, I would have liked to see Anderson get a two or three-year deal with the club.
Grade: B+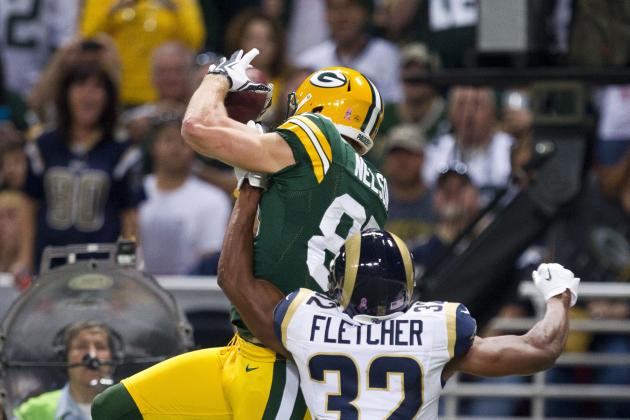 David Welker/Getty Images

The signing of Bradley Fletcher was a very underrated move. Fletcher is just 26 years and a former third-round pick of the St. Louis Rams. He fell out of favor in St. Louis as rookie Janoris Jenkins played exceedingly well.
Fletcher brings starting experience, having started 26 games in four seasons. He played mostly as a nickel cornerback last season, allowing just a 55.8 passer rating on throws his way. In fact, that total ranked as the seventh-best mark among 113 qualifying corners in the league. He was number one among corners in average yards allowed per passing play.
As a full-time starter in 2010, Fletcher recorded four interceptions and held quarterbacks to a 65.8 passer rating. With the Philadelphia Eagles losing Dominique Rodgers-Cromartie and Nnamdi Asomugha, Fletcher will start for this club.
Grade: A-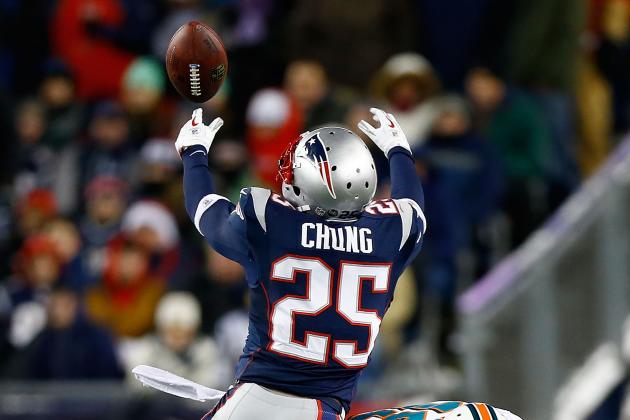 Jared Wickerham/Getty Images

Patrick Chung is definitely a player that has had flashes of brilliance. He was initially a second-round pick of the New England Patriots in 2009. Chung topped out in a Monday Night Football game against the Miami Dolphins, recording a 51-yard interception return for a touchdown, a blocked field goal and a blocked punt.
Considering the Philadelphia Eagles have been putting out Nate Allen and Kurt Coleman as their safeties, Chung will definitely get a chance to start. He will likely be one of the opening day starters. It's an unspectacular but solid signing.
Grade: C+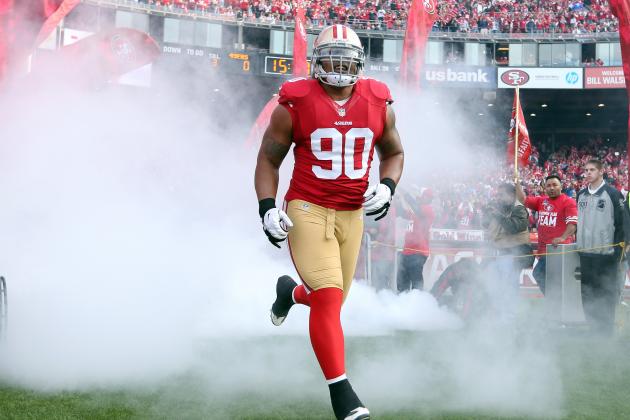 Ezra Shaw/Getty Images

Chip Kelly desperately needed a nose tackle to implement his 3-4 defense. As productive as Fletcher Cox, Trent Cole and Brandon Graham have been, none has the size to play zero-technique nose tackle.
Isaac Sopoaga thrives in a 3-4, though. He's played eight years in San Francisco, serving as both a 3-4 end and a 3-4 nose tackle. He's built like a refrigerator, clocking in at around 330 pounds. That led the Niners to even use him as a fullback in previous seasons, a la the legendary Refrigerator Perry.
Sopoaga is 31 years old, so he's not the long-term solution. What he does, though, is allow Kelly to begin implementing his system with an experienced defensive player that knows the 3-4. It's up to Kelly whether he wants to use Sopoaga as a zero-technique tackle, one-technique tackle or even five-technique end.
Kelly will still have to draft at least one defensive lineman, but Sopoaga was a great start.
Grade: B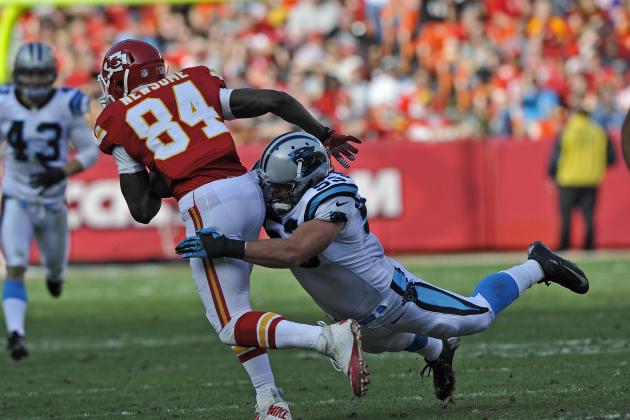 Peter Aiken/Getty Images

The Jason Phillips signing isn't one to get too excited about. He's a four-year pro who spent all of his first season on injured reserve with a knee injury. Since 2010, he's appeared in 29 games, starting two as a linebacker.
Phillips is primarily going to provide depth at the linebacker position while assisting on special teams. He's not going to make or break the Philadelphia Eagles' season; in fact, he may not even make the team.
Grade: C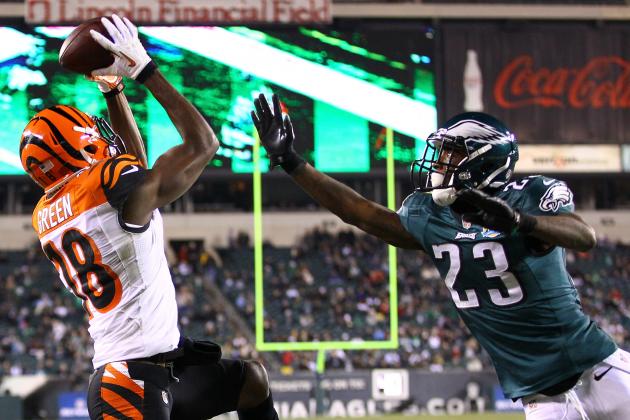 Al Bello/Getty Images

I am in no way a Dominique Rodgers-Cromartie fan. It's tough to appreciate a player with so much raw talent that constantly underachieves.
But a one-year deal to the Denver Broncos for $5 million? That's a steal. DRC has shown glimpses of potential throughout his career. He was a former first-round pick and made the Pro Bowl in his second NFL season. He's recorded 16 career interceptions and four returned for touchdowns. And he's missed just three games due to injury in five seasons.
It says a lot about DRC's lack of effort in Philadelphia that the Eagles made no attempt to re-sign him. His former defensive coordinator, Billy Davis, is now the Eagles' coordinator, and Davis didn't even want him.
Grade: D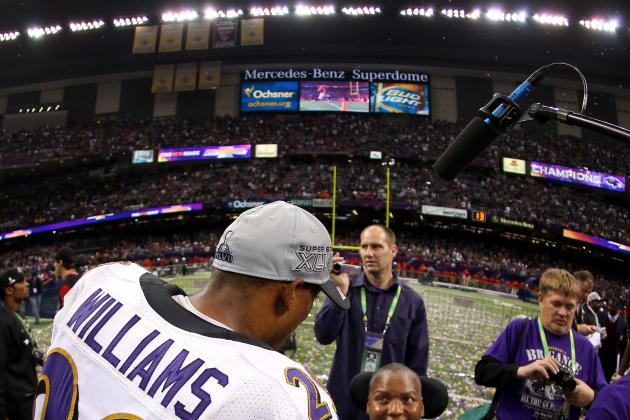 Mike Ehrmann/Getty Images

The Philadelphia Eagles added a starting corner, signing starting cornerback Cary Williams from the Super Bowl champion Baltimore Ravens.
Williams is a former seventh-round draft pick that worked his way into the starting lineup for the Ravens. He's started the last 32 games, registering four interceptions and 33 passes defensed. During that span, only four cornerbacks have totaled more passes defensed. He saw a much bigger role last year when teammate Lardarius Webb went down with a season-ending injury.
Williams' deal is a three-year, $18 million contract with $10.5 million guaranteed, That's a lot of guaranteed money to pay to a corner like Williams. But he is just 28 years old and he allows the Eagles to move on from both Nnamdi Asomugha and Dominique Rodgers-Cromartie.
Grade: C+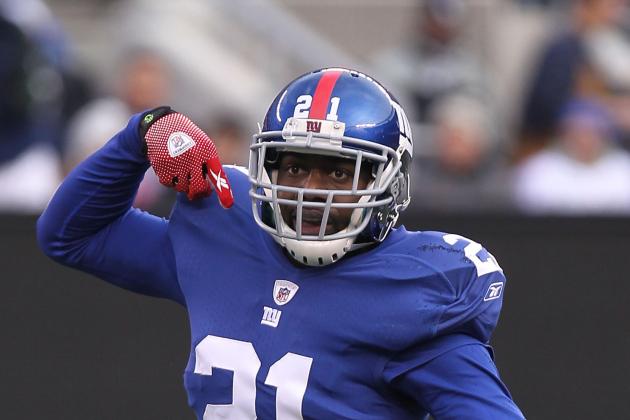 Nick Laham/Getty Images

I like the Philadelphia Eagles' signing of safety Kenny Phillips. Phillips is a former first-round pick of the New York Giants who played a key role in the team's Super Bowl championship title in 2011.
That year, he recorded four interceptions, 11 passes defensed, one forced fumble, and 63 tackles. He rated as the sixth-best safety in the NFL, according to Pro Football Focus. He's especially good in pass coverage, having allowed just a 48.1 completion percentage, no touchdowns, and a 36.1 passer rating on 29 throws his way.
Phillips played in just seven games last year due to a knee injury. It's the same knee that limited him to two games back in 2009. Injuries have definitely derailed Phillips' career, but that's why a one-year deal is a good option for the Eagles.
Grade: B-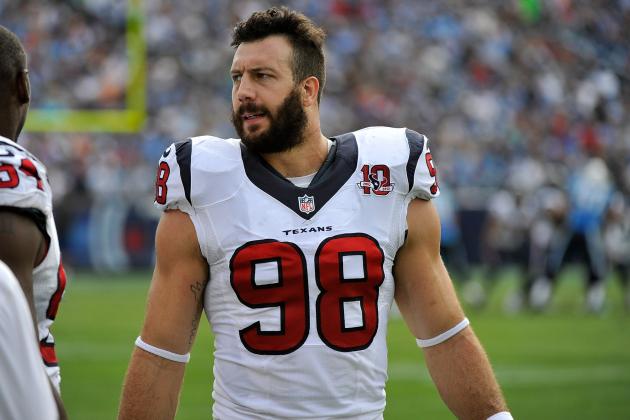 Frederick Breedon/Getty Images

Signing Connor Barwin was certainly a splash. The former second-round pick of the Houston Texans has experience as a 3-4 pass-rushing outside linebacker.
Barwin registered 11.5 sacks in 2011, finishing ninth in the NFL that season. He dropped off last year, picking up just three despite playing 16 games. Either way, he will start on the outside. It's likely that Barwin will play the predator role as the right outside linebacker, according to GM Howie Roseman.
The Philadelphia Eagles still have to figure out their linebacker situation. Brandon Graham and Barwin are certainties to play 3-4 outside linebacker. DeMeco Ryans and Mychal Kendricks will likely play the inside. That means Chip Kelly may try to use Trent Cole as a 3-4 defensive end, although Cole is a bit undersized at just 270 pounds. This also may end the Dion Jordan to Philly rumors.
Update: Barwin's deal has actually been reported as just three years for $13.5 million ($8 million guaranteed). That's much more reasonable than six years for $36 million.
Grade: B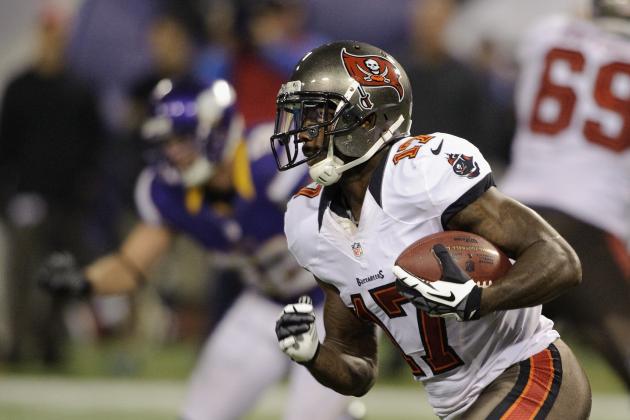 Hannah Foslien/Getty Images

This was an unexpected move, as the Philadelphia Eagles sent a sixth-round pick in 2013 and a conditional draft choice in 2014 to the Tampa Bay Buccaneers for wide receiver Arrelious Benn and a seventh-round pick.
Benn is a third-year pro who has underwhelmed with the Buccaneers. He was initially the 39th overall pick but has struggled to stay healthy. Benn has missed an average of almost four games per season since entering the league.
He's also a kick returner, averaging 23.5 yards per return in 2012. Benn totaled just four receptions for the Buccaneers last season, and there's no guarantee he will even make the Eagles' roster.
Grade: C