Big Ten Football: Spring Practice All-Big Ten Team for 2013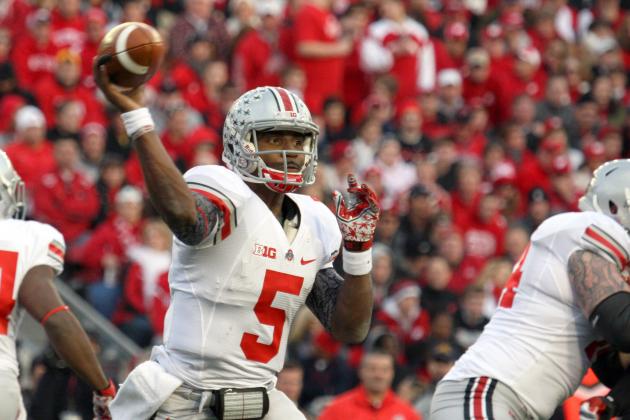 Mary Langenfeld-USA TODAY Sports
You can bet the top Heisman candidate in the Big Ten makes the list
The Big Ten entered a state of transition over the past two years, with great longtime coaches like Jim Tressel and Joe Paterno moving on and many new coaches stepping in all over the conference. Although Wisconsin has carried the flag for the conference for three straight seasons in Pasadena, the conference race has been largely unsettled behind the Badgers.
That has resulted in competitive conference races and a lot of different teams represented on the Big Ten football all-conference teams for the past three seasons.
Heading into 2013, the stars are still spread out very well in the conference, as 10 teams make an appearance on the following slides.
A good mix of upcoming stars and returning veterans fill the Big Ten all-conference team for spring practices, which bodes well for the future of the conference. If Michigan and Ohio State lead the other programs to continue raising the level of recruiting, then this conference could once again become one of the elite in college football.
Let's take a look at the complete list of the young men who are on your All-Big Ten team this spring.
Begin Slideshow

»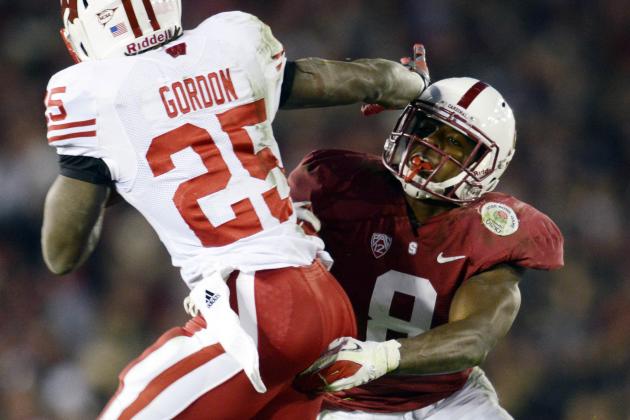 Robert Hanashiro-USA TODAY Sports
Gordon hopes to come back to Pasadena
QB: Braxton Miller, Ohio State
Miller is an easy decision for now, as his continuing development as a passing quarterback appears to be right on track in spring football. Miller led the Buckeyes by himself at times during the 12-0 campaign in 2012. He could be on track for a better 2013 than last year's Heisman winner.
Miller's explosiveness led to 1,271 rushing yards and 13 touchdowns to go with 2,039 yards passing. With his field vision and passing improving even more, it will be difficult for even the other dual-threat quarterbacks of the conference (Taylor Martinez, etc.) to keep up.
RB: Venric Mark, Northwestern
Although Northwestern played games all year with which quarterback to lead the offense, one constant in every drive was Mark. The Wildcats' running back averaged over 100 yards per game and broke a few huge runs in collecting 12 touchdowns on the season. If Northwestern is going to win a division title in 2013, Mark will be the superstar.
RB: Melvin Gordon, Wisconsin
Although Ameer Abdullah may have more press heading into spring practice and 2013, the Wisconsin running back stable will continue to churn out strong running backs. Gordon will split time with James White following the departure of Montee Ball, but Gordon proved that he could be the next big thing in Madison by averaging 10 yards per carry in his freshman season. That will not happen again, but he will improve dramatically on his three touchdowns as a third-string running back last year.
WR: Allen Robinson, Penn State
Robinson blew away the rest of the conference in receptions per game (6.4) and reception yards (1013) in 2012. Despite breaking in a new quarterback next year, Robinson and his running mate, Kyle Carter, will continue to be around for two more seasons. That should result in great passing numbers for whomever takes over in the Bill O'Brien offense going forward.
Expect Robinson to continue to be the best receiver in the conference in 2013.
WR: Devin Smith, Ohio State
It seems like the sophomores dominated this position in 2012 in the Big Ten, and Smith is the selection here over fellow rising juniors Cody Latimer, Kenny Bell and Shane Wynn because he has more big-play ability than any of the others. From the amazing one-handed touchdown catch to start the season to a couple home run touchdowns in Big Ten play, Smith is a critical piece of the high-octane Buckeye offense.
The best news for Smith is that Corey Brown and other receivers are developing under Urban Meyer, which means opposing defenses will not be able to focus exclusively on him to shut down his production.
TE: Kyle Carter, Penn State
As noted above, Carter and Robinson made Matthew McGloin look good for the nine games where both of them were on the field together last year. Carter proved to be a viable threat with over 50 yards per game receiving as a safety valve for the Nittany Lions offense. Carter should continue to put up similar numbers in 2013, as the O'Brien offense continues to roll with conservative passes.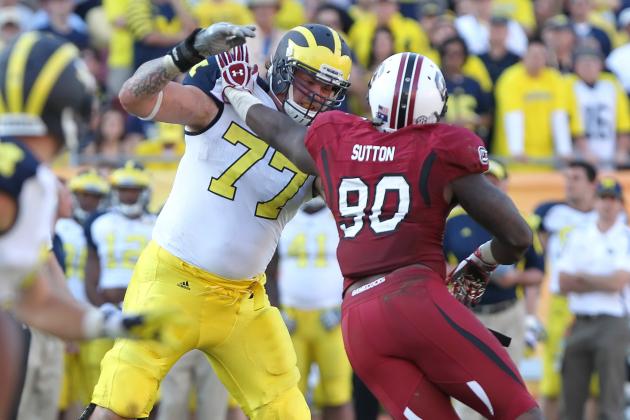 Kim Klement-USA TODAY Sports

OL: Andrew Norwell, Ohio State
One of the biggest reasons Ohio State will be picked to be a national title contender is returning nine starters on offense, including big movers up front like Andrew Norwell. Look for Norwell to continue to open some running lanes and garner some double-teams at times in 2013.
OL: Jack Mewhort, Ohio State
If you want some fun, follow Jack on Twitter @jackmewhort (which makes those of us with more common names yearn for unique names and easier Twitter handles, but I digress!). Mewhort will anchor the same side of the line as Norwell and will likely provide the backside protection that is vital to both the passing game and the option rushing attack.
These first two players bring back more starting experience than any other duo on the same side of an offensive line in the conference. Expect big numbers to continue on offense with these two leading the way.
OL: Jeremiah Sirles, Nebraska
Just like Ohio State, Nebraska is also expected to be an elite offense in 2013 following good numbers in the past season. Look for Sirles to open up some holes for Ameer Abdullah and the other running backs who may emerge for the Huskers attack. Sirles also seems to be on the same page with Taylor Martinez, which helps him anticipate the best way to block a play.
OL: Taylor Lewan, Michigan
Lewan was set to be the highest draft pick from the Big Ten in the 2012 NFL draft, but he decided to come back for another year of mentoring from great offensive line coaches in Ann Arbor (including Brady Hoke). With a solid senior season and more performances like his great show against Jadeveon Clowney in the Outback Bowl, Lewan could join Clowney in the top five of next year's draft.
Make no mistake about it, this is the key returning cog in the Michigan offensive machine. Lewan is a rare talent who we get to enjoy for yet another year.
OL: Spencer Long, Nebraska
Spencer Long helps Jeremiah Sirles pave the way for the dynamic rushing attack in Lincoln. With Taylor Martinez and Ameer Abdullah each requiring lengthy blocks at times on edge rushing plays, Long is just the type of blocker the team needs. Don't expect Long to be penalized much in 2013, and that should help Nebraska avoid the problems that plagued the offense at times in big games last year.
Phil Sears-USA TODAY Sports
Tyler Scott leading the charge against the SEC
DL: Tyler Scott, Northwestern
Most of the Big Ten players who topped the conference charts in sacks last year were seniors, but Tyler Scott will return for one more year in Evanston after leading the league in 2012. Scott's nine sacks were a huge reason why Northwestern killed important drives and stayed in games long enough to win most of them a year ago. Most importantly, Scott will need to be a good mentor for some younger players stepping up to fill starting and two-deep roles for the Wildcat defense this spring.
DL: RaShede Hageman, Minnesota
One of the more underrated aspects of the Minnesota season in 2012 was a strong defensive front. Hageman managed to accumulate six sacks, although he does need to provide more tackles after averaging fewer than five per game last year. If Hageman can continue to develop as a pass-rusher while making some more regular stop up front, then he will become one of the big star on defense in the conference.
DL: David Gilbert, Wisconsin
Gilbert will now lead the Badgers defensive line in 2013 after making some big plays in 2012. Gilbert had 9.5 tackles for loss last year, although those did come in 14 games. Teams may begin running away from Gilbert if he dominates in a similar manner as J.J. Watt and other recent Badger defensive linemen have.
DL: Noah Spence, Ohio State
Ohio State replaces all four starters on the defensive line, but many young players saw significant playing time and will reduce the concerns heading into the new year. Noah Spence is one of the players who has elite talent and endless potential, but he must develop into a real contributor in 2013. I expect that to happen, as Spence has the right mix of speed and toughness to replace a guy like Johnathan Hankins without missing a beat.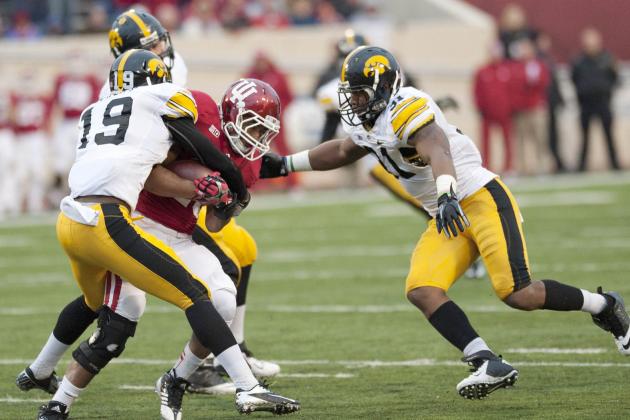 Jerry Schultheiss-USA TODAY Sports

LB: Ryan Shazier, Ohio State
As mentioned on the last slide, Ohio State does not return any defensive line starters, and Shazier is the only returning linebacker. The only reason the Buckeyes held together on defense all season despite injuries and a thin roster at this position was a heroic season by Shazier.
This player does it all and always seems to be in the mix of plays like a good linebacker should. Look for Shazier to improve on his ridiculous numbers of 115 tackles, five sacks, and 17 tackles for loss this season.
LB: Jake Ryan, Michigan
Speaking of tackles for loss, Jake Ryan kept pace with Shazier for most of the season in this department. Although Ryan ended up with one fewer tackle for loss at 16, he was just as important to Michigan as Shazier was to Ohio State. Jake Ryan also had 4.5 sacks and 88 tackles, numbers that set up well heading into his junior season.
LB: Anthony Hitchens, Iowa
Hitchens becomes the first Hawkeye to make the list, but that should not be surprising considering that most of the spots discussed so far were on the offensive side, and Iowa was terrible on that side of the ball in 2012. Hitchens and James Morris each finished with more than 110 tackles to lead the Hawkeyes on defense (Hitchens led the league with 124), and those numbers could drop a bit in 2013. However, look for Hitchens to add more sacks and some big plays defending against the pass as well this year.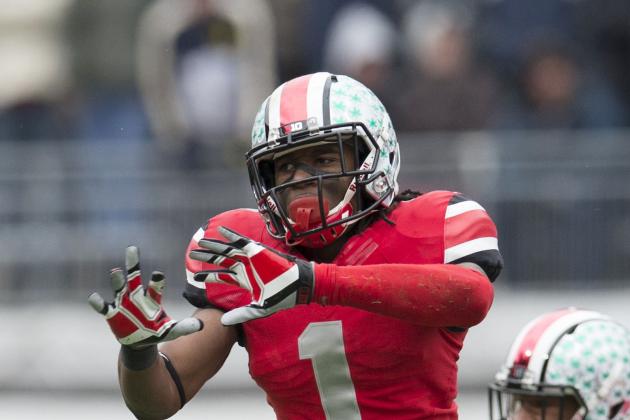 Greg Bartram-USA TODAY Sports
Roby showing off
DB: Bradley Roby, Ohio State
Although Johnathan Hankins left for the NFL draft, the Buckeyes did receive a gift when Roby decided to come back for his redshirt junior season. Roby broke up 17 passes to lead the conference a season ago, and he earned all-conference honors for this effort. The one thing Buckeye fans want to see more of is interceptions, especially with the graduation of Travis Howard, who led the league last year and doubled Roby's interceptions (2).
DB: Nick VanHoose, Northwestern
VanHoose caught a lot of eyes in 2012 by stepping right in and contributing as a freshman for the Wildcats. Despite only playing in 10 games overall, he still ended up with 10 pass breakups and three interceptions. Although VanHoose did not take any of the interceptions to the end zone, he does have the speed to make such a back-breaking play this year as a sophomore. This is the next rising star in this position for the Big Ten.
DB: Greg Heban, Indiana
Greg Heban walked on to play football at Indiana, and he quickly earned a scholarship under the new regime of Kevin Wilson. That scholarship was earned by bringing tough pass defense to a team that usually sorely lacks in that department. While Heban's three interceptions could be improved upon, his lock down coverage will be hard to replace after 2013. Heban also made 91 tackles, which should go down if Indiana gets better up front defensively.
DB: C.J. Barnett, Ohio State
The final spot could go many different ways, as there are players ready to step into the limelight all over the conference at this position. However, Barnett managed to pull in 56 tackles in only nine games last season. Provided with a full season and no major injuries in 2013, Barnett could be the glue that holds together the back of the Buckeye defense while the front seven reloads.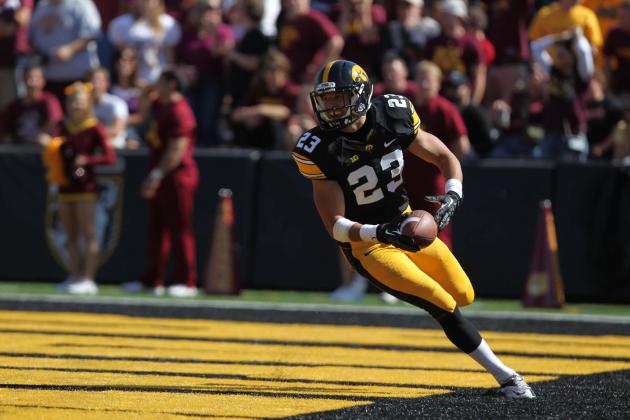 Reese Strickland-USA TODAY Sports

PK: Brendan Gibbons, Michigan
Two senior kickers will duke it out for the best in the Legends Division and the conference, as Gibbons and Northwestern kicker Jeff Budzien both succeeded on 89 percent or more of their field-goal attempts in 2012. Budzien actually put up slightly better numbers, but Michigan is poised to have a much bigger year with perhaps less offense than in 2012. If the team relies on field goals more, then Gibbons will need to keep up his ridiculous pace to keep the Wolverines on top of the standings.
P: Mike Sadler, Michigan State
It is shocking to believe we've made it this far without including any Spartans, but the loss of multiple players to early NFL draft entries and the star in Le'Veon Bell leaves a lot of question marks in most positions for a team that almost won the conference title two years ago. At least one area of little concern is the punting game, where Sadler averaged over 43 yards per punt in 2012. Plus this high average comes with a massive sample size of 79 punts thanks to the struggles of the Michigan State offense.
Sadler is a key reason why Michigan State did not bury itself last year. If the offense improves, he could become an even more important weapon.
PR/KR: Jordan Cotton, Iowa
Here's a shocking statistic: only one player in the Big Ten averaged more than 23.6 yards per kick return last year. As a result, it seems clear that the safer bet is almost always to kneel on the ball if it reaches the end zone on a kickoff. However, Cotton broke off some big returns despite only having 19 chances at it, and his average of 28 yards per return is no fluke. It is still a question whether he will continue on special teams in his senior season, but Iowa would be poorly served to take him away from what he does best.
---------
Thanks for reading. I'm sure many of you will have passionate opinions on who was left out and who does not deserve to be here. Please share your suggestions below. Also, please follow me on Twitter (@DA_Fitzgerald). See you next week!