WWE: What You Missed Since Last Week's Raw; Foley Named GM, Ziggler vs. Bryan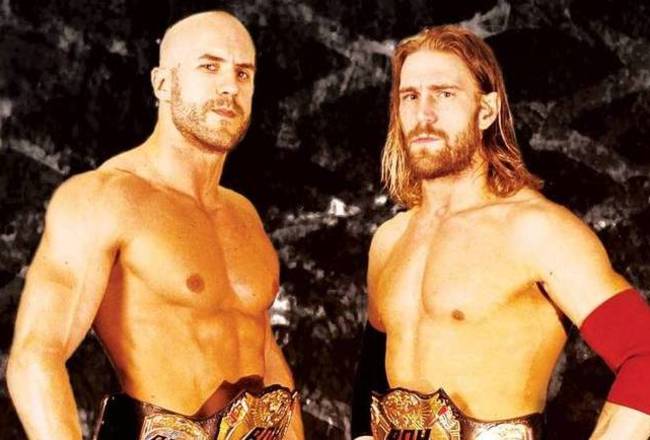 Both halves of the former Kings of Wrestling, Antonio Cesaro and Kassius Ohno, compete on NXT this week. (Image retrieved from ROHWrestling.com)

Matt Striker summed it up during the opening minutes of this week's Superstars: "With WrestleMania right around the corner, every victory, every match is that much more important."
To whatever degree you believe that statement to be true, it doesn't just apply to the top-tier talent. It applies to everyone who hopes to be involved in WrestleMania 29 in any capacity at all. It's not uncommon for there to be a dark match battle royal or lumberjack match, often the only appearance some of the lower-rung performers get at the biggest show of the year.
As everyone looks towards East Rutherford and the first weekend of April, guys like the Colons and Justin Gabriel are hoping to get at least some table scraps. Maybe Fandango will finally make a debut, working over a jobber as a fluff match between main events. What better use for someone like Yoshi Tatsu or JTG?
To take a look at what some of the less-favored talent are doing when not laying down for someone on Raw or SmackDown, I bring you What You Missed Since Last Week's Raw.
We take a look at NXT, Main Event, Superstars and Saturday Morning Slam to see what's been happening on WWE's C-, D-, E- and F-shows. After we review everything that happened on these programs, we'll decide who benefited the most last week and who may end up on TNA or ROH before long.
My "highlights" version of all four shows is below.
If it piques your interest enough to read on, this slideshow breaks down the shows individually, segment by segment, complete with my questions, predictions and/or honorable mentions.
If you disagree with my selections of who benefited/suffered the most, there's a comment section below.
Highlights
On NXT, Kassius Ohno had a decisive victory over Derrick Bateman and continued his feud with William Regal post-match. Summer Rae continues her push to the top with a victory over Emma and the furthering of her program with the returning Paige.
The Wyatt Family continued to permeate the NXT programming, as we reviewed their attack on Oliver Grey from last week's show before Adrian Neville issued an open challenge to any member of the Family for next week's episode. Bo Dallas got a victory over Bray Wyatt but suffered a beat-down from all three Wyatt Family members post-match.
Alberto Del Rio made an appearance, which ended up leading to a match between Antonio Cesaro and Big E. Langston for the main event. The match ended with a no-contest when Cory Graves attacked Langston, joined by Conor O'Brian after the match had been thrown out.
On Main Event, Alberto Del Rio lost to The Big Show by countout when Jack Swagger attacked the World Heavyweight Champion's knee and left him unable to beat the ten-count. This was followed by The Usos defeating Drew McIntyre and Heath Slater of 3MB in tag team action.
After a few Raw Rebounds, Intercontinental Champion Wade Barrett got a much-deserved, quick victory over Justin Gabriel.
Per usual, this week's Superstars featured two original matches and three Raw Rebounds. R-Truth defeated Michael McGillicutty and Zack Ryder defeated JTG.
This week's Saturday Morning Slam was about as good as you could ask for a 30-minute program airing on Saturday mornings. They announced Mick Foley as General Manager, meaning he'll be an integral part of the show every week.
Daniel Bryan defeated Dolph Ziggler in a match that was incredible, albeit far too short. The show closed with a very respectable match in which Brodus Clay and Tensai defeated the Colon cousins, Epico and Primo.
Now, if you care to read more about any of these happenings, please enjoy the slideshow.
WWE NXT Results and Review: March 13, 2013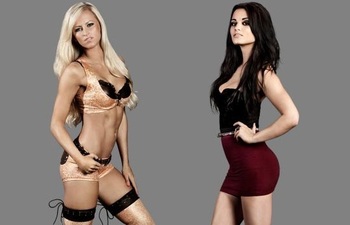 Summer Rae competes and Paige returns (credit for images: WWE.com)
This week's episode of NXT opens with a reminder that Alberto Del Rio will be on the show tonight. We start the program in the arena with William Regal and Tony Dawson on commentary. Kassius Ohno and Derrick Bateman make their respective entrances.
Kassius Ohno vs. Derrick Bateman
Dawson mentions that Bateman says he's at "87 percent" with a brace on his knee. That can't be a good sign. Bateman gets in a little offense, showing off his athleticism and speed, but Ohno was just too much for him. He ended the match with a boot to the face. Not even the "Cyclone Kill," a discus big boot he had regularly used earlier in his career. Just a strong boot to the face.
Winner: Kassius Ohno (pinfall; match length 4:22)
While Bateman was still down, Ohno proceeded to lock in an impressive submission hold that put pressure on both the neck and the legs. He refused to stop, even at the referee's demand, until William Regal made the save. After a very brief confrontation, Regal punched Ohno and knocked him down. Ohno had a look of shock on his face as he left the ring.
An interesting note: during the match, Regal mentioned that Ohno reminded him of himself when he was younger. He admitted he was jealous, however, of Ohno's creativity and innovative offense.
Backstage, Bo Dallas is set for a promo with Renee Young. His promo skills are nothing special, but he seems to have a lot of potential. He just said that Bray Wyatt cost him both the NXT Tag Team Championship and the NXT Championship, and that he would exact his revenge in their match tonight.
Back in the arena, Regal has a look of melancholy and apologizes for acting so unprofessional when he punched Ohno.
Emma vs. Summer Rae
NXT Divas action up next, featuring the bad-dancer Emma and the announcer-turned-wrestler Summer Rae. Regal makes a big deal out of the fact that Emma moved from Australia to Calgary to train with Lance Storm. She's no Beth Phoenix, but you can tell she's had legitimate training.
Summer Rae's in-ring prowess is even more impressive. She seems to be more technically sound than Emma, utilizing some great leg submission holds. Storyline-wise, it doesn't make a lot of sense, since she's supposedly just been a ring announcer until recently. Regal explains this away by saying she's been studying from ringside as the ring announcer and has learned a lot.
Near the end of the match, Rae starts mimicking Paige's guttural scream. Soon after, she gets the win after her spinning heel kick, The Solstice.
Winner: Summer Rae (pinfall; match length 3:54)
Post-match, Paige comes out to confront the winner, who she has been feuding with for weeks. Rae is out of the ring by the time Paige gets there. She tells Rae that she's back and that the "Summer session is over." Rae runs away through the audience to avoid any physical confrontation.
Honorable Mention: If Rae hadn't run away from Paige with such cowardice, her performance against Emma may have earned her Biggest Winner of the week.
This is followed by a quick replay of last week's interaction between the NXT Tag Team Champions and the Wyatt Family, as Adrian Neville was forced to wrestle a handicap match when the Wyatt Family took out his partner, Oliver Grey. Neville is backstage, ready for a quick interview with Renee Young.
Neville doesn't say much. He confirms that Oliver Grey is doing just fine and that the beating his partner took will be nothing compared to what he does to the Wyatt Family. He gives a shout out to Dusty Rhodes, asking for a chance to face any Wyatt Family member of the General Manager's choice on next week's NXT.
Prediction: It looks like a six-man feud is beginning to develop, with the Wyatt Family being the common enemy of the NXT Tag Team Champions and Bo Dallas.
Matt Striker is backstage for an interview with NXT Champion Big E. Langston. When asked about Conor O'Brian being the new No. 1 Contender for his title, Langston says that his first title defense will be "dominant, destructive and delicious."
Back in the arena, Bray Wyatt is making his way to the ring without the rest of the family, spewing cult-leader nonsense all the way down the ramp. Bo Dallas doesn't say a word during his entrance, looking very intense and focused.
Bray Wyatt vs. Bo Dallas
Bray Wyatt dominates the opening minutes, utilizing his obvious size and strength advantage. He scores a two-count before we head to a commercial break. The older brother is still in control when we return. These guys have great in-ring chemistry, for obvious reasons.
Dallas looked at one point to be making a strong comeback, but Wyatt again used his size and strength to stop him. Wyatt become very frustrated, however, when he couldn't keep his brother down for a three-count.
Despite the fact that Wyatt dominated most of the match, Dallas used Wyatt's momentum as he ran at full-speed, turning it into a sloppy belly-to-belly suplex for the win.
Winner: Bo Dallas (pinfall; televised match length 6:21)
Post-match, Wyatt Family members Luke Harper and Erick Rowan attacked Dallas, concluded by Wyatt's swinging reverse STO.
Backstage, Renee Young has another superstar ready for an interview, Justin Gabriel. He says that he's been reading about Leo Kruger since he was growing up in South Africa and announces that they'll have a match next week on NXT.
Back in the arena, Ricardo Rodriguez comes out to announce Alberto Del Rio's appearance. The World Heavyweight Champion just talks about how great NXT is and the fact that the locker room currently holds some future world champions.
United States Champion Antonio Cesaro comes out and challenges Del Rio to a champion vs. champion match. Rhodes comes out to say that Cesaro will get a champion vs. champion match, but that his opponent will be Big E. Langston rather than Alberto Del Rio. The match starts right away.
Big E. Langston vs. Antonio Cesaro
From the very beginning, Langston makes it clear that he wants to end the match with a five-count. We go to a commercial break before any real action begins. When we return, Langston is in control, using his strength to throw Cesaro around the ring.
Eventually, Cesaro's superior technical skills win out, allowing him to have more control over Langston than anyone else in NXT thus far. Cesaro shows off his own strength by throwing Langston around a little bit as well.
Just as Langston begins to turn things around, Cory Graves charges the ring and attacks the NXT Champion. Langston has almost no trouble fighting him off as Cesaro escapes the ring and heads to the back. While Langston is focused on Graves down in the ring, he is jumped from behind by Conor O'Brian.
No Contest (televised match length 5:22)
Graves and O'Brian team up against their common enemy. They beat Langston down and both men stand tall as NXT goes off the air.
WWE Main Event Results and Review: March 13, 2013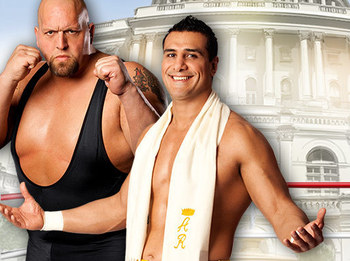 Image retrieved from FanPop.com
Main Event begins in the arena with Michael Cole and The Miz on commentary. Ricardo Rodriguez comes out to introduce Alberto Del Rio for the evening's first match.
Before it gets underway, they show the Main Event audience the same parody of Jack Swagger and Zeb Colter than we've already been shown at least twice on regular WWE programming. It was mildly humorous, but not funny enough to show three times.
Alberto Del Rio vs. The Big Show
The Big Show makes his way to the ring looking very unhappy, presumably because of the attack he suffered at the hands of The Shield during his match with Seth Rollins on Raw. Minutes after the match begins, the World Heavyweight Champion forces The Giant out of the ring. Jack Swagger and his "founding father" appear at the top of the ramp as we head to commercial break.
When we return from the break, Show is delivering some brutal chops across Del Rio's chest. There were some very clever spots in this match. Del Rio reversed a powerbomb into a huracanrana. At one point, Del Rio went for his Cross Armbreaker, but Show was able to lift him up (with the hold still in place) and dump the champion over the top rope, bouncing off the apron and down to the floor.
This provided the opportunity Swagger needed to get involved, taking Del Rio out at the knee. The Real American ran back to the top of the ramp before the referee could see him, leaving Del Rio struggling to even stand. The Mexican Aristocrat was unable to beat the 10-count.
Winner: The Big Show (count-out; televised match length 4:49)
Post-match, Del Rio attempted to go after Swagger, but he sold the knee injury as if he could barely walk. Swagger and Colter simply left before any further interaction could take place.
After another commercial break, we return to 3MB making their way to the ring for a tag team match. Drew McIntyre's ribs are heavily taped due to the one-upmanship of Ryback and Mark Henry on Raw. He is still competing in this match alongside Heath Slater.
3MB vs. The Usos
This tag team encounter was fairly competitive until McIntyre was tagged in and his injured ribs were taken advantage of. I was surprised that the commentary team didn't at least mention the fact that no one has been named the No. 1 Contenders for Team Hell No's tag straps.
Question: Is WWE planning on having a Tag Team Title match at WrestleMania? Did they neglect to mention the championship because there's not going to be a match, or simply because neither of these two teams have any chance of being involved in the title hunt at this time?
The Usos win the match when McIntyre suffers a top rope Samoan Splash.
Winners: The Usos (pinfall; match length 4:07)
After another commercial break, we get a long video package tracing the story of The Rock and John Cena from WrestleMania 28 to the present day.
This is followed by a quick replay of Brock Lesnar taking out the New Age Outlaws on Monday Night Raw and his acceptance (via Paul Heyman) of Triple H's WrestleMania challenge.
We go to commercial break as Intercontinental Champion Wade Barrett is shown heading to the ring for the final match. When we return from break, Justin Gabriel is already in the ring.
Wade Barrett vs. Justin Gabriel
As Barrett makes his way to the ring, they show clips from Raw that eventually lead to the Triple Threat Match between Barrett, The Miz and Chris Jericho for the Intercontinental Championship on next week's Raw. With The Miz at ringside, you've got to believe there will be some interaction.
Prediction: Cesaro will get involved in the Triple Threat Match, resulting in Wade Barrett vs. Chris Jericho and Antonio Cesaro vs. The Miz at WrestleMania.
Justin Gabriel was able to show off a little of his high-flying offense, but the main focus was Barrett's toughness and brutality. In the end, Barrett missed his first Bull Hammer attempt. Gabriel immediately went to the top rope, but Barrett connected with the Bull Hammer as Gabriel came down, and Barrett took home the win.
Winner: Wade Barrett (pinfall; match length 3:15)
That marked the end of original programming for this episode. We get a short video package promoting The Call with Halle Berry and David Otunga, followed by a recap of CM Punk disrespecting Paul Bearer from Raw to end the show.
WWE Superstars Results and Review: March 14, 2013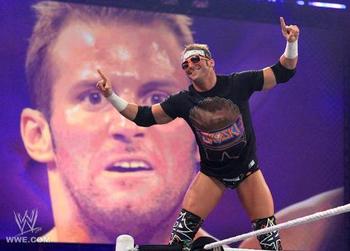 Image credit: WWE.com
Superstars kicks off with R-Truth making his way to the ring and Tony Dawson and Matt Striker on commentary. Michael McGillicutty is announced as Truth's opponent.
R-Truth vs. Michael McGillicutty
The commentary team makes multiple references to the fact that R-Truth is returning to action after suffering a nasty gash at TLC in December, forcing him to miss 52 days of competition. Regardless, we all know a win for McGillicutty would be a huge upset.
R-Truth goes to the top rope but McGillicutty knocks him down to the floor as we head to a commercial break. McGillicutty has Truth under control with a headlock when we return to the action.
Question: How much longer will WWE give McGillicutty to truly develop something they can work with? Even the commentators point out that he's been with the company for three years and has yet to have any sort of "defining moment" and is still struggling to be noticed.
Although the son of Mr. Perfect was on the offensive for the majority of the match, the former K-Kwik was too much for him in the end. Truth reverses an attempted Perfect-plex and hits the Lie Detector for the win.
Winner: R-Truth (pinfall; televised match length 7:51)
After a commercial break, they give us an update on the Triple H/Brock Lesnar drama, showing Lesnar's attack on the New Age Outlaws and his conditional acceptance of Helmsley's WrestleMania challenge.
This sends us to another commercial break, which was followed by a recap of the feud between The Rock and John Cena.
After yet another commercial break, we get our second original match of the episode, featuring Zack Ryder and JTG. The commentary team reminds us again that Ryder is still hoping to get a WrestleMania match at the event that will be held in his "backyard."
Zack Ryder vs. JTG
During the match, Striker sounded like a bona fide member of the IWC, alluding to the fact that this is a "what have you done for me lately" industry and that Ryder hasn't done much since getting himself on television through his social-media efforts. Social-media obsession aside, the same could be said about JTG.
Prediction: If JTG doesn't take it upon himself to make some changes to his character and career, I don't think he'll be with WWE much longer. His character is nothing more than a culturally insensitive stereotype and his career has come to a place where he's jobbing to those who job on Raw and SmackDown.
Ryder ends this seemingly meaningless match after connecting with the Broski Boot and the Rough Ryder.
Winner: Zack Ryder (pinfall; match length 4:21)
After one more commercial break, we get a recap of the feud between CM Punk and the Undertaker, and that's the end of the show.
WWE Saturday Morning Slam Results and Review: March 16, 2013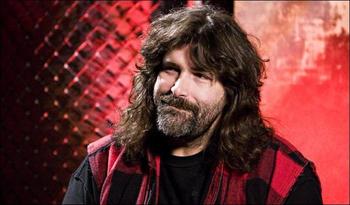 Hardcore legend Mick Foley is named General Manager of Saturday Morning Slam (image retrieved from WrestlingNewsWorld.com)
After a very brief recap of the "chaos" that has ensued since the announcement that there would be a new General Manager named for Saturday Morning Slam, Booker T is in the middle of the ring to finally reveal the choice: Mick Foley.
Prediction: Foley's contribution to Saturday Morning Slam will result in a significant increase in interest and ratings.
As Mick Foley begins to talk about why he's so happy to accept the role, Daniel Bryan comes out to complain that he wasn't chosen. Heath Slater, joining Josh Mathews on commentary, says that he's surprised his own name wasn't chosen.
Once Mick Foley tries to appease Bryan by saying he may need to choose an assistant manager, Dolph Ziggler, AJ and Big E. Langston come to make their complaint that Ziggler and AJ weren't picked as co-General Managers.
As the Superstars argued about who truly should have been named GM, Foley decides that a match needs to take place between Daniel Bryan and Dolph Ziggler. After a commercial break, the match begins.
Daniel Bryan vs. Dolph Ziggler
This match is entertaining enough to have been on Raw or SmackDown; given more time, it would have been good enough for a pay-per-view undercard match. If this is the future of WWE's main event scene, it's time to get excited.
The quality of the match didn't suffer despite the fact that the antics had to be played up for the intended SMS audience. The emphasis on their characters may have improved the entertainment quality of the match. At one point, when Ziggler had Bryan's head in a leg-lock, Bryan managed to raise and hold his legs straight up in the air, mocking Ziggler's regular showoff move.
About four minutes into the match, Bryan sent Ziggler to the outside of the ring with an arm drag that ended an incredibly impressive back-and-forth attempt to gain control. We take another commercial break in the midst of this fantastic match.
The end was unexpected. Ziggler attempted one of his flawless dropkicks, only to have both feet grabbed by Bryan. The "Dazzler" attempted to roll Ziggler over into a Boston Crab, but was unsuccessful. He then sent Ziggler into the turnbuckle via slingshot, and as the Showoff staggered out of the corner, Bryan hit a beautiful huracanrana and scored the win.
Winner: Daniel Bryan (pinfall; televised match length 5:54)
Question: Could putting in-ring technicians like Bryan and Ziggler on Saturday Morning Slam result in a slightly different (perhaps better) product than WWE is producing in-ring on Raw and SmackDown? Having just recently been introduced to the worlds of Chikara and Ring of Honor, I must say that this match had a hint of that style of wrestling.
When you combine the increased emphasis on the characters with performers who are always trying to put on the best match of the evening, you have the kind of matches you see from these other promotions.
One obvious, major difference is that SMS won't even show moves that involve the head or neck, whereas one major appeal to the popular indie promotions is their insanely dangerous offense.
Before we head to another commercial break, Brodus Clay and Tensai are backstage, preparing for their match. They are interrupted by Mick Foley, who says that there's a problem with their dancing: that's he's not included. Tensai, obviously hoping that Foley would say they shouldn't dance at all, was disappointed.
They are interrupted by Rosa Mendes and the Colon cousins, as Rosa talks trash in Spanish. Foley and Clay make some jokes, as these two teams face off next.
Brodus Clay & Tensai vs. Epico & Primo
Although this match was short, it was the perfect compliment to the opening match, for a thirty-minute wrestling show. All of the wrestlers got to show off their strengths. The Colons got in enough offense to remind us that they are quick, high-flyers and tag team specialists.
Tensai showed off some very agile offense for a man of his size and Clay got to toss around his opponents to make him look like the monster he can be.
The match ended with Clay and Sweet T's signature finisher, the double body splash.
Winners: Brodus Clay & Tensai (pinfall; match length 2:36)
There was some post-match dancing after the replays, and that was the end of the show. No Raw Rebounds. No advertisements for the upcoming pay-per-view. Just the end of the match and a friendly reminder to tune in next week.
Biggest Winner: Saturday Morning Slam; Biggest Loser: Superstars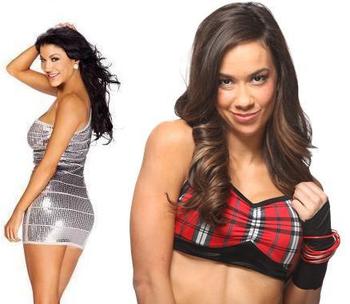 The young demographic of SMS doesn't prevent appearances by Divas like AJ Lee or Rosa Mendes (credit for images: WWE.com)
If you're a regular reader of What You Missed, you know that I have been ending the slideshow with my pick for the week's "Biggest Winner" and "Biggest Loser" from the four shows I review every week.
Often, one superstar had especially impressive victory, or perhaps multiple appearances throughout the week that seemed to indicate that they have things headed in the right direction. At the same time, someone may do the job on two or three of the reviewed programs, indicating that things may need to turn in a new direction as soon as possible.
But this week, I didn't feel that any one superstar had an especially great outing or an especially regretful series of matches. Instead, there seemed to be one show that had an especially poor episode this week and one program that had an incredibly good episode this week. Thus, it is the programs that get this week's labels rather than specific Superstars.
Biggest Winner: Saturday Morning Slam
If this truly is the beginning of a new era for SMS as they claimed, then I think it could quickly become a very popular show for viewers of all ages.
For starters, Mick Foley was named the General Manager. Foley has always had a soft spot for the kids, and he's done great with on-air managerial roles in the past, so he's a perfect pick for the Saturday Morning Slam General Manager. Plus, the entertaining aspect of Foley's character was never very risque, so dedicated Foley fans won't be disappointed with his content.
Second, the match quality was as good as anything else you're going to get to see on free television from WWE. Sure, with only 22 minutes of programming available, the matches aren't going to be a satisfying length. But Daniel Bryan and Dolph Ziggler raised the bar for what can be done with a five-minute match that can't include much offense aimed at the head or neck.
The amplified in-ring antics are a nice change of pace. From Bryan's mocking of Ziggler to Epico's almost cartoonish reaction when he realized he was about to be smashed between Clay and Tensai, it's a brand of comedy you don't see on Raw or SmackDown that can still be appreciated by fans of any age.
On top of that, there are no Raw Rebounds and you still get a healthy dose of Divas for eye-candy, which included AJ, Rosa Mendes and both Funkadactyls this week. I can honestly say I enjoyed this show almost as much as I did Raw this week, and more than I did any other show.
Will Saturday Morning Slam continue to deliver?
Biggest Loser: Superstars

I always have very low expectations for WWE Superstars. Yet, somehow, I was still disappointed this week.
We got two matches that were as predictable as they were meaningless. It would be hard to find four Superstars that fans care about less or currently have less going on than Zack Ryder, Michael McGillicutty, R-Truth and JTG. There were no surprises in the matches, nothing impressive, nothing innovative. The matches were just fillers between Raw Rebounds.
Do I need to say anything more? If I didn't write a review every week, I'd never watch the show. I'm not sure why anyone else would.
What are your thoughts? Whether you agree or disagree, let's discuss!
You can follow Dustin on Twitter, check out his blog or listen to his podcast.
Keep Reading