Dwight Howard: Breaking Down Lakers Star's Performance in Return to Orlando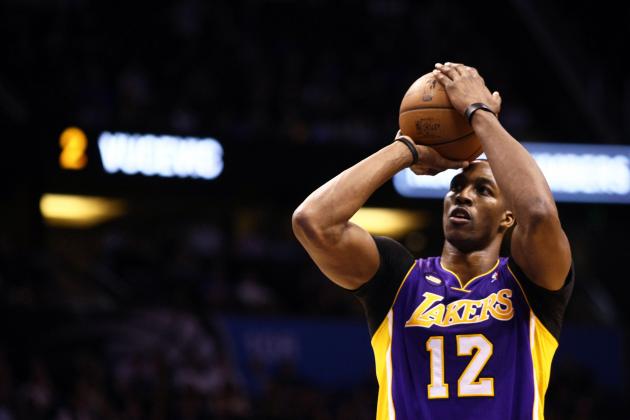 Douglas Jones-USA TODAY Sports

For the first time since leaving the team in what can only be described as an ugly departure, Dwight Howard visited the Orlando Magic. When it was all said and done, D-12 reminded the Magic why he was the face of their franchise.
The Los Angeles Lakers' 106-97 win only begins to scratch the surface.
D-12 was sensational from start to finish, dominating the Magic along the interior and at the free-throw line. Howard tied the NBA record that he had previously set by attempting 39 free throws.
As superstars often do, however, Howard found a way to dominate in ways well beyond the charity stripe.
Begin Slideshow

»
We knew it was going to be ugly.
When Dwight Howard was introduced, the entire city of Orlando let their feelings be known. You can take an educated guess at what Magic fans had to say.
Something along the lines of "Boo."
Magic fans greet Dwight Howard with a chorus of boos as he's introduced. #WeWill

— Orlando Magic (@Orlando_Magic) March 12, 2013
It's a love-hate relationship. You know, minus the love.
The key here, however, is not how the crowd reacted. What matters most is the way Howard responded to the boos.
"Music to my ears."
Dwight Howard smiling and dancing as he was introduced. Boos just bounced off him.

— chris palmer (@ESPNChrisPalmer) March 12, 2013
Perhaps Howard is learning from Kobe Bryant on what it means to have thick skin.
With his pre-game reaction established, how did Howard fare come the actual game? From the opening quarter on, there was only one word to describe his play: dominance.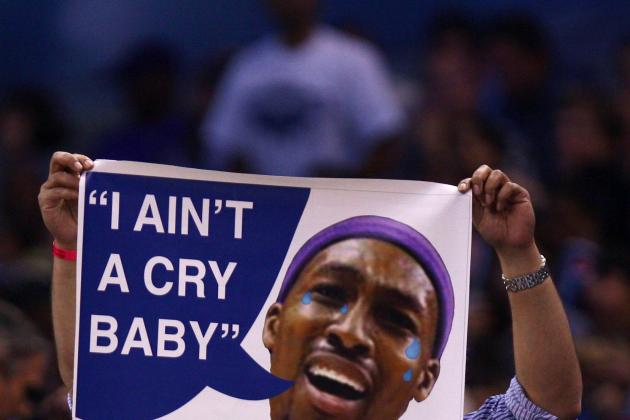 Douglas Jones-USA TODAY Sports

Grade: A+
During the first handful of possessions, Kobe Bryant attempted to take over the game. After going 1-of-3, however, he deferred elsewhere.
From there on out, it was all about Dwight Howard.
D-12 refused to allow the crowd to get to him, as he went into attack mode but maintained his poise. This resulted in a responsibly dominant performance on both ends of the floor.
His first bucket? A highlight-worthy dunk.
Whether he was scoring or altering shots, Howard remained focused on the task at hand. Orlando suffered because of it.
Howard caught young Magic players out of position both on rebounds and scoring opportunities. He set high and low screens for his teammates, defended the screen-and-roll well and maintained his base.
His balance of poise and aggression is evident in two numbers.
For one, Howard made 25-of-39 free throws—including an early pair with the crowd booing as loud as ever.
The other number to know has to do with field-goal attempts. Howard scored 39 points on just 13 attempts from the field.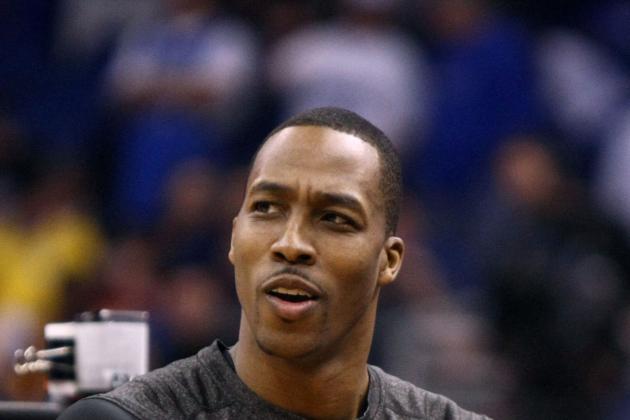 Douglas Jones-USA TODAY Sports

Grade: A+
How good was Dwight Howard on offense? Put the scoring numbers aside and check this statistic.
With more than two minutes remaining in the second quarter, Howard had already attempted 17 free throws. Believe it or not, that was not only because of the hack-a-Howard strategy.
It was because he had been dominating before the Magic began to foul.
Howard caught players such as Kyle O'Quinn and Nikola Vucevic out of position on a consistent basis. This enabled D-12 to draw fouls and finish easily around the basket.
Whether it was a hook shot or a furious dunk, Howard managed to score when given the opportunity. When the chance wasn't there, he capitalized on the hack-a-Howard approach.
He made 16-of-20 on free throws that came as a result of the hack-a-Howard. That was less than half of his total attempts.
Douglas Jones-USA TODAY Sports

Grade: A+
Not only was Dwight rebounding well, but he was positioning himself in a manner which forced the opposition to foul him. Yes, Howard drew fouls off of rebounds.
Howard finished with 16 boards, including three on the offensive glass. He did so by boxing out Nikola Vucevic and maintaining physical contact on plays which he wasn't in on.
In other words, Howard dominated the glass individually and opened the gates for his teammates to get to the ball when he couldn't.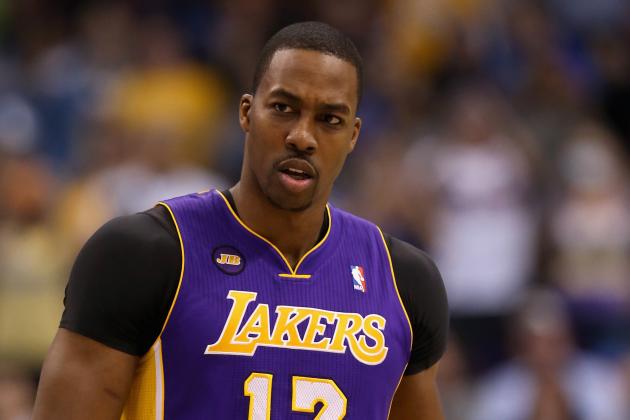 Ronald Martinez/Getty Images

Grade: A+
For all of his offensive brilliance, there is no question about Dwight Howard's defensive contributions. Not when he helped hold Orlando to just 32 points in the paint.
Howard was an impenetrable force whether he was making jump shots or lay-ups.
Howard's signature moment came during the second quarter. As shooting guard Arron Afflalo attempted to drive the lane, he bumped Howard and attempted a fade-away jumper. Howard blocked it.
This was the story of the game, as D-12 made an impact on every shot that came his way. Whether that was by blocking shots or forcing extra passes, he was absolutely sensational.
Such is evident by the fact that Orlando scored just 97 points despite making 10 three-point field goals.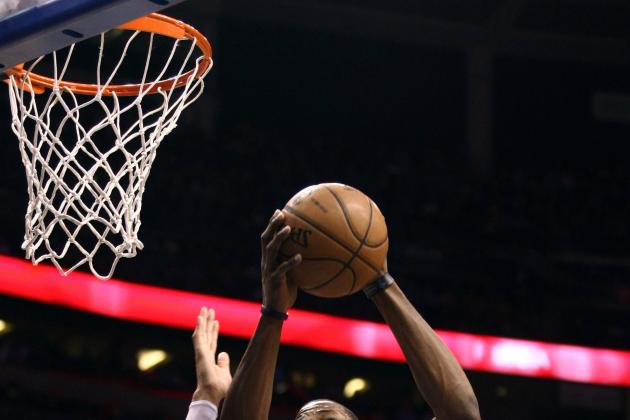 Douglas Jones-USA TODAY Sports

Overall Grade: A+
Minutes Played: 38
Plus/minus-: Plus-16
Stat Line
39 points, 16 rebounds, 2 assists, 3 blocks, 1 steal
Is there any doubt about this game?
With the Orlando Magic's fanbase raining down with a chorus of boos, Dwight Howard kept his poise. With the Magic attempting the hack-a-Howard, D-12 hit free throw after free throw.
When Orlando challenged him in the paint, he swatted the shots away.
Howard had a 64.1 percent free-throw percentage, which is up by 15.3 points from his season percentage of 47.8.
Howard made 16-of-20 on hack-a-Howard plays for an 80.0 percent success rate.
Regardless of what he was doing, Howard was doing it in dominant fashion. He made Orlando his home again for one night.
The seven-time All-Star played like an MVP.