Wisconsin Football: Gary Andersen's Biggest Concerns Entering Spring Practice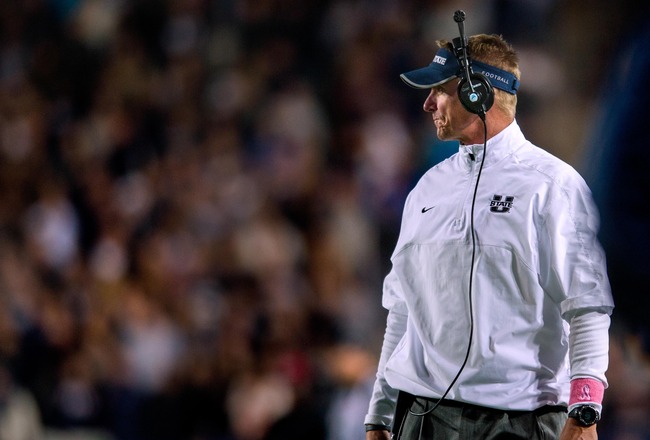 Douglas C. Pizac-USA TODAY Sports
The Gary Andersen regime has officially begun at Wisconsin. The Badgers took the field for the first time under Andersen on March 9 for the start of spring practice.
There already seems to be a great connection between Andersen and his players thanks to the coach's diligent effort to get to know each and every Badger. Andersen has even been seen snapping the ball to the quarterback and getting up close and personal during drills to make sure his kids are getting it right.
With the changes Wisconsin are expected to encounter, it's refreshing to already see Andersen doing whatever it takes to get his entire roster on the same page. The Badgers' first game is in five-and-a-half months, and while that may seem like plenty of time to adjust to the ways of Andersen, they will need to utilize that time effectively to be ready to go for the 2013 season.
Nothing really seems to faze coach Andersen, but he still has some concerns as spring practice in Madison gets underway.
Replacing Marcus Cromartie and Devin Smith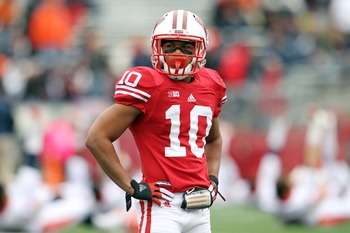 Brace Hemmelgarn-USA TODAY Sports
The defense only loses four starters from a year ago, but both Marcus Cromartie and Devin Smith, the two starting cornerbacks over the past two seasons, have graduated.
Neither Cromartie or Smith were exactly All-Americans, but just to have that consistency, speed and experience on the outside was a sturdy shoulder to lean on. Wisconsin didn't have a very aggressive mindset on defense under Bret Bielema, so the turnovers forced in the secondary were few and far between.
That's expected to change under new defensive coordinator Dave Aranda, who wants his defense to blitz more and create turnovers. That transition would have been much easier with the tenured Cromartie and Smith still on the roster, but such is not the case, and now guys like Peniel Jean and Darius Hillary will have to not only battle for a starting spot, but also adjust to a new philosophy.
This could help even the playing field for early enrollees Sojourn Shelton and Keelon Brookins, two of the three cornerbacks in Andersen's first recruiting class at Madison.
No matter which way you slice it, the Badgers are going to be quite green at cornerback in 2013, but that doesn't mean they don't have plenty of talent at the position. Now it's just a matter of how Andersen evaluates that talent.
Making Transitions on Offense, Defense Smooth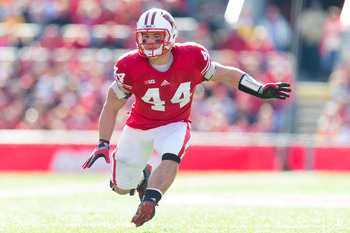 Jeff Hanisch-USA TODAY Sports
As noted before, Aranda wants to be more aggressive on defense, but that's not the only change we'll see. The Badgers will at least at times use a 3-4 formation, meaning Wisconsin will be removing a down lineman and replacing him with a middle linebacker.
Fortunately, Wisconsin brings back much more experience in the front seven than in the secondary, losing just one player—linebacker Mike Taylor. It will be interesting to see if the Badgers choose to use one of their defensive ends, such as David Gilbert, as a linebacker next season, or if a true linebacker enters the mix.
Hopefully for the Badgers, that experience makes the transition easier, but there will also be adjustments to make on offense, as Andersen and offensive coordinator Andy Ludwig plan to move the quarterback around and implement some spread option looks.
What's concerning for Andersen is that he won't have junior quarterback recruit Tanner McEvoy in camp until summer, and he best fits the bill for the type of quarterback Andersen would like running his system. For now, he'll have to work with what he has and get the rest of his offensive players acclimated to the new style.
Finding Someone to Compliment Jared Abbrederis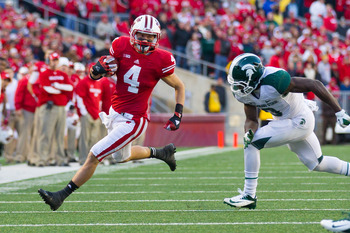 Jeff Hanisch-USA TODAY Sports
Jared Abbrederis will be one of the top returning wide receivers in the Big Ten, and that's all fine and dandy, except for the fact that he was Wisconsin's only legitimate threat in the passing game last season.
Jacob Pedersen will also return and is a formidable option as a pass-catching tight end, so he and Abbrederis make for a pretty solid duo, but as far as another receiver stepping up, that has to be one of the top priorities for Andersen this spring.
Last season, freshman Jordan Fredrick got most of the snaps as the No. 2 wideout, but he only caught 17 passes for 196 yards and one touchdown. The Badgers will certainly try and get Pedersen more involved to help take some pressure off Abbrederis, but he also needs to stay in to block at times, so another receiver must make himself available to whoever ends up playing quarterback next season.
Andersen won't have a few incoming receiver commits to work with just yet, so he'll have to see what he has in players like Fredrick, Kenzel Doe and others. Of course, having consistency at the quarterback position is a big factor in helping along the No. 2 receiver, which leads us to Andersen's final concern as spring practice kicks into full gear.
Sorting out the Crowded Quarterback Position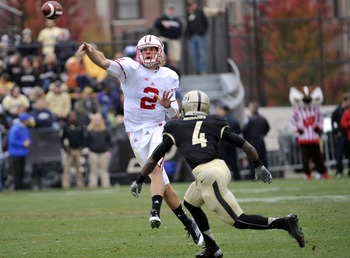 Sandra Dukes-USA TODAY Sports
Tanner McEvoy may not have entered the competition just yet, but once he does, an already crowded quarterback situation will get downright packed.
At the end of last season, redshirt senior Curt Phillips was starting in the Rose Bowl due to poor play and injuries. Thanks to being granted a sixth-year of eligibility, Phillips is back in Badger red along with sophomore Joel Stave, redshirt freshman Bart Houston and senior Danny O'Brien.
At the beginning of the season, O'Brien won the job but forfeited it over to Stave in the third game of the season. That's when Wisconsin regained some mojo, only to lose Stave on Oct. 27 to a broken collarbone, leading to Phillips' first chance in five years to lead the Badgers.
Five players believe they have a chance to start under center for Wisconsin in 2013, and it will be a real challenge for Andersen to give each one of them the same amount of snaps in practice—he's already admitted such a task will be impossible.
What really matters to Andersen is quality, not quantity, and it comes down to these quarterbacks understanding that philosophy. Whichever one is able to fit the mold Andersen has in mind best will be the be the signal-caller next season, but it's up to Andersen to determine just who that will be.
Keep Reading

Wisconsin Badgers Football: Like this team?