UFC: 8 Fighters Who Will Challenge for the Title in 2013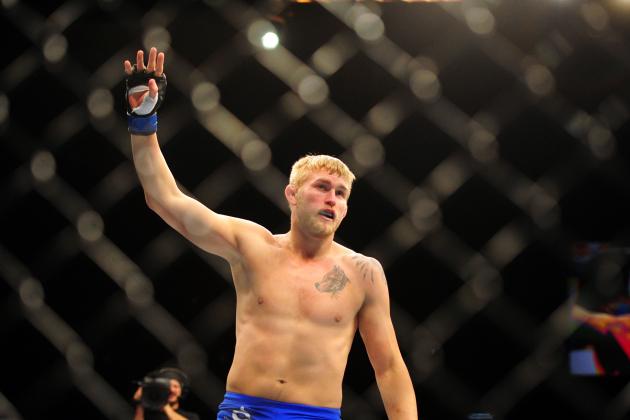 Mark J. Rebilas-USA TODAY Sports

As MMA fans, we always await the shocking changing of the guard. We keep an eye trained on the potential upset victory. We root for the underdog.
It's in our nature. After all, the norm, with time, becomes mundane.
Whether we love or loathe the current champions of the sport, we're always on edge when a bout materializes that could conceivably produce a stunning upset.
Here are eight contenders who will compete for the title before 2013 reaches its conclusion!
Begin Slideshow

»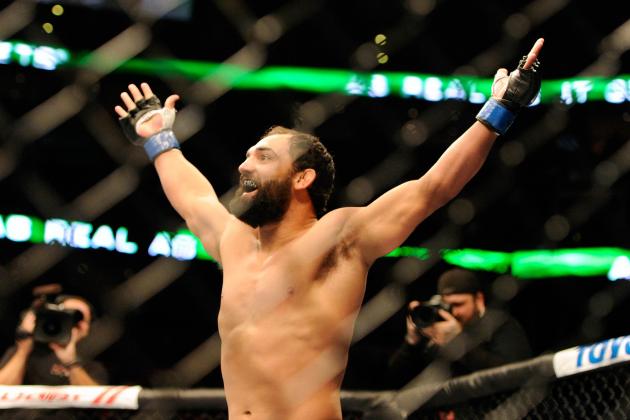 Eric Bolte-USA TODAY Sports

Johny Hendricks may need to dig deep and work like he's never worked inside the Octagon, but I think he edges Carlos Condit at UFC 158.
If that scenario does indeed become a reality, Hendricks cannot be refused his title shot.
He's beaten Martin Kampmann, Josh Koscheck and Jon Fitch in succession. A win over Condit marks four top-10 victories in a row. It's just about impossible to deny a man with such accomplishments his rightful title shot.
It won't be easy, but Hendricks overcomes the diversity of Condit next weekend and secures a 2013 third-quarter meeting with champion Georges St-Pierre.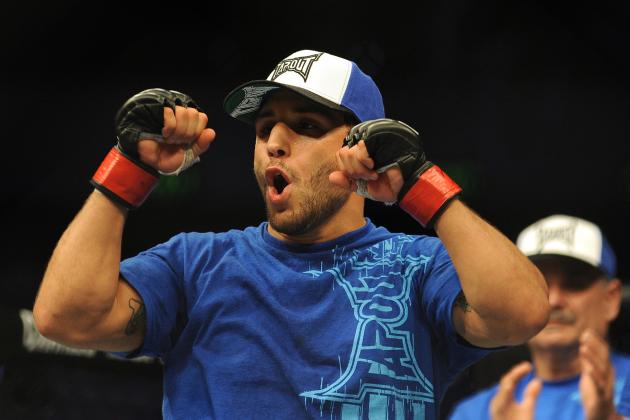 Matt Roberts/Getty Images

Whether Jose Aldo successfully defends his title against Anthony Pettis at UFC 163 remains to be seen. Regardless of the victor, Chad Mendes is next in line.
Outside of Frankie Edgar, who isn't likely to again work toward a title in the immediate future, few men at 145 pounds present the problems that Mendes brings to the table.
I fully expect Mendes to destroy Clay Guida at UFC on Fox 7. He'll get the next title shot at 145 pounds.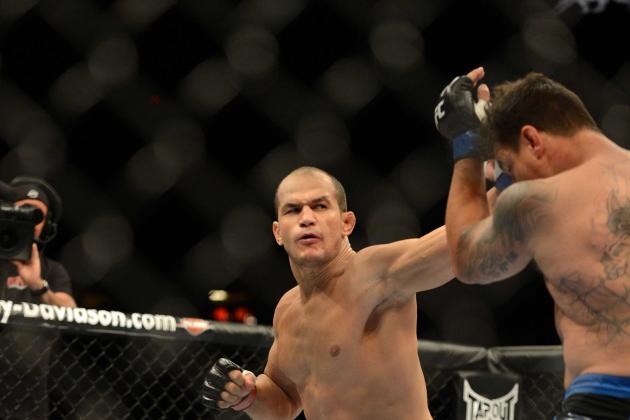 Ron Chenoy-USA TODAY Sports

Junior dos Santos will box it out with Mark Hunt at UFC 160. I expect the elusiveness and precision of "Cigano" to be far too much for Hunt, who seems to have gained a second career win.
If JDS beats Hunt up, and Cain still holds the heavyweight title, these two will meet again, likely as a headliner on the year-end card.
There just aren't many options at heavyweight today.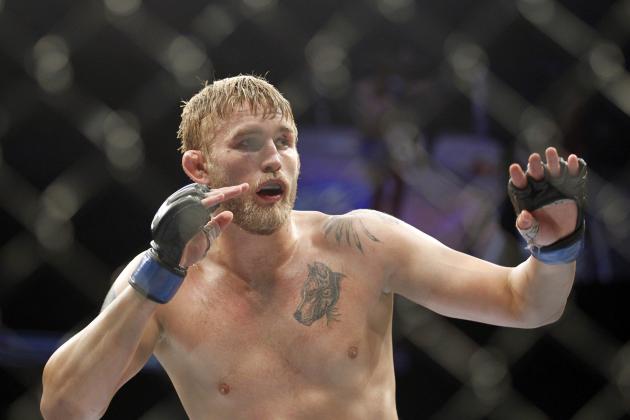 Joe Nicholson-USA TODAY Sports

As much as I'd like to see Gegard Mousasi have his hand raised (not because I dislike Alexander Gustafsson, I've simply been a Mousasi fan for years) at UFC on Fuel TV 9, it's not likely to happen.
Gustafsson rides a serious wave of momentum. His confidence has peaked, he's battled and beaten elite opposition, he's comfortable in the Octagon and he's picked up six consecutive victories in just over two years.
All logic points to the Swede as the favorite here, and I'd be one to fall into that collective opinion.
Gustafsson lines up a title shot with Jon Jones after dismantling Mousasi next month.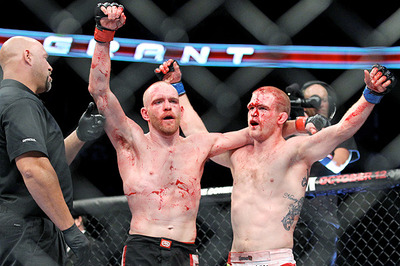 ESPN
I haven't checked out the odds, but I'm guessing T.J. Grant will be a serious underdog heading into his battle with Gray Maynard at UFC 160.
I don't see him as all that big of an underdog.
Grant is going to have to eat some big punches early and keep himself in the fight by defending takedowns and forcing the fight to the fence. But that's where he shines.
Look for Grant to overcome some hairy moments in the first frame, only to force Maynard into a compromised position where he'll begin to eat big elbows from the surging Grant in Round 2.
By Round 3, the durable and underappreciated Grant breaks Maynard and finishes with a knockout, securing a title shot with Benson Henderson before year's end.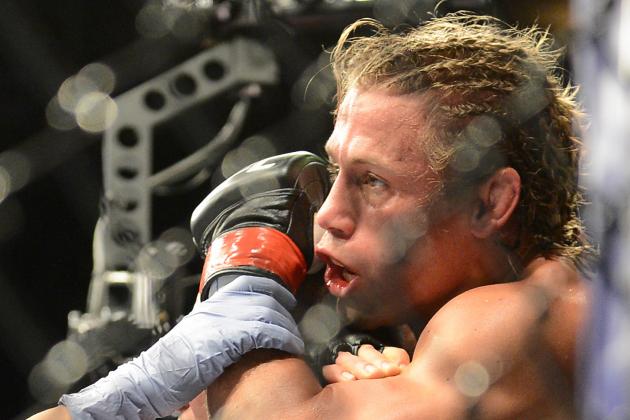 Jayne Kamin-Oncea-USA TODAY Sports

Renan Barao is out of options at bantamweight. Dominick Cruz isn't likely to return to action inside the next few months, and there are very few contenders left to battle the interim champion.
If Barao beats Eddie Wineland at UFC 161, and Faber defeats Scott Jorgensen in April, Barao and Faber dance once more.
That sounds like a very possible scenario.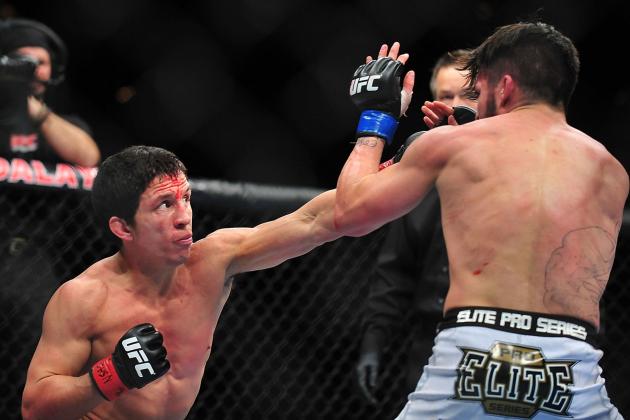 Gary A. Vasquez-USA TODAY Sports

Let's face it: The flyweight division is paper-thin. Three powerhouses sit atop the weight class and they are Demetrious Johnson, Joseph Benavidez and Ian McCall.
Benavidez is tapped to tangle with Darren Uyenoyama at UFC on Fox 7, while current champion Johnson will step away from his proposed bout with John Moraga due to injury.
I fully expect Benavidez to secure victory in his showcased bout at UFC on Fox 7.
Who knows where Moraga will stand at that point.
A rematch between Johnson and Benavidez is inevitable at this point, and we'll likely see it happen as 2013 reaches closure.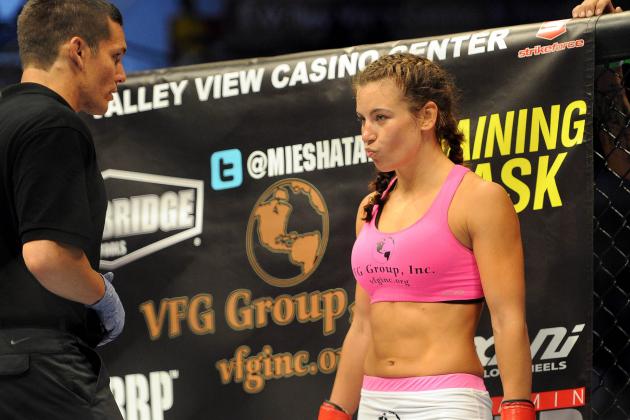 Jayne Kamin-Oncea-USA TODAY Sports

Aside from Ronda Rousey and Cyborg Santos, there is no louder female voice of MMA than Miesha Tate. She's loud, she's confident and she's got a penchant for bullying opponents.
While Rousey got the best of her at Strikeforce—Tate vs. Rousey, she hasn't lost a bit of fire and craves a chance at redemption against Rousey.
The UFC's depth in regards to female competitors is as thin as the flyweights, and only a few true threats wait for Rousey's next visit to the cage.
At the top of that list is Tate. With a win over Cat Zingano in April, she'll secures a rematch with the ferocious champion.
Follow me on Twitter.