12 Do's and Don'ts for Filling out Your 2013 NCAA Tournament Bracket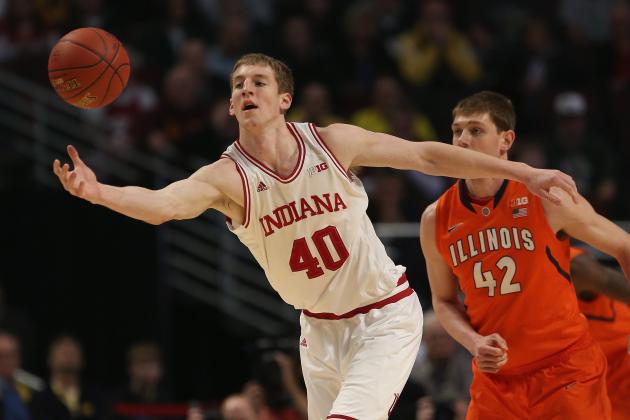 Jonathan Daniel/Getty Images

There are few things more aggravating than a blank NCAA tournament bracket. All those empty cells—hovering in space, mocking you, stoking your self-doubt.
Breathe easy, friend. We can do this together.
Follow the simple guidelines in the slides ahead, and you'll be on your way to bracketological brilliance. Or you'll lose your office pool to Bradley in human resources again.
Freaking Bradley in HR, am I right? Total genius.
Begin Slideshow

»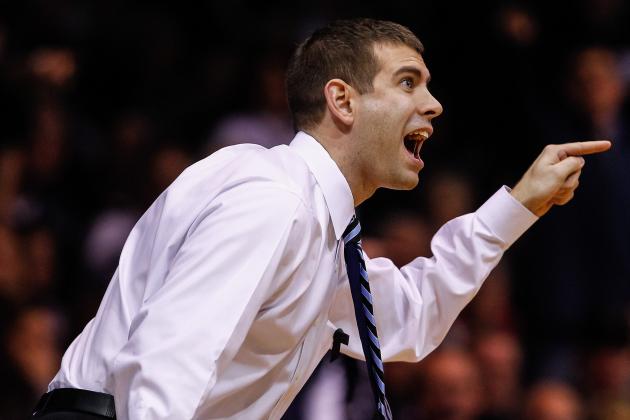 Michael Hickey/Getty Images

A quick primer on Ken Pomeroy.
1. He's a meteorologist from Salt Lake City.
2. He's the creator and curator of an advanced-stats website called KenPom.com.
3. Coaches like Butler's Brad Stevens (pictured above) regularly consult Pomeroy's statistical treasure trove.
4. So does every college basketball analyst worth his or her weight in hair product.
5. So should you.
Most of Pomeroy's site is paywall-restricted, but freeloaders can still access the homepage, which includes three key metrics: adjusted offensive efficiency, adjusted defensive efficiency and pythagorean winning percentage.
The first two measure how efficient a team has been on a per-possession basis, with weight added for quality of opponent. The latter expresses a team's expected winning percentage based on those relative efficiencies.
It's a far more powerful set of tools than anything you'll find in a win-loss column, providing crucial insight into which teams have been underrated by the selection committee or sold short by their regular-season records.
Mark L. Baer-USA TODAY Sports

ESPN's points-per-game leaderboard will tell you that Virginia Military Institute has the ninth-highest scoring offense in the country.
What it won't say is why.
VMI plays at the nation's ninth-fastest pace and has attempted more threes (869) than any other team in Division I. No surprise, then, that the Keydets score in bushels.
Problem is, VMI isn't all that efficient on the offensive end, which partly explains why it went just 8-8 in the lowly Big South conference.
The lesson?
College teams play vastly different styles, and oftentimes, those discrepancies produce major differences in raw output.
Don't assume, for example, that a team is playing good defense just because its opponents don't seem to score much. It could be because the team in question likes to milk the shot clock on offense, or because its conference stinks.
Efficiency—particularly adjusted efficiency—paints a much clearer picture.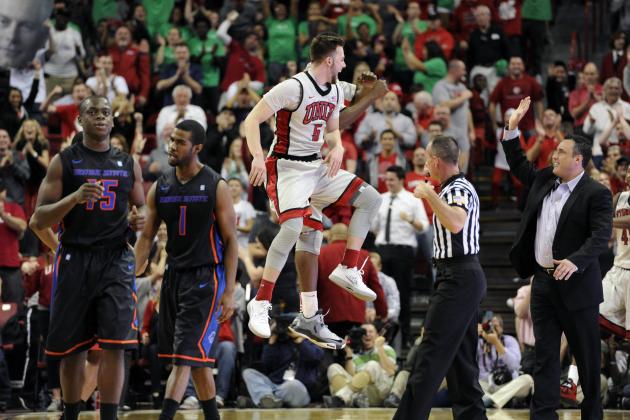 Josh Holmberg-USA TODAY Sports

According to conference RPI, the MWC is the best conference in America this year.
OK, so conference RPI is silly.
But more trusted names like Ken Pomeroy and Jeff Sagarin place the MWC right up alongside the ACC and Big 12 as one of the nation's better leagues.
Here's a neat bit of trivia: The five MWC tournament teams (Boise State, New Mexico, UNLV, Colorado State and San Diego State) went a combined 10-7 against the power six this year.
Translation: These guys can hang with anyone.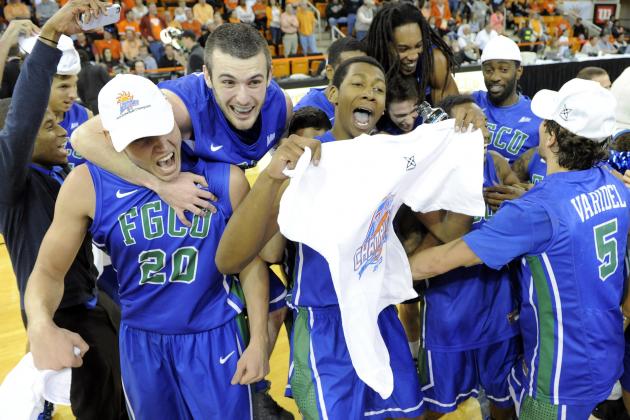 John David Mercer-USA TODAY Spor

At 3-32 all time, the Atlantic Sun has the worst NCAA tournament winning percentage (.086) of any active conference.
Florida Gulf Coast* won the league's automatic bid last Saturday with a win over Mercer.
*Actually, FGCU isn't half bad. I just like compiling statistics. I know. I'm weird.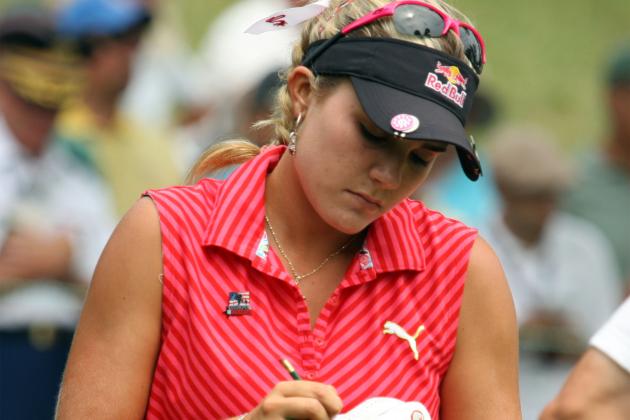 Mary Langenfeld-USA TODAY Sports

"Everybody makes mistakes
Everybody has those days
1, 2, 3, 4!"
- The Artist Formerly Known as Hannah Montana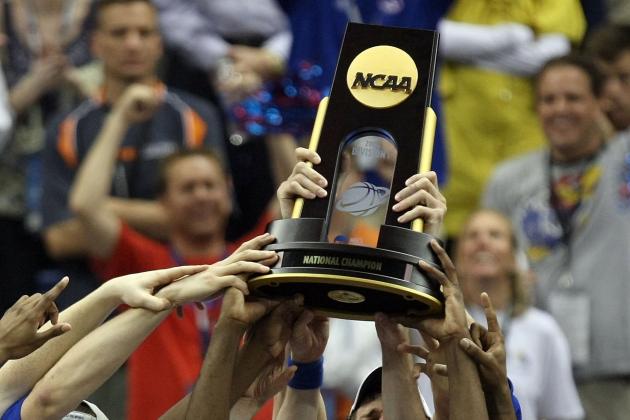 Jed Jacobsohn/Getty Images

A Final Four loaded with No. 1 seeds might win you the office pool (see 2008), but it'll leave you devoid of intellectual satisfaction.
The point here is to try and exert some logical mastery over an essentially unpredictable sequence of (ever-so-slightly weighted) events.
Just embrace it.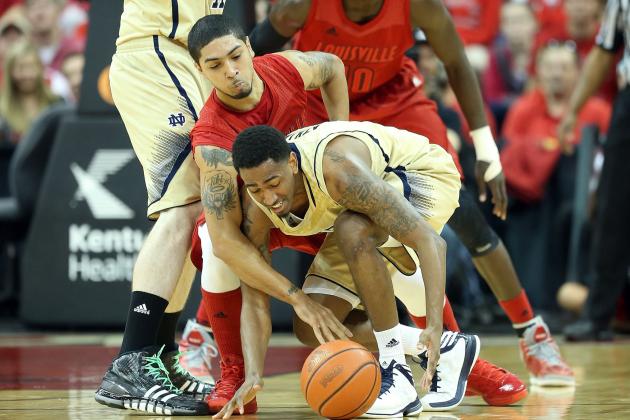 Andy Lyons/Getty Images

Ken Pomeroy began tabulating adjusted defensive efficiency in 2003.
Since then, no eventual NCAA champion has finished worse than 19th in that statistical category. More often than not, title-winning teams have finished top 10 in adjusted defensive efficiency.
Right now, Pomeroy's top five in that category are Louisville, Florida, Georgetown, Wisconsin and Kansas.
The following high-profile hopefuls, however, rank 25th or lower:
Memphis (26th)
North Carolina (47th)
Arizona (50th)
Marquette (49th)
Michigan (58th)
Kansas State (64th)
Notre Dame (90th)
North Carolina State (105th)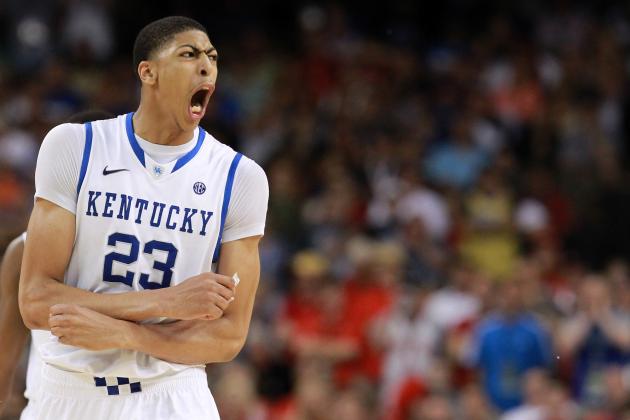 Ronald Martinez/Getty Images

Dating back to 2000, No. 1 seeds have played 13 games against lower-seeded foes in the semifinal round. They've won nine of those games.
No. 2 seeds, meanwhile, are just 2-2 against lower-seeded Final Four opposition over that same period of time.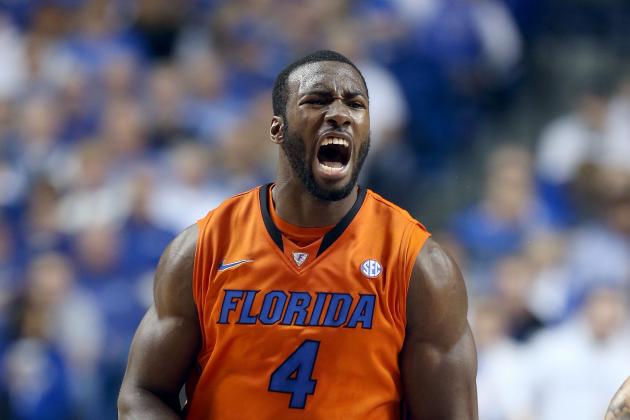 Andy Lyons/Getty Images

Too often a team's excellence is obscured by its won-loss record. One night, the shots are falling and you win by 30. The next, you go cold and lose by one.
You probably still have a heck of a team, but the standings say you're an average outfit.
That's why keen observers look past raw outcome and instead try to gauge how teams fare on a possession-to-possession basis
ESPN insider and Basketball Prospectus scribe John Gasaway, for instance, noticed that almost every champion of the last decade has outscored its conference foes by at least 0.13 points per possession.
Using that cutoff as a guide, he's able to surmise that teams like New Mexico, Georgetown and Michigan aren't quite as talented as their records suggest. Meanwhile, Florida, Kansas, Louisville, Indiana, Duke, Miami and Gonzaga all look primed for deep tournament runs.
Three years ago, noted psychic Gary Spivey (see above video) appeared on Jimmy Kimmel Live on April 1 to fill out an NCAA bracket.
As a dutiful college basketball fan, you probably know that most of the tournament has been played by April's dawn. Spivey, however, did not, and proceeded to pick against teams that had already advanced.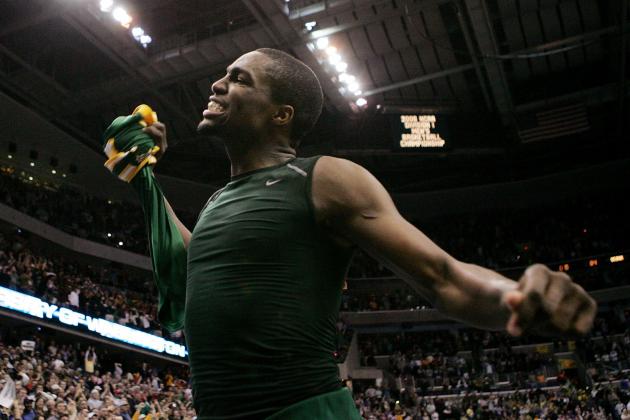 Win McNamee/Getty Images

Every year since 2004, at least one No. 11 seed has won its opening-round game. That's the longest active streak among double-digit seeds.
Over that same period of time, teams seeded 11th have gone an impressive 23-29 in tournament play.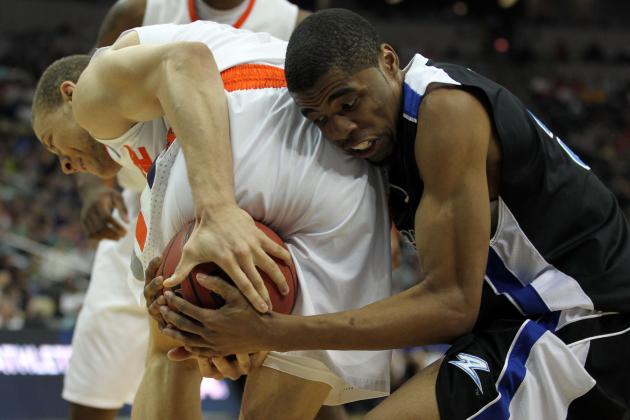 Gregory Shamus/Getty Images

Well-known fact: Since the NCAA tournament expanded to 64 teams in 1985, no No. 16 seed has ever defeated a No. 1 seed.
That's 112 games and 112 losses.
There's all sorts of scuttlebutt about how it might happen this year because the top teams aren't as dominant as usual.
But that's like holding a metal rod aloft on a cloudless day and saying you're more likely to get hit by lightning. OK. It's more likely, but it ain't gonna happen.
And for those who think the gap between No. 16 seeds and No. 1 seeds is closing, consider this: Of the 12 No. 1 vs. No. 16 games that have been decided by single digits, only one took place in the last 15 years.