Boston Celtics vs. Charlotte Bobcats: Postgame Grades and Analysis for Boston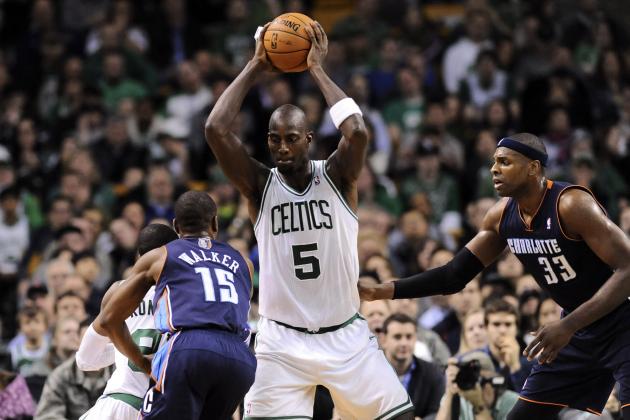 USA TODAY Sports

The Boston Celtics put forth one of their worst efforts of the season, falling to the Charlotte Bobcats by a score of 100-74. The Celtics made a season-low 27 baskets.
Heading into the fourth quarter, Boston trailed Charlotte by 15 points. Gerald Henderson finished the game with a career-high 35 points and was virtually unstoppable for much of the first half, while Paul Pierce rested on the bench and Kevin Garnett couldn't get anything going on the offensive end all night.
To put the night in perspective, Jordan Crawford was Boston's best offensive player, scoring 14 points on just six shots.
Begin Slideshow

»
Avery Bradley
Bradley held Kemba Walker to a three-point first half on 1-of-6 shooting. His defense was phenomenal, as it typically is. On the offensive end, he had a more muted first half, going 2-of-6 from the floor and recording zero assists. He finished the game with 10 points on 4-of-11 shooting and never tallied a single assist.
This wasn't the type of effort you like to see out of a developing point guard.
Grade: D
Brian Spurlock-USA TODAY Sports

Courtney Lee
Lee was great in the opening minutes despite missing a wide-open three-pointer from the wing. He blocked a fast-break layup by Kemba Walker and finished on a nice layup in transition. But covering Gerald Henderson, Lee had trouble, and just two minutes into the third quarter, he picked up his fourth foul.
By the time he re-entered the game, Boston trailed by 20 points. He finished with six points on 3-of-6 shooting, missing all three of his three-point field-goal attempts.
Grade: D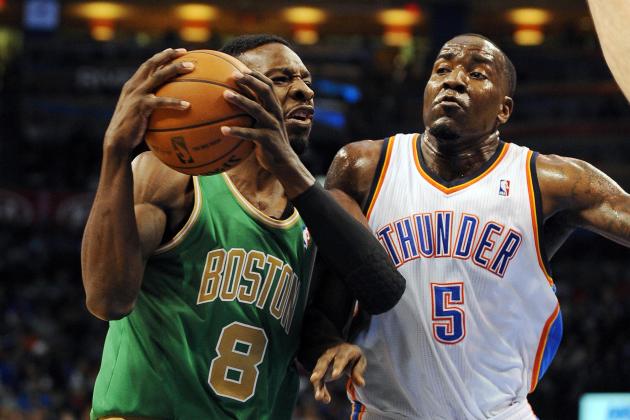 Mark D. Smith-USA TODAY Sports

Jeff Green
In just his second start of the season, Green knocked down his first mid-range jumper and attacked the basket relentlessly, earning a trip to the free-throw and finishing with a nice runner on the right side in the game's opening minutes.
From that point on, things fell apart. He finished 4-of-11 for 14 points, tying Jordan Crawford for a team-high in the scoring department. But out of all the disappointing performers in a Celtics jersey, Green ranks right at the top.
Grade: D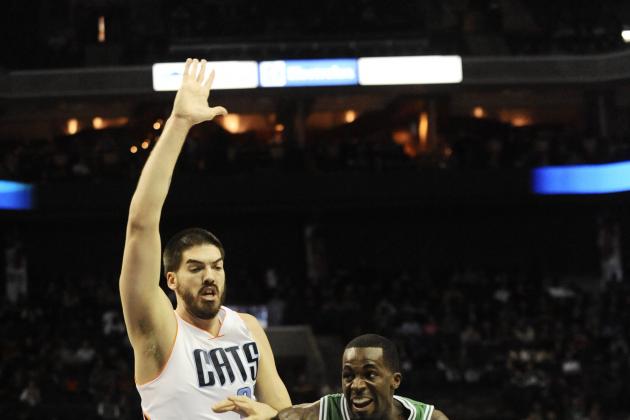 USA TODAY Sports

Brandon Bass
Bass was aggressive early on, finishing with a strong dunk on a dribble drive through the paint with the shot clock winding down and knocking down a mid-range shot. He might have been the Celtics' most consistent player, which is terrible news if you've seen his work this year.
Bass finished with 10 points and a team-high seven rebounds.
Grade: C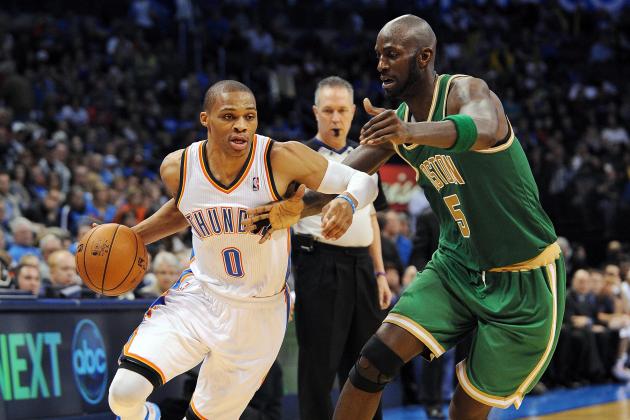 Mark D. Smith-USA TODAY Sports

Kevin Garnett
Kevin Garnett had a rough first half on the offensive end, going 1-of-5 from the floor. He started the third quarter missing his first two shots, both contested turnaround jumpers.
Nothing improved from there.
He made one more basket and finished the game 2-of-10 from the field with just two rebounds in 21 minutes of play. On the defensive end, Garnett supplied very little of his usual rim protection.
Grade: D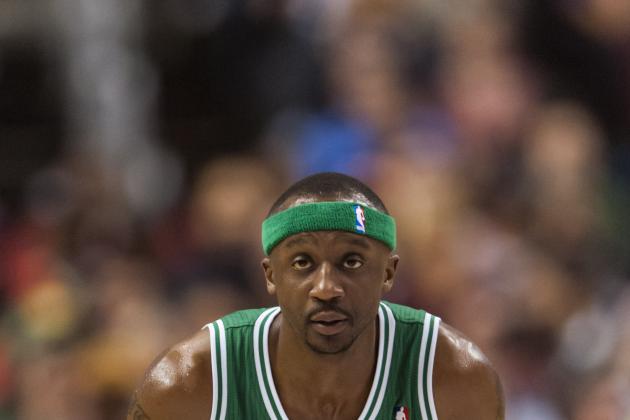 USA TODAY Sports

Jason Terry
Terry picked up where he left off in Oklahoma City on Sunday, turning the ball over on an unnecessary pass to Chris Wilcox. He finished the first half with two points and two turnovers. In the second half, he scored a grand total of three points, bringing his game total to five, and missed all three of his three-point attempts.
This was the second straight clunker from Terry, who'd been playing so well during Boston's winning streak.
Grade: D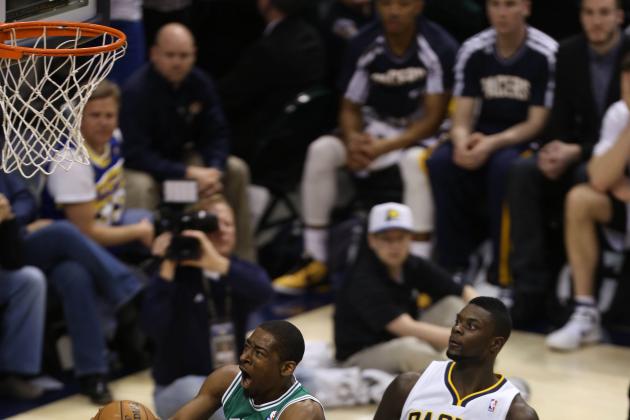 Brian Spurlock-USA TODAY Sports

Bench
Jordan Crawford was a positive factor early on, making his first three shots, scoring nine first-half points and assisting Terrence Williams on a three-pointer with less than 20 seconds remaining in the second quarter. He tied Jeff Green with a team-high 14 points but needed just six shots to get there.
Shavlik Randolph made his debut with the Celtics, and D.J. White received some early minutes, muscling his way to the free-throw line after picking up a nice offensive rebound early in the second quarter. Neither was a factor in the big picture, though.
Grade: C