San Francisco 49ers: Predicting Where Anquan Boldin Fits in the WR Depth Chart
Use your ← → (arrow) keys to browse more stories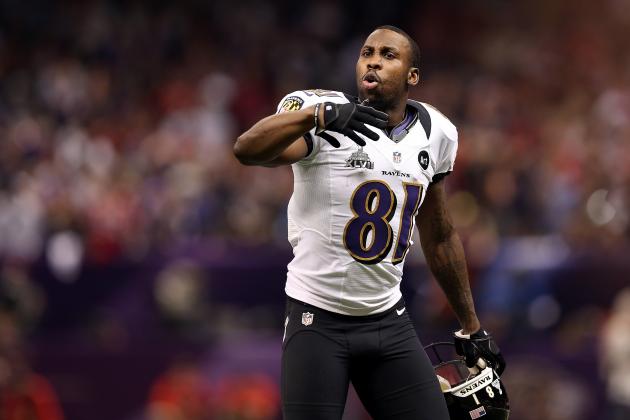 Christian Petersen/Getty Images
Wide receiver Anquan Boldin figures to play a key role in the 49ers offense in 2013.
The San Francisco 49ers needed another wide receiver.
They also needed to respond to the Seattle Seahawks' trade for wide receiver Percy Harvin.
The 49ers took care of both concerns Monday by trading a sixth-round draft pick to the Baltimore Ravens in exchange for veteran wide receiver Anquan Boldin (nfl.com).
San Francisco addressed one of its major offseason concerns with the deal. Going into the 2012 season, the 49ers were stacked at the wide receiver position. There were the incumbents Michael Crabtree and Kyle Williams. San Francisco then signed Mario Manningham and Randy Moss as well as drafting former Illinois standout A.J. Jenkins in the first round.
At the time, it appeared that the 49ers were giving then-starting quarterback Alex Smith a plethora of weapons on offense and San Francisco seemed poised to return to the success they enjoyed the year prior.
Yet, the 2012 season took its toll on the 49ers' wideouts. Injuries forced both Manningham and Williams to land on the injured-reserve list. Jenkins failed to record a single catch during the regular season and playoffs. Moss had a decent, if not spectacular season, ending up with 28 catches for 434 yards and three touchdowns (pro-football-reference.com). The only legitimate wide receiver threat left was Crabtree.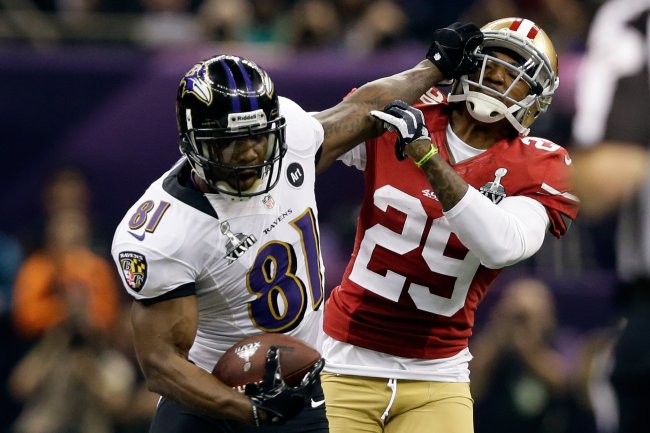 Ezra Shaw/Getty Images
There was plenty of speculation as to how the 49ers would address their needs at the position. San Francisco had 15 picks entering the draft at the time, suggesting that they could look at a high-profile wide receiver in the early rounds (nflsoup.com). Free agency was also an option.
San Francisco instead elected to bolster their receiving core by trading for Boldin. Does the move make sense? Absolutely. Did the 49ers give up too much with a sixth-round pick? Absolutely not.
With Boldin, the 49ers get a high-profile receiver who they saw plenty of during Super Bowl XLVII. Boldin torched San Francisco, netting 104 receiving yards and one touchdown on six receptions (pro-football-reference.com). He also has plenty of experience in the NFC West, having played seven of his ten career years with the Arizona Cardinals.
While not having blazing speed, Boldin is known for having tremendous hands and the ability to catch almost anything thrown in his direction, regardless of the coverage. He is big and strong too, something that has worked to Boldin's advantage for years (wpxi.com).
Now, the 49ers look to utilize that in their 2013 offensive game plan.
At 32-years-old, Boldin figures not to be atop the San Francisco wide receiver depth chart. Crabtree, who enjoyed his best season in 2012, will almost certainly be the primary option for quarterback Colin Kaepernick. Instead, Boldin will likely be the number-two receiver and a considerable improvement compared to Moss a season ago.
He was targeted 112 times during the 2012 regular season, eventually netting 921 receiving yards and four touchdowns (pro-football-reference.com). The 49ers offensive game plan, which relied so heavily on Crabtree last season, becomes even more dynamic with the playmaking abilities of Boldin.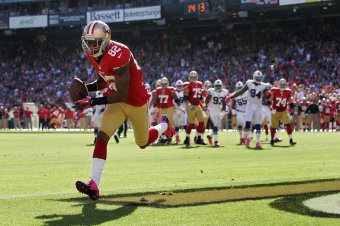 Brian Bahr/Getty Images
Yet, there remains the question of how the trade will affect the remaining San Francisco receivers. Moss' 49er career is all but over, but the trade has significant impact on both Manningham and Williams. Both have one year left on their existing contracts and both are trying to make a comeback from leg injuries (spotrac.com).
In Manningham's case, the injury was severe enough to warrant speculation that he would not return for training camp (rotoworld.com). He will also make $3.2 million in 2013 and it is plausible that the 49ers could release him to create some additional cap space and free up the depth chart (nfl.com).
For Jenkins, on the other hand, the move may be another significant blow to the former first-round pick. After struggling to get on the field at all in 2012, Jenkins was hoping to become more of a legitimate playmaking threat in 2013.
It is possible that he has the potential to fill a slot-receiver role in 2013, especially considering the unknowns surrounding Manningham and Williams' injuries, but it is equally possible that he endures another season watching from the sidelines (nfl.com).
Regardless of the potential problems the Boldin trade creates for the 49ers and their wide receiver depth chart, San Francisco had given itself a tremendous boost at the position. The team learned what can happen when an impact position is decimated by injury and underachievement. They also know what a playmaker like Boldin can bring to the organization.
The 49ers are better because of it.