Chiefs Free-Agency Tracker: Updated Signings, Rumors and Grades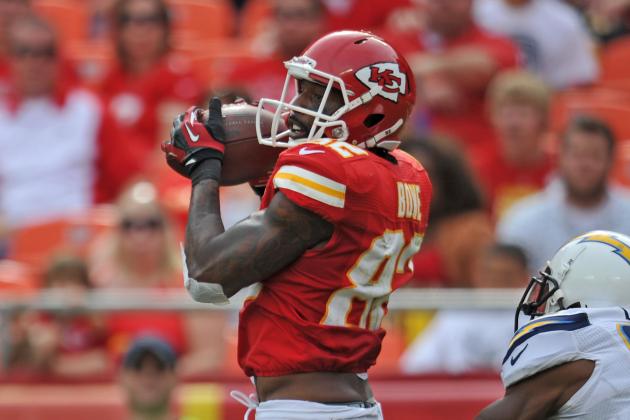 Peter Aiken/Getty Images
The Chiefs re-signed Dwayne Bowe before free agency started.
The Kansas City Chiefs were the worst team in the league last year, but a fresh start gives a team loaded with young talent hope. The brain trust of John Dorsey and Andy Reid has already made several big moves and is certain to make several more after free agency officially started at 4 p.m. EDT.
If the Chiefs really want to draft the best player available with the first pick of the NFL draft, they need to fill needs in free agency; the Chiefs still need offensive line help, an inside linebacker, a cornerback, a defensive end and a receiver. Depth is also vital in the NFL, and the Chiefs should stockpile talent if the price is right.
What the Chiefs do in free agency could reveal who the team is targeting with the No. 1 overall pick. It makes sense for the Chiefs to address positions in free agency other than the one they know they will address with the top pick. Signing a left tackle, defensive end or cornerback could reveal which way the team is leaning in the draft.
Keep it locked here for the latest Chiefs' rumors, signings, analysis and grades throughout free agency. This article will be updated regularly for your reading pleasure.
Begin Slideshow

»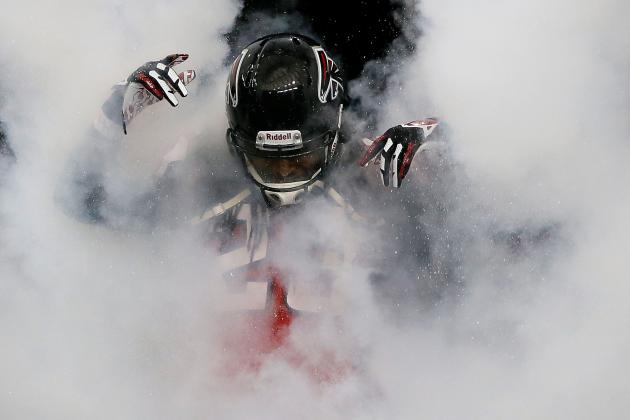 Kevin C. Cox/Getty Images
The Chiefs signed defensive back Dunta Robinson to help the secondary.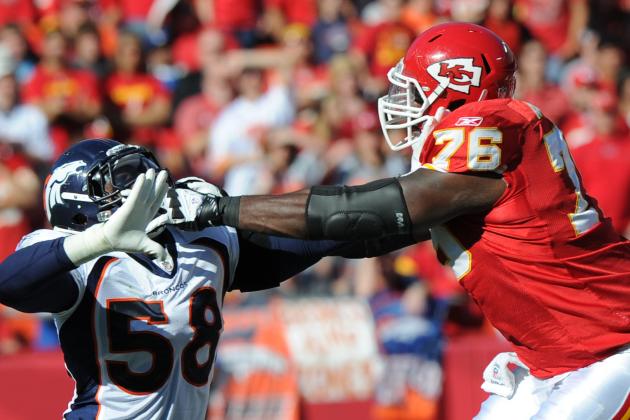 Peter Aiken/Getty Images
Branden Albert was given the franchise tag.
LS Thomas Gafford re-signed—Terms not yet available.
OG Geoff Schwartz—Terms not yet available.
CB Sean Smith—3 years, $18 million with $11 million guaranteed.
WR Donnie Avery—3 years, $8.55 miillion with a $1.5 million signing bonus.
DL Mike Devito—3 years, $12.6 million with $4.2 million signing bonus, $850,000 of his 2013 base salary guaranteed and $1 million of his 2014 base salary guaranteed for injury.
QB Chase Daniel—3 years, $10 million with a $3 million signing bonus and just under $5 million guaranteed.
TE Anthony Fasano—4 years, $16 million with a $4.5 million signing bonus.
CB Dunta Robinson—3 years, $15 million with $4 million guaranteed.
P Dustin Colquitt—5 years, $18.75 millio with $8.9 million guaranteed.
WR Dwayne Bowe—5 years, $56 million with $26 million guaranteed.
OT Branden Albert—franchise tag, $9.828 million guaranteed.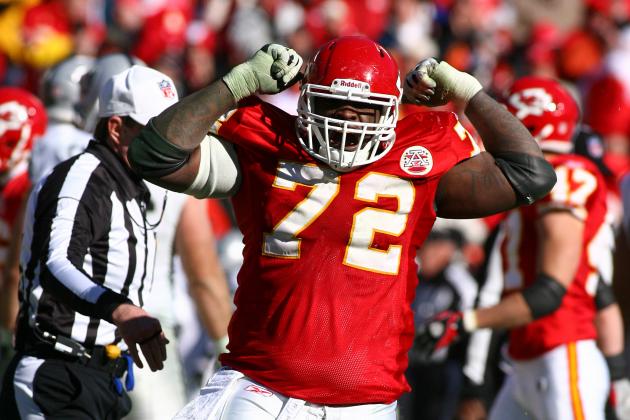 Tim Umphrey/Getty Images
The Chiefs risk losing defensive end Glenn Dorsey in free agency.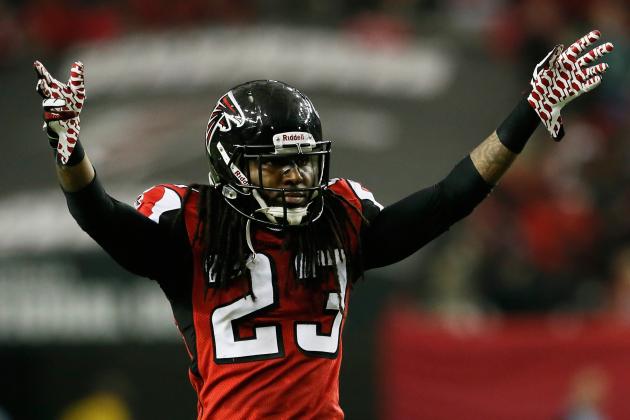 Kevin C. Cox/Getty Images
Dunta Robinson will help the Chiefs.
The Chiefs got started early by signing cornerback Dunta Robinson before free agency even started. Robinson was eligible to sign before the start of the new league year because he was released by the Atlanta Falcons.
Robinson's contract is worth more than $15 million with $4 million guaranteed according to Sean Jensen of the Chicago Tribune. That's very affordable and enables the Chiefs to spend more on the secondary if they desire.
Perhaps the best thing about Robinson is that he will gives the versatility the Chiefs need in the secondary. Robinson should play safety for the Chiefs to maximize his talents, and could also be used in nickel and dime situations as a cornerback depending on the match-up.
Grade: B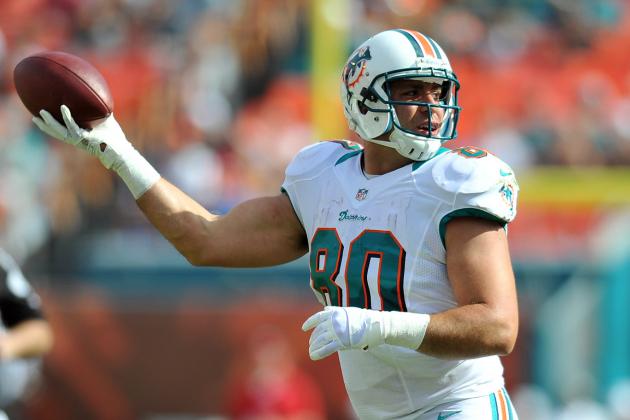 USA TODAY Sports

The Chiefs tried and failed to address the tight end position last season by signing Kevin Boss. Scott Pioli took the risk on the injury-prone Boss and got burned when he got a concussion and was unable to return to action.
John Dorsey decided to sign tight end Anthony Fasano, who has been a solid starter for the Miami Dolphins for the past five seasons. Fasano has also only missed four games in the past five seasons, so the Chiefs have reason to believe he'll be able to stay on the field.
Fasano's contract is worth $16 million over four years with a $4.5 million signing bonus. Fasano will make a little more than $5 million per year on average which is a good chunk for a tight end, but the Chiefs are getting a lot for their money.
Fasano is a reliable receiver who caught 41 passes in 2012 and scored five touchdowns. Fasano has averaged 35 catches and five touchdowns over the past five seasons, so the production is quite predictable. Not only is Fasano a solid receiver, but he's a good blocker.
ProFootballFocus graded Fasano as one of the top six tight ends run blocking from 2008-2011, with only a small drop-off in 2012. Fasano has only allowed five sacks in the last five years and is routinely one of the most efficient pass-blocking tight ends in the league according to ProFootballFocus.
Fasano is one of those rare tight ends that can do it all. Count on Fasano becoming Alex Smith's security blanket in the passing game and an asset in the run game. Fasano should routinely help Jamaal Charles get to the outside where he is most dangerous in the run game.
Grade: A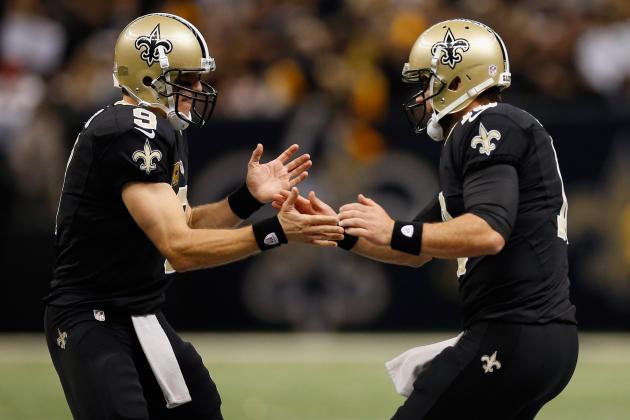 Chris Graythen/Getty Images
Chase Daniel (right) spent the last few years playing behind Drew Brees (left).
The Chiefs traded for arguably the best quarterback available via trade in Alex Smith prior to the start of free agency. John Dorsey and Andy Reid could have stopped there, but they didn't. The Chiefs also signed arguably the best quarterback available via free agency in Chase Daniel.
At least the Chiefs are doing everything they can to address the quarterback position as to not repeat the mistakes of Scott Pioli.
According to Adam Caplan, Daniel signed a two-year, $10 million contract with almost $5 million in guarantees. That's great money for a backup quarterback, which indicates that the team is hedging their bet on Smith. Clearly the Chiefs have doubts about how Smith will perform, that he will stay healthy or both.
Daniel has completed a grand total of nine passes in his career, but he has completed seven of them. That's not a lot to of tape to judge a quarterback, which makes this signing very interesting. Four years is a long time to ride the pine, but Daneil never got his opportunity with Drew Brees playing in front of him.
Daniel may finally get an opportunity in Kansas City if Smith can't stay healthy or struggles like he did early in his career. It's a lot of money if Daniel never plays, but as far as insurance policies go he was the best available.
Grade: B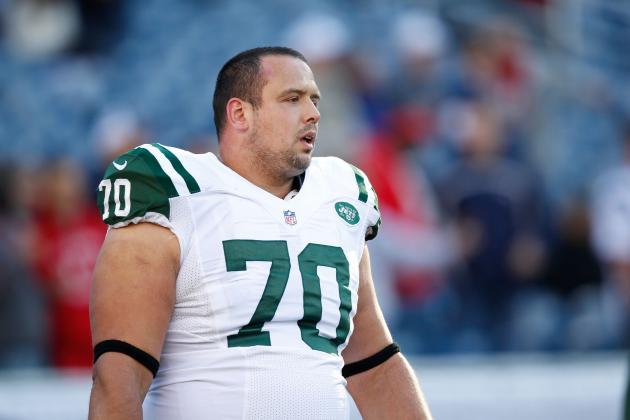 Greg M. Cooper-USA TODAY Sports

Once defensive end Glenn Dorsey became a free agent and started drawing interest from other teams there was no guarantee the Chiefs would be able to re-sign him. Free agency also presented the Chiefs with other options to fill their need for a defensive end.
The Chiefs found their man in Mike Devito, who spent the last six years with the New York Jets. Defensive coordinator Bob Sutton was with the Jets during the same period and likely was instrumental in getting the Chiefs to sign him.
According to Joel Corry of the National Football Post, Devito's deal if for three years and is worth $12.6 million with $800 of his base salary in 2013 guaranteed and $1 million of his 2014 base salary guaranteed for injury. At an average of $4.2 million per year, Devito will be making starter money.
Devito's signing pretty much rules out any chance of Dorsey re-signing with the Chiefs, but it doesn't rule out the possibility of them drafting a defensive end. Devito may be the starter for the next couple of years at one defensive end spot, but long-term future of the other defensive end spot entirely depends on the performance of Tyson Jackson.
Devito is a gritty player that worked his way into a starting role over the years. Devito had at least two forced fumbles per season over the last three years, a trait the Chiefs could use. The Chiefs were tied for the worst in the league in takeaways in 2012 with just 13.
Grade: B+