San Francisco Giants' Winners and Losers Halfway Through Spring Training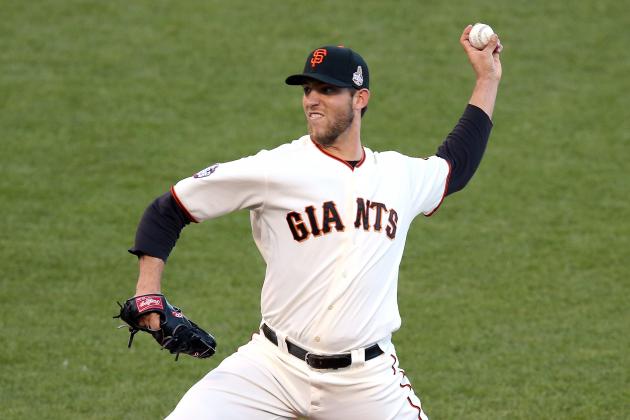 Ezra Shaw/Getty Images
Madison Bumgarner had an excellent start against the Rangers.
The San Francisco Giants' 2013 training camp has been pretty quiet, with very little drama, just the way Bruce Bochy likes it. The Giants have methodically gone through their work in order to prepare for the regular season.
Fresh off their second world championship in the past three seasons, the Giants were able to retain all of their core players from the 2012 team. In reality, only three or four roster spots were available on the big league roster.
In the spring, jobs can be won and younger players can open the eyes of the manager and GM, for a potential promotion down the road. In this way, winners can be selected out of each spring.
Barring a major injury, it's hard to find losers because spring training games don't even count. However, some players with chances to make the opening day roster have not impressed enough to warrant that opportunity.
Everything seems to be progressing on track for the Giants and with only three weeks before opening day, players are now fine tuning themselves for the start of a long and grueling campaign.
The Giants are well positioned to defend their World Series title. The key is good health, which will go a long way towards ensuring the Giants are in the hunt come playoff time.
Begin Slideshow

»
Jason O. Watson/Getty Images
Yusmeiro Petit had a good shot at the long relief role.
Yusmeiro Petit pitched in Fresno for the majority of the 2012 season and had one late season start with the Giants. At the age of 28, Petit has experience as a starter and out of the bullpen.
Petit seemed like a very good candidate to earn the final relief pitching job on the major league roster. He was off to a decent start this spring, then ran into trouble.
In his last outing, Petit likely earned his bus ticket to Fresno. Against the Kansas City Royals, Petit had a miserable outing, as he went 1 2/3 innings, allowing eight earned runs on nine hits and a walk.
Petit will likely start the year in Triple-A as insurance in the event the Giants need another starter due to injury or a doubleheader.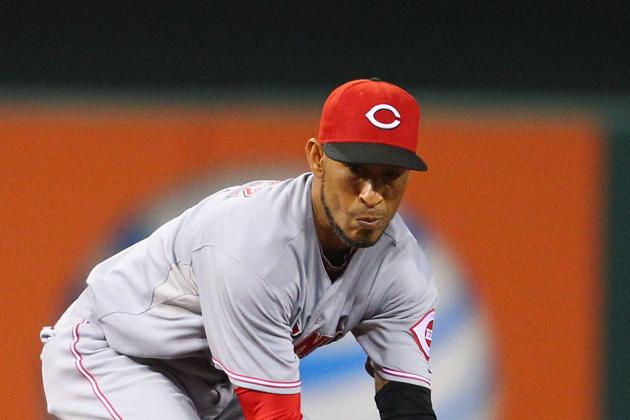 Dilip Vishwanat/Getty Images
Utility infielder Wilson Valdez has the inside track for one of the Giants' final roster spots.
Wilson Valdez is trying to fill the role held by Ryan Theriot at the end of last season. As a utility player, Valdez is capable of playing second, short or third, and even has some time in the outfield.
Valdez is in a good spot this spring, as the other options for the final backup infield job are either young and unproven or not distinguishing themselves.
The competition largely consists of Brock Bond, Nick Noonan, Kensuke Tanaka and Tony Abreu. Bond has played the best, hitting .429 with two home runs. He has no major league experience and the Giants would like to see Bond playing every day, as opposed to sitting for long stretches.
Noonan and Tanaka have not done anything special to seize the job and Abreu has just returned from injury. Heading into the spring, it appeared as though Tanaka or Abreu had the inside track, but Tanaka is hitting only .229 and Abreu is behind due to the injury.
A solid defensive player, Valdez is 34 years of age and will be in his eighth major league season. As a career backup, Valdez is used to sporadic playing time and that makes him a good candidate to win a job.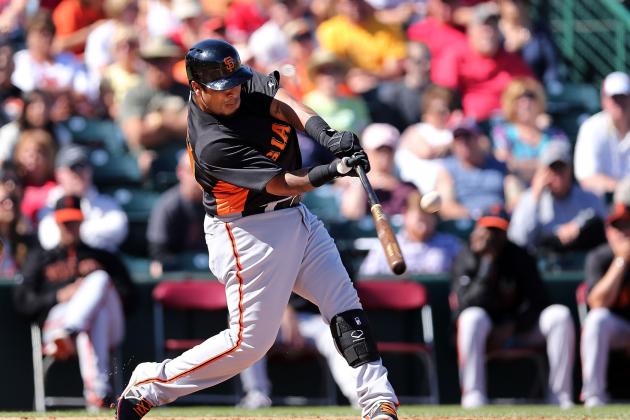 Christian Petersen/Getty Images
Hector Sanchez reported to camp out of shape.
Manager Bruce Bochy and GM Brian Sabean were not happy when they first saw Hector Sanchez in Scottsdale. He reported to spring training out of shape and several pounds overweight.
Sanchez had a good rookie season in 2012, as the backup to Buster Posey. He hit a very strong .280 with three home runs and 34 RBI, in only 218 at-bats. Sanchez also improved defensively over the course of the season.
Sanchez is entrenched as the No. 2 catcher largely because the Giants do not have another viable option. However, he did not endear himself to Bochy or Sabean by reporting out of shape.
At some point, when one of the younger catchers like Andrew Susac is ready for a big league job, Sanchez will need to have already proven that he has the discipline and maturity to come ready to play. Being out of condition has also hindered his play behind the plate and stalled his development as a catcher.
Sanchez's conditioning is something that merits closer inspection over the coming years. The Giants will undoubtedly make it clear to him, as they have done with Pablo Sandoval, that he needs to report to camp in shape, or his job may be in jeopardy.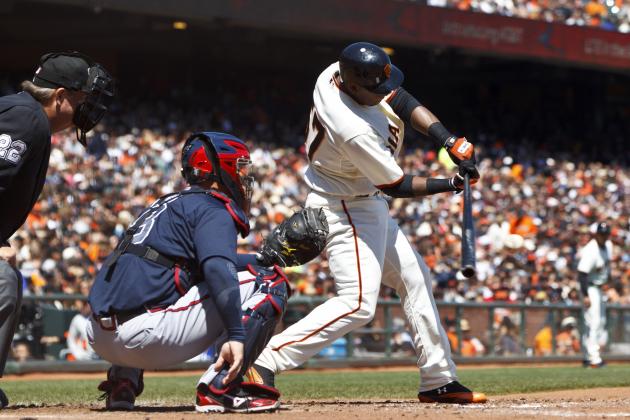 Jason O. Watson/Getty Images
Francisco Peguero got off to a fast start this spring.
Francisco Peguero had a brief cup of coffee in the majors as a September call-up last year. Although he only hit .188 with no extra-base hits, it was a good learning experience for Peguero.
He came into spring training ready to go and got off to an excellent start. With one outfield job up for grabs, Peguero looks to have the best shot.
Peguero is 12-for-28, for a .429 batting average. He also has five RBI and four runs scored to go along with a gaudy 1.020 OPS.
The decision likely comes down to Peguero or Brett Pill for this final roster spot. Peguero is a good defensive outfielder, with good speed and a powerful arm. Defensively and as a pinch runner, Peguero is an asset, whereas Pill is a liability.
Pill has more power, but it likely won't be enough to wrestle the job away from Peguero.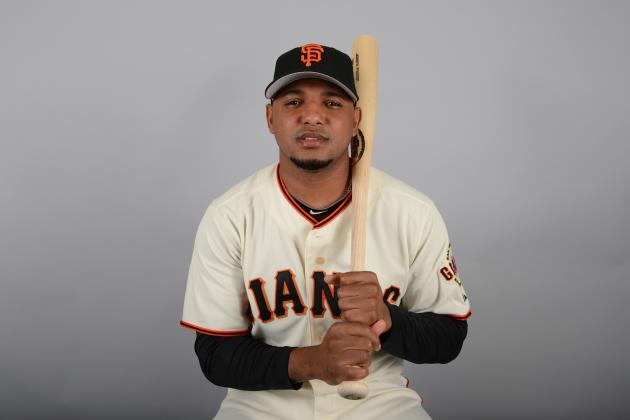 Kyle Terada-USA TODAY Sports
Tony Abreu's spring started slowly due to injury.
The Giants liked Tony Abreu's chances of winning a job as spring training approached. Unfortunately, Abreu promptly injured his quad and is just now getting back on the field.
Abreu is 28 years of age and has major league experience with the Dodgers, Diamondbacks and Royals. He is a career .252 hitter, but is well behind his competition for the last utility infield job.
Abreu will need to have a big next couple of weeks and show that he's fully healthy. If he does, he could still make the Opening Day roster. The odds are stacked against him, however, and he cannot afford any additional setbacks.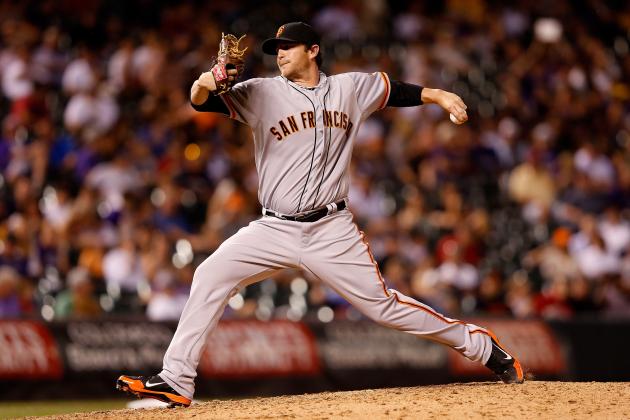 Doug Pensinger/Getty Images
Dan Runzler has a live arm.
Heading into spring training, Dan Runzler appeared to be the fourth lefty relief pitcher on a staff that was planning to keep three. Jeremy Affeldt, Javier Lopez and Jose Mijares all pitched well last year and looked to have the three roster spots locked up.
However, Runzler has thrown the ball well. If he can continue, he has a legitimate chance to make the Opening Day roster. In six innings of work, Runzler has allowed three hits and walked two, while striking out five. His ERA is 1.50, to go along with a WHIP of 0.83.
An opening was created when Mijares hurt his arm. It remains to be seen if Mijares has enough time to make it back for Opening Day. Runzler has always had the stuff, but a myriad of injuries and bouts of inconsistency have always plagued him. This could be the year he finally puts it all together.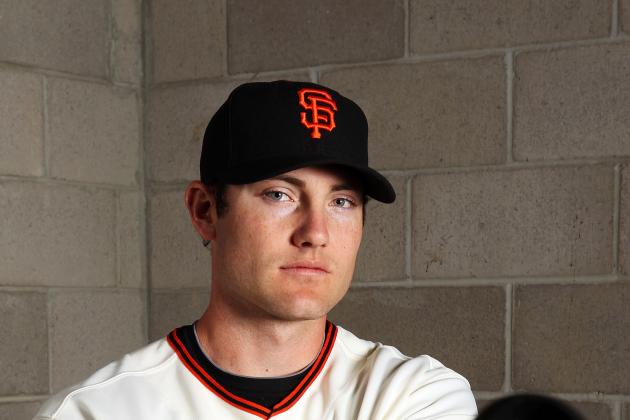 Jamie Squire/Getty Images
Roger Kieschnick has always been a productive RBI-man.
Roger Kieschnick had a breakthrough season in 2009, when he hit .296 with 23 home runs and 110 RBI while at San Jose, the Giants Single-A affiliate. Since then, Kieschnick has had trouble staying healthy, but displayed good hitting skills when he was on the field.
Always a very good run producer in the minors, Kieschnick came into the spring with a legitimate chance to make the Opening Day roster. Unfortunately for Kieschnick, he has not done the one thing he's known for and that's hit.
Kieschnick is batting only .208, without a home run or RBI in 24 at-bats. Defensively, he is only adequate. His subpar spring has lowered his stock and he is destined to open the year in Fresno.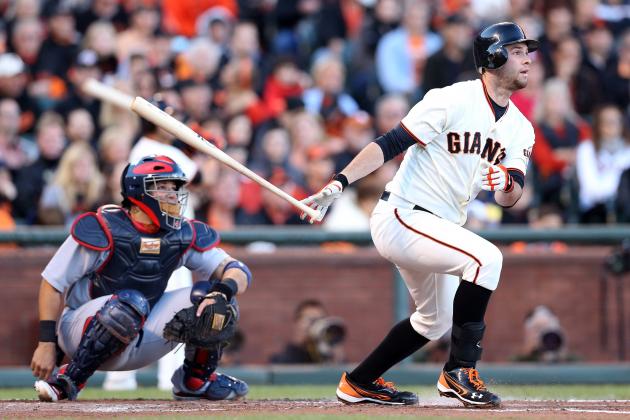 Christian Petersen/Getty Images
Brandon Belt is having a great spring.
The Giants regular off to the best start this spring is Brandon Belt. He has hit the ball with authority, as opposed to slapping at it, which became the norm in many of his at-bats last year.
Belt is hitting .455, with four home runs and nine RBI. His OPS is an incredible 1.410. The Giants are hoping this is a precursor of good things to come for Belt this season.
In his first two seasons, Belt had trouble hitting the inside fastball, as his long, loopy swing prevented him from getting around on the pitch. Then, as Belt started opening his hips early, opposing pitchers threw soft stuff away, which Belt either missed or rolled over on.
Belt is finally driving the ball with consistency and if he can do that over the course of the season, he will have an excellent year.
Belt has had success in the spring before, as pitchers are establishing the fastball and their command. It will be interesting to see if Belt can continue hitting well, or if he reverts back to the slap hitter we frequently saw in 2011 and 2012.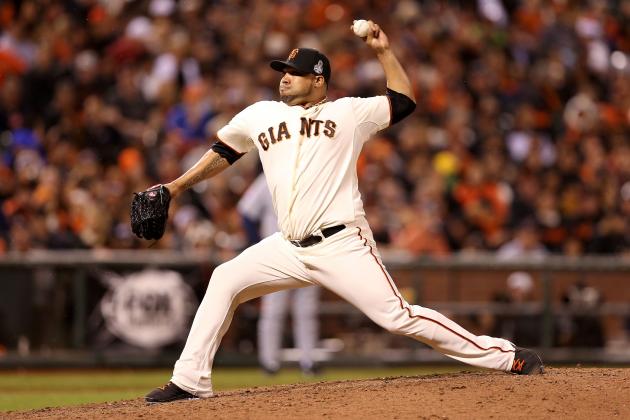 Christian Petersen/Getty Images
Jose Mijares contributed to the Giants world championship run in 2012.
Jose Mijares was slated to be one of the three left-handed relievers out of the bullpen for the Giants. However, an elbow injury has limited him to only two innings of work this spring. That was early on.
As each day passes, the odds of Mijares being ready to open the season diminish. Mijares just went for an MRI exam on his elbow and will know the results shortly.
The Giants are hopeful that there's nothing seriously wrong with Mijares and that some rest will be all that's needed. The alternative is much worse, so the Giants and Mijares are hoping for the best.
Mijares is likely to open the season on the DL and will need to build back his arm strength before he's ready to pitch in live action.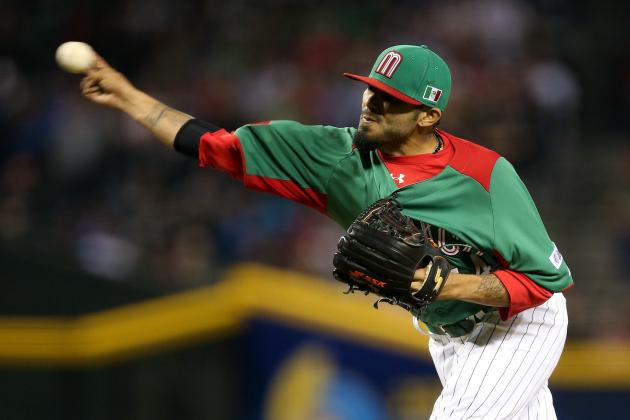 Christian Petersen/Getty Images
Sergio Romo threw 26 pitches in Mexico's first WBC game.
Perhaps the luckiest thing to happen to Sergio Romo and the Giants this spring is that Mexico is out of the World Baseball Classic after only one round. In Romo's first outing, he threw 26 pitches and allowed the winning runs to score, largely due to a misplayed fly ball.
To put this in perspective, Romo had only one outing during the 2012 regular season where he threw more than 26 pitches.
After his 26-pitch outing in Mexico's first game, Romo was called upon to close the second game, where he threw 13 pitches.
Giants manager Bruce Bochy and pitching coach Dave Righetti were very concerned about how Romo would be used in the WBC. The last thing they wanted was for Romo to become overworked, which would result in a dead arm or, even worse, injury.
Romo has outstanding stuff, but durability has always been a concern with him. Romo is very prone to arm fatigue or injuries.
This is a major reason why Romo does not pitch three days in a row. Bochy monitors Romo's arm very carefully and makes sure not to utilize him too much. This strategy helps to keep Romo sharp and his slider maintains its bite.
When Romo's arm is tired, the slider loses its snap and Romo is far less effective.
In this case, Mexico's early exit from the WBC was definitely a positive for Romo and the Giants.