20 World Cup 2014 Qualifying FAQs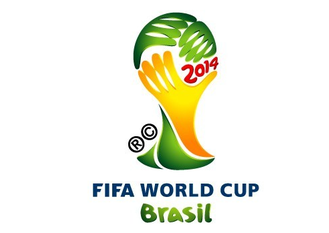 Image courtesy of datadiary.com
Next weekend, the latest round of World Cup 2014 qualifying fixtures take place.
With the campaigns in Europe, America, Australasia and Africa all drawing to a close, fans of countries across the world are asking themselves questions about what their teams can expect.
Join me as we take a look at 20 frequently asked questions (FAQs) for the remainder of the World Cup 2014 qualifying campaign!
Begin Slideshow

»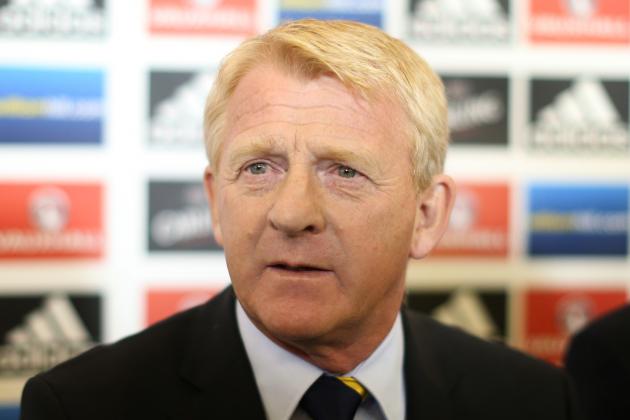 Ian MacNicol/Getty Images

When Gordon Strachan was named as the new Scotland manager in January, the nation breathed a huge sigh of relief.
Speaking as a Scotsman, watching Scotland under Craig Levein almost sucked the life out of the Tartan Army. There was nothing to cheer. Negative tactics and underwhelming performances became commonplace.
However, under Strachan, there's renewed hope.
Gordon Strachan's teams generally like to play attractive, incisive, attacking football and the little man will want to bring the team and the fans together.
Scotland are currently bottom of UEFA Qualifying Group A with two points to their name.
They will improve under Strachan, but qualifying for the finals in Rio is an impossible task.
Michael Regan/Getty Images

After being left on the bench for Manchester United's Champions League game with Real Madrid last week, it seems as though Wayne Rooney is no longer viewed as indispensable by Sir Alex Ferguson.
Speculation surrounded Rooney's United future after the game. But in today's Independent newspaper, Manchester United legend Sir Bobby Charlton is quoted as saying, "There is no way he will ever be allowed to move on, because that is not the way Sir Alex Ferguson works."
We'll have to see how things pan out with Rooney at club level, but on the international stage, is Rooney still England's main man?
Jermain Defoe has been among the goals for Tottenham this season, whereas Theo Walcott and Jack Wilshere have been in great form with Arsenal. But Wilshere is likely to miss out on the next round of qualifiers with an ankle injury (via guardian.co.uk).
That leaves England desperately short of experienced, top-class, international players.
Simply put, Wayne Rooney will continue to be England's main man because unlike Manchester United, England can't afford to leave him out.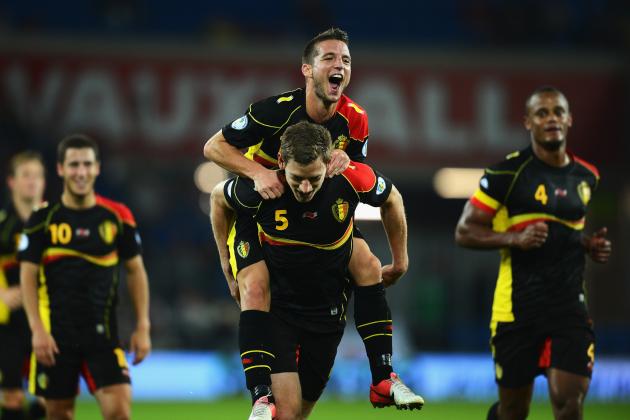 Mike Hewitt/Getty Images

Belgium are one of the brightest emerging prospects in international football right now.
The nation has been in the footballing doldrums for the last decade or so, but over the last few years, they've developed some fantastic footballers.
Players like Eden Hazard, Marouane Fellaini, Vincent Kompany, Axel Witsel, Kevin Mirallas, Christian Benteke and countless others are all playing regular football at the highest level in Europe right now.
If this group of players can come through the qualifying campaign at the top of their group, they'll end almost a decade in the international wilderness.
At the moment, they're sitting on top of UEFA Qualifying Group A with 10 points from their first four games.
Belgium have more than what it takes to get to Rio, and you'd be a fool to bet against them making it.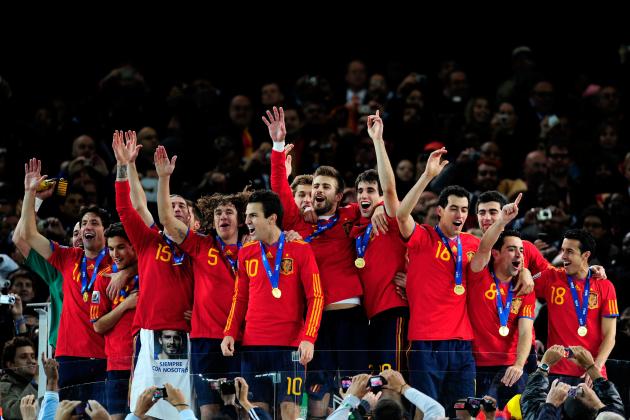 Jamie McDonald/Getty Images

It's hard to argue that any team other than Spain are the most dominant force in world football right now.
They are the defending European and World Cup Champions. Their side has some of the most technically sound and best players we've ever seen—like Xavi, Iniesta and David Villa, among others.
Some of the football that Spain play is scintillating. They dominate possession and make the game look so easy, when we all know that it isn't!
At this moment, Spain are top of their qualifying group and you just can't see them failing to qualify.
It is going to be hard for anyone to stop the Spanish from not only qualifying for Rio, but from retaining their title when they get there.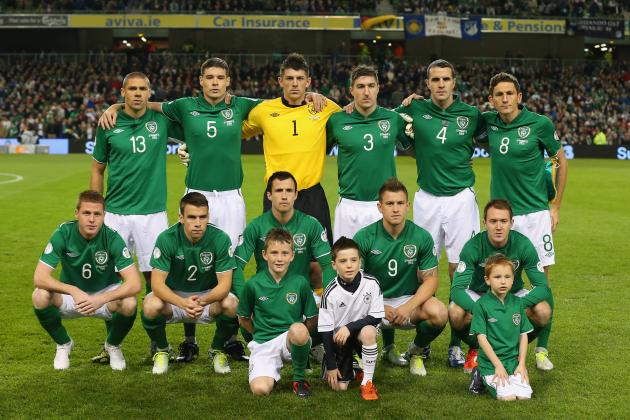 Alex Livesey/Getty Images

The Irish national side must have been optimistic about qualifying for the 2014 World Cup when their qualifying group was determined.
On paper, the Germans looked to be runaway group leaders, but there wasn't much difference between the Irish and the Swedes as to who would finish second.
When Germany came to Ireland last September, they left having demolished the home side by an emphatic 6-1 scoreline. In the immediate aftermath of the game, one of Ireland's biggest websites, RTE.ie, described the result as humiliating.
Let's be clear about this.
Germany are more than capable of putting six goals past most international sides, so there was no shame in losing heavily to the Germans.
Realistically, Ireland were never going to finish above the Germans in qualifying. The hammering they took in September was proof of that. If Ireland beat Sweden twice, which they are more than capable of doing, they should qualify for the playoffs.
Their luck hasn't run out, but they do need to take at least a point from their game against Sweden next weekend to have a chance of qualifying for the World Cup.
Stu Forster/Getty Images

In one word, Gareth Bale's recent form for club and country has been sensational.
The flying Welshman has been putting his opponents to the sword on a regular basis for the last four or five months now, and it looks as if he's only getting started.
While talk of him being a world-class player is short of the mark, at least in my opinion, he's definitely one of the more in-form players in the world right now.
Wales' next two fixtures are against Scotland and Croatia.
Barring an injury in the next 10 days or so, who wouldn't bet against Bale terrorising the Scottish and Croatian defences to shoot his national team up the qualifying group from their current position of fifth?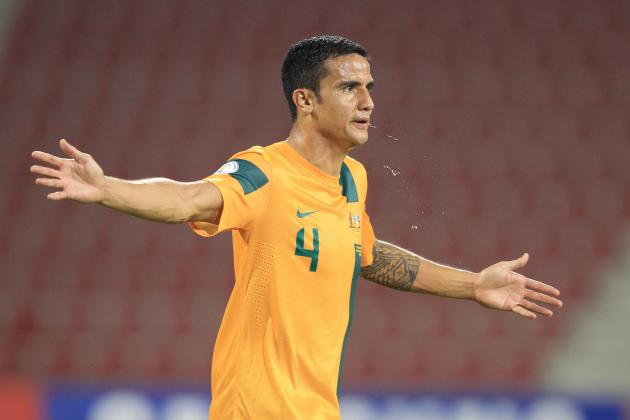 Getty Images/Getty Images

The AFC (Asian Football Confederation) Qualifying Section is probably the most complicated to qualify from.
There's at least four different qualifying stages, which is the stage we're at now. There are two groups of five teams. The teams who finish first and second in each group qualify for the World Cup in Brazil.
Then, the teams who finish third in each group will play each other to determine who plays against the fifth-placed team from the CONMEBOL stage.
Right now, it looks as if Australia, Japan, South Korea and Uzbekistan are primed to go on to the World Cup.
The smart money would be on South Korea and Australia to win their groups, but all four teams are in the qualifying places at the minute and look to be nailed on certainties to travel to Rio.
However, the teams in third place of their respective groups right now are Iran and Iraq.
If it happens, then that's one game that might just have implications wider than football.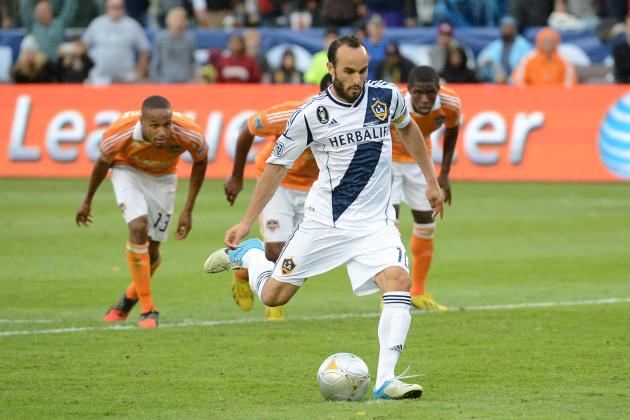 Harry How/Getty Images

Fans of teams in the CONCACAF qualifying section often refer to the fourth stage of qualifiers as "the hex." The teams scrapping to be involved at the 2014 include Honduras, Panama, Jamaica, Costa Rica, Mexico and, of course, the United States (USMNT).
It's a bit early to start thinking about league standings because there's only been one round of games, so for the purposes of this slide, we'll leave those to one side.
On the surface, the USMNT is the strongest side at this stage of the competition.
If you need any proof of that, just take a look at their squad.
Headlined by record scorer Landon Donovan, who is ably assisted by the likes of Michael Bradley, Clint Dempsey and Jozy Altidore, the USMNT has quality throughout and they're always capable of scoring goals. Having made every single World Cup since 1990, it's got to the stage where it is almost unthinkable that the Americans won't qualify for a World Cup tournament.
The Americans won't just escape unscathed from the hex; they are the best team in the group by a mile and will steamroll their way through their rivals to claim the top spot.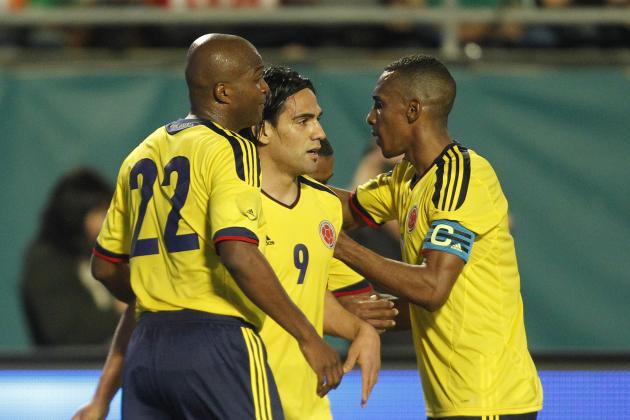 Joel Auerbach/Getty Images

When Colombia line up for their CONMEBOL World Cup qualifying fixtures against Bolivia and Venezuela in the next 10 days or so, the hopes of the nation will be resting on Atletico Madrid's Radamel Falcao.
The Colombians haven't qualified for a World Cup since 1998.
An entire generation of fans and players have gone without being at a major international tournament, which is something that they'll desperately want to change this time around. As we speak, Colombia are nicely poised to qualify. With the absence of Brazil in the qualifying stages, they'll never have a better chance of getting to the World Cup.
With the greatest of respect to them, the Colombians aren't exactly blessed with world-class players. But Falcao is the one shining beacon of hope for them.
Can he rise to the occasion and remind us just how good he is?
Of course he can.
It would be a crying shame if a player of Falcao's quality didn't grace the World Cup.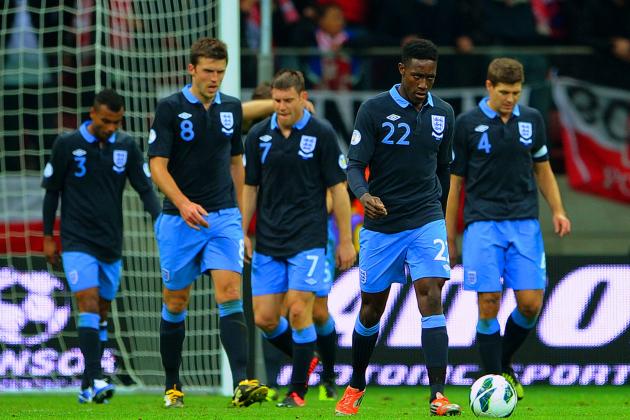 Michael Regan/Getty Images

England have two fixtures in the next 10 days or so. Both are away games against San Marino and Montenegro.
The results of the English national team are almost irrelevant.
This is just pure speculation on my part, but regardless of what happens, it's more than likely that the team will be slaughtered by the English press.
If they win, the response of the English media will be that England should have won. If they lose, the same facets of the media will pile unwarranted pressure on the players and the manager.
Let's be clear about something. Since winning the World Cup almost 50 years ago, the English national team have achieved nothing on the world stage.
Don't get me wrong.
There have been some exceptional individual English players over the past 20 years, but apart from a semifinal place at the World Cup in 1990, they've done nothing.
So why do the English press have this over-inflated sense of entitlement? They should feel lucky that their country qualifies for these tournaments, and often gets to the latter stages, on a regular basis. Other countries around the world would kill for that kind of record.
You're almost guaranteed that, regardless of the results that England achieve in their upcoming qualifying matches, there will be a complete overreaction by the English media.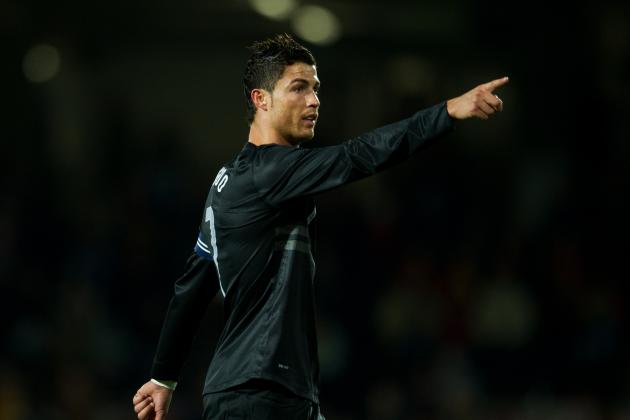 Jasper Juinen/Getty Images

As we speak, Portugal are five points behind Russia in UEFA Group F. They're even behind Israel in the group.
For a squad full of talented, top class players like Real Madrid's Cristiano Ronaldo, it's almost baffling. If football matches were decided on paper, it would be an easier game. But it doesn't work like that.
The next set of qualifying matches in UEFA Group F could shape the fortunes of the Portuguese.
Next Friday, they play Israel in a match that they have to win just to keep up with the Israelis and the Russians.
On the following Tuesday, as Portugal take on Azerbaijan, Russia travel to perennial minnows Northern Ireland in a game that you'd have to think Russia will win, and win comfortably.
It's entirely conceivable that the Portuguese will be out of the reckoning by the time the next round of fixtures have been completed. If they are to have any chance of catching the Russians, Portugal have no other option than to beat Israel next Friday.
If they fail, then at least Cristiano Ronaldo et al will have next summer off!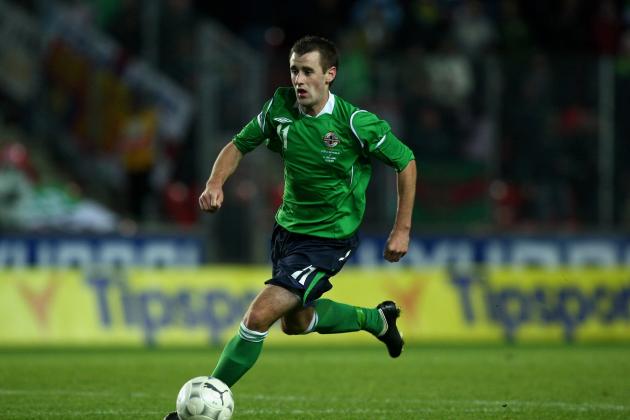 Alexander Hassenstein/Getty Images

I mentioned earlier that the problem with predicting football matches is that games is that they're never won on paper.
So, to answer my own question, there's plenty of potential surprise results.
Such as when Niall McGinn scored the goal that earned Northern Ireland a creditable 1-1 draw with Portugal late last year.
Ireland have the potential to get a point when they travel to Sweden next Friday, as do Israel when Portugal come calling on the same day. Fast-forward to a couple of days later and Montenegro have the ability to beat England at home, as do France when they host Spain.
OK, so the France-Spain game is a little more likely than the others, but you get the point.
Whether these potential upsets happen or not is another matter, but there's definitely a chance of there being some surprising results in the next set of UEFA qualifiers.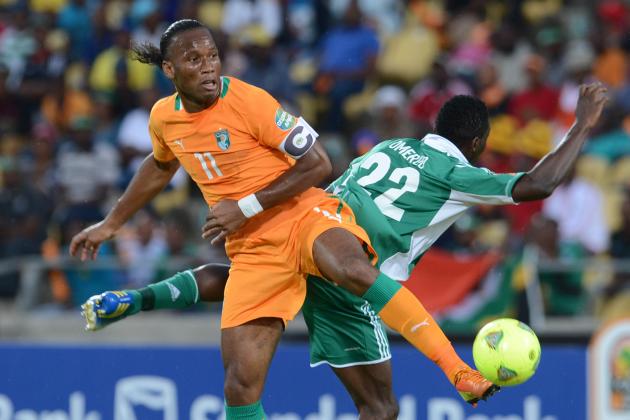 Gallo Images/Getty Images

The Confederation of African Football (CAF) are in the midst of the second round of their qualifying matches. Twelve teams have already been eliminated, leaving 10 groups of four teams to battle it out to see who goes through to the third round. The winners of each group qualify for the next round.
Let's run through the potential group winners.
In my opinion, there's nothing to suggest that South Africa, Tunisia, Congo, Nigeria, Egypt, Algeria and Senegal won't win their groups. They are all well in contention to qualify and wins in their next games should see their places in the next round almost guaranteed.
A couple of the remaining groups are a little tougher to call.
Zambia and Ghana are the two main contenders in Group D, but considering they qualified for the last World Cup, you'd have to think the Ghanian side have enough about them to get through.
That leaves us with Cameroon and Togo battling it out to see who qualifies from Group I.
Both sides have experienced players to call on, but with players like Benoit Assou-Ekotto, Alex Song and Samuel Eto'o at their disposal, Cameroon should top the group.
The eagle-eyed among you will notice that Didier Drogba and the Ivory Coast weren't mentioned in that list above. That's because, at least to me, it's a certainty that they will qualify for the 2014 World Cup, regardless of who they play. The Ivorian squad is one of the strongest among the African nations and their experience will see them through.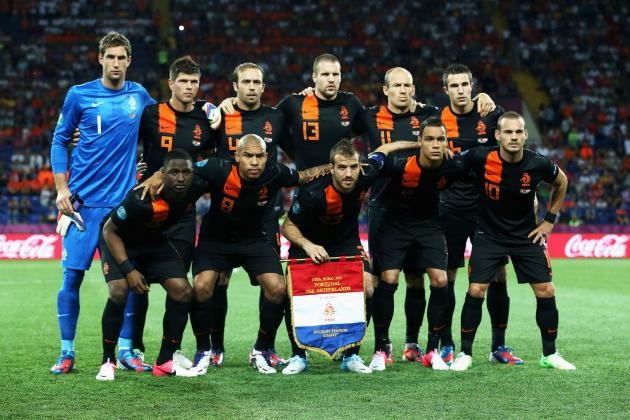 Julian Finney/Getty Images

If you were to ask me that question, the answer would be to watch Holland.
The Dutch have two home fixtures against Estonia and Romania in the next set of qualifiers, which look certain to result in two comfortable home wins.
With players up front like Robin Van Persie and Klaas-Jan Huntelaar, supported by Wesley Sneijder and Rafael Van Der Vaart, you're likely to see goals and chances galore if you watch the Dutch next weekend.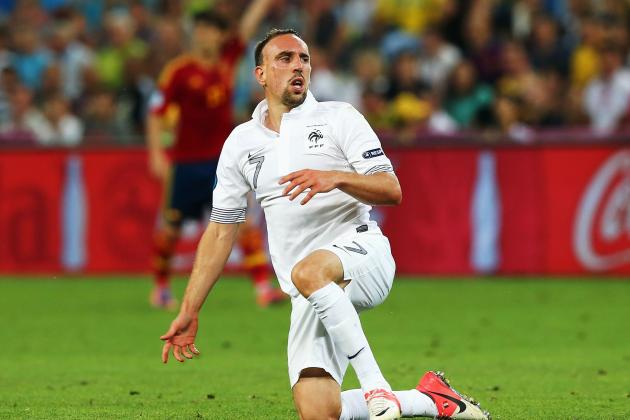 Martin Rose/Getty Images

The pick of the next set of UEFA World Cup qualifiers is undoubtedly the contest between France and Spain at the end of the month. Both nations have won the World Cup in the last 20 years and have produced some of the best players we've ever seen in that time as well.
After a rocky period, French football is on the up at the minute.
Bayern Munich's Franck Ribery is no longer the only man that the French people look to for inspiration. Others like Hatem ben Arfa, Yohan Cabaye, Moussa Sissoko and Olivier Giroud have stepped up to the plate. They're beginning to take at least a share of the responsibility that Ribery has had to bear in recent years, and French football will benefit from that.
France have strength at the back and players who can cause problems going forward, so on paper, yes, they can stop the Spanish.
The French came away with an excellent 1-1 draw in their previous match with Spain. With home advantage this time around, Les Bleus have every chance of stopping the Spanish.
Alex Livesey/Getty Images

As we speak right now, there are several teams who have points totals in double figures with only four games played. Those teams are: Belgium, Croatia, Italy, Bulgaria, Germany, Sweden, Holland, Switzerland, Russia, Bosnia and Herzegovina, Greece, Montenegro, England, France and Spain.
You'd have to think that each of those nations have a realistic chance of qualifying for the 2014 World Cup.
However, there are only two teams who will be virtually guaranteed a place at the finals by the time the next set of qualifiers are in the books:
Germany and Holland.
The Germans have two fixtures against Kazakhstan coming up, virtually guaranteeing them six points and a huge increase in their goal difference to boot. The Dutch have a similarly comfortable set of fixtures coming up next against Estonia and Romania, which should see their progress to Rio all but confirmed.
For those reasons alone, German and Dutch fans should start booking their tickets to Brazil in a couple of weeks!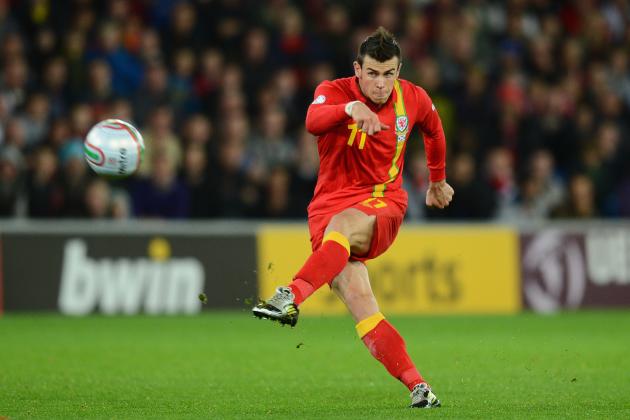 Mike Hewitt/Getty Images

There are a few players capable of that.
Cristiano Ronaldo, Luka Modric, Wayne Rooney, Cesc Fabregas, Franck Ribery, Robin Van Persie and a few others are in with a shout of producing something special, but for me, the outstanding candidate is Gareth Bale.
Some of the goals he's scored lately have been nothing short of astonishing, and it will take a monumental effort to stop him from producing the best goal from the next set of qualifiers.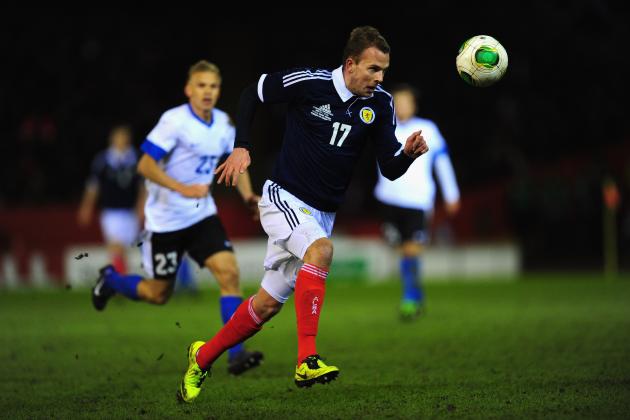 Stu Forster/Getty Images

Not a lot.
Scotland, as a nation, shouldn't expect anything from their next two games, other than better performances than they had towards the end of Craig Levein's reign.
On paper—there's that phrase again—there's no way that the Scots are the worst team in their group. But they're bottom of the table and the statistics don't lie.
If Gordon Strachan can get some momentum going and move the Scots up the table, it might give them some confidence as they head in to the next set of European Championship qualifiers, which begin in late 2014.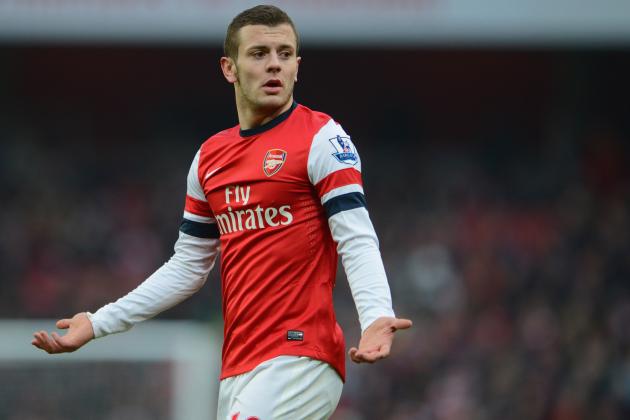 Michael Regan/Getty Images

The picture to the left seems to say it all for me. Jack Wilshere is almost shrugging his shoulders there as if to say, "Who can replace me?"
It'll be difficult, to be honest.
Wilshere had been coming in to his best form in recent weeks.
It had taken him a bit of time to settle after being out injured for well over a year, but he put in a stunning performance in England's 2-1 win over Brazil last month. He'll be frustrated that he's picked up an ankle injury.
Jack Wilshere offers England something different than any other midfielder they have. It isn't just penetrating runs and shooting from distance. It's his ability to thread the ball through the eye of a needle and split a defence wide open with just one flick of his boot.
England will miss Jack Wilshere a whole hell of a lot in their upcoming qualifiers, but he will be a massive player for them over the next decade.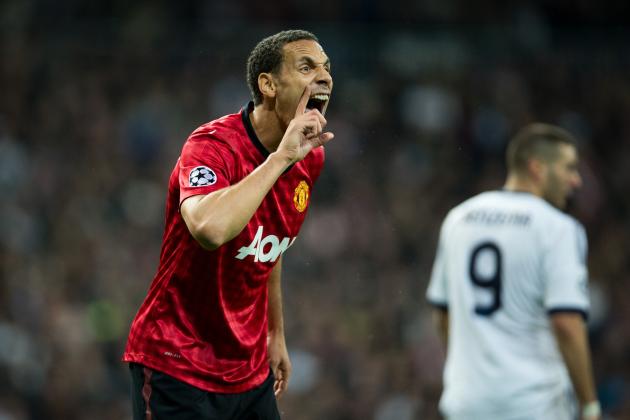 Jasper Juinen/Getty Images

It's been well over 18 months since Rio Ferdinand last played for his country. In fact, Ferdinand picked up the last of his 81 caps in June 2011.
That seems incredible.
Yes he's had some injury problems over the last few years, but his reading of the game is second to none. I'm a firm believer that players who are in form should be picked by their national team, regardless of outside factors like personality clashes with other players.
If there's an English centre-half who is in better form than Rio Ferdinand, then he must be a terrific player.
Roy Hodgson will name his squad for England's upcoming qualifiers later this week.
Joleon Lescott doesn't get a regular game for Manchester City. Phil Jagielka has been out with an injury at Everton, which leaves England desperately short of options.
You can't discount Ferdinand's form, experience or quality.
If it was down to me, Rio Ferdinand would be the first defender on my list.
But it's not down to me.
Something tells me that Roy Hodgson will stick to his guns and refuse to turn to Ferdinand, despite the fact that, at the moment, there's no English centre-half in better form than the Manchester United man.
And that's a shame.
For Rio Ferdinand, and for England.