Renan Barao vs. Eddie Wineland Head-to-Toe Breakdown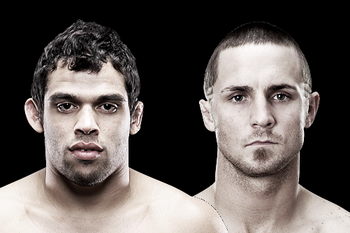 Photo: UFC.com
When the UFC announced Dan Henderson vs. Rashad Evans and Shogun Rua vs. Lil Nog for UFC 161, few could have predicted that a title fight was also going to be added to the event. However, in the bigger-is-better world of the UFC, why not throw on a scrap for the interim UFC bantamweight championship.
On June 15, champion Renan Barao will look to defend his title for the second time against top contender Eddie Wineland. If he is successful, it will extend his undefeated streak to 32 bouts.
Wineland has won six of his last eight bouts, including recent wins over Brad Pickett and Scott Jorgensen.
Here is a head-to-toe breakdown of the interim title fight between Renan Barao vs. Eddie Wineland.
Striking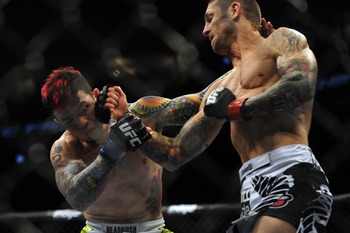 Steve Mitchell-USA TODAY Sports
Undoubtedly the strongest element of Eddie Wineland's game is his striking prowess. Primarily a boxer, Wineland looks to turn out the lights of anyone and has the power to do so on any given night.
In his last performance, Wineland struck with surgical precision, moved well and landed his right hand with authority on a regular basis.
That being said, Renan Barao is absolutely nasty with his striking and has a much more diverse approach to the stand-up game. Between spinning back kicks, flying knees and an arsenal of punches, the Brazilian is comfortable battling on the feet, but uses striking to set up submissions.
If Eddie Wineland thinks that he can win the striking exchanges with a one-dimensional attack, he's got another thing coming.
Advantage: Barao
Wrestling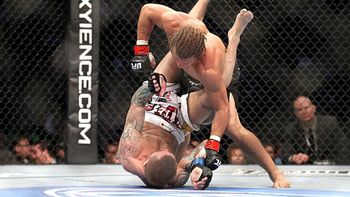 Photo: ESPN.com
The recent success of Eddie Wineland has come in battles against fighters who are willing to stand and trade with him. However, when he does lose, it comes against grapplers who take him to the mat and pound from top position, such as Urijah Faber.
However, Wineland did a great job of shutting down the wrestling offensive of Faber and teammate Joseph Benavidez in contests with the Alpha Male fighters. Through six rounds of action, Wineland was successful in defending 15-of-17 takedown attempts.
On the flip side, the defensive wrestling of Barao is outstanding. Not since June 2010 has anyone been able to score a takedown on the champ. In fact, opponents Michael McDonald, Urijah Faber and Scott Jorgensen went 0-for-15 in trying to wrestle Barao to the canvas.
The biggest difference in this category is the fact that Barao has a more solid wrestling offensive than his opponent. For that reason, he has the advantage.
Advantage: Barao
Submissions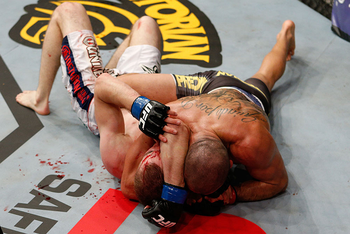 Photo: Josh Hedges/Zuffa LLC via Getty Images
This one is an absolute no-brainer. Renan Barao is a submission machine who has earned 14 tapouts through his career, including four since joining the Zuffa roster. In the attached photo, you can see Barao using his incredible grappling prowess to submit top contender Michael McDonald.
Wineland, on the other hand, hasn't scored a submission victory since leaving the independent circuit in 2006.
In addition, Wineland tends to have trouble with submission specialists, and half of his career losses have come via tapout.
Advantage: Barao
Reach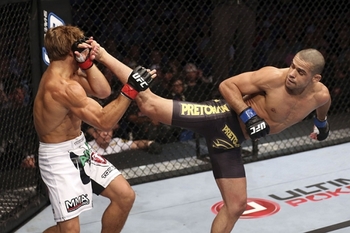 Photo: mmafight.com
Renan Barao has a listed reach of 70 inches. Eddie Wineland has a reach of 69 inches.
Advantage: Barao
But wait...if only that were the end of this slide.
Renan Barao is a master of elongating his body through the use of kicks. Take a close look at the attached photo of Barao vs. Urijah Faber. Note the distance between Barao's head and Faber's arm. Even fully extended, Faber couldn't land any sort of significant strike.
Considering that Eddie Wineland rarely uses kicks to his advantage and does not have a speed advantage in this fight, it is going to be incredibly hard for him to make contact with Barao.
Monstrous Advantage: Barao
Prediction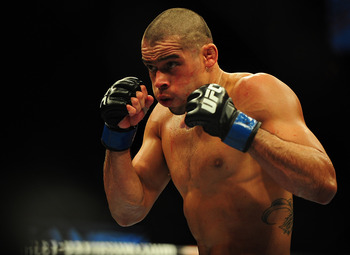 Anne-Marie Sorvin-USA TODAY Sports
Let's be honest here. Eddie Wineland hasn't done enough to demand a title shot. Sporting a recent record of 2-2, no one was screaming that Wineland needed to immediately fight for a title.
For every dominant champion, a few less-than-deserving contenders make their way into a title fight. Look at guys like Patrick Cote, Dan Hardy and Dan McGee who have all competed for a UFC title. Were they really deserving of a crack at the title?
No. They were simply fodder who were put in the way of the champion in order to keep him busy until a real contender emerges.
No offense to Eddie Wineland is intended here. He is a quality fighter who deserves his Top 10 ranking. However, he is not on the same level as Barao in any aspect of competition.
Prediction: Renan Barao defeats Eddie Wineland via submission in Round 2.
Keep Reading