Big Ten Tournament: Breakdowns and Predictions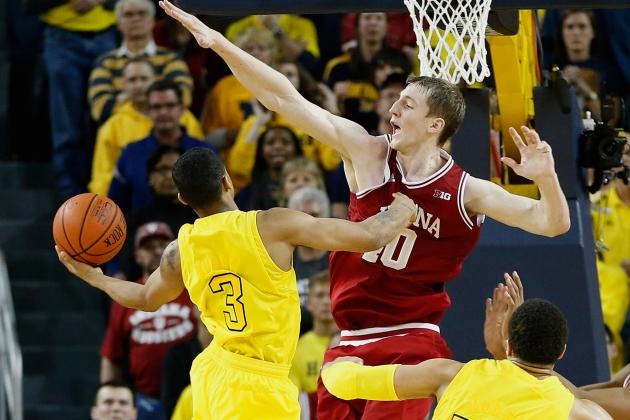 Gregory Shamus/Getty Images

With over a week until the real Big Dance gets underway, it's not too early to start filling out brackets—just not the 68-team bracket.
The Big Ten tournament tips off Thursday in Chicago's United Center, and it promises to be a doozie.
I am 27 years old, and as an avid basketball fan my whole life, living in Big Ten country, I can say without much doubt that this was the best, most competitive, most entertaining Big Ten basketball season of my lifetime.
I have been excited for this tournament since mid-Janurary, and that excitement has not waned.
Without further rambling, I will attempt to predict and add a few tidbits to each game.
Get excited. March Madness is here.
Begin Slideshow

»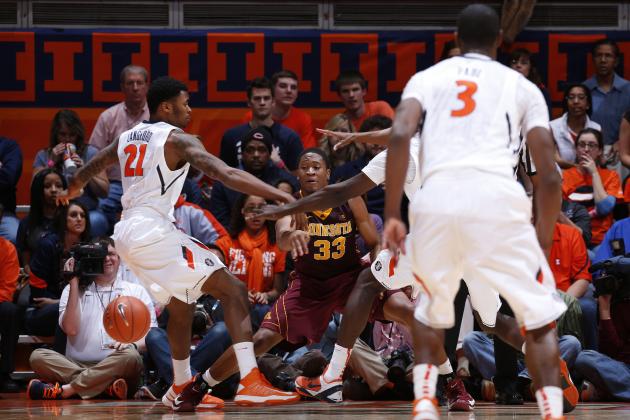 Joe Robbins/Getty Images

This is quite an eight/nine game. These are extremely similar teams.
Both teams are being looked at as NCAA tournament teams. I'm not so sure I entirely agree with that, based on their conference records, but everybody points to their signature wins (both beating Indiana, Illinois also winning at Gonzaga) as reasons they are in the NCAA tournament for sure.
I'm looking at this almost like a play-in game. That may not be the case, but I think a win for either side assures a berth, while the loser of this contest will find themselves on the bubble.
During the season, these two teams split, with both teams winning on the road. Back in January, Minnesota won at Illinois by 17, blowing the Illini out of the water. Illinois got their win in Minneapolis in February in a low-scoring game, winning 57-53.
Both have stumbled coming into the tournament and could use this win. Their prize for the win is a date with Indiana.
While I think Minnesota has the firepower to hang with the Illini, in the form of Rodney Williams, Andre Hollins and Trevor Mbakwe, I think Brandon Paul will put on a show for the Chicago crowd and get Illinois into the second round, and ultimately into the Big Dance.
Prediction: Illinois by 7.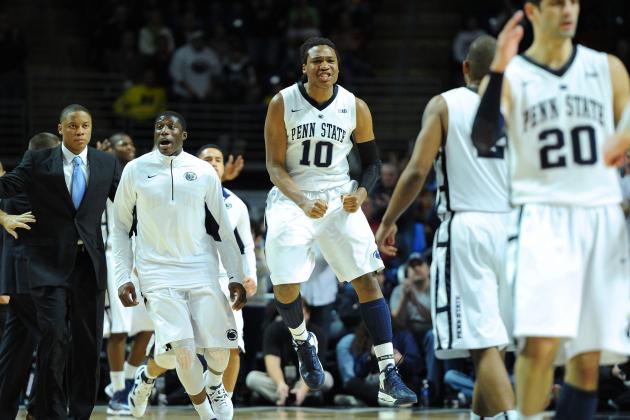 Rich Barnes-USA TODAY Sports

Are you kidding me?
Michigan is the sixth-ranked team in the nation, yet they are not one of the top four seeds earning byes in the Big Ten tournament. They are clearly one of the teams with a realistic chance of cutting the nets down in April, yet their first-round game in their conference tournament is against a team that went 2-16 in the conference.
Here is the kicker: One of those two wins came against Michigan.
I know TCU beating Kansas was incredible, but for my money, Penn State beating Michigan was the biggest upset of the conference season. The funny thing is, back on February 17th in Ann Arbor, Penn State gave the Wolverines a scare and lost by only eight.
For whatever reason, this Nittany Lions team feels they can hang with Michigan.
Michigan should be playing angry this weekend and feeling like they have something to prove. If Michigan can jump out to an early lead, this game will be all but over. If they let Penn State hang around, their confidence will soar and it could get interesting.
I don't think this will get too interesting.
Prediction: Michigan by 17.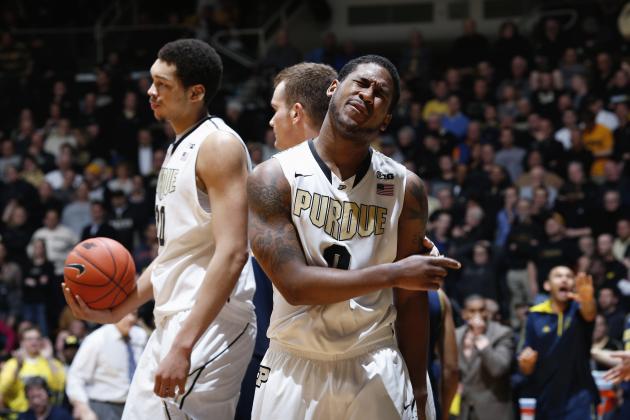 Joe Robbins/Getty Images

Purdue is being thought of as a hot team coming into the weekend. In actuality, although they have gone 3-2 in their last five, they have only gone 5-7 in their final 12 games.
Yes, the win over Wisconsin in Madison was surprising. And they killed Minnesota at home, but who doesn't kill Minnesota at home? They've played better as of late, yes, but they are not a dark horse to win this tournament. Sorry.
Nebraska has also played better late in the season, but better is relative.
Purdue beat Nebraska in Lincoln by nine in their only meeting this season. But that was in early January. Both teams are different teams now.
With that being said, I do think AJ Hammons will have a field day against Nebraska's bigs and Terone Johnson will do enough to put Purdue into the second round.
Prediction: Purdue by 10.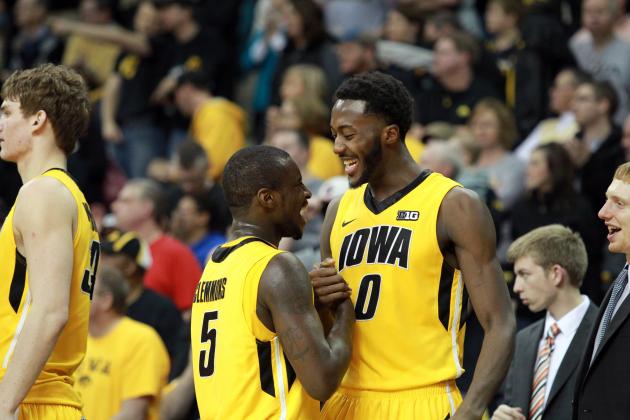 Reese Strickland-USA TODAY Sports

Iowa is my alma mater, so forgive me for any homerism I may show here, but how are the Hawkeyes not more in the NCAA conversation? I realize how awful their non-conference schedule was, but they finished 9-9 in the best conference in the country, and if there is such a thing as good losses, they have a boatload of them.
Now that I got that out there, let's look at this game. Iowa and Northwestern met twice this year, and Iowa won both by double digits. The Hawkeyes won by 20 in Evanston and won by 14 at home.
Northwestern is traditionally a tough matchup because of their Princeton-style offense and their tricky zone defense, but for whatever reason, Iowa has looked very comfortable against the Wildcats this season.
I think that continues in Chicago. Devyn Marble is playing well right now, and with the emergence of the Iowa bench, led by Gabe Olaseni the last few games, they will be too much for Northwestern.
Prediction: Iowa by 11.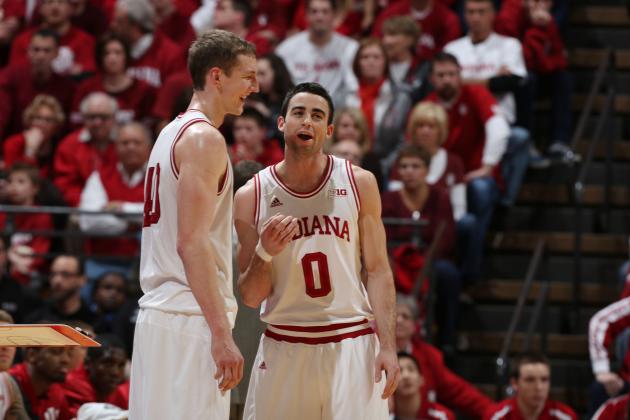 Brian Spurlock-USA TODAY Sports

Indiana has a chance to get some revenge on the Illini.
The two teams played just once in the regular season, which was an Illinois win on the now-famous inbound play to Tyler Griffey.
In that game, Indiana had a 10-point lead with under five minutes left and looked to be in control the entire game. A late-game collapse and a defensive brain fart allowed the Illini to upset the Hoosiers.
That is not happening again. Tom Creen showed he has a pretty solid memory in a strange way last Sunday after the game, and I am sure he is not letting his team forget that they lost to Illinois in such an embarrassing fashion.
I expect a big game for Cody Zeller here against Illinois' overmatched bigs.
Prediction: Indiana by 13.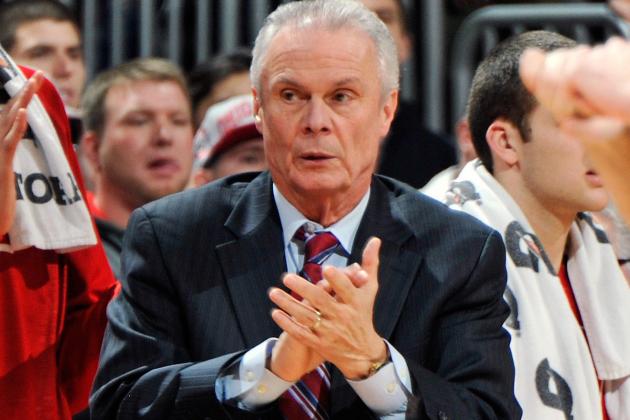 Jamie Sabau/Getty Images

Remember the only meeting between Wisconsin and Michigan this year? Ben Brust does. He hit a halfcourt prayer to send it to overtime and ultimately a Wisconsin three-point win.
Wisconsin struggled the past three games, with losses to Purdue and Michigan State and a squeaker of a win over Penn State, but they do have the Big Ten Coach of the Year in Bo Ryan, and they will of course play defense.
Not to say Wisconsin's toughness and discipline means they are not athletic, but they certainly do not have the athletes that the opposing team does.
Michigan is loaded with athletes and can get as hot as any team in the country when they are right.
I think John Beilein will have them ready to meet Indiana again the semis and they will dispose of the Badgers.
Prediction: Michigan by 9.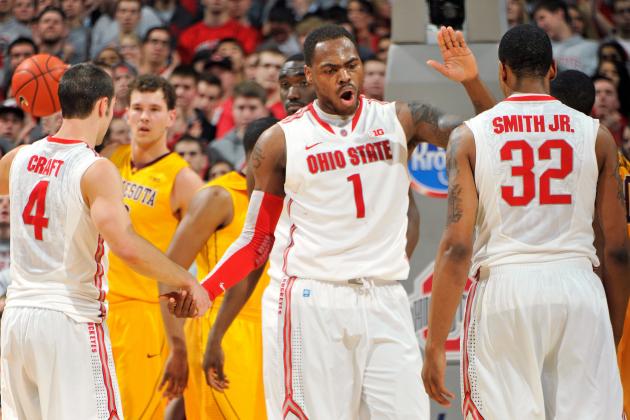 Jamie Sabau/Getty Images

Purdue and Ohio State played just once this season, and it was way back on January 8th. Ohio State won that game by 10.
Lately, Ohio State has looked really, really good. Winners of their last five games, the Buckeyes look like a team that could make a real run to the Final Four.
Lenzelle Smith Jr. has emerged as that much-needed second scorer to go with Deshaun Thomas. Aaron Craft is consistent, especially on the defensive end. They are just too much to handle for Purdue.
The Boilermakers do not have enough to handle the Buckeyes' suddenly all-around game.
Prediction: Ohio State by 13.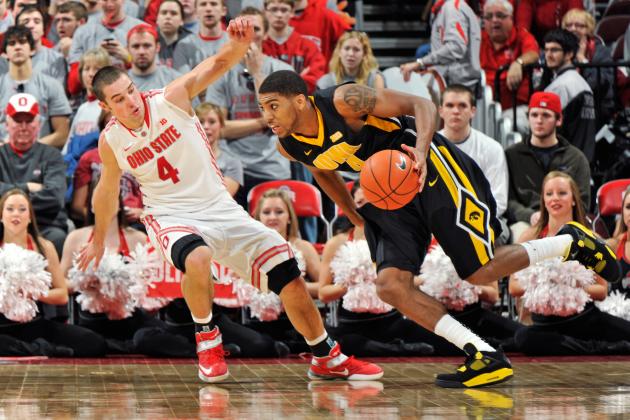 Jamie Sabau/Getty Images

Back on January 10th, Michigan State beat Iowa by three. Iowa had a lead with less than two minutes in the game and, quite frankly, choked the game away.
Oh yeah, Iowa's leading scorer, Devyn Marble, did not play. He was out with an injury.
I say that to illustrate how close these two teams actually are. Iowa comes in as the sixth seed but could very easily knock off the Spartans. They had them all but beaten in Iowa City without Marble, who is not only their leading scorer, but also is their primary playmaker.
If Iowa can knock off the Spartans, they will—or better be—in the NCAA tournament. If they don't, they are a long shot, apparently.
I really hope they can do it, but Izzo in March is a whole different animal.
Prediction: Michigan State by 8.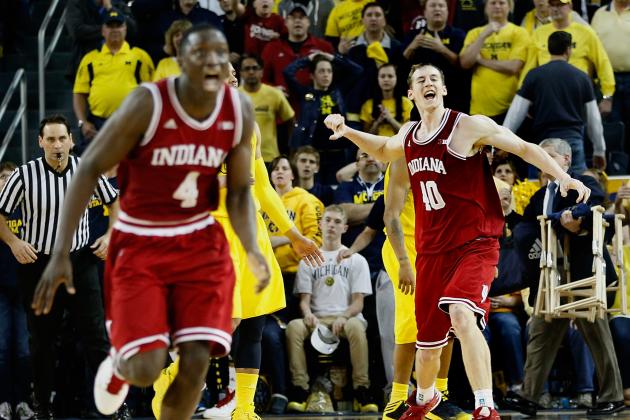 Gregory Shamus/Getty Images

Round 3.
The first two games between these two teams have been fantastic. Indiana rode a hot start and held off Michigan in Bloomington in early February, and won that classic battle Sunday in Michigan's house to win the Big Ten regular season title outright.
I cannot wait for them to square off again.
However, there will be a different outcome in this one.
While I think Indiana is the most complete team in the country and the likely favorite to win the national championship, I'm going with Michigan to redeem themselves and ride a big game by Trey Burke to the championship game.
Prediction: Michigan by 4.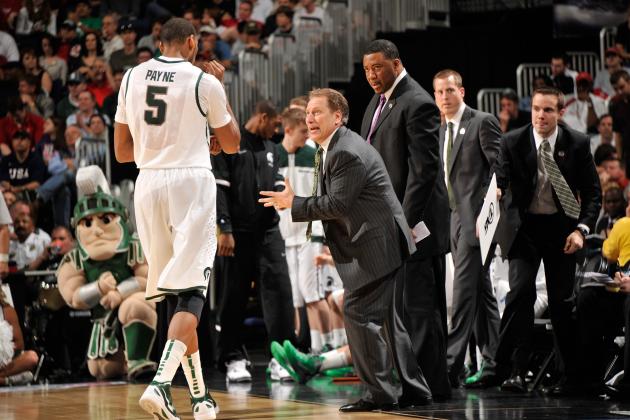 Jamie Sabau/Getty Images

This has the potential to be the game of the tournament.
The two teams played twice this season, with both teams winning at home.
This is the way I see this game playing out. Michigan State's bigs, Adreian Payne and Derrick Nix, will play well, but their leading scorer, Keith Appling, will be handcuffed by Aaron Craft and the Buckeyes will move on.
Izzo will use the game as a learning experience for his Spartans, and come next week, they will prepare for a march to the Final Four.
Prediction: Ohio State by 6.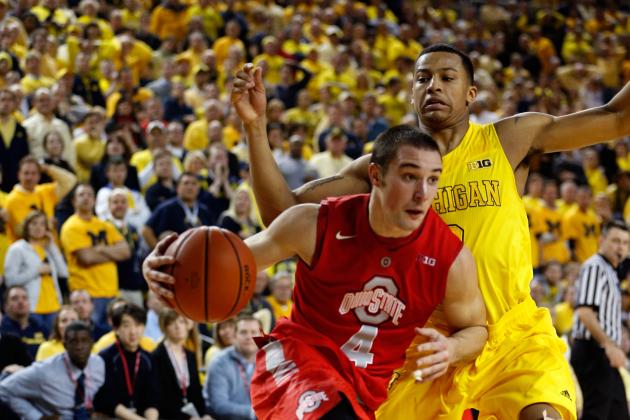 Gregory Shamus/Getty Images

The Game.
That's what they call the annual football battle between these hated rivals, but this year The Game will be deciding the Big Ten tournament title in Chicago on Sunday.
Ohio State is playing with a ton of confidence and beat Michigan by three in Columbus in January. Michigan counterpunched and beat the Buckeyes by two, in overtime, at Michigan in early February.
This one means a little bit more.
We get to see Aaron Craft and Trey Burke go head to head one more time, and it should be superb.
There is no reason to think this game won't be entertaining, since the previous two meetings were decided by five points total. I expect nothing less in this one. I do, however, expect Michigan's athleticism and the hot Nik Stauskas, who didn't score in their first meeting, to bring home the bacon.
Michigan—though many have jumped off the bandwagon in recent weeks, and possibly justifiably so—will regain their mojo and be the Big Ten tournament champions.
Prediction: Michigan by 5.