Cincinnati Bengals' Blueprint for Winning Free Agency
The Cincinnati Bengals have made big moves before free agency officially begins this afternoon at 4 p.m. Eastern.
On Sunday, they signed kicker Mike Nugent to a multi-year deal. On Friday, they announced that they agreed to a deal with punter Kevin Huber, his flawless long snapper Clark Harris and special teams extraordinaire and backup running back Cedric Peerman.
Defensive end Wallace Gilberry agreed to a multi-year deal with the Bengals this past weekend and they also locked up free agents Andrew Hawkins, Vincent Rey and Jeromy Miles (via Bengals.com).
Defensive end Michael Johnson has already received the franchise tag, leaving tackle Andre Smith as the team's most expensive remaining free-agent priority.
The Bengals have a number of needs to still address. There are certain positions that they will need to use free agency to upgrade.
The Bengals will certainly use the NFL draft to find inexpensive talent to mold, however free agency presents its own advantages. In fact, this year the Bengals have the luxury of hardly needing to resort to free agency if they can keep key players in place, which they seem to be doing by re-signing players like Johnson, Hawkins, Peerman and Huber.
Free agency still presents another opportunity for the Bengals to upgrade if they play their cards right. Here is a look at what the Bengals need to do in order to win free agency in 2013.
1. Re-Sign Key Players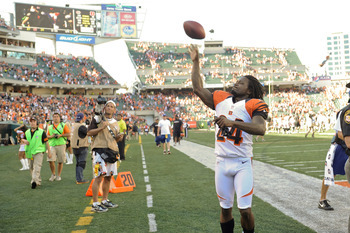 Jamie Sabau/Getty Images
Before the Bengals browse the free-agent market, there are certain players they'll look to keep right at home.
Several Bengals are set to hit free agency on Tuesday, and by the end of the day certain guys should be re-signed by the Bengals staff.
One of those guys is starting cornerback and return specialist Adam Jones. Jones' chronicled history in the NFL earned him a permanent red flag from most NFL teams, making the demand for him in free agency rather low.
Other defensive players to re-sign are lineman Robert Geathers and cornerback Terence Newman.
On the other side of the ball, backup quarterback Bruce Gradkowski will be a free agent. While the Bengals have weighed their options to fill the position via the draft, keeping Gradkowski will likely end up being the most reasonable option.
This year's draft class of QBs isn't particularly deep. ESPN draft analyst Todd McShay compares last year's draft class of quarterbacks to this year's saying that he didn't see any quarterbacks in this year's class with the potential to impact the NFL game right away. Gradkowski is the second-rated unsigned quarterback in the NFL according to ESPN.com free agent tracker.
Unless the Bengals feel that Jason Campbell, the No. 1-rated unsigned free-agent quarterback, is enough of an upgrade to justify letting Gradkowski walk, it makes the most sense to sign him for another year.
And then there's Andre Smith.
2. Re-Sign Andre Smith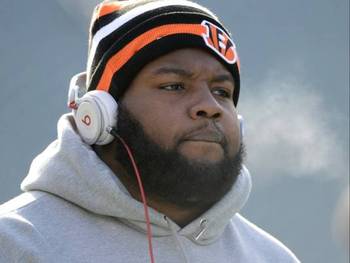 Photo (Michael Keating, AP)
Andre Smith is asking for $9 million a year in his next deal. While that sounds outrageous enough for the Bengals to theoretically let him walk, chances are they won't. Smith is considered a top-10 free agent this year and at 26 years old, he can probably find someone to pay him what he wants.
Four teams have offensive tackles listed as their No. 1 need according to NFLTradeRumors. Three teams have the position as their second highest priority, and of all 32 NFL teams, 19 of them have offensive tackle in their top five.
The good news is that the Bengals have the cap space to offer Smith a lucrative enough contract. Exactly how high the Bengals will bid for Smith remains to be seen, but if there's ever an opportunity to throw money around, it's now with so much cap space.
Smith's off-field decisions have plagued him since the combine prior to his rookie year when he disappeared without notice. Most recently, he was arrested at a Georgia airport for trying to travel with a gun. These incidents have caused teams to avoid considering Smith, but it's hard to believe that no one would be willing to pay him for his age, size and potential alone.
Given that the Bengals have already announced a handful of free agents expected to sign on Tuesday, the only remaining piece to secure a Bengals win is a contract for Andre Smith.
3. Acquire Veterans to Complement Youth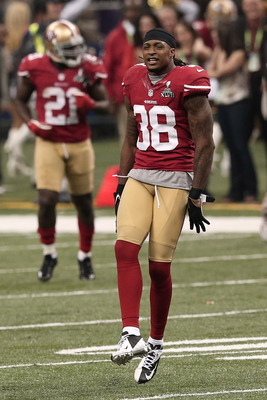 Win McNamee/Getty Images
Reports have surfaced that the Bengals are on a short list of teams interested in Rams free-agent running back Steven Jackson. While Jackson's ability to play off-tackle and out of the backfield fits the prototype of what the Bengals need on paper, it's not the right move.
BenJarvus Green-Ellis, for all intents and purpose, is the same back as Steven Jackson. They both play primarily between the tackles, making their cutbacks and outside runs more effective. The Bengals announced that they were looking to find a complement to the Law Firm and signing Steven Jackson would essentially be a replacement.
If the Bengals are in the mindset of replacing Green-Ellis, which doesn't seem likely considering the two years still remaining on his contract, they're better off doing so via the NFL draft than free agency.
If the Bengals are to win free agency, they CAN'T sign Steven Jackson.
Another component of that winning formula for Cincinnati comes at the safety position. Reggie Nelson returns, but Nate Clements and Chris Crocker are free agents. They will likely save one of those positions to be filled via the draft, maybe their first pick.
However, the other safety position can certainly be filled via the free agent market. There are several unsigned free-agent safeties, all of whom could contribute immediately to the Bengals defense.
Ravens free agent Ed Reed is the No. 1 safety, but ProFootballTalk's Mike Florio reported that his likelihood of ending up in San Francisco is increasing, especially if 49er free-agent safety Dashon Goldson leaves. Where would Dashon Goldson go?
When asked about where he wanted to play, he said on Sirius XM Sports, "I want to play for somebody who has the potential for getting back to the postseason."
When asked specifically about playing for the Bengals he said "I like those guys down there. I went to school with Reggie Nelson. I played with Nate Clements. I was [in San Francisco] with Taylor Mays, Manny Lawson. I'm familiar with some of those guys. I like how they play."

Goldson would be an amazing addition to the defensive secondary, especially if they can draft a quality safety who can contribute, at least on special teams, from day one. Goldson's impact on the wallet will be much more than a rookie's, however. The good news is that the Bengals have thicker wallets this year.
If Goldson doesn't find a way to Cincinnati, there are myriad safeties to choose from: Cardinals' free-agent safety Adrian Wilson, Packers' free-agent safety Charles Woodson and Cowboys' free-agent safety Gerald Sensabaugh, to name a few.
Keep Reading

Cincinnati Bengals: Like this team?