LSU Football: Pre-Spring Practice 2-Deep Depth Chart Predictions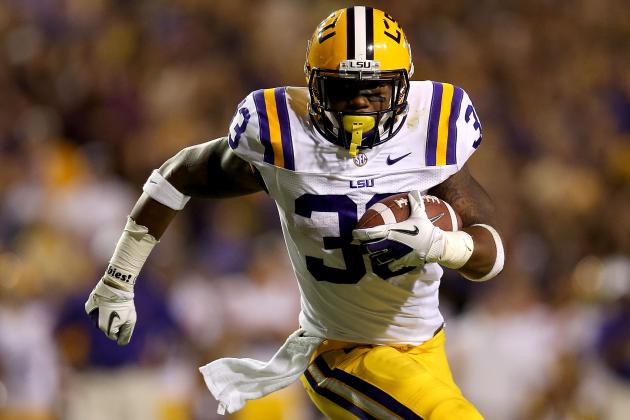 Matthew Stockman/Getty Images

LSU had a mass exodus to the NFL after 2012 when 10 players declared for the draft after the season. A lot of that talent was on the defensive side of the ball, and this spring will be a proving ground for the rising talent on roster.
This is a breakdown of the expected depth chart for the Tigers heading into the spring.
Even in positions with clear-cut leaders there will be battles for playing time. The roster is too talented not to have open competition.
There will be shifts along the depth chart throughout the 15 practices of spring, but in the end this lineup should be the one that takes the field for the Tigers in August.
Begin Slideshow

»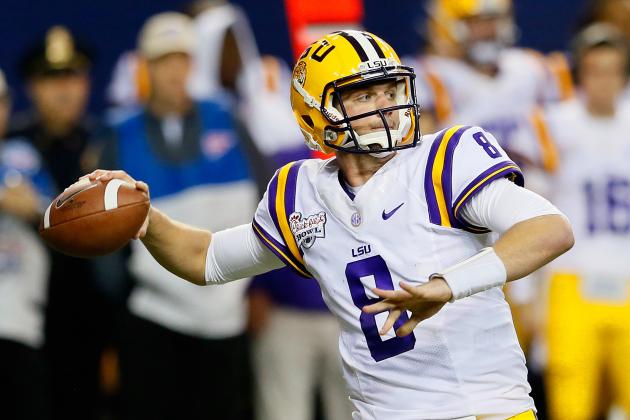 Kevin C. Cox/Getty Images

The quarterback competition at LSU is all but settled with Zach Mettenberger returning to Baton Rouge for his senior season this fall.
Last year he guided the Tigers offense to a 10-win season, but he failed to match the expectations that were placed before him. Mettenberger finished the year with 2,609 yards passing, 12 touchdowns and seven interceptions.
Heading into spring he is expected to improve his game dramatically as the Tigers begin to prowl for another title.
Battling with Mettenberger will be Stephen Rivers and early enrollees Anthony Jennings and Hayden Rettig.
Two-Deep
1. Zach Mettenberger (Sr.)
2. Stephen Rivers (So.)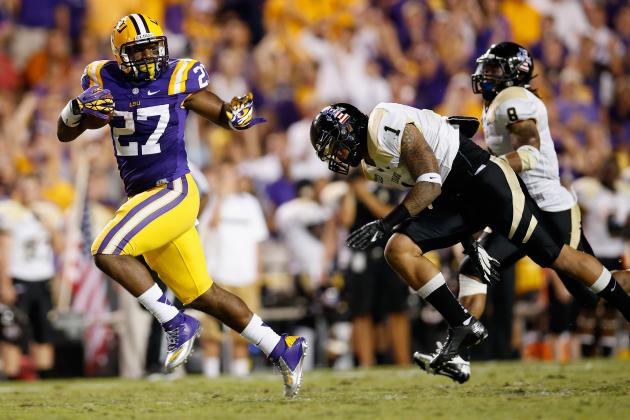 Chris Graythen/Getty Images

Running back is a position that the Tigers are very confident in heading into the spring.
LSU returns three solid options to the backfield despite losing two leading backs to the draft after last year.
Heading into spring Jeremy Hill is expected to have the edge as he finished last year as the starter for the Tigers, but Kenny Hilliard and Alfred Blue are tough runners that will be hungry for carries.
This is a great problem for LSU to have, and it will likely result in multiple starts for multiple backs all season.
Two-Deep
1. Jeremy Hill (So.)
2. Alfred Blue (Sr.) or Kenny Hilliard (Jr.)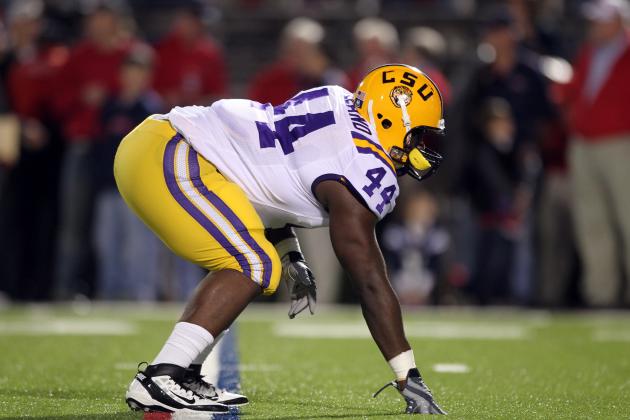 Joe Murphy/Getty Images

The fullback position returns one of the country's most feared lead blockers in J.C. Copeland.
Copeland is back for his senior season, and his 6'1", 272 pound frame moves through defenders like a cannon ball. Expect him to enter and leave spring as the starter.
Backup Connor Neighbors will get some snaps this fall, but Copeland has this position locked up.
Two-Deep
1. J.C. Copeland (Sr.)
2. Connor Neighbors (Jr.)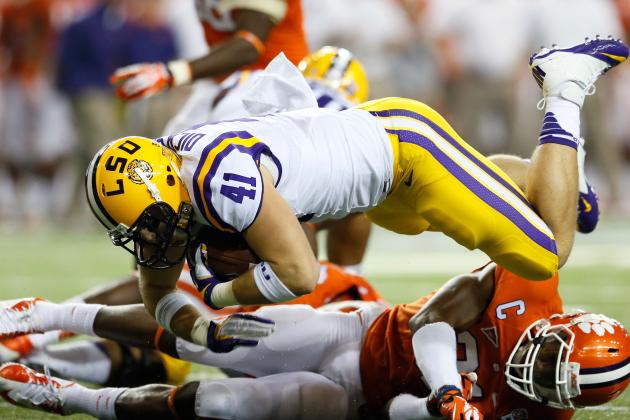 Kevin C. Cox/Getty Images

The tight end position took a bit of a hit when Chase Clement graduated after 2012.
Clement was mainly used as a blocking tight end, and rarely made an impact in the offense. That will change under new offensive coordinator Cam Cameron.
Cameron will throw to the tight ends often, and having Travis Dickson and Dilion Gordon battling for the position this spring makes this the position battle to watch.
Logan Stokes is a JUCO early enrollee who could make a move, and incoming freshman DeSean Smith will battle for playing time starting this summer.
Two-Deep
1. Travis Dickson (Jr.)
2. Dillion Gordon (So.) or Logan Stokes (Jr.)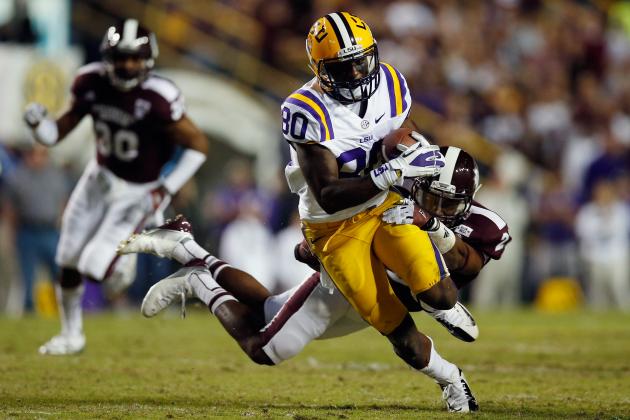 Chris Graythen/Getty Images

There is a lot of talent on the roster for LSU at receiver, but there is not a lot of experience. Both starters will bring a lot of starts to the table, but the second line of players off the bench will be extremely inexperienced.
Jarvis Landry will get the starting nod at the primary receiver position after being a regular playmaker in the Tigers offense over the past two years.
Behind him this spring will be a handful of seniors. Kadron Boone and James Wright will be the challengers.
Two-Deep
1. Jarvis Landry (Jr.)
2. Kadron Boone (Sr.) or James Wright (Sr.)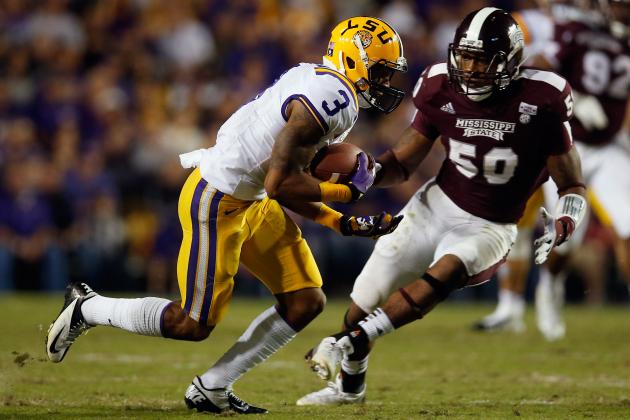 Chris Graythen/Getty Images

Odell Beckham Jr. has the receiver position opposite of Landry locked up.
Behind Beckham Jr. this spring will be Travin Dural, and early enrollee Avery Johnson. Johnson is coming from prep school and has the natural ability to hit the field this fall.
Beckham Jr. is the incumbent starter, but Johnson should work his way into the rotation this spring.
Two-Deep
1. Odell Beckham Jr. (Jr.)
2. Travin Dural (Fr.) or Avery Johnson (Fr.)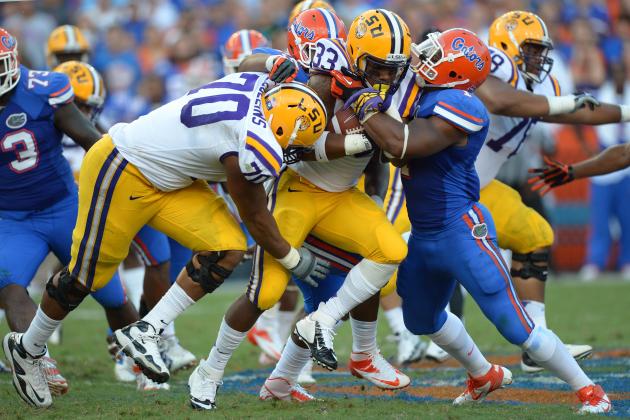 Jake Roth-USA TODAY Sports

Heading into spring there are only two positions along the offensive line for LSU that are wide open. Left tackle is one of those slots.
There are a couple of scenarios that could fix this problem for the Tigers.
Les Miles recently told the media (Nola.com) that La'el Collins will get the first look at tackle as they shift him from starting left guard to the outside this spring. If he moves, then it will leave the guard position vacant.
Instead of moving a current starter, the Tigers could start talented redshirt Jerald Hawkins at the position, and allow for a battle with early enrollee Ethan Pocic.
Two-Deep
1. Jerald Hawkins (Fr.)
2. Ethan Pocic (Fr.)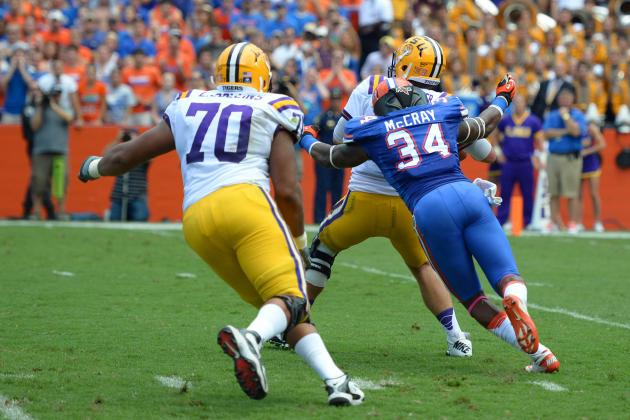 Jake Roth-USA TODAY Sports

The left guard position for the Tigers is locked up with La'el Collins standing in as the incumbent starter for LSU at the position.
If he were to make a shift to tackle, backup Josh Williford would be the likely starter at the position, but the competition would open up this spring.
Look for Derek Edinburgh to also make a possible push.
Two-Deep
1. La'el Collins (Jr.)
2. Josh Williford (Sr.)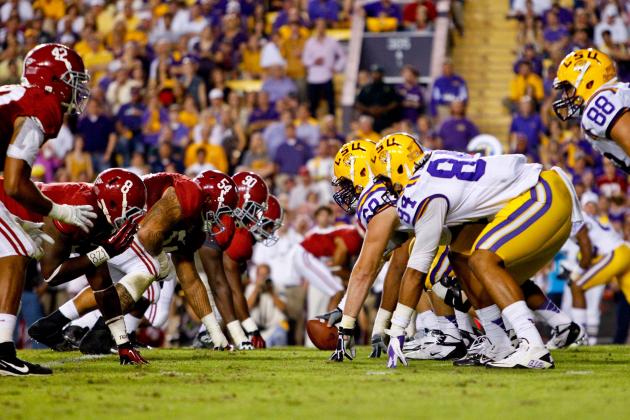 Derick E. Hingle-USA TODAY Sports

The center position is the second offensive line spot that is wide open heading into the spring.
The Tigers will look to Elliott Porter to fill the position, and with no clear No. 2 on the roster, LSU will need to cross-train a number of guards this spring for center heading into the summer.
Karl Malone Jr. is a freshman signee that will be on campus this spring, but before he makes it to Baton Rouge there has to be a contingency plan formed this spring.
Two-Deep
1. Elliott Porter (Jr.)
2. TBD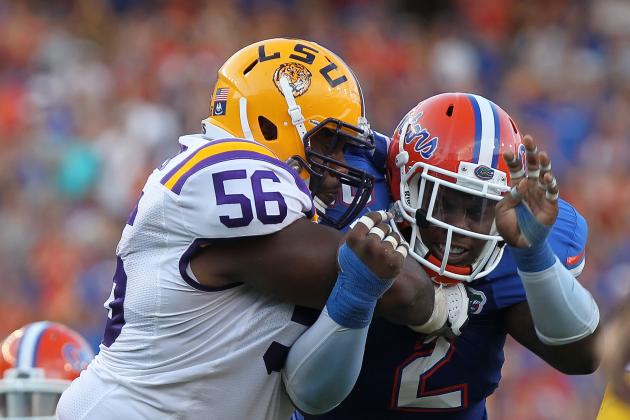 Kim Klement-USA TODAY Sports

The right guard position is locked up with Trai Turner taking the field for his sophomore season as a seasoned veteran.
The Tigers have arguably the best offensive line in the country, and Turner is a big part of that reputation for this LSU squad.
Behind Turner will be rising junior Jonah Austin.
Two-Deep
1. Trai Turner (So.)
2. Jonah Austin (So.)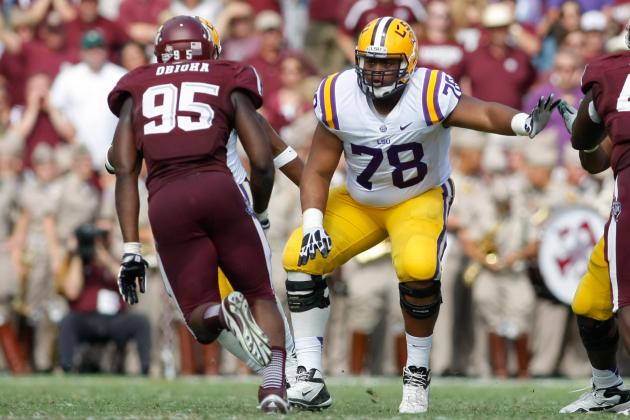 Brett Davis-USA TODAY Sports

At right tackle the Tigers will head into spring with Vadal Alexander leading as the starter.
The backup role appears to be settled with Derek Edinburgh, but Ethan Pocic could make a move on the right side of the line this spring.
There will be a battle for No. 2, but the starting role is decided with Alexander.
Two-Deep
1. Vadal Alexander (So.)
2. Derek Edinburgh (So.)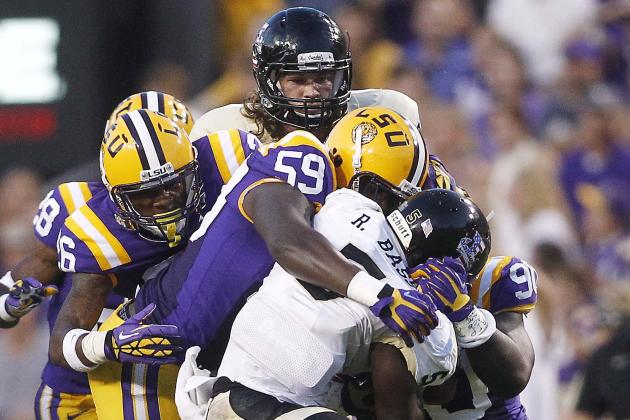 Crystal Logiudice-USA TODAY Sports

The defensive line lost a lot of talent to the draft after 2012, and the majority of the hits came at the defensive end positions.
Heading into spring the Tigers will look to Jermauria Rasco and Justin Maclin at the right end position. Sam Montgomery and Lavar Edwards left this spot open for Rasco and Maclin to compete.
Kendell Beckwith is an impact signee who could be a factor at the position this summer.
Two-Deep
1. Jermauria Rasco (Jr.)
2. Justin Maclin (Jr.)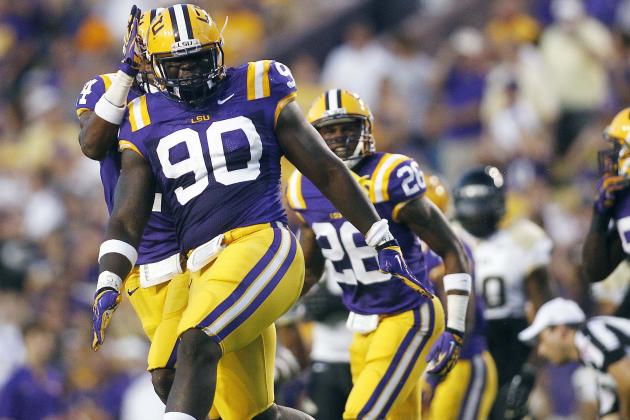 Crystal Logiudice-USA TODAY Sports

The interior defensive line didn't lose too much talent or experience heading into spring, but the departure of Bennie Logan and Josh Downs is still big for the interior of the line.
LSU will look to experienced players to fill in along the line, and at left tackle Anthony Johnson appears to be the front-runner.
Mickey Johnson is also a name to watch.
Two-Deep
1. Anthony Johnson (Jr.)
2. Mickey Johnson (So.)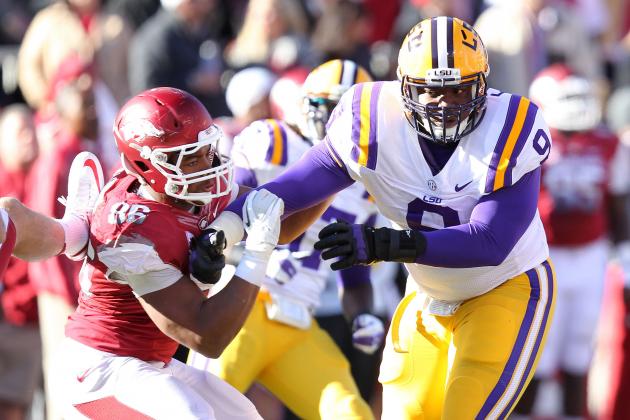 Nelson Chenault-USA TODAY Sports

The Tigers have two players with experience at right tackle who will step into a heated battle this spring for starting snaps.
Ego Ferguson is the expected leader, but Quentin Thomas is a rising sophomore and possible breakout star at the position.
Both guys will get playing time this fall, but Ferguson will be the headliner going into the spring.
Two-Deep
1. Ego Feruson (Jr.)
2. Quentin Thomas (So.)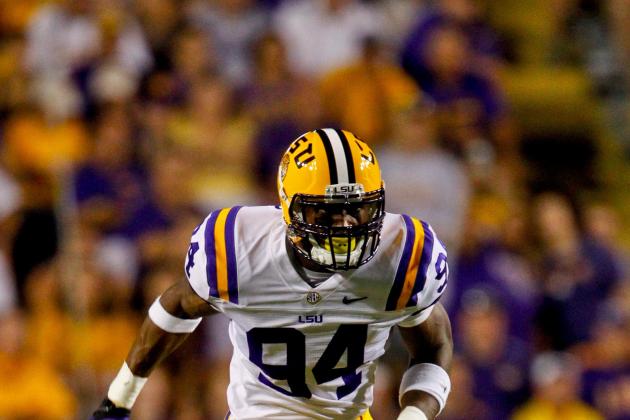 Derick E. Hingle-USA TODAY Sports

The Tigers have to replace future NFL star Barkevious Mingo at left end this spring and this position appears to be a wide open competition.
Danielle Hunter and Jordan Allen will battle for the starting job, and at this point there is no leader.
Hunter has experience and may get the most snaps early, but Allen is hungry for playing time. This could turn into a dangerous tandem rotation this fall for the Tigers.
Two-Deep
1. Danielle Hunter (So.)
2. Jordan Allen (Jr.)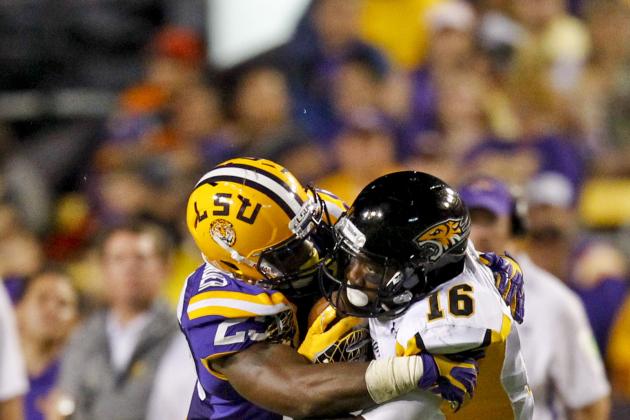 Derick E. Hingle-USA TODAY Sports

The linebacker position is a group that will see some shakeup heading into spring.
With the early departure of Kevin Minter the middle is wide open and it appears that former outside linebacker Lamin Brown may shift to the inside for his senior year to cover the open position.
If that happens, Tahj Jones and Kwon Alexander are likely to battle for the starting linebacker spot.
Jones only played in one game in 2012 after being in the coach's doghouse, and Alexander is returning from a broken ankle suffered in the Florida game.
This competition is wide open, but Alexander has the edge heading into spring.
Two-Deep
1. Kwon Alexander (So.)
2. Tahj Jones (Sr.)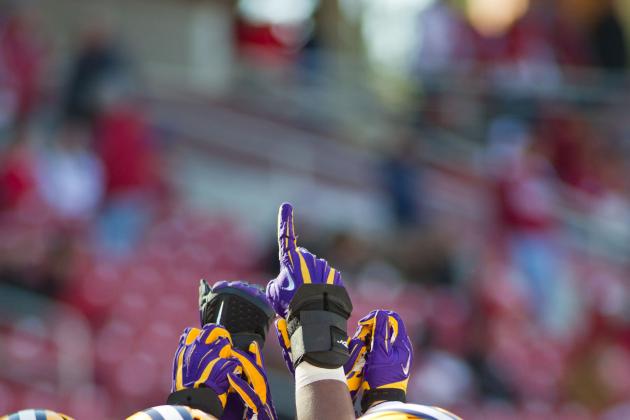 USA TODAY Sports

The departure of Kevin Minter opened up a huge opportunity for rising senior Lamin Brown. Brown has already solidified himself as one of the best linebackers in the country, but now he will show his versatility.
This spring, Brown is expected to shift to the middle from the outside and create one of the most talented linebacker groups in the country. If Brown stays on the outside, Ronnie Feist will get the start in the middle.
Behind Brown and Feist will be Trey Grainer, a rising redshirt freshman who will see the field starting in August.
Two-Deep
1. Lamin Brown (Sr.) or Ronnie Feist (So.)
2. Trey Grainer (Fr.)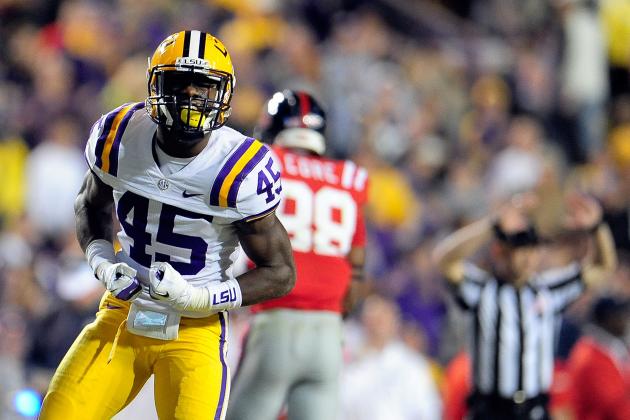 Stacy Revere/Getty Images

The linebacker position is still up in the air heading into spring. If Lamin Brown shifts to the middle, Deion Jones will step in as the starter, but if Brown stays they will rotate on the field as a dangerous tandem.
It is almost certain that a shift for Brown is coming to get experience into a defensive leadership position.
D.J. Welter and Lorenzo Phillips will battle for the backup role behind the two incumbent starters for the Tigers.
Two-Deep
1. Deion Jones (So.) or Lamin Brown (Sr.)
2. Lorenzo Phillips (Fr.) or D.J. Welter (Jr.)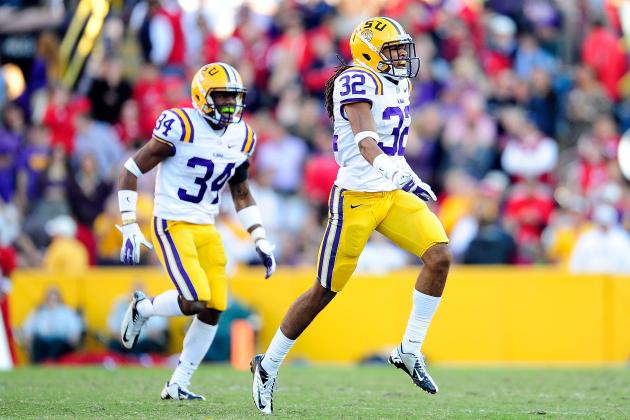 Stacy Revere/Getty Images

The corners are locked down with talent for LSU for 2013 with Jalen Collins and Jalen Mills stepping in as starters.
At left corner Collins is expected to battle Kavahra Holmes this spring for the starting position, but Collins is a lock for the start, barring injury.
Two-Deep
1. Jalen Collins (So.)
2. Kavahra Holmes (So.)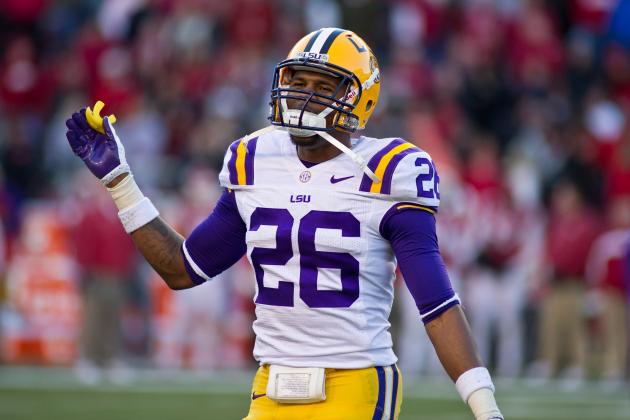 USA TODAY Sports

Free safety is a wide open competition in Baton Rouge after the departure of longtime starter Eric Reid after this past season.
There are two leading candidates for the job with Ronald Martin and Jerqwinick Sandolph expected to be the two names squaring off for the starting spot.
Martin has experience after playing sparingly a year ago and Sandolph was a scout team warrior in 2012 that has earned a shot at a starting position for the Bayou Bengals.
Heading into spring, Martin is expected to be the front-runner.
Two-Deep
1. Ronald Martin (So.)
2. Jerqwinick Sandolph (So.)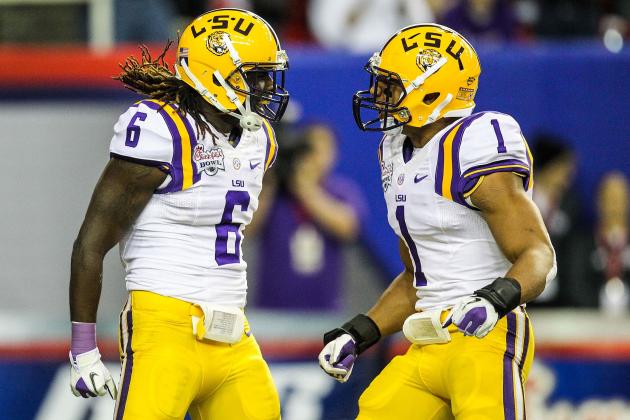 USA TODAY Sports

After weighing his options with the pros, Craig Loston decided to return to the Tigers program for his senior season.
That gave the Tigers a leader and experienced starter to help anchor the secondary heading into the new year.
Loston was a head hunter last fall, and heading into 2013 he is expected to take on the same role and destroy ball-carriers.
Behind Loston will be Micah Eugene and Corey Thompson. Both are rising stars at the position and should have a heated battle for the No. 2 spot at strong safety this spring.
Two-Deep
1. Craig Loston (Sr.)
2. Micah Eugene (So.) or Corey Thompson (So.)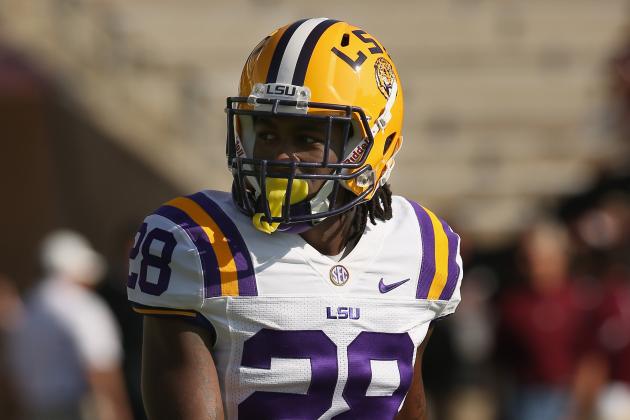 Ronald Martinez/Getty Images

The right corner position is locked down by Jalen Mills heading into the spring. Dwayne Thomas is a rising challenger, but Mills has the experience and is as talented as any corner in the country.
The Tigers will be dangerous on the outside of the defense this fall with Mills helping run the show.
Two-Deep
1. Jalen Mills (So.)
2. Dwayne Thomas (So.)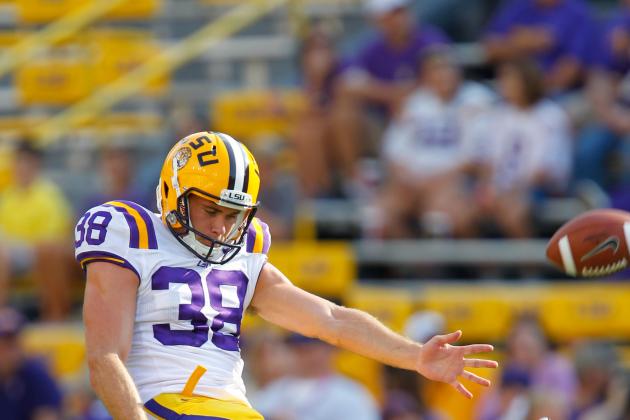 Derick E. Hingle-USA TODAY Sports

The Tigers lose both starting specialists from 2012 heading into spring, but there is plenty of talent to go around at the positions.
At place kicker James Hairston is expected to take over, and at punter Jamie Keehn will return to the lineup.
Last season Keehn saw a number of games because of suspensions handed out to former punter Brad Wing.
Depth Chart
Kicker: James Hairston (Jr.)
Punter: Jamie Keehn (So.)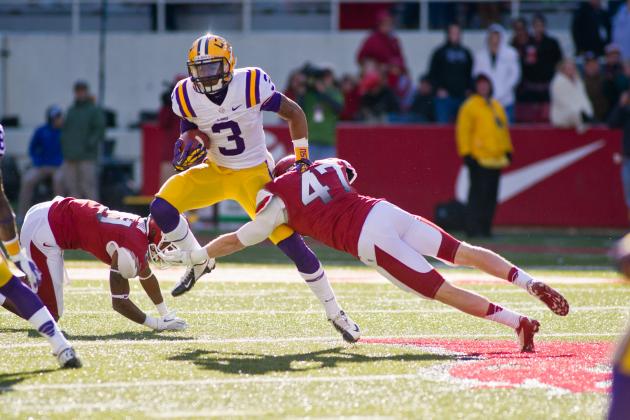 USA TODAY Sports

LSU returns both key return men with punt return duty falling to Odell Beckham Jr. and kick return duty falling to Jarvis Landry.
Junior Terrence Magee is the backup punt returner and second kick return man for the Tigers.
Punt Return Two-Deep
1. Odell Beckham Jr. (Jr.)
2. Terrence Magee (Jr.)
Kick Return Depth Chart
Jarvis Landry (Jr.) and Terrence Magee (Jr.)