New York Knicks vs. Denver Nuggets: Preview, Analysis and Predictions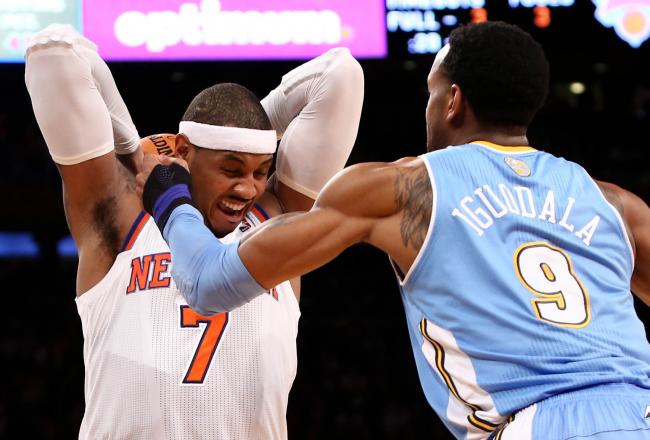 Debby Wong-USA TODAY Sports
The Denver Nuggets (43-22) are hosting the New York Knicks (38-23) in a game between two of the top teams in the NBA.
There's always plenty to get excited about when these squads clash and it should be more of the same when the action heads to Denver on Wednesday evening.
Let's take a look at where you can watch the game, which players to keep an eye out for, a key storyline in play for this contest and much more in our game preview for the Knicks at Nuggets.
When: Wednesday, Mar. 13 at 10:30 p.m. ET
Where: Pespi Center, Denver, Co.
Watch: ESPN
Live Stream: ESPN3 (check coverage map here)
Knicks Injury Report (via USA Today)
F Amar'e Stoudemire, Out, Knee
F Rasheed Wallace, Out, Foot
Nuggets Injury Report (via USA Today)
No major injuries to report
Key Storyline: Carmelo's Return
Surprisingly enough, this is the first time that Carmelo Anthony will be playing in Denver since the Nuggets dealt him to the Knicks over two years ago.
Because the lockout-shortened 2011-12 schedule avoided having New York travel to the Mile High City—and the Knickerbockers had already played the Nuggets in 2010-11 prior to the blockbuster trade—'Melo has never had a chance to return to the Pepsi Center wearing a visitors uniform.
It remains to be seen how the Denver faithful will handle his presence, but we imagine the reaction will not be too strong towards either end of the spectrum.
In fact, the Nuggets may have wound up with the better end of the transaction, as the superstar netted the organization a number of key pieces and draft picks that are readily contributing on a nightly basis.
Expect a smattering of boos and cheers when No. 7 is introduced for the Knickerbockers, but this isn't likely to become an emotional affair for either side—even if 'Melo puts the team on his back and lights up the scoreboard.
Key Matchup: Ty Lawson vs. Raymond Felton
While all eyes will be on Anthony and his performance against the organization that drafted him back in 2003, the game will likely be won and lost by the play of these two starting point guards.
Both Lawson and Felton are quite familiar with one another, as both attended and played college basketball for North Carolina. They were teammates on the Nuggets for a brief stretch in 2011, when Felton was shipped to Denver as part of the Carmelo mega-trade that February.
When they play against each other on Wednesday night, it's going to be thrilling.
These are fast-paced guards that like to push the ball in transition, run the floor to get easy buckets and find opportunities to set up teammates.
Lawson has been especially deadly as of late, averaging a whopping 17.0 points, 7.1 assists and 2.8 rebounds during the 2012-13 campaign. He's developing into the crunch-time shot taker the Nuggets need and finally hitting on shots from all over the floor.
Felton, a player not lauded for his defense, is going to have to do his best to contain such a dynamic offensive force if the Knicks are to pull out a win on the road.
Prediction
Over the past few seasons, the Nuggets and Knicks have treated us to quite a few high scoring, back-and-forth, wire-to-wire affairs.
We think this one is going to be much of the same, especially when you factor in the matchups and the possible ramifications of Carmelo Anthony's homecoming.
Unfortunately, the Knicks will be without a key player—Amar'e Stoudemire.
STAT's been a steady presence in the Knicks lineup since returning from injury on Jan. 1, but will be sidelined for at least the next month. His absence is already having measurable effects on the team's ability to win.
While the team managed to overcome a mediocre Utah Jazz team at home, the Knickerbocker's west coast road trip started off miserably. They fell, 92-63, to the Golden State Warriors in one of the most embarrassing losses we've seen in quite some time.
Because of this lackluster start and Stoudemire's absence, we're giving the edge to the Nuggets.
Denver possesses a more complete team, has health on its side and a plethora of lineups that coach George Karl can—and will—deploy to confuddle the opponent.
This battle may be close, but the Nuggets will persevere.
Nuggets 114 – Knicks 109
This article is
What is the duplicate article?
Why is this article offensive?
Where is this article plagiarized from?
Why is this article poorly edited?