What to Expect from 2nd Round of the World Baseball Classic: Pool 2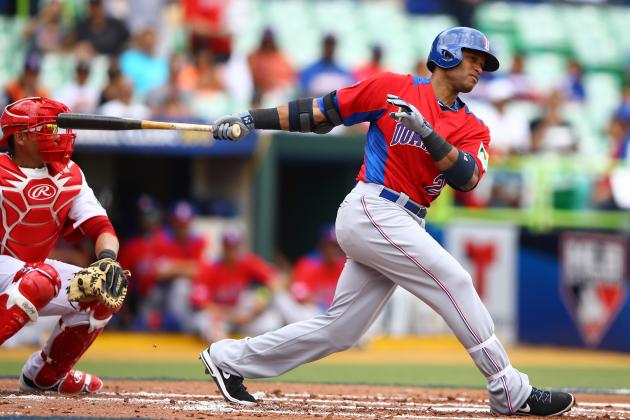 Al Bello/Getty Images
Robinson Cano has been lights out in the Classic.
The World Baseball Classic is off to an entertaining start. We saw late-game heroics, a bench-clearing brawl and plenty of runs in the first round.
A powerful Venezuelan team was eliminated, as was Mexico.
The Netherlands have seen surprising success. After a lopsided defeat at the hands of Japan, 16-4, the Dutch have reached the Championship Round with a 7-6 victory over Cuba.
Atlanta Braves shortstop Andrelton Simmons hit a game-tying two-run home run in the bottom of the eighth before former Braves great Andruw Jones scored the winning run on a walk-off sacrifice fly.
Japan, with two wins already in the second round, has also advanced to the Championship Round.
This sets the table for Pool 2, which starts at 1 p.m. ET on Tuesday.
Here's what you can expect from each team.
Begin Slideshow

»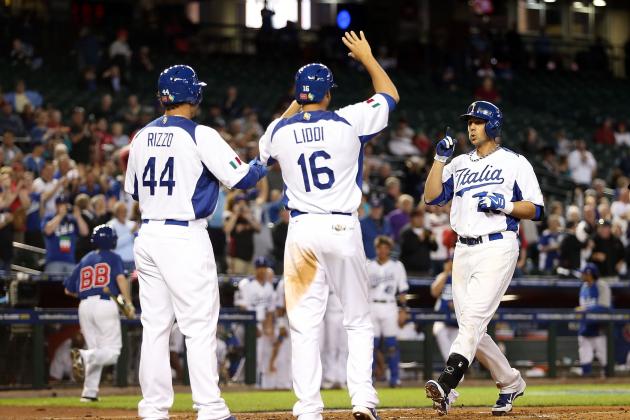 Christian Petersen/Getty Images
The Italians still have something left to prove.
Italy impressed in the first round of the Classic, defeating both Mexico and Canada. They finished the pool with a 2-1 record.
A loss to the United States in game three still earned the Italians a trip to Miami for the second round.
Deeper into the tournament, the competition is fiercer. With Puerto Rico, the Dominican Republic and the United States, Italy is set to clash with some of baseball's biggest names.
Cubs first baseman Anthony Rizzo was as surprised as anyone to see his team advance. He told Bruce Levine of ESPNChicago.com,
I expected to be back in camp today (for the duration of the spring) but that is the beauty of the game. This is a huge deal for the country of Italy.
Italy is playing great team baseball, seeing contributions from a variety of players on their way to Miami.
For Italy, the Classic is a way to put baseball on the map in their country. It's going to take some pride and hustle to get through another round.
The intensity will be there. The fight will be there. The Italians won't let up. They will just face some tough opponents.
With no true depth, the Italians lack quality pitching for this round. They'll put up a fight and stay in games, but opening the round with the Dominican Republic could put them in an early hole that's not easy to climb out of.
When it's all said and done, the Italians ride will come to an end in South Beach.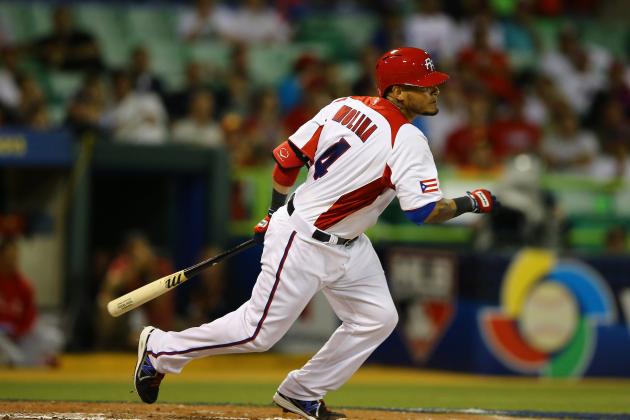 Al Bello/Getty Images
Yadier Molina is a big reason Puerto Rico was able to escape Pool C.
The pitching staff for Puerto Rico has performed exceptionally well, holding Venezuela and the Dominican Republic to just seven runs. Shutting out Spain in the opener, those seven runs are all the Puerto Ricans have given up.
San Francisco Giants center fielder Angel Pagan remarked to Jorge Ortiz of USAToday.com,
The expectations for us were low, a lot of people saying we didn't have enough pitching and were too young. But we focused on our goal as a team, not on what anybody else said. And we accomplished it.
Despite the early successes, expect the Puerto Rican pitchers to have a tough time in the second round. Facing some prominent lineups, it will be difficult for them to match up with the talent in Pool 2.
Puerto Rico will rely heavily on their major-league ballplayers to carry them to glory. They have enough bats to go on a run, and it shouldn't come as a surprise if that's what we see.
However, I expect Puerto Rico to take a step back from their first-round success. The inexperienced pitching is going to catch up to them.
They will surely give the United States a run for their money in the first game as it will be the biggest game of their Classic. The outfield of Carlos Beltran, Pagan and Alex Rios know how important that game is.
There is a chance for Puerto Rico to escape defeat against both USA and the Dominican Republic, though it isn't likely.
For Puerto Rico to advance, they'll have to beat one of them. Look for a competitive match against the Americans, but ultimately, the Puerto Ricans will fall short, putting them in a hole like that of Italy.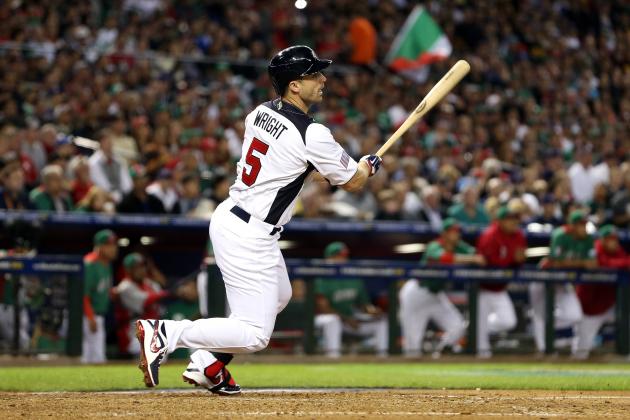 Christian Petersen/Getty Images
David Wright and the Americans look to carry some momentum into Miami.
When their backs are against the wall, the United States have a group of guys that can handle the pressure.
Losing its first game to Mexico in the opening round, the Americans won the next two thanks to strong pitching from Ryan Vogelsong and Derek Holland.
It took a late grand slam by David Wright to ignite the Americans past Italy, 6-2. Then, against Canada, it was a two-run double in the eighth by Adam Jones and three-run double in the ninth by Eric Hosmer that helped get the Americans out of Pool D.
In Miami, Team USA is going to encounter some adversity. They have used rallies and clutch hits to get past teams with a majority of minor-leaguers.
Now, they face a determined Puerto Rican team in the first game of Pool 2. One thing that will be beneficial is having 21-game winner Gio Gonzalez on the hill.
While it will be a challenge, the Americans will show the world the caliber of players they are. After all, they're good enough to be an All-Star team.
While they have been able to overcome a slow start from Giancarlo Stanton (he hasn't recorded a hit yet), he needs to get a hit or two if the US wish to advance. Playing in Marlins Park should bode well for Stanton.
The offense will come. The pitching just needs to continue to be a strong point for the Americans. If the pitchers struggle, it could be hard to make up any big deficit against these three teams.
That said, this team will put it all together at the right time. They're having fun and playing together.
Anything less than a trip to San Francisco will be a disappointment. They seem to have gotten comfortable in that USA uniform and are enjoying the ride. They hope it has one more stop.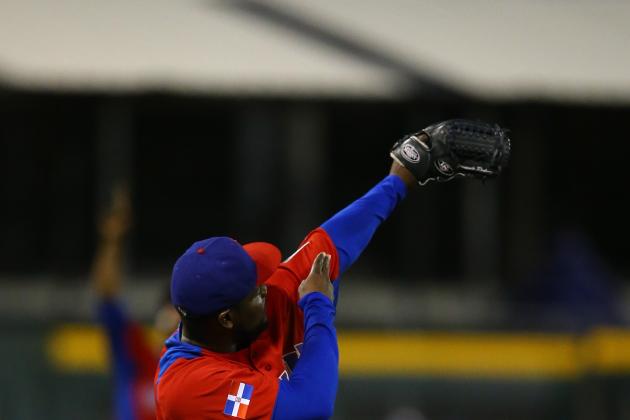 Al Bello/Getty Images
Fernando Rodney has been a stop-gap out of the bullpen.
The Dominicans have cruised into the second round, winning all three of their first-round games.
Robinson Cano has been on fire, recording three hits, including a home run, in a win over Puerto Rico. He is hitting .600 in the Classic, with three doubles and four RBI.
With a potent offense and a top-notch pitching staff, this could be the most complete team in the Classic.
Getting to the second round was expected for this team, and advancing further will rely on the offense.
The pitching can hold their own, but they're going to rely on some run support. The Dominicans haven't been short on runs, scoring 19 runs in the first three games.
In Round 2, the offense will continue to be strong and the pitching will show that the Dominicans need to be taken seriously.
With a hard-throwing bullpen that features Fernando Rodney, expect the Dominicans to keep winning.
There's a recipe for success with power and speed in the lineup. The offensive balance is what will propel them to the Championship Round in San Francisco. They have shown they can beat the top teams, knocking off Venezuela.
We'll see plenty of scoring, and a great performance from Edinson Volquez will spark this team in the second round.
It's looked easy so far for the Dominicans. The winning will continue and right now, they look like they won't lose a game the entire tournament.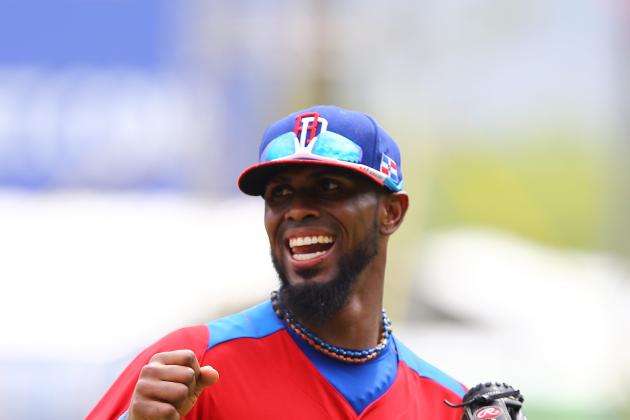 Al Bello/Getty Images
It's been all fun for the Dominican players.
When Round 2 concludes, we'll see two teams move on to San Francisco.
Italy won't have enough to keep up with some of the top baseball countries in the world. While they will scratch and claw, it's tough to see Italy come away with a win in this round.
Puerto Rico will show a ton of fight. They will keep it close against the United States on Tuesday, but when facing the Cy Young runner-up Gio Gonzalez, a potential loss in the first game will prove too costly to come back from.
There shouldn't be any surprises, but it's baseball and we've already seen some unexpected things in this tournament. However, when there are two teams filled with major-league talent that advance past the first round, it's tough to think they'll be outed in the second.
Especially when there is unfinished business. The Dominicans were eliminated early in 2009 and the Americans placed fourth, coming up short in the Championship Round.
Both of these teams have something to prove. When they're at their best, each team is very tough to beat.
One thing is certain, there's some great baseball in store for the next couple days.
It will be interesting to see who can come out on top in the game between the Dominican Republic and the United States. That could determine who the team to beat in the entire tournament is.
While every team will be battling until the final out, expect to see the USA and the Dominican Republic emerge from this pool and one step closer to World Baseball Classic champions.