Predicting the Odds Key Giants Free Agents Re-Sign with New York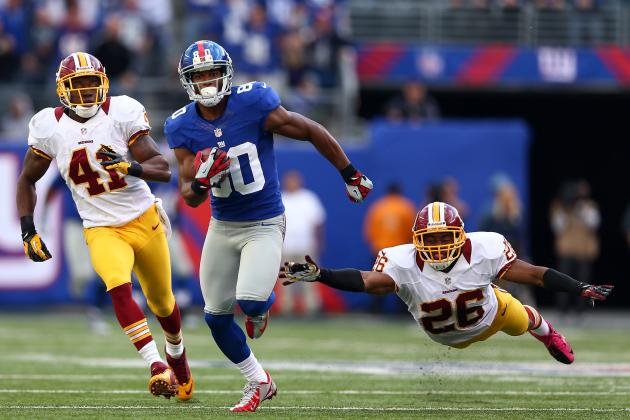 Elsa/Getty Images
Several teams will be chasing after Victor Cruz
The New York Giants entered the "new league year" this afternoon facing a litany of question marks. With a host of top players now entrenched in the wheeling and dealing of free agency, the Giants must face a stark reality. Several talented Giants are soon to be former-Giants.
Salary cap concerns combined with high-valued free agents could signify big changes on the horizon for New York.
While NFL GM's and agents squabble over a player's guaranteed money and signing bonus, most fans are simply wondering: "Will he stay or will he go?" While this question is draped in simplicity, history tells us there are no definitive answers in NFL free agency.
The process of determining the odds of a player returning to Big Blue is consummated by a variety of factors.
General Manager Jerry Reese and head coach Tom Coughlin will be evaluating their free agents primarily based on performance and potential. The Giants value hardworking athletes who are bought into their system.
Of course, we'd be remiss not to mention the dreaded "S" word. Salary is a major component of the forthcoming proceedings.
Some of New York's free agents are steeped in the tradition of the franchise. Others were just beginning to get their feet wet. With March 12th finally upon us, it no longer matters where a player has been. It's all about where they are headed. Here is a look at the odds each key Giants player will return to New York.
Begin Slideshow

»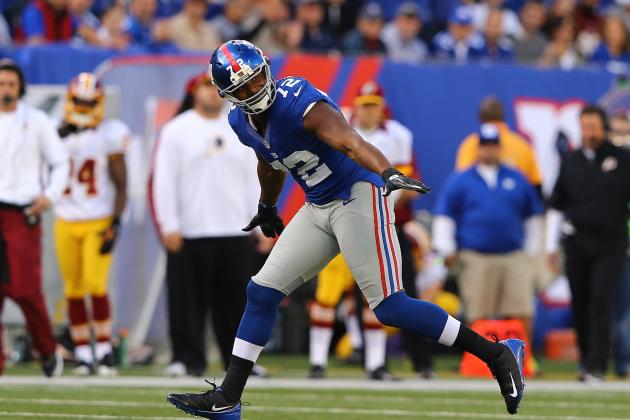 Al Bello/Getty Images
Osi Umenyiora likely has his bags packed and ready
Osi Umenyiora is undeniably one of the aforementioned all-time greats to dawn a New York Giants uniform. With 75 career sacks, Umenyiora ranks fourth on the team's all-time sacks list.
While the Giants have reveled in the prowess of their second-round pick from 2003 over the years, it may be time for a change.
The facts are not hard to find when analyzing Umenyiora's free-agent prospects. In 2010, he tallied 11.5 sacks, 10 forced fumbles and one fumble recovery. Since then, however, his production has steadily declined.
The six sacks Umenyiora recorded in 2007 against the Philadelphia Eagles are a microcosm of his maddening inconsistency. Just as easily as this player can dominate a game all by his lonesome, he can inexplicably disappear and fail to complete even the most rudimentary of assignments in defending the run.
New York will be reluctant to retain a 31-year-old defensive end who can disrupt a game for better or for worse. This two-time Super Bowl champion believes he will be the NFL's defensive player of the year in 2013. Something tells me the Giants will not buy what Osi Umenyiora is selling.
Odds of Return: 20-to-1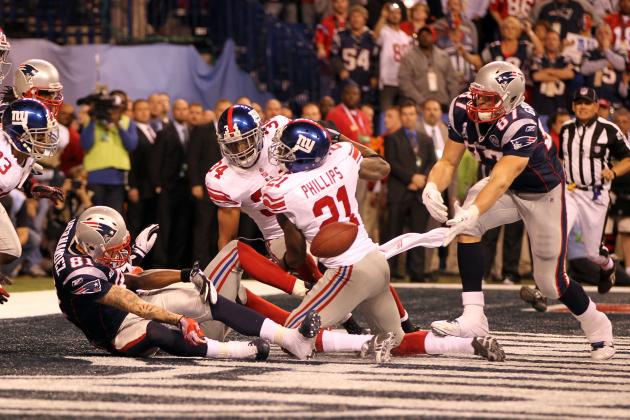 Jamie Squire/Getty Images
When healthy, Kenny Phillips can help propel a defense to a Super Bowl
Strong safety Kenny Phillips has likely seen his last days in a New York Giants uniform. Like the great crop of University of Miami safeties before him, Phillips has been an all-pro talent when healthy. The only dilemma of course, has been his inability to avoid knee injuries over the years.
Jerry Reese is likely most conflicted over what to do with Kenny Phillips than any other player.
On one hand, Reese is examining an all-around talent from the safety position who makes your defense considerably better. On the flip side, Phillips has shown he is extremely prone to missing time.
The market value of the Giants' first-round pick from 2008 is difficult to judge based on the combination of his talent and history with knee injuries.
The 5-year, $32 million deal signed by Atlanta's William Moore does not necessarily offer a comparative benchmark for Kenny Phillips. Although the Giants value Phillips' commitment and talent, they likely hesitated to offer him more than a two-year contract prior to the start of free agency.
The prevailing notion is that one of the league's 32 teams will take a chance on Kenny Phillips. At this point, the Giants do not appear to be that team.
Odds of Return: 4-to-1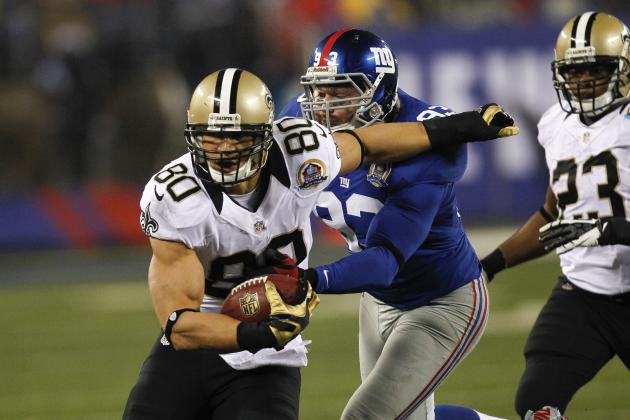 Jeff Zelevansky/Getty Images
The Giants could continue their efforts to get more athletic at linebacker
Chase Blackburn is coming off a career-best campaign as the Giants starting middle linebacker in 2012. Blackburn recorded 98 tackles, three sacks and five forced fumbles in an enhanced role for the club.
Despite the fact that Chase Blackburn is a hardworking overachiever who performed admirably last season, the Giants have allowed him to test free agency.
Jerry Reese's thought process in this matter likely boils down to two factors.
The Giants are in the process of trying to get younger on defense, as indicated by their release of Michael Boley and Chris Canty. While Blackburn is a leader for New York's defense, the team could certainly use an upgrade in terms of speed at the linebacker position.
The Giants likely saw no downside in allowing Chase Blackburn to test free agency. The overall lack of speed and coverage skills possessed by this eight-year veteran likely means Jerry Reese's contract offer was modest.
If Blackburn cannot find a higher suitor in free agency, he will return to the club at a reasonable price.
Odds of Return: 1-to-1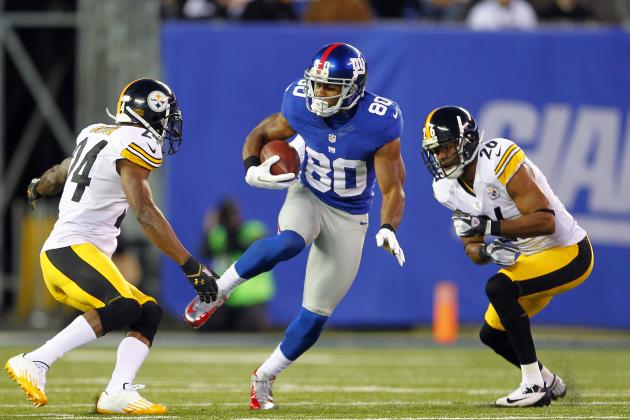 Rich Schultz/Getty Images
It has taken just three short years for Victor Cruz to rise to stardom
The star potential Victor Cruz has realized will make him an extremely sought after commodity...next season. New York's decision to first-round tender their Pro Bowl receiver is only a slight gamble.
Victor Cruz has a distinct and discernible path to follow moving forward.
A year ago, Pittsburgh's Mike Wallace frustratingly searched for big money as a restricted free agent. The first-round tender slapped on him by the Steelers, however, made him an unwanted commodity. This spring, Wallace has cashed in as an unrestricted free agent.
The Giants have placed Victor Cruz in a similar quandary.
Teams must relinquish a first-round pick and a lucrative long-term deal for this salsa-dancing extraordinaire. The Giants will subsequently have five days to match any offer. In the event that Cruz does not sign an offer sheet with another team, he will be paid approximately $2.88 million in 2013.
Victor Cruz might not want to admit it, but he benefits tremendously in terms of marketability if he remains in New York. The Giants might not want to admit it, but Victor Cruz has been a top-tier receiver and role model in recent years.
Posturing aside, both sides know their marriage is mutually beneficial. For now, expect Victor Cruz to remain a Giant.
Odds of Return: 1-to-3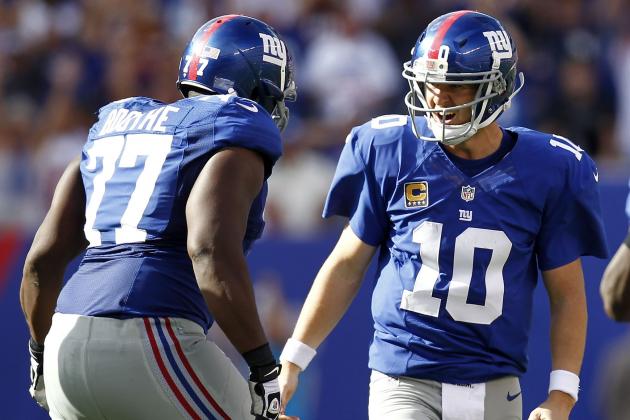 Jeff Zelevansky/Getty Images
Kevin Boothe has developed into a solid all-around player
Kevin Boothe's status as an unrestricted free agent comes as a bit of a shock. Boothe has performed well as the starting left guard in New York.
When the Giants locked up left tackle Will Beatty two weeks ago, it appeared as though Kevin Boothe would be next in line to be addressed.
The tandem of Beatty and Boothe on the left side of the offensive line has developed into a strength for the Giants.
Despite the fact that Chris Snee made the Pro Bowl in 2012, the argument can easily be made that Kevin Boothe was New York's best offensive lineman last season. The market for this under-the-radar guard should be reasonable. The Giants also have very few options by way of reinforcements.


Odds of Return: 1-to-5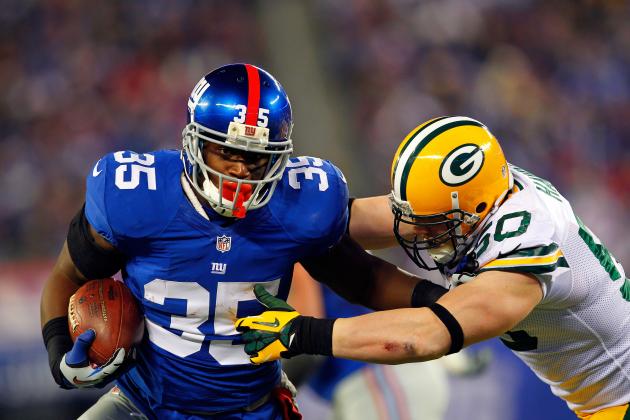 Rich Schultz/Getty Images
Expect Andre Brown's violent running style to return to New York next season
Andre Brown did just enough last season to peak the interest of Giants fans. Before breaking his fibula in Week 12 against Green Bay, Brown recorded 385 yards on just 73 carries (5.3 YPC).
The way this running back can compliment David Wilson in the coming years is the main reason why the Giants will retain his services.
The Giants have consistently struggled on short-yardage situations over the years. A common misconception was that the burly battering ram by the name of Brandon Jacobs was an accomplished short-yardage runner.
In reality, Andre Brown proved he can be the best goal-line running back the Giants have had in quite some time. Eleven percent of Brown's carries were converted to touchdowns last season. Jerry Reese has to figure if Brown can stay healthy, he can be a great change of pace back with David Wilson moving forward.
Odds of Return: 1-to-10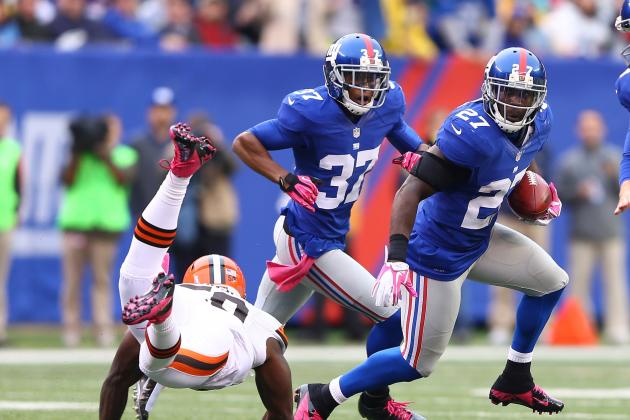 Al Bello/Getty Images
Stevie Brown made quite the impact in his first year with New York
In an ideal world the Giants will roll out a three-safety look with Antrel Rolle, Kenny Phillips and Stevie Brown on opening day in September. As we all know, things rarely work according to plan during free agency.
Stevie Brown is not a particularly fast or versatile player from the safety position. What this player lacks in physical tools, however, he makes up for in aggressiveness.
Brown forced 10 turnovers in 2012, developing quite the reputation as a ball-hawking safety.
The Giants probably figure his eight interceptions were an aberration, but they should be encouraged by the prospects of having a young, hard-nosed player patrolling the secondary. Brown has had a second-round tender placed on him as a restricted free agent. This move by Jerry Reese all but assures the team will have him back in 2013.
Odds of Return: 1-to-50