Big Ten Tournament 2013: Round-by-Round Predictions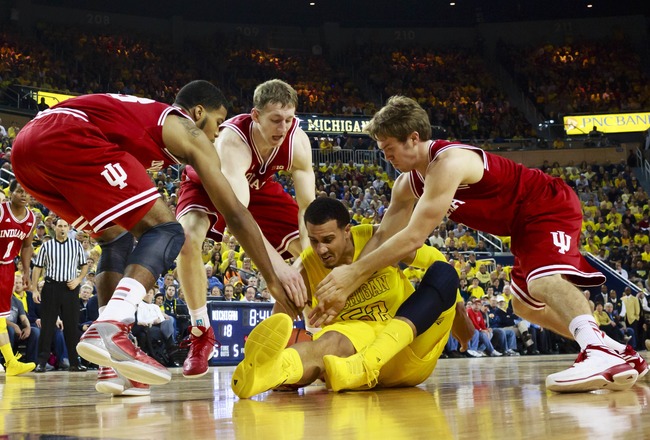 Rick Osentoski-USA TODAY Sports
The 2013 college basketball season was one of legendary proportions for the Big Ten. Five teams finished ranked in the Top 25 nationally and four are currently in the Top 10.
From Mar. 14 to Mar. 17, however, those rankings will be meaningless. Instead of national recognition, we will crown the king of the nation's most powerful conference.
So who will be the Big Ten conference tournament champion?
Some might be inclined to go with the powerhouse in this instance. The issue, of course, is that half of the bracket is made up of world-class teams.
Let the games begin.
First Round
USA TODAY Sports
No. 8 Illinois vs. No. 9 Minnesota
When it comes to first round matchups, it doesn't get much better than this.
Both of these teams will be competing for a spot in the NCAA tournament. Illinois is 21-11, while Minnesota is 20-11.
Both teams have lost two in a row entering this contest.
As for who will win, look for Brandon Paul to try his hand at deciding that. The super-scorer of Illinois will do all he can to light up the scoreboard and pull out this W.
Unfortunately, Paul and Illinois pale in comparison to what the Golden Gophers possess—depth.
Andre and Austin Hollins will pace Minnesota along the perimeter, while Rodney Williams and Trevor Mbakwe will pound it inside. Even still, we'll see this one come down to the wire.
An attempt to tie it at the buzzer will rattle out as Minnesota holds on.
Minnesota 73, Illinois 70
No. 5 Michigan vs. No. 12 Penn State
How angry do you think the Michigan Wolverines are about blowing a win against Indiana and falling all the way to a fifth seed? I'd say very, very mad.
Penn State will feel their wrath.
Trey Burke will be out to make up for his missed game-winning layup attempt against the Hoosiers. In turn, he'll drop a double-double en route to solidifying his status as the Big Ten Player of the Year.
They'll fight until the final buzzer, but this will be a rough one for Penn State.
Michigan 83, Penn State 66
No. 7 Purdue vs. No. 10 Nebraska
Purdue made their mark by picking on the weaker teams in the Big Ten. With that being said, they've also defeated No. 22 Wisconsin and Minnesota over the past two weeks.
Terone Johnson and A.J. Hammons will continue that trend of success against an inferior Nebraska squad.
The Cornhuskers are capable of an upset, but the numbers suggest they'll fall short. As for why, their top two scorers are both shooting below 38 percent from the field.
Against a Purdue team that limits second-chance scoring opportunities as well as any, Nebraska will be in trouble.
Purdue 61, Nebraska 50
No. 6 Iowa vs. No. 11 Northwestern
The Iowa Hawkeyes may be an under-the-radar team, but they're one that could make noise. As an elite rebounding squad with a star scorer in Roy Devyn Marble, the potential is there for a future upset.
To reach that opportunity, however, they must get past Northwestern.
If there is one thing that Northwestern thrives at, it's moving the ball. Unfortunately, that's just about all the Wildcats will be able to do against Iowa.
The Hawkeyes make a statement here.
Iowa 70, Northwestern 59
Quarterfinals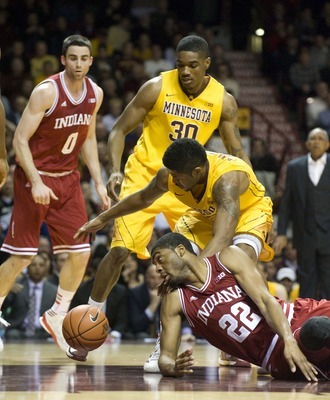 USA TODAY Sports
No. 1 Indiana vs. No. 9 Minnesota
On Feb. 26, the Minnesota Golden Gophers pulled off a major upset of then-No. 1 Indiana. This time around, the Hoosiers will be looking to exact a measure of revenge as they pursue their first conference tournament title in school history.
Victor Oladipo will be a driving force behind their success.
Oladipo was edged out by Trey Burke for the Big Ten Player of the Year award. With that being said, Oladipo did win the Big Ten Defensive Player of the Year honor.
He'll show Minnesota why as he shuts down Austin and Andre Hollins.
Indiana 78, Minnesota 66
No. 4 Wisconsin vs. No. 5 Michigan
On Feb. 9, the Wisconsin Badgers defeated the Michigan Wolverines by a score of 65-62 in overtime. The Badgers forced overtime with a buzzer-beating half-court heave by Ben Brust.
Will we see the same heroics in March?
This will be a close game, as neither team will gain too much of an offensive edge. Both defenses will be out in full force and neither coach will give an inch as they keep the opposing stars in check.
Conventional wisdom suggests that Wisconsin will catch Michigan looking ahead to a potential rematch against Indiana. The fact of the matter is, the Wolverines have a bone to pick with Wisconsin, as well.
Trey Burke will show the world why he's Big Ten Player of the Year, and Glenn Robinson III will have his coming out party. Wolverines win a typically difficult Big Ten game.
Michigan 67, Wisconsin 63
No. 2 Ohio State vs. No. 7 Purdue
Purdue could give Ohio State trouble. The combination of A.J. Hammons manning the interior and D.J. Byrd along the perimeter can be lethal.
With that being said, the Buckeyes have far too much star power to trip up this early. Not with Deshaun Thomas performing as dominantly as he is.
Aaron Craft will play smothering defense, Lenzelle Smith Jr. will stroke it from beyond the arc and Shannon Scott will emerge as a Big Ten tournament star. Together, the Buckeyes' usual suspects will secure the W.
A very encouraging win by Thad Matta's crew.
Ohio State 69, Purdue 56
No. 3 Michigan State vs. No. 6 Iowa
If not for a late-season three-game losing streak, the Michigan State Spartans would have won the Big Ten regular-season title outright. Unfortunately, they suffered those losses and are now on upset alert.
The Hawkeyes aren't as skilled as the Spartans, but they thrive on the glass. This will enable Iowa to create second-chance scoring opportunities and force MSU out of their comfort zone.
Unfortunately for Iowa, Michigan State is coached by Tom Izzo—the defense will step up.
Adreian Payne will begin his path to NCAA superstardom by posting a monster stat line. More importantly, he'll space the floor with his shooting and pound it inside to draw Iowa into foul trouble.
It will be a tough game, but the Spartans will emerge.
Michigan State 66, Iowa 59
Semifinals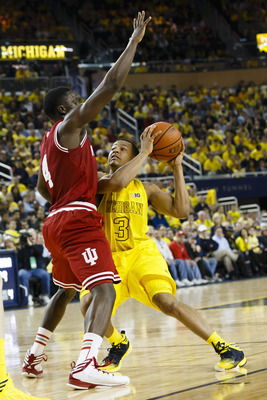 Rick Osentoski-USA TODAY Sports
No. 1 Indiana vs. No. 5 Michigan
This is the rematch that we've all been waiting for. As fate would have it, we're not just looking at one team hoping to exact revenge on the other.
Michigan wants to make up for their loss on Mar. 10. Victor Oladipo wants to make a statement against Trey Burke, who beat out the Indiana shooting guard for Big Ten Player of the Year.
Oladipo will succeed in doing just that, as his defensive pressure forces Burke into another poor shooting night. But will it be enough?
Indiana won the previous game due to Michigan's lazy final minute defense. Just as it appeared as if the Wolverines had it in the bag, Cody Zeller scored six points in 41 seconds to secure the W.
All of those buckets came as a result of plays in the paint.
This time around, the Wolverines will smother Zeller and take him out of his comfort zone. With Burke unable to get going, however, the Wolverines will be at risk of losing.
When it comes down to it, Nik Stauskas will outshoot Jordan Hulls and Tim Hardaway Jr. will continue his legend as a clutch scorer. Fortunately for the Hoosiers, Will Sheehey will continue to be in the right place, at the right time.
At the buzzer, however, it will be another man who makes his mark—Glenn Robinson III.
Michigan 77, Indiana 76
No. 2 Ohio State vs. No. 3 Michigan State
As the other game garners the headlines, this might just be the best one we see all tournament. Even if the points aren't quite at a premium.
Keith Appling will start out hot, but Aaron Craft will adjust to shut him down during late-game situations. This will lead to a battle of interior forces, as Adreian Payne and Deshaun Thomas trade buckets.
So whose supporting cast will win it late?
Ohio State's Lenzelle Smith Jr. is a legitimate X-factor. With his three-point shooting and unheralded rebounding prowess, the wingman could be the difference in this game.
In that same breath, freshman Gary Harris is due for a coming out party. Where better than the grandest stage of them all?
A late rally by the Spartans will make it interesting. Ohio State's inability to convert free throws will make it a MSU win.
Michigan State 68, Ohio State 64
Finals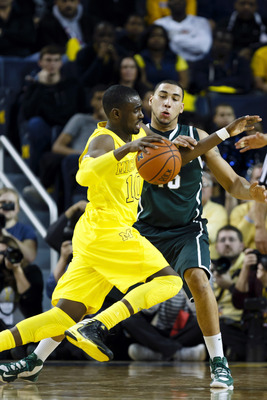 Rick Osentoski-USA TODAY Sports
No. 3 Michigan State vs. No. 5 Michigan
Now that the Michigan Wolverines have downed the Indiana Hoosiers, they're bound to have a cakewalk to the Big Ten title. Right?
Wrong.
Michigan State may not garner the national respect they deserve, but that doesn't mean they'll lay down. The Spartans possess a dominant interior force and match up well along the perimeter.
So how will this rivalry game go down?
The in-state rivals split their season series—that will be reflected in a tale of two halves. Michigan State will control the first half, with Adreian Payne imposing his will down low.
As we've seen time and time again, however, Trey Burke will lead a furious comeback.
The Wolverines will tie it up with just under 3:00 remaining, thus resulting in the most invigorating closing minutes of the 2013 season. Payne will continue to pad his double-double, while Nik Stauskas will counter with the three-ball.
When it comes down to the final minute, however, there will be pandemonium.
Michigan State 77, Michigan 76
Keep Reading