Top 10 Athletes Sneakers Other Than Air Jordans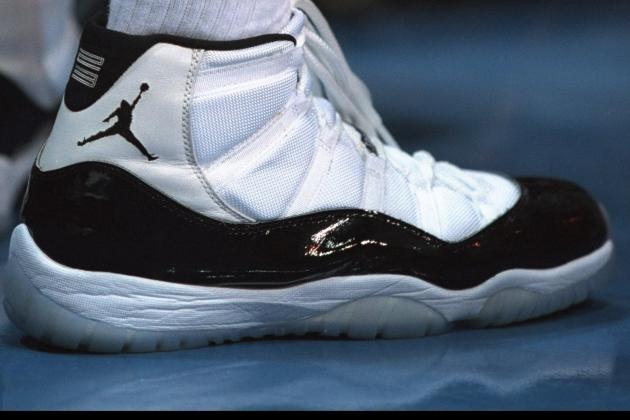 Getty Images/Getty Images

I am a sneakerhead. My first love is the Air Jordan line, but there have been many great kicks designed by other great athletes. So I made a list of 10 sneakers in no particular order that pays respects to few other sneakers and the men who played or trained in them.
From Bo Jackson to Shawn Kemp, prepare to feast your eyes on some incredible footwear. Not only did the shoes help bring some athletes into more spotlight, but a few of these sneakers had amazing campaign ads. For instance, once I see Bo Jackson's Nike Air Trainer SC High, I immediately think of the "Bo Knows" slogan.
Since there are so many great kicks out there I have not included any current athlete's sneakers like LeBron James, Kobe Bryant or Kevin Durant.
Begin Slideshow

»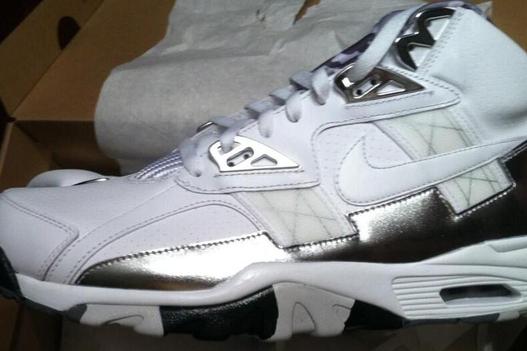 My pair of retro SC Trainers Quickstrike
Right after Michael Jordan, Nike found another gold mine with Bo Jackson. The two-sport athlete had a few sneakers before he hit the big time with this cross trainer. Since Bo was known for playing football and baseball, he was always working out. Nike designed a shoe that conformed to Bo's workout routine.
The shoe's original colorway was orange, blue and white to pay homage to Jackson's college Auburn. Eventually Nike released the shoe in the Raiders colors of silver and black with the number 34 on the heel. Now Nike has retroed the SC Trainer in many different colorways. Just as Bo was a duel threat playing football and baseball, his kicks followed suit. They were a great looking shoe and were able to keep up with your workout.
You could even say the "Bo Knows" ad campaign was bigger than the sneaker itself. Heck, even Sonny Bono made a cameo in the TV commercial.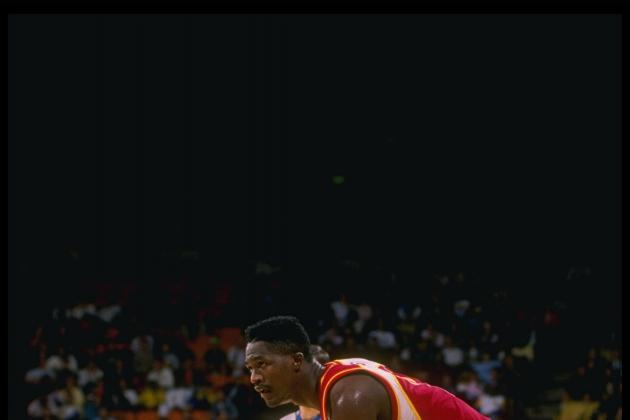 Ken Levine/Getty Images

Dominique Wilkins dazzled NBA fans with his thunderous dunks, so he had to have his own pair of sneakers to match his playing style. With that said, enter the Reebok Pump Twilight Zone. Nike's rival was looking to take part in the sneaker game by using one of the players that would give MJ a run for his money, especially during the Slam Dunk contests.
Reebok used The Human Highlight's power to tell consumers that this sneaker will cushion your feet from all the jumping you will be doing on the court. Even in the ad Wilkins told Michael if he wanted to fly first class he needed to "Pump up and air out." The funny thing in that TV commercial was Wilkins was not holding Jordan's sneakers but a shoe worn by David Robinson. Still you have to hand it to Reebok and Dominique for coming up with a great looking pair of shoes.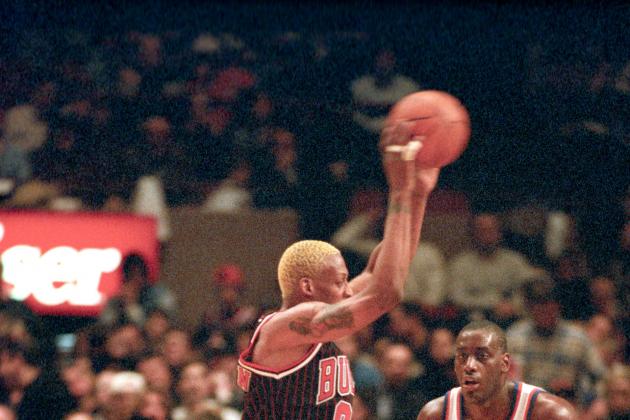 Tom Berg/Getty Images

This Nike Air design was made famous by Dennis Rodman during his run with the Chicago Bulls in 1996. During that year Nike had MJ playing in one of the most iconic sneakers of all time, the Air Jordan XI. The Ndestrukt took a few design concepts from the AJ XI. There was patent leather on the side of the shoe just like the AJ XI that was on a few colorways of the Ndestrukt. There was an enlarged Swoosh logo that covered the shoe from one side to the other.
Just like Rodman during his time on the Bulls, the Ndestrukt stood out from the crowd. You could see his shoes coming from miles away and it didn't even have brightly colored hair to make you take notice.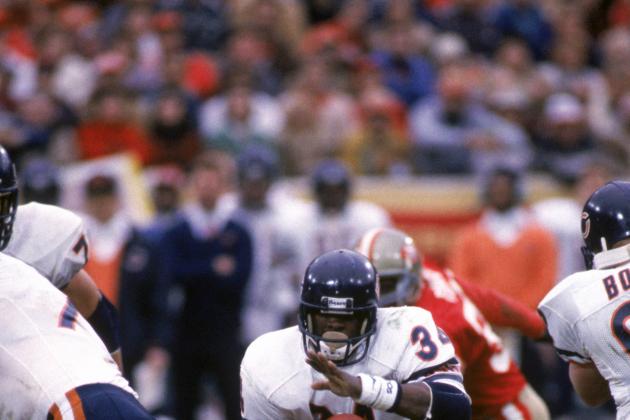 George Rose/Getty Images

MJ is not the only notable Chicago superstar athlete to have a sneaker. The Chicago Bears running back great Walter Payton had his own sneaker line through a company called KangaROOS. The man known as Sweetness had left the NFL with great memories both on and off the field. If you watch highlights of Walter you will see the man running in sneakers with a kangaroo logo up and down the field avoiding tacklers left and right.
Recently, KangaROOS released a few pairs from the Walter Payton line and some of the proceeds went to the Walter & Connie Payton Foundation.
One of the things I will always remember about this sneaker was that it had a zipper lined pocket that you could keep a few dollars in for when the ice cream truck came by. Not really the idea KangaROOS had in mind, but it worked out for me.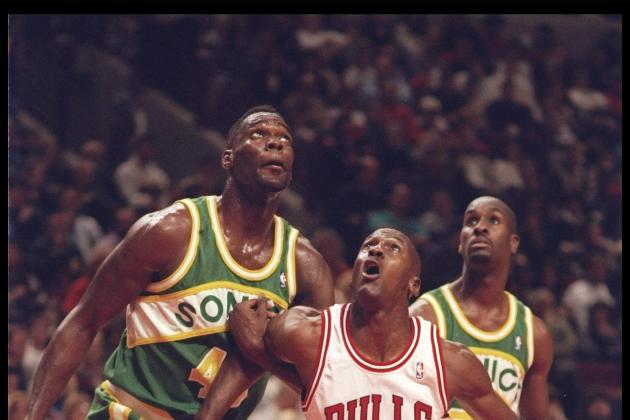 Jonathan Daniel/Getty Images

Just like Dominique Wilkins, Reebok added another electrifying player to their shoe game. Back when the Oklahoma Thunder played in Seattle under the team name the SuperSonics, Shawn Kemp showed off his leaping ability. Before there was lob city in Los Angeles, there was the duo of Gary Payton and Shawn Kemp that kept fans wanting more with their signature alley-oop dunks.
Payton would throw a perfect pass up to the Reign Man and he would throw it down with ease. Kemp had the perfect sneaker in the Kamikaze II to match his crazy and flamboyant style. Reebok had some unique designs and this sneaker just proves it.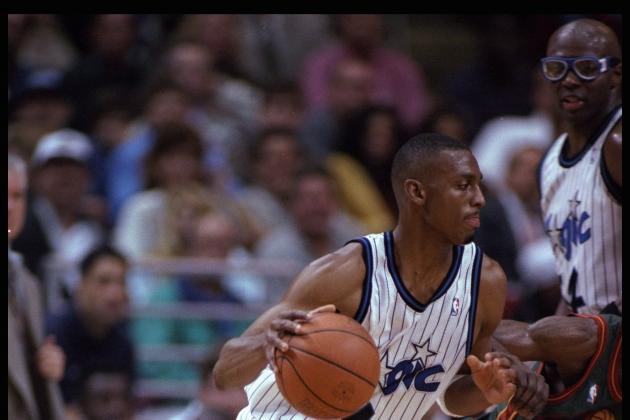 Getty Images/Getty Images

The Nike Air Penny started a wave of shoes designed for Anfernee 'Penny' Hardaway. These days there are a ton of different sneakers retroed from the Penny line, but I have to give respect to the first edition from the Hardaway line. Just like Jordan had Spike Lee in his Air Jordan commercials, Penny had Chris Rock's voice Lil' Penny, a marionette that went to high school with Kevin Garnett.
The Air Penny 1 came out in beginning of the '95-96 season. This shoe paved the way for the now highly sought after Foamposite as well as Nike's Uptempo line. This Penny 1 even had the half cent design which was Lil' Penny's number when he wore his tiny Orlando Magic jersey.
Otto Greule Jr/Getty Images

The Nike Air Diamond Turf II was Nike's way of trying to capture lighting in a bottle twice by marketing a shoe for another two-sport athlete. This time it was for Deion "Prime Time" Sanders. The Air Diamond Turf II was released back in 1993.
Deion's sneakers allowed for great footing and traction on the diamond or field. This was a plus for him especially in the '90s when some of the football fields were in the same stadium where baseball teams had played their games. In those stadiums, Sanders had a leg up thanks to his shoes since he needed all the advantage he could get as he wasn't that great of an athlete...oh wait.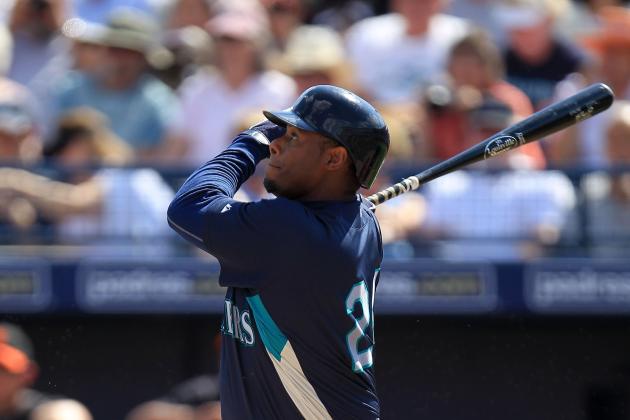 Chris McGrath/Getty Images

One of the purest hitters in the game, Ken Griffey Jr., was a player that was always fun to watch. Even during batting practice before a game, Ken looked so relaxed while he was in the batting cages. He would stroll into the batter's box with his hat backwards and a smile from ear to ear enjoying every moment out on the field.
Nike and Griffey teamed up to start his own shoe collection and the Air Griffey Max was born. Griffey always wanted his own shoe and made sure the designers at Nike got it right. He wanted the shoe to stand out with a fresh look and cool colors. Ken got his wish and the Air Griffey Max is still the desire of many sneakerheads.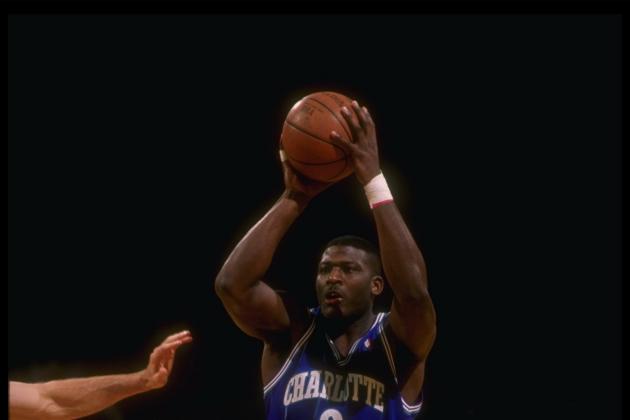 Otto Greule Jr/Getty Images

Before there was Tyler Perry's Madea, Converse had "Grandmama" as they brought Larry Johnson on board for his own signature shoe. Larry Johnson was first skeptical about dressing in drag to sell basketball sneakers, but with some faith he had in the marketing team, he donned a dress and bonnet. This campaign was so successful that it even landed Johnson a spot on the sitcom "Family Matters."
The Aero Jam had the REACT juice embedded in the heel of the shoe to help provide cushioning and support. The sneaker even had Johnson's jersey number on the front of the shoe and he earned the respect of elderly women everywhere.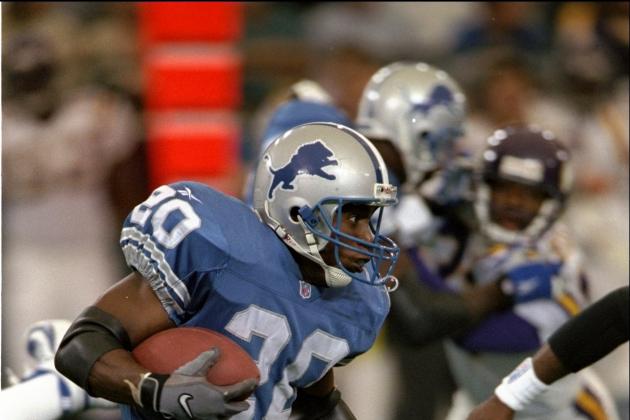 Tom Pidgeon/Getty Images

One of the most exciting running backs of all time is Barry Sanders. Detroit Lions fans will always wonder what could have been if Sanders was playing for the team now. With a solid defense and a superstar wide receiver in Calvin Johnson, Barry could have helped the Lions make some noise in the NFC North.
Now getting back to reality, Nike in the '90s worked with Sanders to create the Zoom Turf. This shoe was a perfect fit for Barry who played most of his games on Astroturf and his sneakers were designed to help him make those pinball style cuts that drove defenders crazy. Fast forward to the present, sneakerheads are always on the lookout for when Nike will release a retro version.