New Orleans Saints NFL Draft Big Board: Real Time Updates and Analysis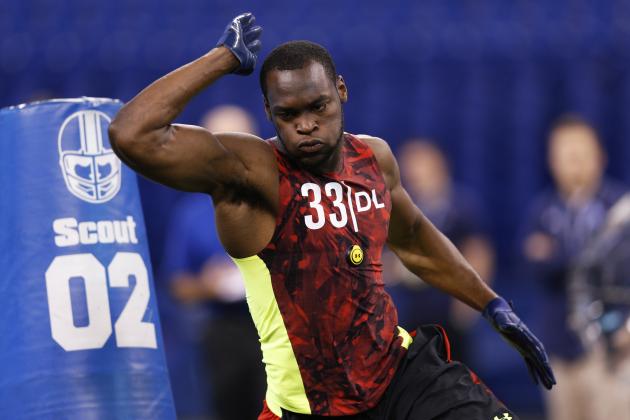 Joe Robbins/Getty Images

NFL Free Agency officially commenced today. As the process plays out and continues to develop, the events will have strong pull on what eventually takes place in the NFL draft. Free agency will undoubtedly alter draft boards, even for the New Orleans Saints.
As free agency moves along, this Big Board will be updated to reflect the team's makeup and potential draft moves that would become more or less likely as a result.
For the Saints, we already know drafting a running back is out of the question, hence there will be no running backs. The same could be said of offensive guards and wide receivers. Every defensive position, except for defensive end will be included, as any of them could be spots for the Saints to grab talent in the 2013 draft.
Begin Slideshow

»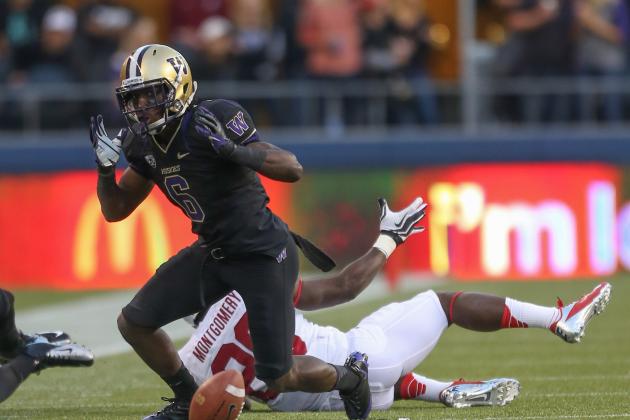 Otto Greule Jr/Getty Images

The New Orleans Saints are going to rank players on their draft board (to some extent unlike here) regardless of whether they have any chance to draft that player, or if it is a "position of need".
With that in mind, here are the 10 players that the Saints should place at the top of their draft board, only with the caveat that the player must fill a "position of need".
1. Eric Fisher, LT, Central Michigan
Fisher is the best player in the draft. The Chiefs would be foolish not to make Fisher the No. 1 pick in April. Too bad, he'd look amazing in black and gold.
2. Luke Joeckel, LT, Texas A&M
Joeckel is probably 1b to Fisher's 1a in terms of best overall player in this year's draft. While Fisher would fit what the Saints are trying to do better than Joeckel, the Saints would absolutely take Joeckel if he somehow fell to No. 15.
3. Barkevious Mingo, OLB, LSU
Many draft analysts prefer Bjoern Werner, Jarvis Jones and/or Dion Jordan as pass-rushers. Mingo, though, is the one whose skill set best fits what makes a great pass-rusher in today's NFL. He also led the nation in quarterback hurries over his college career. That should count for something.
4. Star Lotulelei, DT, Utah
The player who should just be known as "Star" is the top defensive tackle in this draft, despite what many analysts are now claiming in placing that label on Shariff Floyd. Lotulelei can succeed in the 3-4 and figures to be able to help out when the team plays in four down lineman looks.
5. Kenny Vacarro, S, Texas
Kenny Vacarro can do it all. He can cover, he can play center field. He'll be enough of a playmaker at the NFL level to maybe earn some All-Pro opportunities. What more can be said in short?
6. Desmond Trufant, CB, Washington
Trufant is the best corner in the draft. He has the requisite skills to excel in man-to-man. More importantly he has the attitude to become one of the game's best corners.
7. Alex Okafor, OLB, Texas
Alex Okafor has everything Rob Ryan wants in a 3-4 defensive end. Much like Brian Orakpo from Texas a few years ago, there are questions of whether Okafor is a natural for the position. In my estimation he is more than Orakpo was coming out of Texas.
8. Dion Jordan, OLB, Oregon
Dion Jordan is the prototypical 3-4 outside linebacker. The only problem is that he doesn't project as an elite pass-rusher. He's more likely to be a 5-6 sack per year player. He'll do everything else well though.
9. Datone Jones, DE, UCLA
Though the Saints don't really need a defensive end, it is conceivable both Akiem Hicks and Brodrick Bunkley could play nose tackle. Datone Jones could start at defensive end, where he played at UCLA a season ago in Jim Mora Jr.'s 3-4 defense. Jones is explosive, strong and sure to become a great NFL player.
10. Johnathan Hankins, DT/DE, Ohio State
Johnathan Hankins has been falling down draft boards since the end of the regular season. Some lucky team is going to get a steal, either at the end of the first round, or early in the second round. Hankins likely would have to play end in a 3-4, so his value is not as great as with some players.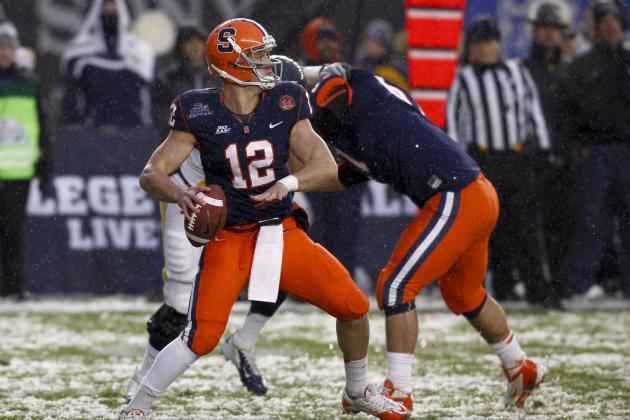 Jeff Zelevansky/Getty Images

The Saints are unlikely to take a quarterback in the 2013 NFL draft. If they were to it would be the result of Chase Daniel leaving via free agency. Here are the top-five at the position:
1. Ryan Nassib, Syracuse (Grade: Top-10)
I give Ryan Nassib a first-round grade. In theory, he should have then been accounted for on the Saints' top-10 in the previous slide. Of course, the Saints would not take a quarterback in the first-round, hence the reason he has been left off that list. Nassib is the perfect Sean Payton quarterback, though, make no mistake about it.
2. Geno Smith, West Virginia (Grade: First Round)
Geno Smith was considered a possible No. 1 overall pick during the college season. He still is a first-round pick in most analysts' books, including mine. He'd fit well in Sean Payton's offense too.
3. Landry Jones, Oklahoma (Grade: Third Round)
Make no mistake about it, Landry Jones is not the third best quarterback in this year's draft. But he would be the third best fit among the quarterbacks for Sean Payton's offense. And he is a better quarterback than many are giving him credit for being.
4. Sean Renfree, Duke (Grade: Fifth Round)
One thing can be guaranteed about Sean Renfree: He will be well-coached having come from the tutelage of David Cutcliffe. He'd fit Payton's offense well.
5. Ryan Griffin, Tulane (Grade: Seventh Round)
Ryan Griffin spent a year in a Sean Payton-lite system under former Saints wide receivers coach Curtis Johnson at Tulane. No doubt, he'd transition well into the Saints' offense.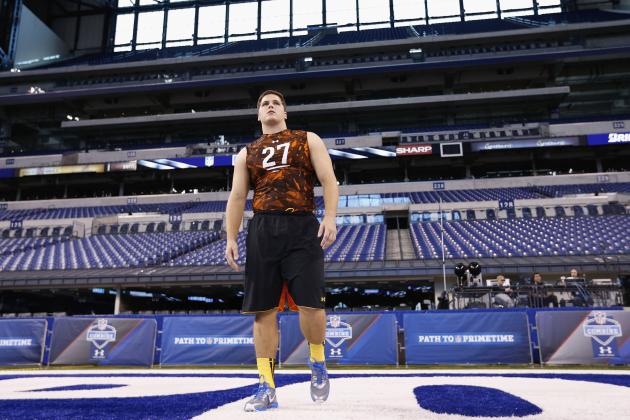 Joe Robbins/Getty Images

The Saints are a little more likely to take an offensive tackle in this draft, though unfortunately it won't be either of the first two on their board.
1. Eric Fisher, LT, Central Michigan (Grade: No. 1 Overall)
Fisher has great feet, lower body strength and ability to block in space. He's everything any team wants in an offensive tackle.
2. Luke Joeckel, LT, Texas A&M (Grade: Top-Five)
Joeckel is a little limited athletically when compared to Fisher. He might be stronger and more physical, though.
3. Menelik Watson, LT, Florida State (Grade: Mid-First)
Watson is being projected as a middle of the first-round prospect, which is appropriate since that is how he graded out on film. He is a more raw version of Fisher.
4. Terron Armstead, LT, Arkansas-Pine Bluff (Grade: Second Round)
The only real question with Terron Armstead is the level of competition he faced in college. Otherwise, he has the entire package.
5. Reid Fragel, OT, Ohio State (Grade: Fourth Round)
Reid Fragel is a more raw and weaker version of Menelik Watson. He'd be an outstanding find in the fourth round as an eventual starter, likely at right tackle.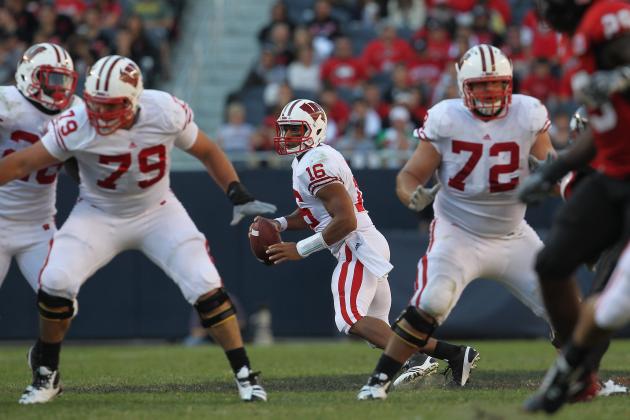 Jonathan Daniel/Getty Images

The Saints probably will not draft a center. If they do, it'll probably be in the sixth round. Still, it is more likely than some of the positions that have been omitted.
1. Travis Frederick, Wisconsin (Grade: Second Round)
Frederick is known as a "big ugly." He has a nasty attitude. He'd fit the Saints well.
2. Brian Schwenke, California (Grade: Third Round)
Schwenke is a "phone booth" center. That's more than acceptable since that is all Sean Payton's offense requires. He has great strength and ability to anchor. He'd fit really well.
3. Braxston Cave, Notre Dame (Grade: Fifth Round)
Braxston Cave was a key reason the Notre Dame running game was so good a year ago. He doesn't project quite as well to the next level, but we shall see.
4. Mario Benavides, Louisville (Grade: Sixth Round)
Analysts have lowered their opinions on Benavides since the college season ended. Benavides remains high on this board because he is such a great fit for the Saints' offense.
5. P.J. Lonergan, LSU (Grade: Seventh Round)
He went to LSU. There needed to be a fifth guy here. It all adds up.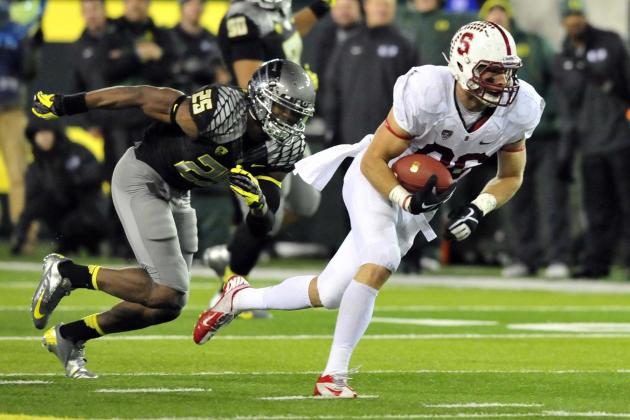 Steve Dykes/Getty Images

The Saints will be looking to add a tight end in this draft, especially if they are unable to land a quality player at the position in free agency.
1. Zach Ertz, Stanford (Grade: First Round)
Zach Ertz is the best tight end in this draft class. He is the most complete. He does everything well, though he is not a dominant blocker.
2. Gavin Escobar, San Diego State (Grade: Second Round)
Escobar is more than adequate blocker. He stretches the field vertically and has great run-after-the-catch ability. Escobar will be a star in the NFL. The only question is for which team?
3. Dion Sims, Michigan State (Grade: Third Round)
Dion Sims is a tremendous athlete for the tight end position. With his size, he doesn't have to have great technique as a blocker but simply exude effort. He does just that.
4. Chris Gragg, Arkansas (Grade: Fifth Round)
Chris Gragg doesn't have one trait to make you go, "Wow!" Yet he promises to last in the NFL for 10-plus years. That would be alright for him.
5. Tyler Eiffert, Notre Dame (Grade: Fifth Round)
Most analysts have Tyler Eiffert as a first-round talent. I do not, in the least. Still, he has a chance to become a productive backup tight end for a team such as the Saints.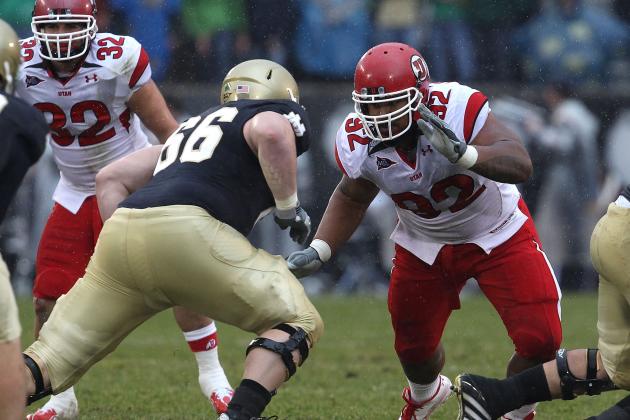 Jonathan Daniel/Getty Images

The Saints will be desperately looking for a nose tackle both in free agency and through the draft.
1. Star Lotulelei, Utah (Grade: Top-Five)
We all agreed earlier to simply call him "Star", correct? "Star" is the full package. He'd instantly become a star (no pun intended) in Rob Ryan's defense.
2. Johnathan Hankins, Ohio State (Grade: First Round)
Though Hankins would fit better as a 3-4 defensive end, it is possible he could suffice at least for stretches in the middle of Rob Ryan's defense.
3. Brandon Williams, Southern Missouri (Grade: Third Round)
Williams isn't even a sleeper pick anymore. Everyone knows him. Still, in the third round, he could be an excellent value pick.
4. Montori Hughes, Tennessee-Martin (Grade: Fourth Round)
Hughes played at Tennessee before leaving for FCS football (let's just say not by his own choice). Hughes has all the talent needed to excel at the NFL level.
5. Bennie Logan, LSU (Grade: Fourth Round)
Bennie Logan projects as a 4-3 defensive tackle. But he could easily make the transition to the 3-4 defense the Saints are planning to play in 2013 and beyond.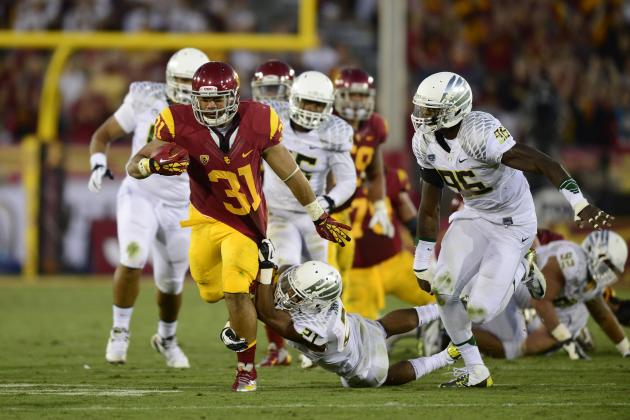 Robert Laberge/Getty Images

The Saints will be on the lookout for a 3-4 outside linebacker/edge rusher in this draft regardless of whether the team is able to bring in a veteran to do that job, or not.
1. Barkevious Mingo, LSU (Grade: Top-Five)
Mingo is as close to a sure thing as there is in this draft, at least out of the pass-rushing group. There is no way he doesn't become an elite NFL pass-rusher.
2. Alex Okafor, Texas (Grade: Top-10)
Okafor is the next closest thing to a sure thing as a pass-rusher. The past few drafts it seems there have been at least two dominant pass-rushers to announce their presence in the league within a year or two. Okafor is the most likely to be Robin to Mingo's Batman.
3. Dion Jordan (Grade: First Round)
Jordan could become a great pass-rusher. More likely he'll just be a really solid football player for a winning football team.
4. Chase Thomas (Grade: Second Round)
Similar to Jordan, it's hard to imagine Chase Thomas become an "elite" pass-rusher. It's even more difficult, though, to think Thomas won't become a great NFL outside linebacker. He is the next most sure thing available in this draft.
5. Jamie Collins (Grade: Third Round)
Jamie Collins brings tremendous athleticism to the field. He is raw and doesn't really look like a football player, per se. Time will tell with this kid. The upside is most definitely there, though.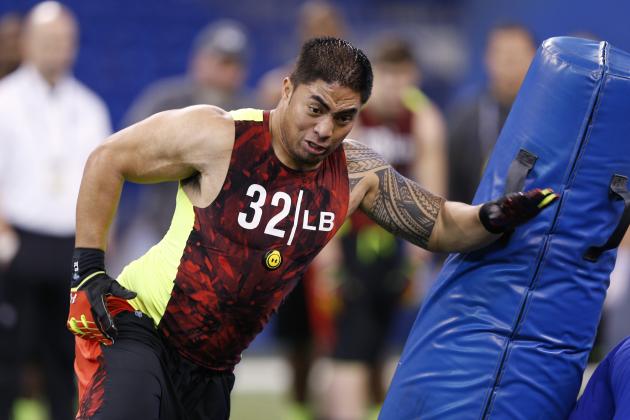 Joe Robbins/Getty Images

The Saints probably won't use a high pick on an inside linebacker, since the team figures to have three "starting" inside linebackers on the team next year. A developmental prospect would be a nice investment, though.
1. Manti Te'o, Notre Dame (Grade: First Round)
Manti Te'o should be a first-round pick in the NFL draft. He is a great football player. He'd fit well in a 3-4 defense. Still Saints fans do not have to worry, or cheer, about Te'o coming to town. He won't be donning black and gold anytime soon (at least not that which belongs to New Orleans).
2. Alec Ogletree, Georgia (Grade: Second Round)
Ogletree has a lot of nice skills. His overall body of work is mostly impressive. Still, there are some character concerns and even some production issues. If he puts it all together, Ogletree will be a steal in this draft.
3. Jon Bostic, Florida (Grade: Third Round)
I'm higher on Bostic than most. He was a super productive player at Florida despite playing on a Who's Who of a college defense. With his body and skill set, the 3-4 defense would fit him well, as it has many recent inside linebacker alums of Florida.
4. Kiko Alonzo, Oregon (Grade: Fourth Round)
Some analysts have said Kiko Alonzo was the better player at Oregon when in comparison with Dion Jordan. I'm actually apt to agree. He'd be a steal in the fourth round.
5. Kevin Reddick, North Carolina (Grade: Fourth Round)
Reddick is a thumper. His movement skills are limited. Playing in a 3-4, that's OK. He'd fit well.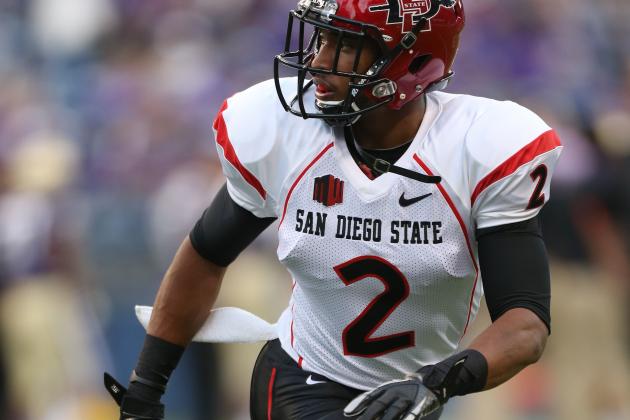 Otto Greule Jr/Getty Images

The Saints would be wise to avoid the free agent market at the corner position. Instead, it should target a corner as soon as possible.
1. Desmond Trufant, Washington (Grade: Top-10)
At this point, little else could be said of Desmond Trufant. Put it this way, the Saints need him.
2. Leon McFadden, San Diego State (Grade: Second Round)
McFadden lacks some of the natural athleticism that many of the corners in this class possess. Athleticism rarely is the reason corners succeed in the NFL. Instead, it is smarts, route recognition and ability to win one-on-one matchups. McFadden can do all those things, and more.
3. Jordan Poyer, Oregon State (Grade: Third Round)
Poyer plays the corner position with a safety-like mentality, much like Corey White. Unfortunately he is a puny human being. At least that's the story the film tells.
4. Blidi Wreh-Wilson, Connecticut (Grade: Third Round)
Wreh-Wilson excels both in man and zone coverage. He is a big corner, who is able to turn his hips and run well enough to stay with anyone.
5. Josh Johnson, Purdue (Grade: Fourth Round)
Johnson is a less talked about clone of Desmond Trufant. There is no better explanation.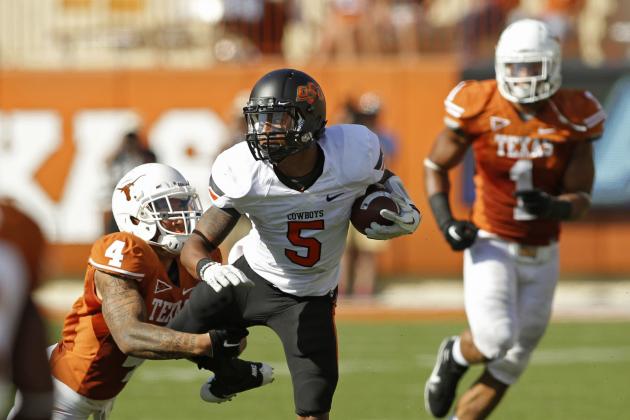 Erich Schlegel/Getty Images

It's hard to imagine the Saints drafting a safety high. If the team rids itself of the services of Roman Harper, the option would become much more viable.
1. Kenny Vacarro, Texas (Top-Five)
The best safety in the draft, Vacarro could play corner if asked to do so. He can also play deep and roam or play in-the-box to help stop the run.
2. Johnathan Cyprien, Florida International (Grade: First Round0
Much like how Josh Johnson is a less talked about clone of Desmond Trufant, the same could be said of Johnathan Cyprien in relation to Vacarro. It's uncanny to some extent. Another nice comparison re: Cyprien would be Dashon Goldson.
3. Shawn Williams, Georgia (Grade: Second Round)
Shawn Williams was a much better player at Georgia, though Bacarri Rambo got all the hype among the Bulldog safeties. Williams can play in-the-box and play deep to drive on the ball and make plays.
4. D.J. Swearinger, South Carolina (Grade: Third Round)
D.J. Swearinger is the draft nerds' Katherine Webb this year. Every online draftnik absolutely loves the kid. Me? I like him, but honestly think the best thing about him is his awesome name.
5. Josh Evans, Florida (Grade: Fourth Round)
Similar to Georgia and their two safeties, Florida produced two high quality safeties this year, only the better player did not get the proper amount of pub in college nor in this draft process. In other words, Evans is better than Matt Elam. We'll all see that soon enough, I believe.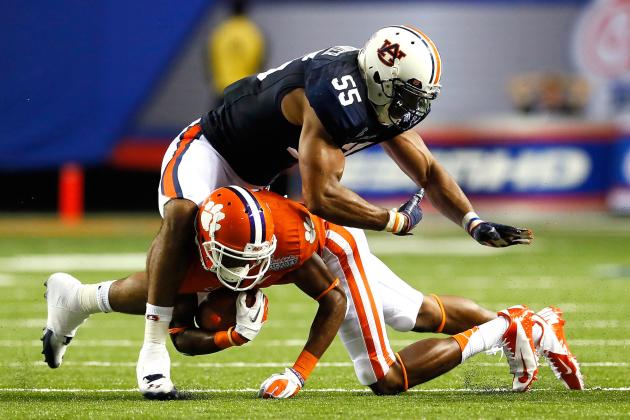 Kevin C. Cox/Getty Images

In the fourth through seventh round, the draft becomes a crap shoot, mostly. Here are five players who could be available in each of the final three rounds (Saints do not possess a seventh round pick).
Fourth Round
1. Corey Lemonier, OLB, Auburn
Lemonier has the talent to be a first day pick. He'll likely be available at least until the third round.
2. Bennie Logan, DT, LSU
Though not an ideal fit for a 3-4, it wouldn't be the first time a team has tried to make an LSU defensive lineman fit in a 3-4.
3. Dion Sims, TE, Michigan State
Only reason this qualifies as a sleeper is that many would question the Saints drafting a skill player in this draft at any point.
4. Kevin Reddick, ILB, North Carolina
Reddick may not be given much thought prior to the draft. He'll be one of the best players to come from this draft.
5. Brandon McGee, CB, Miami
If a corner hasn't already been selected by round three, McGee would almost make too much sense.
Fifth Round
1. Montori Hughes, NT, Tennesee-Martin
Hughes would be a wise selection if no nose tackle has been taken up to this point.
2. Josh Evans, S, Florida
Evans is a much better football player than the fifth round slot he is projected to by most scouting services.
3. Cornellius Washington, OLB, Georgia
Has a similar body to Ezekiel Ansah (who I cannot stand as a prospect), but Washington is much more productive.
4. Matt Scott, QB, Arizona
Though I wouldn't touch the kid, it's possible Sean Payton may determine that Matt Scott would be a nice fit for the Saints.
5. Reid Fragel, OT, Ohio State
Fragel would be the best possible selection in the fifth round for the Saints. Actually any of these players would be great.
Sixth Round
1. Ace Sanders, WR/Ret, South Carolina
Wide receiver and kick returner isn't necessarily a need position. Then again, players such as Ace Sanders don't come around very often.
2. Chris Gragg, TE, Arkansas
Gragg could take David Thomas' H-Back role with ease. That'd be great value in the sixth round.
3. Ty Powell, OLB, Harding
It seems that Harding produces an NFL prospect once a year. Powell could be a wonderful fit in New Orleans.
4. Manase Fokoti, OT, West Texas A&M
He's got a cool name, right? Fokoti is a project, but one who could very well be worth the selection here in the sixth round.
5. David Bass, OLB, Missouri Western State
Many mock drafts have projected David Bass to the Saints in the sixth round. It certainly is one of many possibilities.