New York Knicks vs. Golden State Warriors: Postgame Grades and Analysis for NYK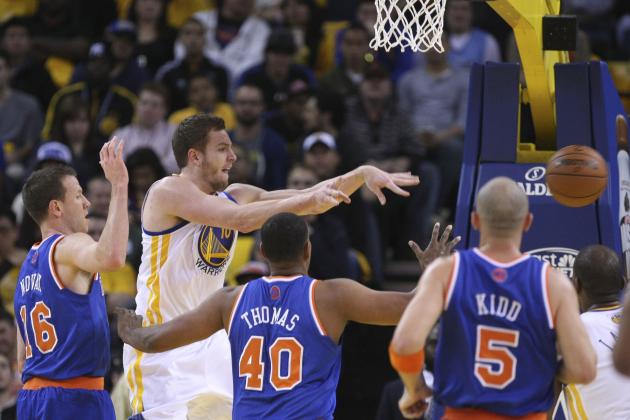 USA TODAY Sports

The New York Knicks took the old NBA adage about dying by the three to a new low in getting snuffed by the Golden State Warriors, 92-63.
New York missed 22 of 27 shots from beyond the arc and shot just 27.4 percent from the field in the game. The Warriors dominated the Knicks in every aspect of this complete win.
The Knicks were out-rebounded 59-42, they assisted on only 12 made shots and they missed 10 free throws.
Carmelo Anthony was stuck in the mud, finishing with only 14 points on 4-of-15 shooting. J.R. Smith was tossed in the third quarter, leaving the Knicks little in terms of offensive options.
Stephen Curry backed up his monster night at Madison Square Garden with 26 points at home, including six threes. Klay Thompson joined the party with 23 points, and David Lee, who missed the last game, posted a 21-point, 10-rebound double-double.
Golden State completely embarrassed the Knicks after dropping that exciting contest back in New York. They dropped the Knicks to 38-23 on the season while improving their own standing to 36-29.
Knicks fans take a deep breath and try to follow me through these grades.
Begin Slideshow

»
Raymond Felton, NYK PG: D+
There is a lot of argument for and against the use of the plus/minus stat in basketball. Situationally, it can be a decent illustration of how an individual played at both ends of the court.
In an individual matchup like the one between the starting point guards Monday night, Raymond Felton's minus-25 is pretty telling. Given his decent offensive night of 10 points on 3-of-6 shooting and five trips to the line, Felton's defense must have been pretty atrocious.
After allowing Stephen Curry to run wild on the Knicks last time out, Felton did little to prevent a repeat. Curry tallied 26 points, including six more threes. He had a nearly photonegative mark of plus-26.
This was just more proof that elite scoring point guards could be a nightmare for New York. Luckily, they are rare in the Eastern Conference playoff picture.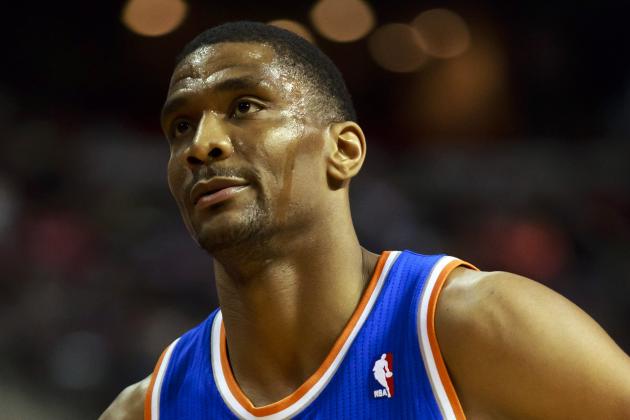 Rick Osentoski-USA TODAY Sports

James White, NYK SG: Incomplete
James White's night was over pretty much as soon as it began.
The Knicks' almost-mascot of a starting shooting guard played only five minutes in the game.
He got off only one shot, a missed three. White did manage a pair of assists.
Tough to grade five minutes of basketball.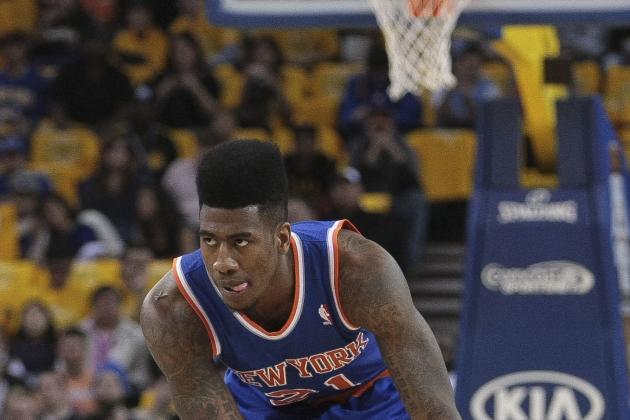 USA TODAY Sports

Iman Shumpert, NYK SF: C-
Iman Shumpert proved to be the lone bright spot of a sleepy first half for the New York Knicks. He was the only one hitting from long range.
He scored seven straight points in the first quarter, helping his team keep pace with the Warriors. That would not last, however, as the Knicks utilized him very rarely later in the game. Once offense became more of a priority for them, Shumpert was buried on the bench. There he remained during much of the blowout.
Shumpert received just 23 minutes, and outside of that lone bright spot in the first half, he was useless. He finished with just eight points, and defensively he was unable to help slow the surge of Stephen Curry and Klay Thompson. He also didn't grab a single rebound or register an assist or steal.
Overall, this isn't what the Knicks are looking for out of Shumpert. The offensive spark was nice early, but he has to do other things to remain on the court.
USA TODAY Sports

Carmelo Anthony, NYK PF: C-
A weak first half featured just five points in the first quarter and three in the second for Carmelo Anthony.
Things didn't get much better as the night wore on. He was never able to really get things going offensively. That left the Knicks with very little firepower, especially after J.R. Smith's ejection.
Though his scoring was slow and limited, that isn't to say Anthony didn't work hard. On the contrary, he was physical in grabbing five offensive rebounds, 10 total. He also worked to get to the line a bunch, going 6-of-9 there. Anthony finished with a weak double-double, scoring 14 points. He did not register an assist
Unfortunately, some nights the Knicks need Anthony to be spectacular to win. With their current list of injuries, those nights are becoming more frequent.
When their superstar shoots 4-of-15 from the field and doesn't hit a single three, the Knicks are going to find it hard beating anyone in the NBA.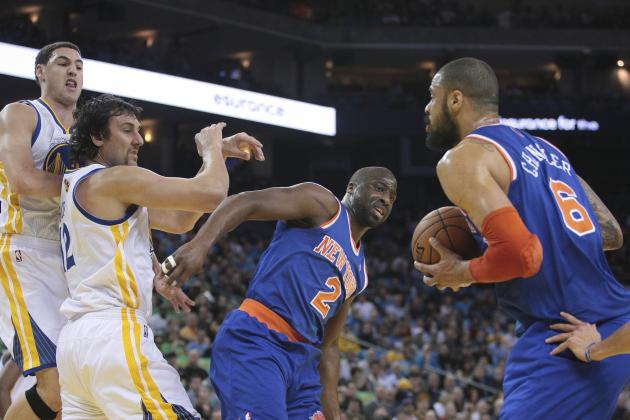 USA TODAY Sports

Tyson Chandler, NYK C: D
Tyson Chandler could just not get his shots. New York looked to him very little throughout the game.
Chandler finished just 1-of-2 on the night for four points in 31 minutes. This is starting to become a concern for the Knicks. While he isn't anything like a top offensive option, Chandler should be getting more opportunities than he has lately. With the injuries the Knicks are facing, looking to him might be a good idea.
Averaging 11 points per game on the season, Chandler is scoring just 6.8 a night in March. The loss to Golden State marked the fourth straight game Chandler has earned four or fewer shot attempts.
He grabbed a career-high 28 rebounds against the Warriors in their last meeting, including 10 offensive boards. While he did get his eight rebounds this time, there was a serious lack of work on the offensive glass. With all the threes New York takes, they need Chandler's offensive rebounds to survive.
David Lee had a very good game and was able to get his offense going in the paint. That shouldn't happen when Chandler is on his A-game. Lee posted 21 points, 10 rebounds and eight assists, far too good a game for an opposing big man going up against the reigning Defensive Player of the Year.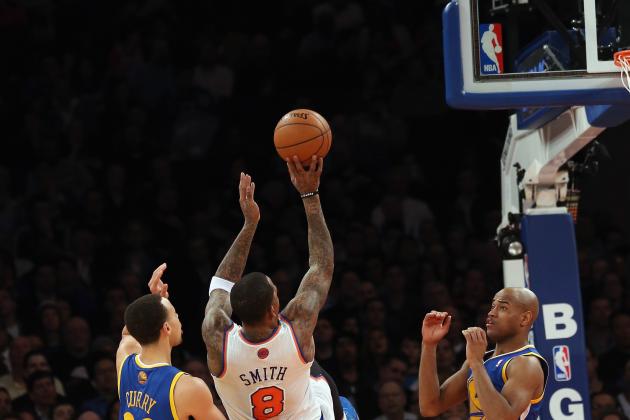 Bruce Bennett/Getty Images

J.R. Smith, NYK SG: C-
In the middle of the third quarter, J.R. Smith fouled Harrison Barnes. The foul was ruled flagrant and Smith was ejected.
Chris Copeland entered for Smith and immediately did what the Knicks' sixth man failed to do, hit a three. Copeland went on to do far more than Smith, and in less time.
Smith finished a premature 21 minutes, shooting 3-of-11 overall and 0-of-3 from beyond the arc. He scored nine points, getting to the line four times.
Smith was coming off a few monster games, scoring 20-plus in three straight games. He had also been doing things like rebounding better, averaging 7.3 per game in March. However, he had no boards against Golden State.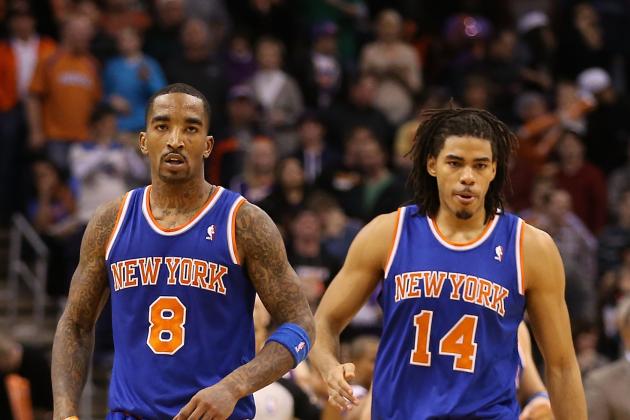 Christian Petersen/Getty Images

New York Knicks' Bench: B-
Chris Copeland hadn't seen the court in eight straight games before posting back-to-back double-digit scoring performances. After J.R. Smith was ejected in the third quarter, Copeland entered and had the best night of any New York Knick.
Copeland went for 15 points and six rebounds in 19 minutes. He was the only Knick whose shot was falling, as he went 3-of-5 from deep.
The Knicks got next to nothing elsewhere, with Kenyon Martin and Smith being the only other reserves to score.
Pablo Prigioni, Steve Novak and Jason Kidd combined to go 0-of-11 from beyond the arc.