The Best Men's College Basketball Coaches Under 40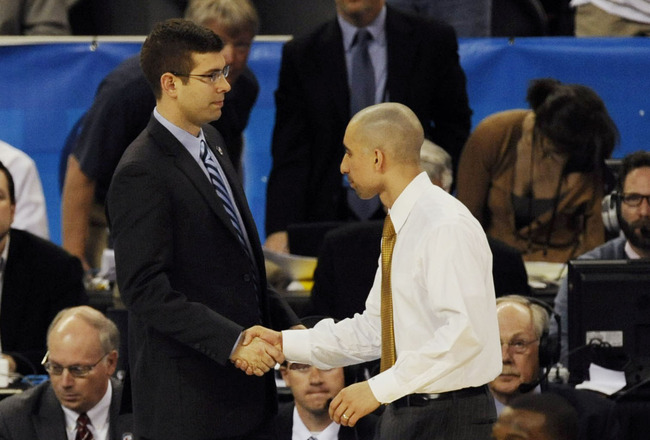 Brad Stevens and Shaka Smart met in the 2011 Final Four.
Richard Mackson-USA TODAY Sports
College basketball's head coaching ranks are filled with veterans such as Mike Krzyzewski, Roy Williams and Tom Izzo, but very few young head coaches. Among the top 10 teams in the country, there are more coaches 60 and older (four) than under 50 (three), with Ohio State's Thad Matta, 45, as the youngest of the group.
That being said, there are several up-and-coming coaches that have been very successful in their young careers. While there aren't any under-40 coaches at a traditional basketball power yet, any of these five coaches could be in line when the next big job opens up.
Bryce Drew, Valparaiso
Valparaiso has won both regular-season Horizon League championships under Bryce Drew.
Michael Hickey/Getty Images
Bryce Drew, 38, is arguably the best player in Valparaiso's history, as he remains the school's all-time leader in scoring, three-point shooting and assists. Now he is a successful coach for the school as well, winning regular-season Horizon League championships in both of his seasons leading the Crusaders.
Valparaiso has won 16 of its past 18 games this season and is prepared to be a very difficult out in the NCAA tournament. Drew has the team entering postseason play as one of the hottest teams in the nation.
Drew brings NBA playing experience and youth to the bench for Valparaiso. With his pedigree, Drew has the ability to be an excellent recruiter. Currently, he has five players committed for next season, according to ESPN.
Michael White, Louisiana Tech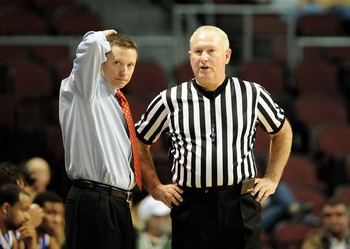 Michael White led the Bulldogs to a share of the WAC title in just his second season.
Jennifer Stewart-USA TODAY Sports
The year before Michael White joined Louisiana Tech, the team went 12-20 overall and 2-14 in WAC games. His first season with the school, it went above .500 and finished at 18-16. This season White has led Louisiana Tech to a 26-5 record and a share of the regular-season conference title, winning 18 straight games at one point during the season.
White is just 35 years old and has proved that he is a coach to watch for the future. Louisiana Tech should be an NCAA tournament team, and if it can make a run, then White could be in line for a big-school job in the offseason.
Josh Pastner, Memphis
Josh Pastner has led Memphis to a 16-0 record in Conference USA play.
USA TODAY Sports
John Calipari's replacement in Memphis has the Tigers returning to national relevance. Josh Pastner, 35, is one of the youngest coaches in all of college basketball, but he already has two Conference USA regular-season and tournament championships to his name.
Ratner has won at least 24 games in each of his four seasons with the team and finished in the top four in Conference USA each season. His career record of 102-33 gives him a winning percentage of .756, not much lower than John Calipari's .762 during his time in Memphis.
This season Ratner has the Tigers at 27-4, with three of their losses coming to teams that have been ranked during the season (Virginia Commonwealth, Minnesota and Louisville). They went undefeated in regular-season play and are currently ranked No. 20 in the nation.
One of the biggest reasons for Ratner's success is his ability to recruit top high school players. His first full year of recruiting resulted in the No. 2 national recruiting class, according to Scout.com. The team's current leading scorer, Joe Jackson, was a 5-star recruit in that class.
Shaka Smart, Virginia Commonwealth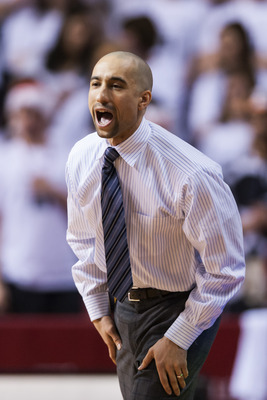 Shaka Smart has made one Final Four with VCU.
USA TODAY Sports
Virginia Commonwealth's Shaka Smart, 35, is not only one of the top under-40 coaches in the country, but he is also one of the best coaches overall.
Smart won at least 27 games in each of his first three seasons with the Rams, improving his win total in each season.
The highlight of his coaching career was a Final Four appearance in 2011, when VCU lost to Butler 70-62. He also led it to a Sweet 16 appearance last season, upsetting No. 5 Wichita State and nearly defeating No. 4 Indiana.
Smart coaches VCU to play a frenetic, full-court defensive style that is is known as "havoc." With this style, VCU led the nation in steals this season with 11.94, more than a full steal more than the second team. The Rams were top in steals in 2012 as well.
Brad Stevens, Butler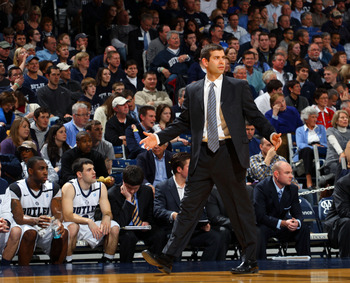 Brad Stevens took Butler to back-to-back national championship games.
Brian Spurlock-USA TODAY Sports
Despite a March 2 loss to Shaka Smart and Virginia Commonwealth, the best under-40 coach in college basketball is Butler's Brad Stevens, 36. In his sixth season with the Bulldogs, Stevens has accomplished everything short of leading Butler to a national championship.
Stevens took Butler to the NCAA tournament in each of his first four seasons with the team. In the 2009-10 season, it went 33-5 overall and 18-0 in conference play. That team made the national championship as a No. 5 seed and was just inches away from a victory when Gordon Hayward missed a buzzer-beating half-court shot.
In 2011 Stevens again led Butler to the championship game, beating Smart's VCU team in the Final Four before losing to Connecticut in the finals. Butler was the first team to make back-to-back championship games since Florida in 2006 and 2007 (Florida won both).
On top of his tournament success, Stevens has the most wins of any coach in his first three seasons; Smart is second. Stevens would have his choice of big-time coaching jobs should he choose, but he has shown reluctance to leave in the past, turning down offers from Illinois and Maryland. Expect to hear his name mentioned often again this offseason.
Keep Reading