Stock Watch for Each Top 25 Team a Week from the Big Dance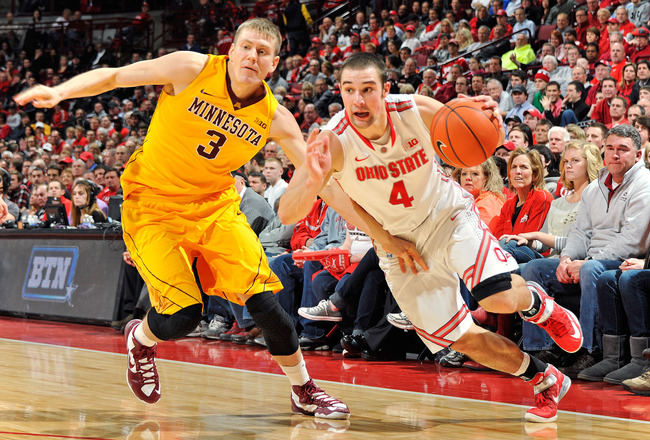 Jamie Sabau/Getty Images
The Big Dance tips off a week from Tuesday, and the best teams in college hoops are jockeying for position in conference tournament action. A big finish for a Top 25 squad—and the accompanying favorable seed—could make all the difference between a second-round upset and a trip to the Final Four.
Some teams have a lot more reason for confidence heading into those crucial league tourney games than others. Red-hot Ohio State has won five in a row in Big Ten play, knocking off both Michigan State and Indiana in the past 20 days.
Read on for more on the streaking Buckeyes and the rest of this week's AP Top 25 squads, including some who are running out of gas at the worst possible time.
25. Virginia Commonwealth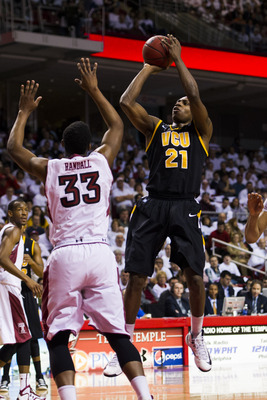 USA TODAY Sports
The downside of the high-pressure "Havoc" defense that has made VCU such a dangerous postseason foe is that when it falters, it can implode in a hurry.
That's exactly what happened to the Rams in their season finale, as they blew a 16-point first-half lead at Temple by allowing the Owls to shoot 47.1 percent (including 10-of-24 from three-point range).
The Rams don't have to feel too glum heading into the Atlantic 10 tournament, considering that the loss was their first in four games.
However, it's still far from the kind of performance Shaka Smart would like his team to be building on as it gears up for its first postseason as an A-10 member.
Stock: Wavering
24. Notre Dame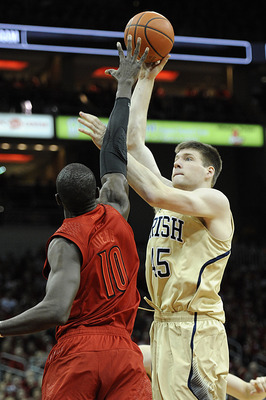 Jamie Rhodes-USA TODAY Sports
It says a lot about the depth of the Big East that a team as strong as Notre Dame has managed only one three-game win streak as the high point of its conference schedule.
The Irish wrapped up their regular season by alternating wins and losses over their last four games.
To be fair, both losses came on the road against other ranked foes (Marquette and Louisville). Of course, the wins were in South Bend against unranked Cincy and St. John's, so it more or less evens out.
Things could be a lot worse for Jack Cooley and Co., but they aren't exactly at full speed going into the Big East tourney.
Stock: Limping
23. Creighton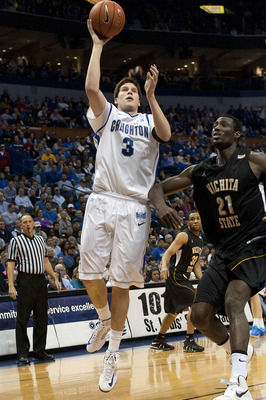 Paul Halfacre-USA TODAY Sports
The Missouri Valley giveth, and the Missouri Valley taketh away—or, in Creighton's case, the other way around.
A brilliant nonconference showing by Doug McDermott and his mates was erased by five league losses that knocked them out of the Top 25 for weeks.
Now, though, five straight wins in Valley action, including Sunday's conference championship victory over Wichita State, have the Bluejays back on track.
Their two wins over Wichita State in the last eight days will do a lot to offset a tough road loss to St. Mary's during BracketBusters.
Stock: Leaping
22. Wisconsin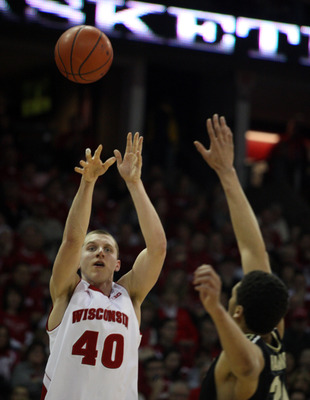 Mary Langenfeld-USA TODAY Sports
On Feb. 17, Wisconsin slaughtered then-No. 13 Ohio State in Madison. In the weeks since, the Badgers have posted the worst 3-2 record of any Big Ten team.
Jared Berggren and Co. picked up wins against Northwestern, Nebraska and Penn State while losing (as expected) at Michigan State and (inexplicably) at home against sub-.500 Purdue.
Despite the shaky finish, the Badgers backed into a first-round bye in the Big Ten tournament. That position may not seem so fortunate, though, when they (almost certainly) face a revenge-minded Michigan team on Friday.
Stock: Dipping
21. UCLA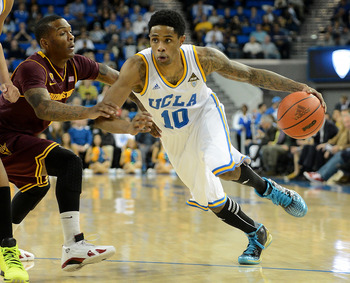 Jayne Kamin-Oncea-USA TODAY Sports
Everything seemed to be going so well for UCLA, which grabbed its fourth Pac-12 win in a row by completing a sweep of Arizona.
Then the Bruins visited Pullman and got their teeth kicked in by a dreadful last-place Washington State team, 73-61.
With some help from the rest of a struggling league, though, UCLA managed not to have that loss cost it the conference crown.
A solid showing in a road win at Washington closed the regular season on a favorable note and left the Bruins one game ahead of three second-place contenders.
Stock: Bouncing back
20. Memphis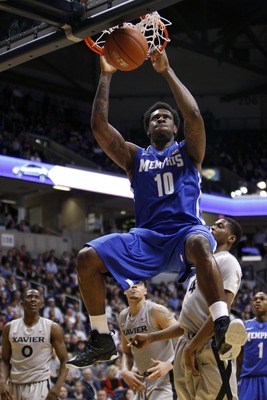 Frank Victores-USA TODAY Sports
Memphis finished the regular season with a perfect 16-0 record against Conference USA foes. The Tigers are the prohibitive favorites to stroll through the C-USA tournament and earn the league's automatic bid (again).
None of that, however, matters much to the perception of where this team stands. A late-February road loss to a Xavier team that's barely on the NCAA tournament bubble eclipsed everything the Tigers did in conference.
That one game—against the best team the Tigers faced after Dec. 15—leaves Memphis looking like a big fish from a very small pond, one that has a great chance of getting filleted by a lower seed next week.
Stock: Primed for collapse
19. Syracuse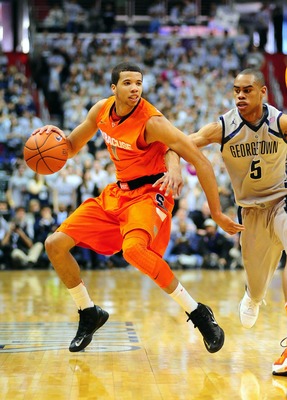 Evan Habeeb-USA TODAY Sports
The Orange would have really had to work to come up with a worse way to finish the regular season.
The erstwhile Big East leaders, 10-3 in conference as late as February 20, dropped four of their last five (with the lone win coming against lowly DePaul at the Carrier Dome).
Worse yet, the season finale at Georgetown saw the formerly sparkling Syracuse offense held to 39 points, its worst total of Jim Boeheim's 37-year career.
Michael Carter-Williams and his mates had better get on track soon, because right now they look like they're headed for a second-round loss in the NCAA tournament.
Stock: Plummeting
18. Arizona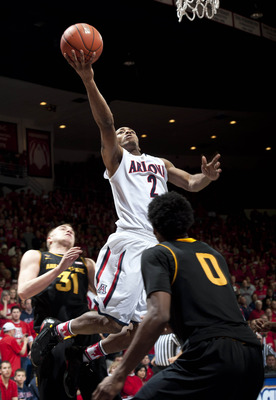 Casey Sapio-USA TODAY Sports
An awful road trip to Los Angeles sabotaged Arizona's hopes of a Pac-12 title. Getting swept by surprising USC and resurgent UCLA proved decisive in keeping the Wildcats one game out in the conference race.
Fortunately for Mark Lyons' squad, they did get one more chance to finish the regular season strong, whipping rival Arizona State in Tucson.
A favorable draw in the Pac-12 tournament has the Wildcats holding a first-round bye, followed by an eminently winnable game (likely against Colorado) to help them build a little momentum before facing (likely) Arizona State or UCLA again in the next round.
Stock: Inching up
17. Pittsburgh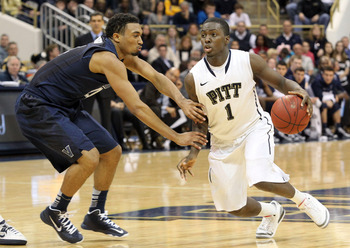 Charles LeClaire-USA TODAY Sports
Every win is, in some sense, a good win, which is about the best that can be said for Pittsburgh's four straight victories to close the season.
Of the four Big East foes the Panthers took down, only Villanova is bound for March Madness, and the Wildcats took Pitt to overtime on its home floor.
The last time Tray Woodall and his mates beat a ranked team, it was Feb. 9 and Cincinnati was still in the Top 25.
For all that they're heading in the right direction, those recent wins are going to ring awfully hollow if their double-bye in the Big East tourney turns into an immediate quarterfinal loss to Syracuse.
Stock: Rising
16. Saint Louis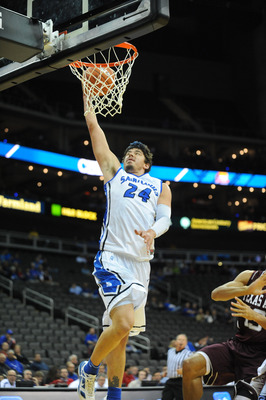 Denny Medley-USA TODAY Sports
The Billikens had been as hot as any team in the nation heading into last week, but a shocking loss on the road at Xavier took a huge bite out of all that momentum.
To their credit, though, they recovered well enough to come home and rout a very good La Salle team in the regular-season finale.
Even as the Atlantic 10's top seed, the Billikens will likely need to beat Butler in the semis before even facing (presumably) the VCU/Temple winner for the crown.
If they can keep winning through that kind of competition, they'll definitely be ready for the Big Dance.
Stock: On the upswing
15. New Mexico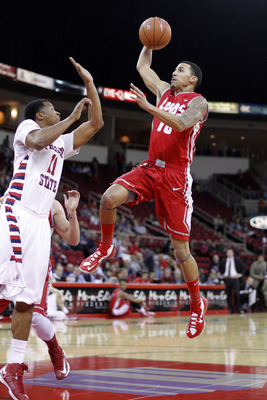 Cary Edmondson-USA TODAY Sports
After six wins in a row, New Mexico had the MWC title clinched before it even took the floor for Saturday's season finale.
A let-up against a middling Air Force squad was certainly understandable, but it's still not what coach Steve Alford wanted to see at this time of year.
The Lobos fell to the Falcons' three-point barrage, 89-88, to break up what had been an impressive run with wins over Colorado State and San Diego State.
They're still decisive favorites to win the league tournament, but they did their NCAA seeding no favors by stumbling so late in the schedule.
Stock: Sputtering
14. Oklahoma State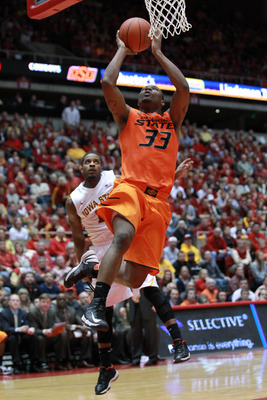 Reese Strickland-USA TODAY Sports
Oklahoma State got quite a wake-up call last week, when Iowa State brought the Cowboys' three-game winning streak to a decisive halt. On the plus side, Marcus Smart and his mates got the message.
By taking down Kansas State in Stillwater, the Cowboys showed that they haven't lost their edge after a heartbreaking February loss to Kansas.
Don't be surprised to see this team make a deep run, maybe all the way to the championship, in the Big 12 tournament.
Stock: Rebounding
13. Florida
Mark Zerof-USA TODAY Sports
Since Arkansas ended the Gators' unbeaten run in SEC play, Florida has been headed downhill. Kentucky closed the regular season by handing Billy Donovan's boys their fourth road loss since the start of February.
A strong showing in Nashville for the SEC tourney would be a major boost to the Gators' seeding hopes. Until and unless they prove something in that tournament, though, there are real questions about how much this team can do away from Gainesville.
Stock: Sinking
12. Marquette
Anthony Gruppuso-USA TODAY Sport
A major beneficiary of late-season chaos in the Big East, Marquette closed with four straight wins. Not that it was an easy finish—the Golden Eagles needed a tie-breaking layup from Vander Blue at the overtime buzzer against St. John's.
The most important wins for Marquette's future, though, will be the two that started the streak: home defeats of Syracuse and Notre Dame.
Those two late-season quality wins mean that the Golden Eagles face a lot less pressure to excel in Big East tournament play (where they have a double-bye to the quarterfinals).
Stock: Lifting off
11. Kansas State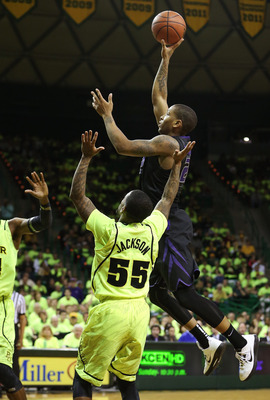 Kevin Jairaj-USA TODAY Sports
Kansas State was all set to roar into the Big 12 tournament on a seven-game winning streak, but they couldn't quite get the job done at the end.
A loss in Stillwater in the season finale stopped the Wildcats' run at six and cost them a chance to win the outright league title in the regular season.
Even having won "only" a share of that crown (split with Kansas), K-State is in fine position heading into the postseason.
Losing on the road to a very good Cowboys team did far more to hurt their short-term momentum than their long-term seeding prospects.
Stock: Fluctuating
10. Ohio State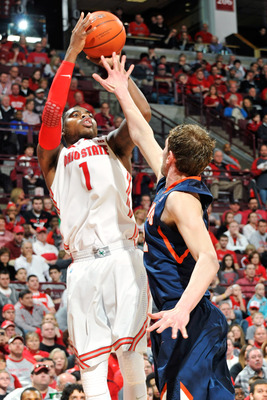 Jamie Sabau/Getty Images
Somebody in the Big Ten had to finish strong, and Ohio State's number came up. The Buckeyes closed the regular year with a five-game winning streak that leaves them as one of the hottest teams in all of college hoops.
Four of the five teams Ohio State has beaten in its current run (Minnesota, Michigan State, Indiana and Illinois) are likely headed for the Big Dance.
That's how you prove you're ready for the postseason, especially considering that the win over the then-No. 2 Hoosiers came on the road.
Stock: Skyrocketing
9. Miami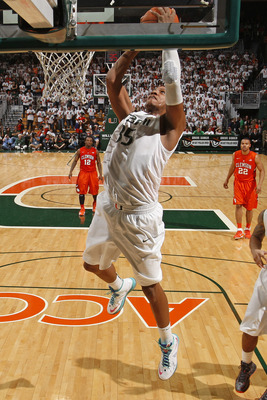 Joel Auerbach/Getty Images
Throughout the ACC this season, teams have suffered upset losses in the aftermath of huge wins. Miami came up with an unfortunate variation on that theme, falling at home to Georgia Tech as a follow-up to its painful loss at Duke.
The 'Canes still won the league title with relative ease, closing the season by thumping Clemson. Still, a team that's 2-3 in its last five games is heading into an ACC tournament field that's looking a lot stronger than it did a month ago.
Stock: Depressed
8. Michigan State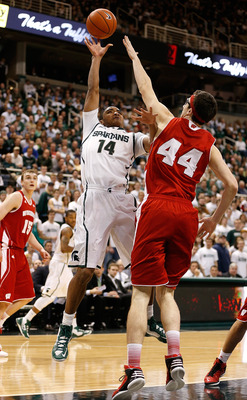 Gregory Shamus/Getty Images
The rigors of the Big Ten took their toll on the Spartans, who lost three straight games to ranked opponents at the end of February. Fortunately for Tom Izzo's squad, they appear to have turned things around just in time.
Michigan State finished with a pair of conference wins, including a convincing defeat of dangerous Wisconsin in East Lansing.
It's not much of a winning streak, but it's enough to give a very good team a bit more confidence heading into what's going to be a brutal Big Ten tournament.
Stock: Recovering
7. Kansas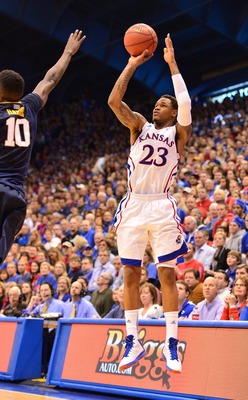 USA TODAY Sports
The strange thing about the entire Big 12 season for Kansas isn't that the Jayhawks lost a game or two more than usual, but that they looked so bad doing it.
Nowhere was that more apparent than on Saturday in Waco, where the Baylor Bears bludgeoned them by 23 points and cost them the outright conference title.
The loss snapped a seven-game winning run for KU, which is still (as usual) in great position to add a Big 12 tournament title to its shared regular-season crown.
The way this season has gone, though, it wouldn't be a huge surprise to see the Jayhawks falter in that tournament, maybe badly enough to cost themselves a top seed in the tournament that really counts.
Stock: Wobbling
6. Michigan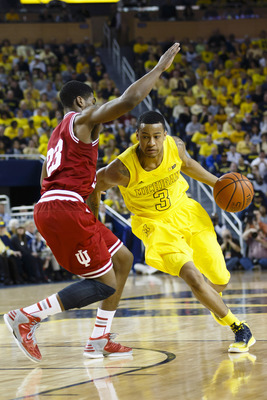 Rick Osentoski-USA TODAY Sports
Whatever else Michigan has been this season, it certainly can't be accused of being boring.
The Wolverines' last four games have featured a massive upset loss (to Penn State), a one-point win over rival Michigan State and a heartbreaking one-point loss to Indiana.
With the Hoosier defeat coming at the close of the regular season, Michigan isn't exactly entering the Big Ten tourney on a high note. It will, however, be coming in angry as it gets a chance for revenge on the Nittany Lions in its first-round game.
Stock: Volatile
5. Georgetown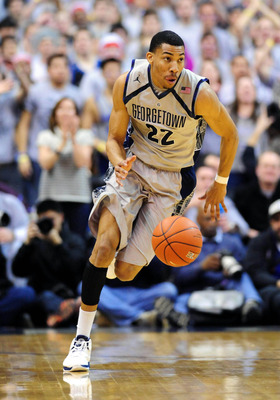 Evan Habeeb-USA TODAY Sports
As it turned out, there was a limit to how good Georgetown could get. After a sizzling 11-game winning streak in the Big East, the Hoyas became the third Top Five team to be tripped up by Villanova this season.
The Hoyas had too much momentum built up to fall apart completely, as they showed by trouncing Syracuse in D.C. to close the regular year.
Even with the one blemish against the 'Cats, it's hard to argue with a team that's entering the Big East tourney having lost just once since Jan. 21.
Stock: Leveled off
4. Louisville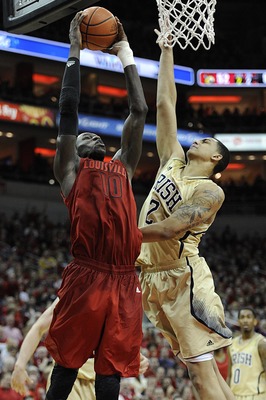 Jamie Rhodes-USA TODAY Sports
Louisville's Feb. 9 defeat at Notre Dame took five overtimes, meaning that the Cardinals did a game-and-a-half worth of losing that night. They apparently got it all out of their systems, because nobody's beaten them since.
Louisville wrapped up the regular season by crushing that same Irish team in the rematch, the latest in a seven-game winning streak. Now the Cards look to stay hot as they defend last year's surprise Big East tournament title.
Stock: Soaring
3. Indiana
Rick Osentoski-USA TODAY Sports
The lesson of this year's Big Ten appears to be that the top handful of teams are so tightly clustered that anyone can beat anyone else on a given night.
Witness the end of Indiana's season: a home loss to Ohio State followed by a road win at Michigan (the Wolverines' only loss in Ann Arbor this year).
That intensity of competition may have IU looking a bit weaker right now than it actually is.
If the Hoosiers manage to survive the Big Ten tournament to add that title to their regular-season crown, look for them to get a few votes to overtake Duke and Gonzaga at the crowded top of the final polls.
Stock: Plateauing
2. Duke
Bob Donnan-USA TODAY Sports
Imagine if Ryan Kelly had returned two nights earlier and saved the Blue Devils from losing at Virginia. In that case, Duke would've won six straight (three against likely NCAA tournament teams) heading into the postseason.
Even with the upset in Charlottesville, Kelly's return has silenced lots of doubts about Duke's ability to survive against top-tier opposition. With him in the lineup, the Blue Devils haven't lost a single game this season, which is a pretty tough record to beat.
Stock: Flying high
1. Gonzaga
Kyle Terada-USA TODAY Sports
After Gonzaga's 65-51 defeat of rival St. Mary's in their fifth straight WCC title-game meeting, it's no surprise to see the Zags as the No. 1 seed. Kelly Olynyk and Co. have just been that strong all season long.
Counting the WCC tournament, the Bulldogs have won 14 in a row dating back to late January.
The win over the Gaels (the third this season) also evened Gonzaga's record at 2-2 against ranked teams, as St. Mary's stands at No. 21 in the Coaches Poll this week.
Stock: Cruising
Keep Reading