Pittsburgh Steelers' 2013 NFL Draft Big Board: Real Time Updates and Analysis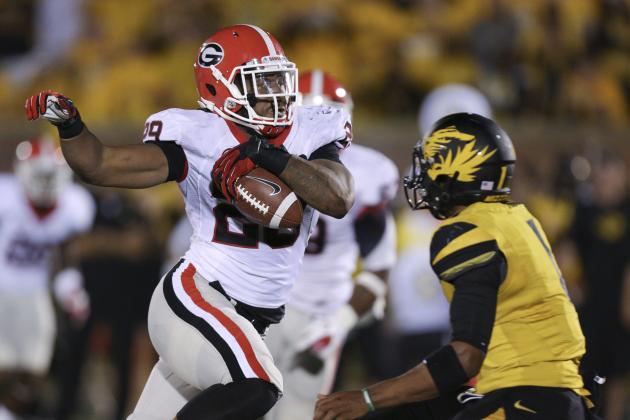 Ed Zurga/Getty Images

With the Pittsburgh Steelers unlikely to make a major play in free agency this year, much of the attention of analysts and fans has turned to how the team will approach the NFL draft in mid-April. Pittsburgh has historically built from the draft with only minor updates from veteran signings. That makes the draft much more important to teams that are built more around veteran additions.
This draft is even more crucial for Pittsburgh because of the number of holes that need to be filled on the roster. With their only deep spots along the offensive and defensive line, at tight end and among specialists, the Steelers will be looking to fill needs at a bevy of positions.
Here's a look at the team's up-to-date big board and the players that they will be targeting next month.
Begin Slideshow

»
Stacy Revere/Getty Images

Here's a look at the top ten players on the Pittsburgh Steelers' big board as we head into the first week of free agency and the first set of Pro Days and other draft-related workouts:
1. Jarvis Jones
Jones is among the top linebackers available and may go higher than the 17th overall choice that Pittsburgh currently holds, but if he falls, he would be a worth replacement for James Harrison on the outside and could start as soon as mid-2013.
2. Xavier Rhodes
The Steelers can't be sure what will happen with Keenan Lewis in free agency. If he signs somewhere else, they cannot rely on William Gay to be the answer as his replacement. Cortez Allen might be best suited to the nickel position. Rhodes would give the team a shutdown-caliber guy who could step up in 2014.
3. Matt Elam
Troy Polamalu cannot be counted upon to go on forever. Elam is a guy that would represent a similar-style player that could start in 2014 or at least platoon with Polamalu at that point. He's a hard-hitting playmaker that brings toughness and aggressiveness, both prized in Pittsburgh.
4. Kenny Vaccaro
Ryan Clark is also not getting any younger at free safety. Vaccaro is a great prospect with first-round talent that would give Pittsburgh a good developmental player that could start within the next two years. Vaccaro can deliver the same punishing style as Clark.
5. Jonathan Cooper
Despite bringing back Ramon Foster, Pittsburgh may seek offensive line depth in this draft. While not a need, the Steelers are fond of taking the best player available in each round. If they don't see a prospect that fits a need and don't want to trade down, Cooper would be a good option.
6. Desmond Trufant
Trufant is another excellent cornerback prospect that would bring a toughness to the position. He's more Ike Taylor than Keenan Lewis and will likely be more of a sturdy cover guy than a flashy playmaker, but he represents an instant upgrade on William Gay.
7. D.J. Fluker
Pittsburgh seems poised to let Max Starks walk away in free agency. They'll go with some combination of Marcus Gilbert, Kelvin Beachum and Mike Adams at the tackle spots unless something changes. Fluker represents the more athletic lineman that new offensive line coach Jack Bicknell, Jr. likes best.
8. Tavon Austin
Mike Wallace seems poised to cash in big during the open moments of free agency. Replacing him will fall to the somewhat-disappointing Emmanuel Sanders unless another upgrade is found. Austin could be an excellent mid- or late-round pick in the first round and would be an upgrade on even Wallace.
9. Damontre Moore
The Steelers love to draft defensive ends and turn them into great rush linebackers. They did this with LaMarr Woodley and have tried it with others with various levels of success. Moore represents the next Woodley-type player and could be a perfect fit in James Harrison's old spot.
10. Kevin Minter
Pittsburgh will need to work on a permanent replacement for James Farrior on the inside of the defense. Larry Foote, if he returns, has maybe one year left. Minter would allow the Steelers the flexibility of starting Foote or Sean Spence and giving them excellent depth while they sort out a more permanent depth chart.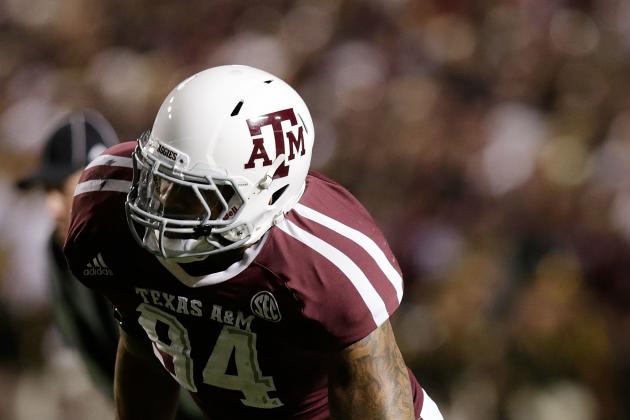 Scott Halleran/Getty Images

Here's a look at the current top choices for Pittsburgh at the linebacker positions:
1. Jarvis Jones
Jones is one of the top defensive prospects in the draft. If he lasts until the 17th pick, Pittsburgh shouldn't hesitate to take him. He could be a starter this year and fits exactly what they want in a replacement for James Harrison with tough, athletic pass rush skills.

2. Damontre Moore
Pittsburgh coaches Dick LeBeau and Keith Butler have successfully converted LaMarr Woodley from a standout defensive end to a pass rush beast at outside linebacker. They could follow the same script with Moore, who is a beast and plays with the same ferocity as James Harrison.

3. Kevin Minter
Minter needs some work and wouldn't be ready to start in 2013, but he could be a good fit on the inside because he is athletic and can eat up space against the running game. He's tenacious and athletic. Pittsburgh needs a plan to replace James Farrior. That could include Minter.

4. Manti T'eo
T'eo's off-field baggage may scare off some teams, but what should really concern evaluators is his lackluster performance in the National Championship. He may not have the toughness to be a starter at the NFL level. If any team can get him right, it is probably Pittsburgh.

5. Kiko Alonso
Alonso is a good talent that could boost his value with a good run-up to the draft. He isn't an exact fit for the Steelers, but he is very athletic and has played against top NCAA talent for his entire career. If he can become a little more consistent and demonstrate good strength and skill, he could move himself into the first round.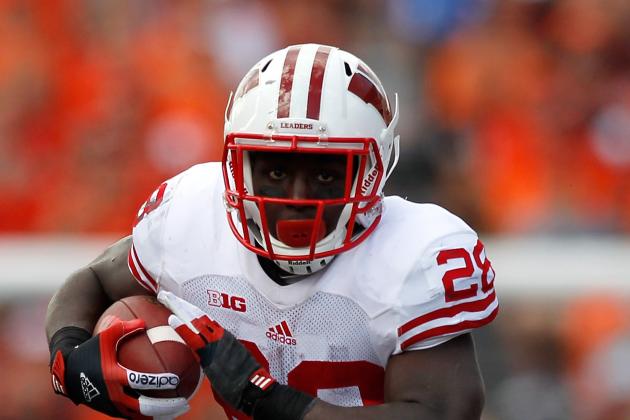 Jonathan Ferrey/Getty Images

Here's a look at the top prospects at running back that would be a fit for the Pittsburgh Steelers:
1. Eddie Lacy
The Steelers need to rebuild their running back corps from the bottom up. Lacy is the perfect player to build around because he's a do-it-all back that can anchor an offense. He would give Pittsburgh their best option in the backfield since Jerome Bettis.
2. Montee Ball
Ball is another player that can do it all. He's a tough inside runner that can cut back with great skill. He could be the back that Pittsburgh envisioned getting when they drafted Rashard Mendenhall. Ball is a first or second-round talent that could move up draft boards with a good set of workouts.

3. Andre Ellington
If Pittsburgh wants to go in the direction of Willie Parker, they could go with Ellington. He's a slippery back with excellent elusiveness and fluid body control that will allow him to break off big runs with ease. He is a third round guy that is slowly moving up.

4. Marcus Lattimore
Lattimore is the ultimate high-risk, high-reward pickup. He's coming off one of the most gruesome injuries ever, but when he was healthy he was a top talent at running back. If he can prove his health, he could vault past all of the other backs.

5. Stepfan Taylor
Taylor is one of the players in the middle of this deep running back class that could end up slipping to the third round. He's built like Jonathan Dwyer and is a tough runner with a good, low center of gravity. He's hard to bring down and keeps his feet moving after contact. He could be valuable near the goal line.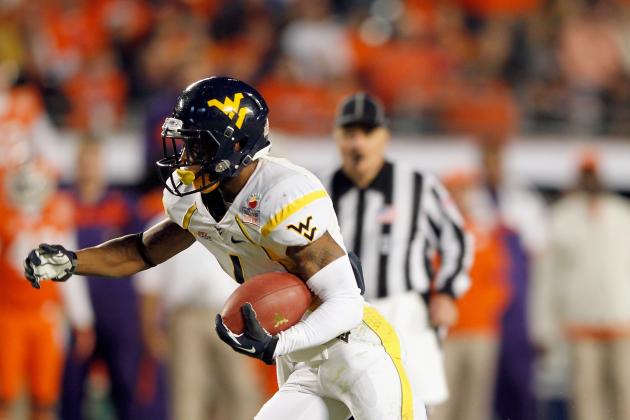 Mike Ehrmann/Getty Images

Here's a look at the top wide receiver prospects for the Pittsburgh Steelers to consider:
1. Tavon Austin
Austin is one of the most electrifying players in this year's draft class. He can help a team out on kick and punt returns and turn an offense into an explosive force. He has top end speed and excellent hands. He's ready to start for an NFL team if he can adjust to a pro style offense.

2. Keenan Allen
Allen is a tall receiver that is more of a possession guy. He does have good speed but isn't a burner. He would be good out of the slot or on the outside because he can beat most defenders with his speed and has the hands and size to beat out anyone.
3. Robert Woods
Woods is a typical Pittsburgh wide receiver choice. He doesn't possess any of the prototypical measurables make him a tough sell, but his ball skills are phenomenal. He's also a good teammate and brings the kind of attitude and style Pittsburgh values after a year of locker room troubles.
4. Terrance Williams
Williams has the size that Pittsburgh needs at the receiver position and has good ball skills. He needs to prove he's a more polished route runner, however. The one thing that he absolutely must prove in the lead-up to the draft is that he is past the mental mistakes and drops. That's something teams like Pittsburgh can't afford.
5. Markus Wheaton
While not playing in a pro style offense, his success in a system that uses short passes and screens makes him attractive to Pittsburgh. The Steelers like that kind of player. He compares to an Emmanuel Sanders and needs to be coached up to be successful at the NFL, but he's a solid second-round choice.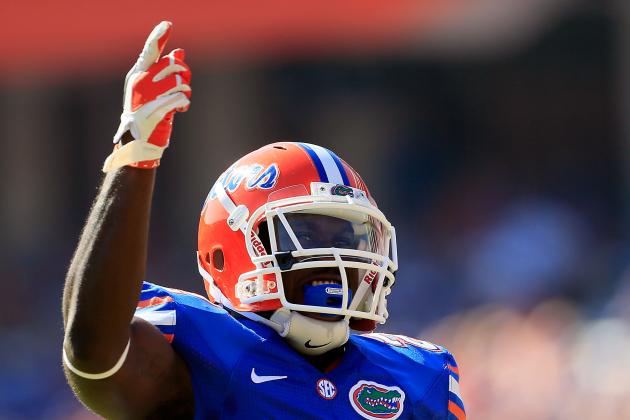 Sam Greenwood/Getty Images

Here's a look at the best safety prospects for Pittsburgh to consider in the draft:
1. Matt Elam
The best safety prospect in the draft this season, Elam is an athletic, fast player that is excellent at making the big play and working in a non-traditional safety role similar to what Troy Polamalu does when healthy. He could start in a year and be every bit as good as the player he'd be replacing.
2. Kenny Vaccaro
A free safety, Vaccaro is a beast that delivers punishing hits. He's aggressive to a fault at times and he needs to learn to stay within the scheme to prevent leaving gaps in the coverage. He has the skills to be a top free safety in the NFL if he can solve some of the mental mistakes.

3. Jonathan Cyprien
A tough, physical defender who's aggressive and plays with maximum effort, Cyprien's stock has risen since he showed well at the Senior Bowl. He could fit well at either safety spot although his build places him at the strong safety spot. Pittsburgh could grab him in round two.
4. Eric Reid
Reid is great at reading defenses and also plays with the type of energy that Pittsburgh loves. The problem is that the Steelers don't need another Ryan Mundy who can't control their aggressiveness. If Reid can prove that he's ready to play within the rules, he will move up the board.

5. Shawn Williams
Williams is an excellent tackler, which would be an improvement on the Pittsburgh special teams and defense. He's a decent run defender who hits hard, but he isn't very good in coverage and can get caught if asked to cover more shifty receivers.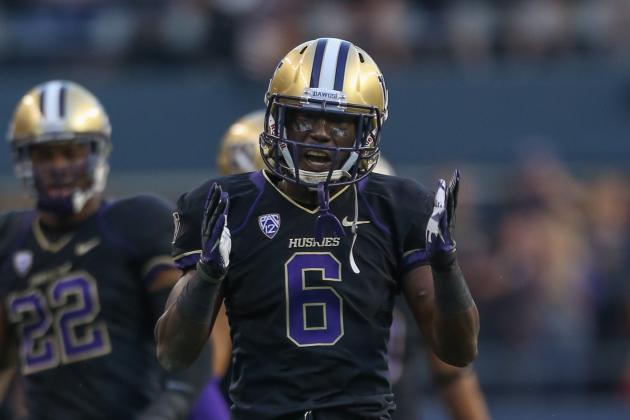 Otto Greule Jr/Getty Images

Here's a look at the top cornerback prospects for the Pittsburgh Steelers in this year's draft:
1. Xavier Rhodes
Rhodes may not make it to the 17th pick, but he would be an instant upgrade to the defense and could contribute right away. He's very physical and could bring a tougher coverage style to Pittsburgh. After getting burned at times last year, landing a player that can jam and get physical would be a welcome addition.
2. Desmond Trufant
A very athletic corner, Trufant needs some polish on his technique to be successful in the NFL. He's good in space and plays a decent zone coverage style. He can deliver the big plays while still being a physical player for the position.

3. Johnthan Banks
Banks is a lot like a young Keenan Lewis. He makes good plays and is a very tough defender, but he makes mental mistakes and gets caught looking for the big play instead of playing the receiver. If he can fix that, he's a lock for the first round.
4. Jamar Taylor
Taylor has good instincts and has experience in the type of system Pittsburgh employs. He has great speed as well and is aggressive in his style. He does need to be more physical, but he would fit the Pittsburgh scheme very well without any major adjustments to his game.

5. Darius Slay
The biggest knock on slay is his lack of physicality. He's a good coverage guy that can definitely work his way into the second round with a good showing before the draft, but until he's ready to step up and get tough, he will struggle against he Anquan Boldins of the NFL.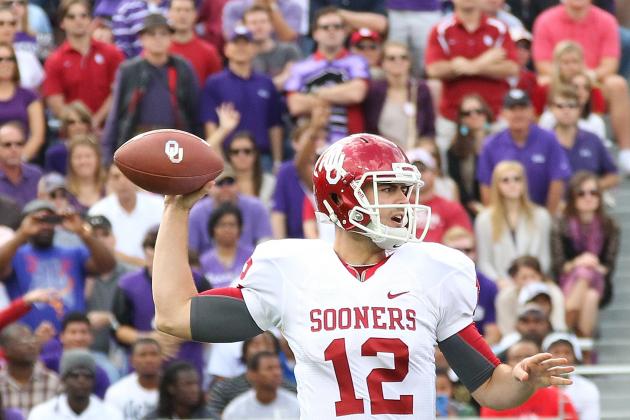 R. Yeatts/Getty Images

Here's a look at some players the Pittsburgh Steelers should be looking for in rounds four through seven:
1. Landry Jones
The Steelers need a backup quarterback that they can count on. Jones could end up being a future starter. In the short term, he could benefit from learning in this system and working behind Ben Roethlisberger. The Steelers would get a backup who's mobile and can operate their offense without issue.
2. Ray Graham
If Pittsburgh values a tough, goal-line back, they can look no further than across the hallway at Graham. He's a tough runner on the inside and he can bull his way to extra yards. The Steelers have been terrible in short yardage. Graham could change that.
3. Denard Robinson
Pittsburgh has rolled the dice before on college quarterbacks moving to wide receiver. Antwaan Randle El and Hines Ward worked out pretty well for the Steelers. Robinson fits that style and could end up being a very good athlete that can bring the element of surprise back to Pittsburgh.
4. Zac Dysert
Pittsburgh did well when drafting their last quarterback from Miami (Ohio). Ben Roethlisberger became an elite passer quickly. Dysert is raw and played in a shotgun offense, but he could end up turning his raw athleticism into a great career.
5. Duke Williams
A raw safety prospect, Williams could become a star if he gets the right coaching. He does everything well but nothing spectacularly. He's the classic small program guy that fits well in Pittsburgh. He has good work ethic and an interesting combination of raw skill.