3 Indiana Pacers Players Who Don't Get Enough Credit for Their Success
Steve Mitchell-USA TODAY Sports
The Indiana Pacers currently have the third-best record in the Eastern Conference, and it has been a total team effort that has gotten them this far.
A large part of their success is due to Paul George's significant improvement and David West playing like he did in his prime. But those are only two players, and there are a handful of other contributors who make a big impact as well.
This slideshow will evaluate three unsung Pacers who don't get enough credit for their success this season.
George Hill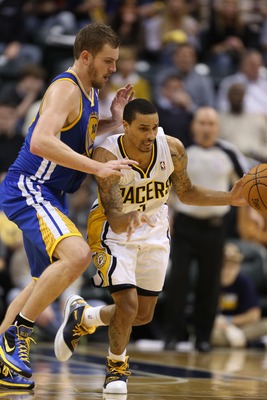 Brian Spurlock-USA TODAY Sports
Last season, the Pacers had a choice of whether to keep George Hill or Darren Collison on their team.
They chose Hill, and the results have been admirable.
He's averaging 14.5 points, 3.9 rebounds and 4.8 assists per game with a solid PER of 16.8 (per Basketball Reference). On top of that, he's quickly becoming one of the best perimeter defenders in the league.
On a team that relies on an inside-out offense like the Pacers, Hill's style of play fits in quite nicely. He's a good shooter with great court vision, and he controls the pace of the offense.
According to 82games.com, Hill is holding opposing point guards to a lowly PER of 11.9 and opposing shooting guards to a PER of 10.4. Although part of the reason could be because of the Pacers' overall great defense, there's no denying that Hill has been holding his own defensively.
Roy Hibbert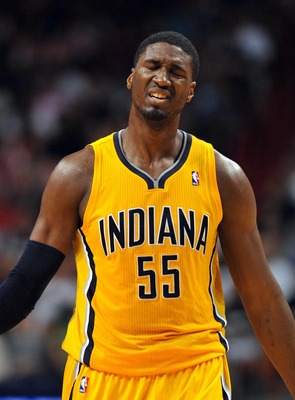 Steve Mitchell-USA TODAY Sports
Roy Hibbert is starting to become the scapegoat in the Pacers losses, simply because he's not living up to his potential (or contract) this year.
George and West may have bad games, but they never get blamed for the team's loss. On the other hand, Hibbert has been trying to find his groove since the beginning of the season, and he's still very inconsistent on offense.
However, his defense is one thing that shouldn't be overlooked. At 7'2", 280 pounds, Hibbert is a bull. Sometimes he may not play as aggressively as Pacers fans would like to see, but he always gives 110 percent on defense.
His career-high average of 2.7 blocks per game blows any of his previous blocks averages out of the water. He is a great post defender and clogs the paint to stop people from getting easy looks in the paint.
Hibbert's role on defense is similar to that of Tyson Chandler's of the New York Knicks. He tries to contest every shot near the rim and create nightmares for every player trying to slash to the basket.
Lance Stephenson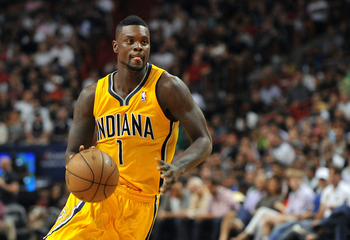 Steve Mitchell-USA TODAY Sports
Paul George has a case for the NBA's Most Improved Player Award, but his teammate Lance Stephenson should be in consideration as well.
Like Hill, Stephenson is one of the better perimeter defenders in the league. His improvement may not be evident in his stats (8.5 PPG and 3.8 RPG), but he's a great, young player who understands the Pacers' team philosophy and defensive system.
He has also improved his three-point shooting, upping it to 35 percent this season. In fact, he's registering career highs across the board, and he has been a major motor driving the Pacers to success this year.
Stephenson also possesses the court vision to substitute as the team's primary ball handler when he's given the opportunity.
At 22 years of age, he will only get better from here on out—if he keeps working. Playing on a team like the Pacers with established, quality veterans like West and Granger, Stephenson will surely develop correctly.
Keep Reading

Indiana Pacers: Like this team?