Last-Minute Predictions for Cincinnati Bengals Free Agency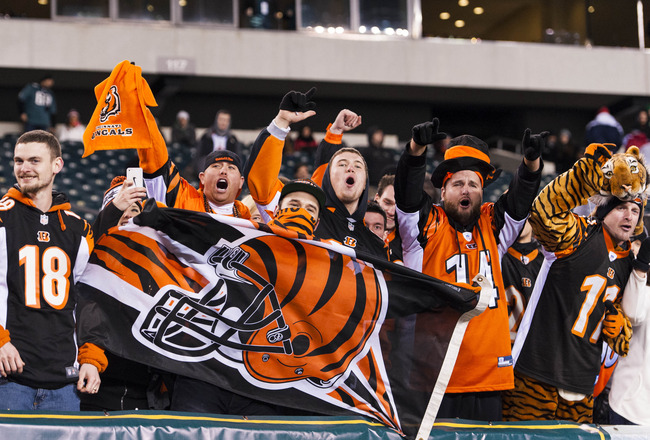 USA TODAY Sports
The NFL free-agency period begins today, but the Cincinnati Bengals have already been busy. The team re-signed kicker Mike Nugent, long snapper Clark Harris, running back Cedric Peerman and defensive end Wallace Gilberry before any of them could hit the open market.
What else will the Bengals accomplish in the coming weeks? Cincinnati still has several options to consider and here are my five predictions for what the team will do next.
5. The Bengals Will Say Good-Bye to Robert Geathers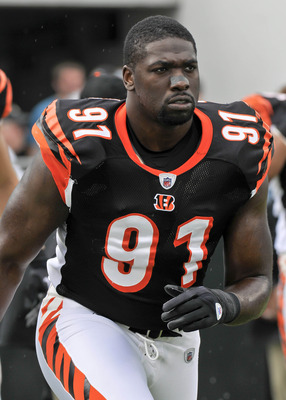 Veteran Robert Geathers may have played his last game in Cincinnati.
Fernando Medina-USA TODAY Sports
The Wallace Gilberry signing doesn't necessarily mean that Geathers is gone, but it's hard to imagine that the veteran will be back. Geathers is no longer the player he was and sits down in the depth chart.
If Geathers is back it will probably be on a one-year deal, but it's more likely the Bengals will either take a defensive end in the draft or sign another free agent.
4. Pacman Will Be Back in Stripes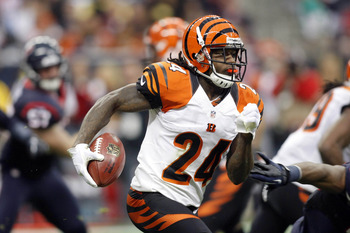 Will Adam "Pacman" Jones be back in Cincinnati?
USA TODAY Sports
Most people, myself included, scoffed when the Bengals signed Adam Jones several years ago, but it turned out to be a good deal for both parties. While Jones is not the first-round talent he was, he has been a valuable piece in not only the defensive backfield but the return game as well.
Jones may get plenty of looks from other teams, but I'm betting he'll back in Cincinnati. Re-signing him fills two holes for the price of one.
3. Rey Maualuga Will Be Re-Signed
The Bengals face a decision with Rey Maualuga.
Ron Chenoy-USA TODAY Sports
Maualuga has not lived up to his hype and struggled mightily after he was moved to middle linebacker. But with Vontaze Burfict, the Bengals have the middle filled and can move Maualuga to the outside.
With Maualuga back in the fold, the Bengals can concentrate on other positions that require more immediate attention. It's a move that makes sense for the team.
2. Andre Smith Will Sign Elsewhere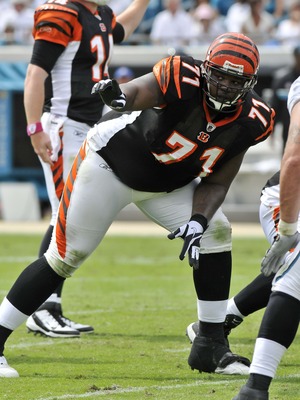 The Bengals' biggest decision centers around tackle Andre Smith.
Fernando Medina-USA TODAY Sports
The Bengals used the franchise tag on defensive end Michael Johnson, and as a result, face an uphill battle in re-signing Andre Smith. Smith had a very good season and could get big money on the open market.
Personally, I would try to re-sign him. If not, the Bengals will have to address tackle in the draft or free agency. Neither option makes as much sense as retaining Smith.
1. The Bengals Will Make a Play for Reed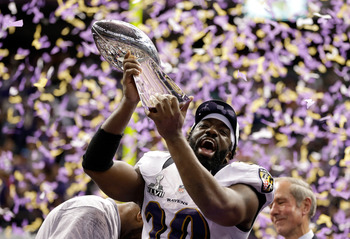 Ed Reed would fill a Bengal need.
Ezra Shaw/Getty Images
The Ravens appear set to part ways with veterans Ed Reed, and coincidentally, safety is a position the Bengals need to upgrade.
The Bengals will throw their hat in the ring in an effort to upgrade the roster as well as make a big splash.
Keep Reading

Cincinnati Bengals: Like this team?