San Diego Chargers Mock Draft: Predicting All 7 Rounds
Brian Spurlock-USA TODAY Sports

Tom Telesco has his hands full.
While the Denver Broncos and Kansas City Chiefs are making a lot of noise in free agency, the rebuilding Chargers are keeping it silent. Denver is shaping up a roster that has the capability to win the AFC West five years in a row, unless a team gives them competition.
In order for San Diego to do so, they must start making some moves. Telesco has already made it clear of his plans to build this team through the draft. It's still more than a month away, but here is my latest mock for the San Diego Chargers.
Begin Slideshow

»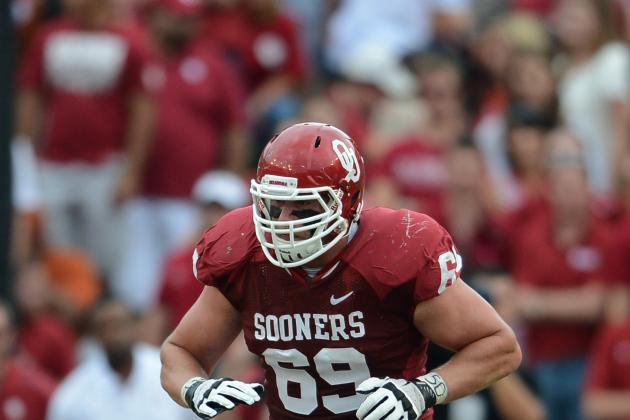 Matthew Emmons-USA TODAY Sports

If Tom Telesco chooses to sign a guy like Jake Long, the Chargers would most likely not draft a left tackle at the No. 11 spot. Jake Long will be asking for a very large contract that San Diego will definitely not give him (although they should), so plan on them drafting a tackle in the first round.
King Dunlap was recently signed, but he is not consistent enough to replace Jared Gaither on the left side.
Lane Johnson's draft stock has been rising the past few months. He's considered a top-15 pick at the moment, but many teams in the top 10 like his potential. Luke Joeckel is the consensus No. 1 pick, and Eric Fisher from Central Michigan should be a top five pick as well. If another team believes they need a tackle after both of these players have been selected, Lane Johnson would be the guy.
Arizona at the seventh spot and Buffalo at the eighth spot could draft an offensive lineman. Whether they decide to take a guard or tackle, no one knows. Depending on their selections, the Chargers may have to tweak their draft strategy.
If the Chargers sign tackle Eric Winston, who they have been linked to according to ESPN, expect San Diego to draft Chance Warmack at No. 11.
Alternate Picks: Chance Warmack (OG), Alabama; Alec Ogletree (ILB), Georgia.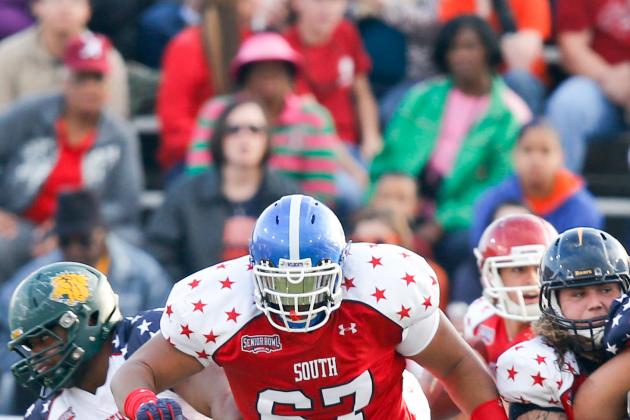 Derick E. Hingle-USA TODAY Sports

Imagine this offensive line.
LT - Lane Johnson/Eric Winston
LG - Larry Warford
C - Nick Hardwick
RG - Chad Rinehart/Tyronne Green
RT - Jared Gaither/Jeromey Clary/King Dunlap
Having two rookies anchor your offensive line seems scary, especially with Jared Gaither or Jeromey Clary on the other side, but both of those guys (Johnson and Warford) are extremely athletic and talented. It's unusual for rookie offensive linemen to start, unless they're first-rounders, but hey, the Chargers did start an undrafted rookie at left tackle for the most of last season.
Larry Warford is a big, 332-pound stud out of Kentucky. He is currently rated the third-best guard in his class, according to CBS Sports. Like Lane Johnson, Warford was also an All-American in 2012.
Alternative Picks: Johnthan Banks (CB), Mississippi State; Jordan Poyer (CB), Oregon State.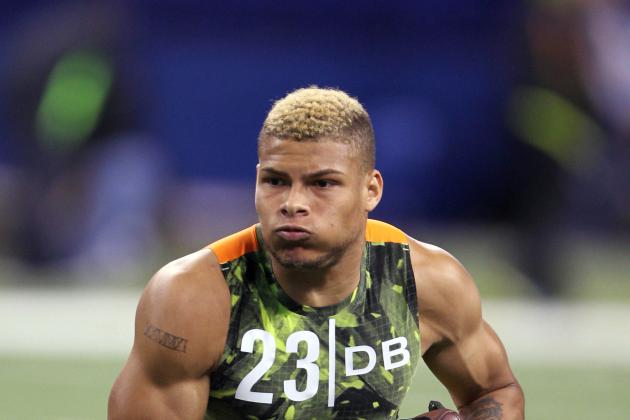 Brian Spurlock-USA TODAY Sports

Tyrann Mathieu can straight up defend. Say what you want about his character or his off-the-field issues, but Mathieu's coverage is outstanding.
Deion Sanders said Mathieu is a "leader, straight up dog and all that and a bag of chips." He ran an unofficial 4.43 40-yard-dash at the combine and received a lot of attention in his one-on-one drills. Mathieu has an extreme amount of talent, but who wants to take the risk on his character?
If A.J. Smith was still in charge, I wouldn't say the Chargers. With Tom Telesco now running the show, it's different. There is a big chance that both Antoine Cason and Quentin Jammer will not be back in San Diego next season.
ESPN reports that former Jaguars cornerback Derek Cox has recently agreed to a four-year deal with the Chargers. Great pickup for San Diego, but they still need to add depth to the position.
Alternate Picks: Jonathan Franklin (RB), UCLA; Shawn Williams (SS), Georgia; Jon Bostic (ILB), Florida.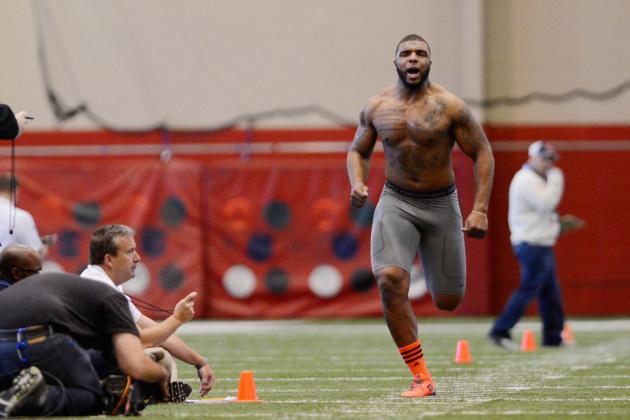 Kelly Lambert-USA TODAY Sports

According to CBS, Nico Johnson is projected as a fourth-round pick, although he should not be. Johnson resembles Takeo Spikes in many ways. Spikes, who was recently let go, excelled in stopping the run. Johnson is also a great run defender and tackler. Like Spikes, he must get better in coverage.
The Chargers need to address the inside linebacker position. Takeo Spikes has been very consistent over the years, and San Diego needs to find a valuable replacement. Many put emphasis on the fact that the Chargers need to find a player to pair with Eric Weddle in the secondary, but they also must find a player to pair with Donald Butler, an emerging linebacker.
Nico Johnson's incredible athleticism may not make him available for the Chargers in the fourth round, but if he is, consider it a steal.
Alternate Picks: Brian Winters (OG), Kent State; JJ Wilcox (SS), Georgia Southern.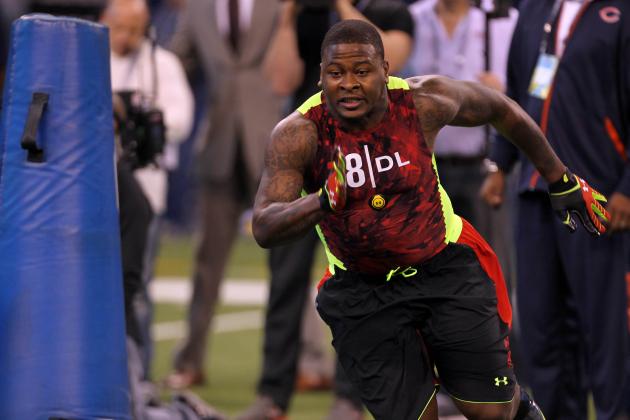 Brian Spurlock-USA TODAY Sports

The Chargers released Antonio Garay, which was expected. They also have not re-signed Aubrayo Franklin. That leaves the defensive tackle spot wide open. Although Telesco says he is open to re-signing Franklin, don't count on it.
Telesco is beginning a youth movement, and a 32-year-old defensive tackle does not seem to fit in. San Diego should address this need in free agency, depending on where all the money goes. Even if the Chargers do sign a DT in free agency, they should still draft Everett Dawkins in the fifth round.
Dawkins is an excellent speed rusher and can get around blockers efficiently. He is very athletic, but still needs to get stronger. For a full scouting report on Dawkins, click here.
Alternate Picks: Kenny Stills (WR), Oklahoma; Devin Taylor (DE), South Carolina.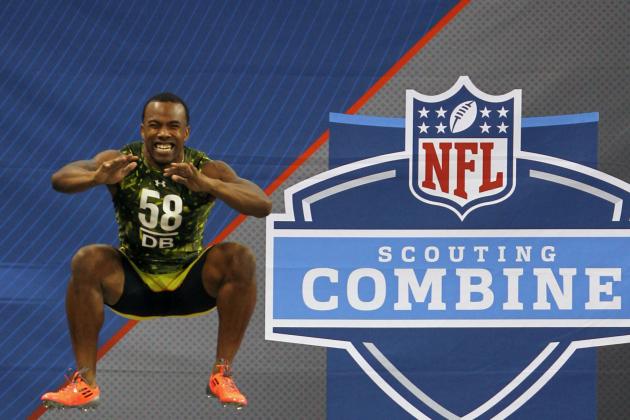 Brian Spurlock-USA TODAY Sports

Eric Weddle, I apologize on behalf of the Chargers organization.
Weddle has been paired with a countless number of strong safeties over the years. Atari Bigby was the most recent player. A few days ago, the Chargers released him. Brandon Taylor is still recovering from tearing his ACL, so San Diego would be starting Darrell Stuckey at the position if the season started tomorrow.
With players like Bernard Pollard, Quentin Mikell, Charles Woodson and Jim Leonhard available, the Chargers should try to fill the position in free agency. If San Diego does indeed sign a strong safety, don't be surprised if they select one in the draft.
Bleacher Report's Matt Miller compared Earl Wolff to Cincinnati's safety Chris Crocker.
Alternate Picks: Cierre Wood (RB), Notre Dame; Ricky Wagner (OT), Wisconsin.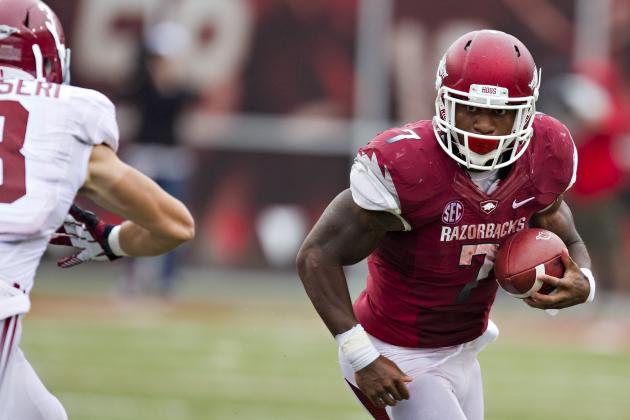 Wesley Hitt/Getty Images

The last time the Chargers had a productive backfield, Darren Sproles was still in town. Sproles added an element to the offense that has been missing for years in San Diego. Ryan Mathews has not yet reached his full potential yet. He also has not played an entire season while staying healthy.
Knile Davis could be that change-of-pace back they need. Davis runs an incredible 4.33 40-yard-dash, making his breakaway speed hard to pass on. Telesco is looking for a back to complement Mathews, and Davis should be the guy.
Alternate Picks: Collin Klein (QB), Kansas State; Robbie Rouse (RB), Fresno State.