The Best and Worst Contracts on the Arizona Cardinals' Payroll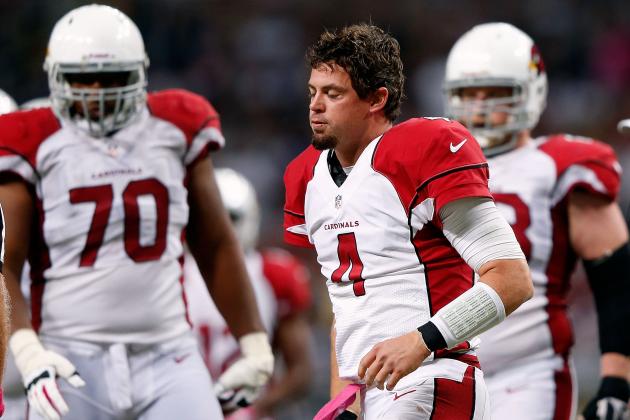 Jamie Squire/Getty Images

Even after finishing with one of the worst records in football this past year, the Arizona Cardinals entered the offseason over the salary cap.
A few players were let go to clear up cap room. While the NFL is a business, it was tough to see a couple of those men leave the desert.
This team has embarrassed itself in free agency over the past couple of years. It does not have much room for key signings, but has several holes to fill.
Several issues can be attributed to some of the contracts that Rod Graves signed when he was in charge. But with a new manager and coaching staff, many are hoping that this mess will be sorted out.
This article will look at the best and worst contracts that Arizona has on its payroll.
Note: All salary-cap numbers are via Spotrac.com.
Begin Slideshow

»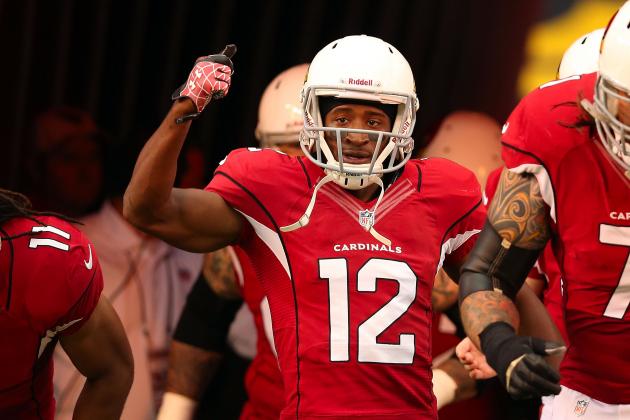 Christian Petersen/Getty Images

Heading into 2012, not many people were very high on Andre Roberts. The Cardinals' 2010 third-round pick had just less than 600 yards the previous year, despite starting in all 16 games.
Looking past the numbers, he simply was not making the plays he needed to make. With Michael Floyd entering the mix, the 25-year-old had some work to do in his third year.
Roberts impressed early and often this past season. He led the team in receiving yards and yards per game and trailed only Larry Fitzgerald in yards and receptions.
Had Kevin Kolb stayed healthy, we may have seen a lot more out of the Arizona wideouts. Four of Roberts' five touchdowns came before the injury. But his numbers suffered down the stretch due to poor quarterback play. Otherwise, he could have been on his way to a 1000-yard season.
While it is great to see him be productive, the best part about Andre Roberts is his contract. His salary doubles in 2013, but he only has a cap hit of $1,504,000.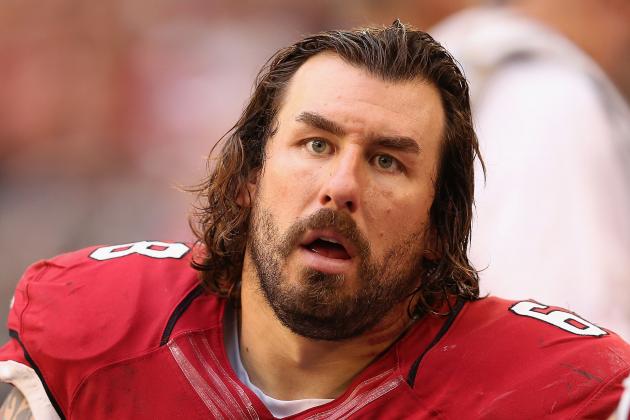 Christian Petersen/Getty Images

There is a lot not to like about this move. Most Cardinals fans, writers and the like were caught up in the Peyton Manning sweepstakes this time last year.
This allowed for the signing of Adam Snyder to fly under the radar.
Arizona essentially downgraded at the right guard position. The team released Rex Hadnot after landing Snyder and did not put much effort toward bringing in Jake Scott.
Keeping Hadnot or signing Scott would have been two better options for the Cardinals.
Entering free agency last offseason, right guard was the least of their needs. Now, you could argue that it is their most pressing one.
Snyder has a cap hit of $4 million in 2013. While none of that can be saved by releasing him, the only excuse for him to be starting is because of an injury to Scott or Levi Brown.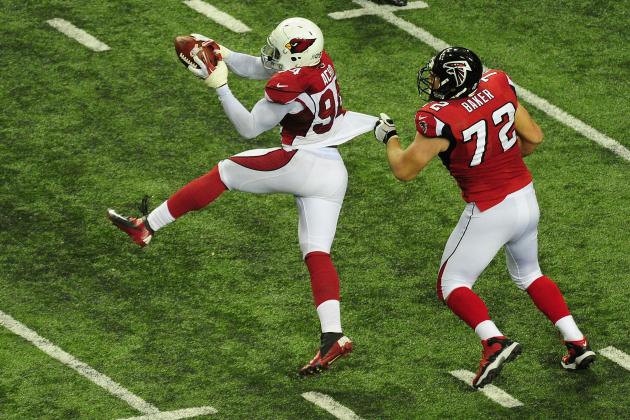 Scott Cunningham/Getty Images

One of the bigger steals in the 2011 draft was Sam Acho. The Cardinals were able to pick him up in the fourth round and immediately fill a need on the defensive side of the ball.
Since joining the team two years ago, Acho has already started 26 games. Over that time period he has 88 tackles, 11 sacks, two interceptions and six forced fumbles.
Acho's salary does not represent what he has done for Arizona over the past two years. His base salary in 2013 is the 29th-highest on the team.
2013 will be the third year of a four-year rookie deal for the 24-year-old. After this season, he will have made $1,750,821. This is less than what the aforementioned Adam Snyder reeled in during 2012.
While the former Texas Longhorn standout does have room for improvement, he will be one of the better players on the Cardinals defense for years to come.
Christian Petersen/Getty Images

One label that Arizona has been given over the past few years is "cheap." While you do not see this team bringing in the top free agent every year, it is far from cheap.
The Cardinals are not afraid to spend money. Perhaps the better comment would be to say that they do not know where to spend their money.
Arizona took a huge risk when it traded for Kevin Kolb. Not having a second-round pick hurt the Cardinals last year and they have thrown out a lot of dough for little in return.
In 2013, Kolb has a base salary of $9 million, a $2 million signing bonus, $500,000 as an annual workout bonus and a $2 million roster bonus that is to be paid on March 16.
The Cardinals will have a big decision to make. Of the $13.5 million that they owe him this year, they could save $7.5 million of it by simply releasing him.
Bringing back Kolb for another year would not be a terrible idea. His contract is insane, however, and he must take a pretty significant pay cut if he wants a shot at a starting job.