Who Will Be the Next Breakout MMA Star from Canada?
Photo credit: MMeh Fighter
UFC 158 goes down Saturday from Montreal, Quebec, one of the true jewels of Canada, or, as I like to call it, The Great White North.
Saturday's headliner is native Quebecer Georges St-Pierre, who puts his welterweight title on the line in a suddenly reheated grudge match with Nick Diaz. Several other Canadians also dot the card.
But let us now take a moment to look beyond the UFC 158 headlines. Let us look to the next wave of Canadian combat talent. Who is on the horizon? Who might we see under the bright lights before too long?
Here are my top five picks. And don't worry, I'm not going to pick Rory MacDonald. Only actual prospects need apply.
Begin Slideshow

»
Photo credit: Sherdog
Division: Lightweight
Record: 12-2
Promotion: Score Fighting Series
Jesse Ronson has trained for years in the camp the late Shawn Tompkins built, alongside UFC veterans like Sam Stout and Mark Hominick. The 26-year-old has won seven straight; most recently, he showed strong takedown defense and sharp striking against respected wrestler Ryan Healy.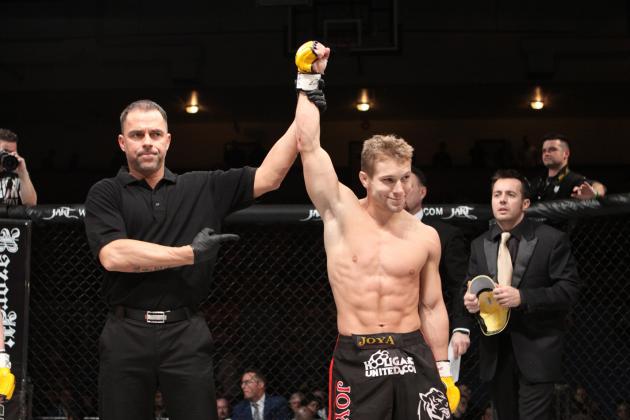 Photo credit: W-1 MMA
Division: Bantamweight
Record: 9-0
Promotion: Score Fighting Series
Josh Hill scored a watershed win in August with his domination of John "Haggis Basher" Fraser. His freight-train takedowns and sharp ground-and-pound sealed the victory.
An injury scuttled a scheduled fight in November, but he's back now and spoiling to make up for it, actively lobbying for a UFC berth with every tweet.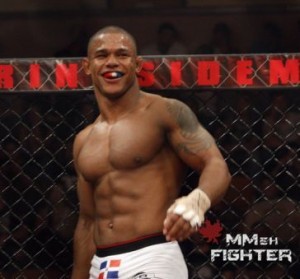 Photo credit: MMeh Fighter
Division: Welterweight
Record: 8-1
Promotion: Slamm
He's Dominican born, but when it comes to fighting, he's Canadian bred. That's because he trains with a little Montreal outfit known to familiars as Tristar.
In 2011, Alex Garcia, 25, tore his ACL and ultimately missed a year of action. But the chiseled welterweight picked up where he left off when he choked out Stephane Lamarche in November. The win gave Garcia four wins by TKO and four by submission. I'd call that well-balanced.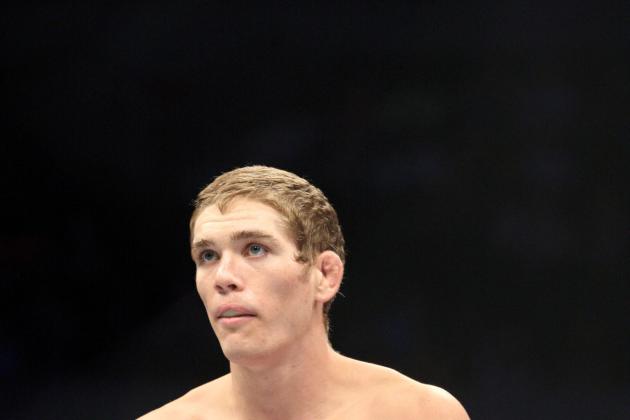 Scott Olmos-USA TODAY Sports

Division: Welterweight
Record: 26-8
Promotion: UFC
Just the latest UFC entrant from the welterweight fighter factory that is The Great White North. With his 34 pro fights and 21 career stoppage victories, it's hard to believe Jordan Mein is still just 23. He might have had the cleanest stand-up game in Strikeforce before the promotion folded.
The UFC threw him right to the wolves in his UFC debut, when his ground game will be tested against promotion mainstay Dan Miller.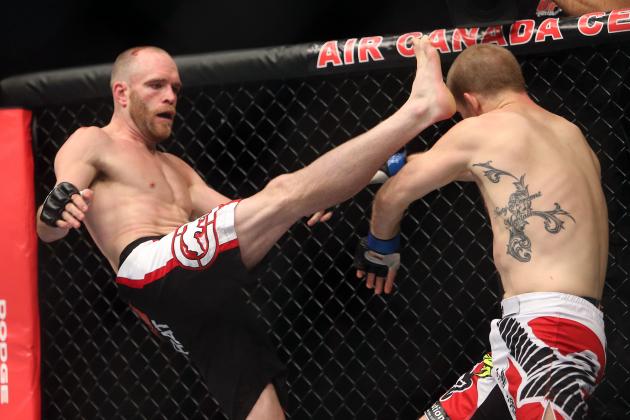 Tom Szczerbowski-USA TODAY Sports

Division: Lightweight
Record: 20-5
Promotion: UFC
All right, all right. I know he's not a prospect. In fact, he's been in the UFC for four years now. But if he puts on a good show this May at UFC 160 against the great and powerful Gray Maynard—and there's no reason to think he won't—T.J. Grant could indeed be Canada's next big breakout star.
He's been fairly anonymous outside the hardcore set for his entire career. But upon dropping to lightweight in 2011, Grant launched a scorching four-fight win streak that included a submission, a knockout and a three-round bonus-winning blood bath with Evan Dunham.
The Nova Scotia native is just 29, and there's no question the door is open. If he can get through it against Maynard, we'll have a bona fide breakout on our hands.
Canada is also the world's second-largest country. For more amazing Canada information from someone who has actually visited Canada on not one but two separate occasions, look up MMA" target="_blank">@ScottHarrisMMA on Twitter.