Updated Winners and Losers from Dwight Howard Trade of Summer 2012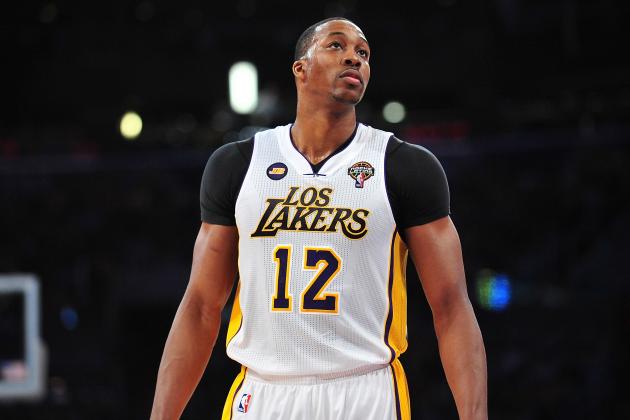 Gary A. Vasquez-USA TODAY Sports

The effects of Dwight Howard being traded to the Los Angeles Lakers are still being felt around the NBA.
Seven months ago, the Dwightmare that plagued the Orlando Magic, the Lakers and a number of other teams seemingly came to an end.
Here's the essentials of the four-team, 12-player deal that went down in August 2012:
Lakers got: C Dwight Howard, F Earl Clark and G Chris Duhon (via Orlando)
Magic got: G Arron Afflalo, F Al Harrington (via Denver), F Moe Harkless, C Nikola Vucevic (via Philadelphia) and F Josh McRoberts and G Christian Eyenga (via Los Angeles). They also received five draft picks over five years.
The 76ers got: C Andrew Bynum (via the Lakers) and G Jason Richardson (via Orlando)
The Nuggets got: F Andre Iguodala (via Philadelphia)
But, as we know, it's still not completely over. Not yet.
As Howard prepares to make his first return to Orlando since clawing his way out, emotions left over from last season and this past summer have re-surfaced. And just as it was this time last season, nothing is etched in stone.
Los Angeles would like to assume Howard will re-sign with the team in free agency, but Mitch Kupchak and company can make no such guarantees—nor can Howard.
Orlando appears to be indulging in some of the spoils acquired in the four-team deal, while others involved are struggling to salvage the remnants of this groundbreaking blockbuster.
Which of the many parties impacted by the 2012 conclusion to Howard's saga are reaping the benefits of life after the Dwightmare? And which have been left pining for better days?
More than a half-year removed from this stage of the soap opera, we have a more definitive set of ramifications from which to judge.
Note: All stats used in this article were compiled from Basketball-Reference, Synergy Sports and 82Games.com unless otherwise noted.
Begin Slideshow

»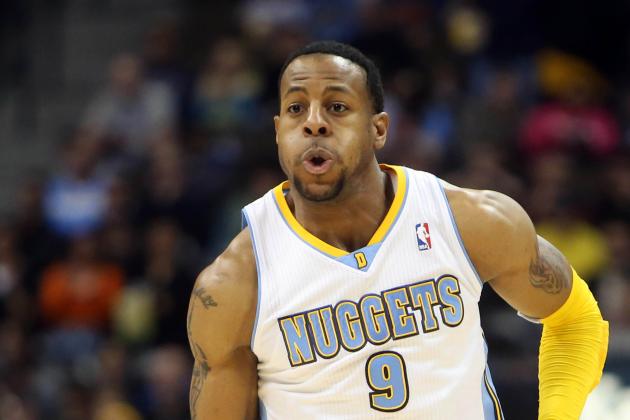 Chris Humphreys-USA TODAY Sports

Every time you give up Al Harrington and Arron Afflalo for Andre Iguodala, you're a winner.
No, Iguodala hasn't had an All-Star-caliber season, and yes, the Denver Nuggets defense is still spotty (15th in defensive efficiency). However, they're locked in as the fifth seed in the Western Conference and currently possess the league's second-best home record (28-3).
It also bears mentioning that Denver ranked 21st in defensive efficiency last season, so that jump to the middle of the pack is a staunch improvement.
Aside from 13 points, 5.3 rebounds, 5.0 assists and 1.7 steals per game, Iguodala has brought some much needed veteran leadership to a budding Nuggets faction.
This is a Denver team that is now mentioned in the same breath as legitimate title contenders because they are so deep, due in part to Iguodala.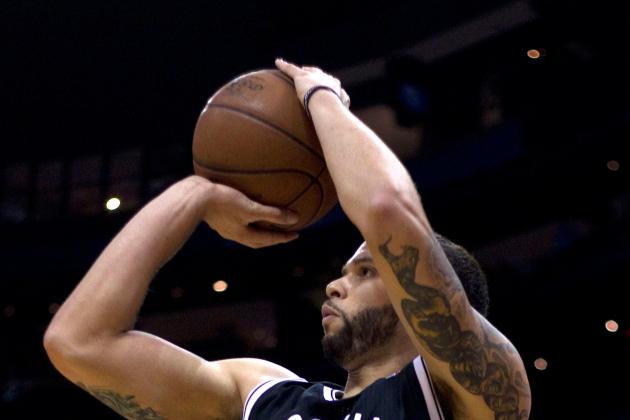 Joshua S. Kelly-USA TODAY Sports

The Brooklyn Nets wanted Dwight Howard badly.
As a consolation prize for missing out on his services, Brooklyn essentially wound up with Joe Johnson as their prolific offseason acquisition. Ouch.
Of course, not landing Howard meant the Nets were able to retain Brook Lopez, who became a first-time All-Star, but you can't help but wonder how they would have faired with Howard.
Howard has struggled with consistency for much of this season, but he has still helped the Lakers thrust their way into the Western Conference playoff picture.
Just imagine what he could have done in a much weaker East, where Brooklyn is among the top four in the conference.
Gary A. Vasquez-USA TODAY Sports

When the Lakers paired Dwight Howard with Kobe Bryant, Steve Nash and Pau Gasol, there's no doubt they envisioned utter dominance. Instead, they were left with a tumultuous group of stars who are still attempting to claw their way to a bottom playoff seed.
Far from ideal, right?
Absolutely, but stop and think about what the alternative was: continuing to house Andrew Bynum.
Bynum has yet to play a second this season, so for all the criticism Howard is given for not performing up to his potential, it could have been worse. Much worse.
If Kobe and crew are in trouble now, try and conceive how much trouble they would be in with no Howard, no Bynum and no Gasol. They would be lucky to be in the top 12 of the conference, let alone the top eight.
So forget the tepid performance, and forget that Howard could abandon ship at season's end.
The Lakers took a gamble—one that gives them a potential franchise player after the Black Mamba, and positions them to be, at the very least, a playoff team.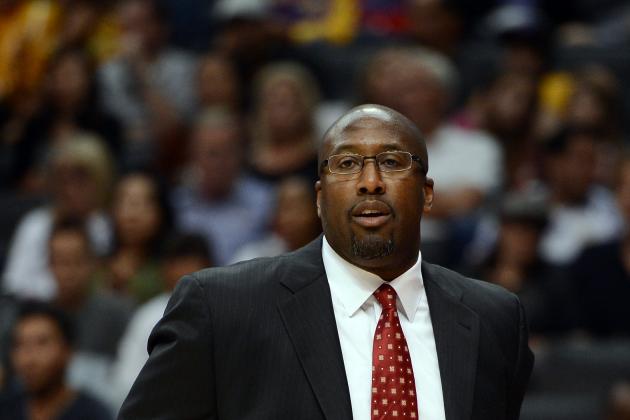 Harry How/Getty Images

Few people got hosed as hard as Mike Brown as the result of Dwight Howard's arrival in Los Angeles.
Tasked with turning a star-studded aggregate into an instant contender, Brown made the mistake of attempting to implement the Princeton offense—a system that failed miserably.
The Lakers began the season 1-4, and Brown was shown the door before it got it out of hand.
As we came to find, it still got out of hand in Tinseltown, but internally, the organization knew Jerry Buss was sick. Urgency behind winning now for Dr. Buss fueled the Lakers' cause and culminated in Brown taking his spot in the unemployment line.
Brown's reputation didn't withstand too fatal a blow, as five games into an unorthodox experiment isn't enough to cripple his career. Still, that's putting a good spin on being out of a job.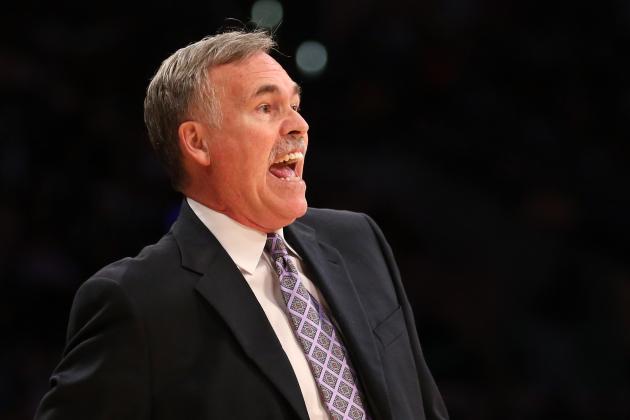 Stephen Dunn/Getty Images

Pay no attention to the perpetually frantic look that Mike D'Antoni sports, because he's a winner.
Much to his own befuddlement, D'Antoni beat out one Phil Jackson for the Lakers gig. While this hasn't been the cushy position he surely hoped for, he can shore up his return to the team next season by clinching a playoff berth.
Plus, being devoid of job security isn't exactly new to D'Antoni. He spent the better part of last season looking over his shoulder with the New York Knicks. He knows how it is.
He also knows that he could eventually join Brown at a local Chick-fil-A if he doesn't help the Lakers finish off what was once considered an improbable comeback.
Jonathan Daniel/Getty Images

Doug Collins and the Sixers defense should be lamenting the loss of Andre Iguodala and Nikola Vucevic.
When Philly shipped out a large portion of the team's core in favor of Bynum, the hope was that the Sixers would become instant contenders. However, plans have changed and title hopes have been ripped from the franchise's hands.
Bynum has yet to play this season, and the Sixers find themselves nearly 10 games out of the Eastern Conference playoff picture. To make matters worse, they must come to a decision on Bynum's future this summer, likely without having seen him play a single game.
Should they offer him a max contract and invest even more time and money in those degenerative knees?
The Amar'e Stoudemire fiasco in New York suggests no, but realizing the Sixers gave up Iguodala and Vucevic for nothing says otherwise.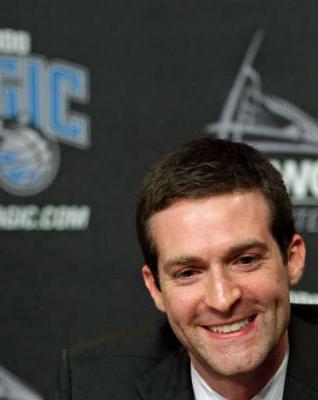 Photo via staugustine.com.
Yes, the Magic are winners—monstrous ones.
General manager Rob Hennigan was reviled to no end because he essentially traded the best center in the NBA for an assortment of spare parts.
He had the opportunity to get Brook Lopez from the Nets or Andrew Bynum from the Lakers. He could have had almost anyone he wanted, but he ended up with odds and ends. Pitiful.
Well, how do you like Mr. Hennigan now, ladies and gents?
Orlando has the second-worst record in the Eastern Conference, but the team avoided an expensive mess in Bynum and latched onto the surprisingly effective stylings of Nikola Vucevic.
Trudging on sans Dwight Howard is still a loss, but it was inevitable. Hennigan and the Magic mitigated the damage done and even procured some promising pieces for the future, including Vucevic and Moe Harkless as well as a handful of picks in the next five drafts.
Did I mention the Bynum thing?
OK, good. It deserved a second reference anyway.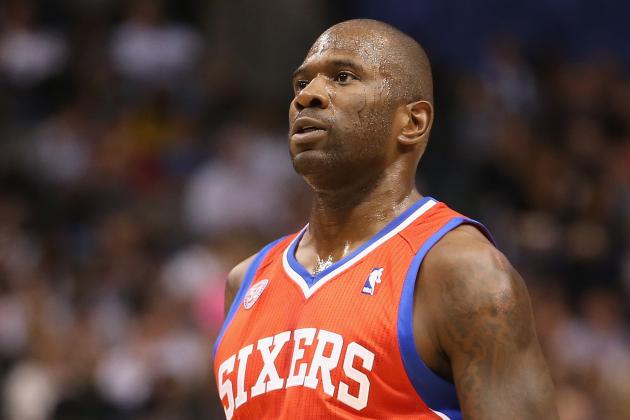 Ronald Martinez/Getty Images

The hits never stopped for the Sixers—or Jason Richardson, for that matter.
In one swift move, Richardson was sent from a contender to a suddenly rebuilding Philadelphia franchise. Then, in one breakneck diagnosis, a knee surgery ended his season.
Looking on the bright side, Richardson's wallet isn't taking a hit. At age 32 and 12 years into his professional career, though, watching from the sidelines as an Andrew Bynum-less roster plays its way into the lottery probably isn't exactly what the veteran shooting guard had in mind.
Knowing that next season will bring as much ambivalence as this one, the adage of "maybe next year" doesn't apply here.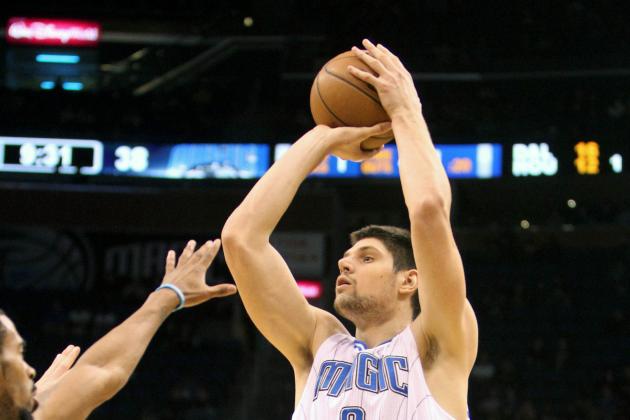 Kim Klement-USA TODAY Sports

From a marginally used rookie in Philadelphia to a sophomore phenom in Orlando, life has been good to Nikola Vucevic in the aftermath of the Dwight Howard trade.
On the season, Vucevic is averaging 12.3 points and 11.4 rebounds on 52.5 percent shooting from the floor. He's one of just 11 NBA bigs averaging a double-double and is one of only 11 players since 1985 to grab 25 or more rebounds in a single game before his 23rd birthday.
In Vucevic, the Magic have hope for their future—a talented pillar in which to build around. And in the Magic, Vucevic has been afforded the luxury of playing more than 15 minutes a game as well as the certainty that comes with knowing he's a major part of their plans moving forward.
Replacing Howard as Orlando's lifeline was beyond impossible, but Vucevic has done the next best thing: allowed the Magic to make the most of an "impossible" situation.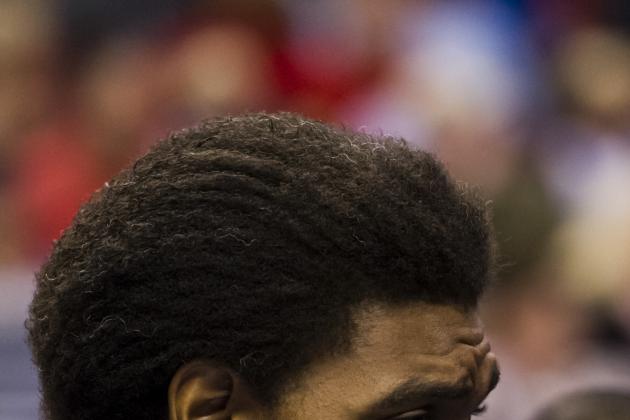 Howard Smith-USA TODAY Sports

What a way for Andrew Bynum to follow up his first NBA All-Star campaign, eh?
As mentioned previously, Bynum has yet to play in a game for the Sixers this season, and it's looking more and more like he never will.
Like Jason Richardson, Bynum is still cashing his paychecks, but this season has done irreparable damage to his reputation.
Set to explore free agency this summer, Bynum knows he's going to get paid. The question is, how much?
He was originally a lock to receive a max contract, and he may even get it from the Sixers (or another team). However, there is a possibility that he'll be left scouring for a lesser contract that he deems adequate.
That's just the nature of the beast this side of the NBA lockout—a beast that hasn't been kind to Bynum or his those fragile knees of his.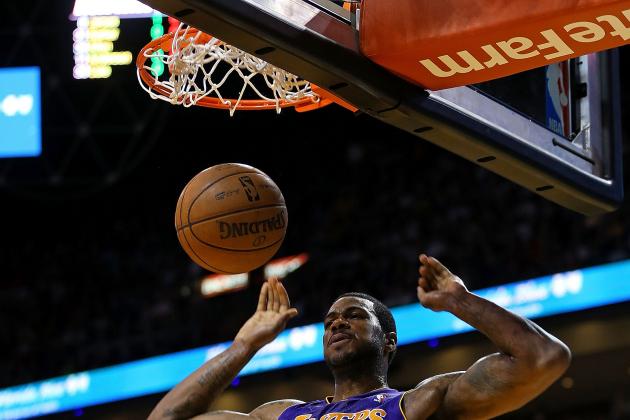 Mike Ehrmann/Getty Images

Earl Clark has made quite the impression in Los Angeles.
Initially considered an afterthought in the trade, Clark has gone from bench warmer to surprise starter since relocating to Tinseltown.
Clark is presently averaging 12.2 points and 9.3 rebounds per 36 minutes on a respectable 45.6 percent shooting in his new digs. He's helped stretch opposing defenses in ways Pau Gasol never did and has, for the most part, been a source of consistency for the Lakers on the defensive end.
I'm not sure it's dawned on anybody that the Lakers essentially got two starters in this deal. That's what we call maximizing the return on Andrew Bynum. It's also what we call a little bit of luck.
As a free agent after this season, Clark's future appeared to be headed to the D-League or even overseas. Following a resurgence of sorts with the Purple and Gold, though, he will likely find himself attached to the highest bidder this summer.
Not bad for a guy who had never averaged more than 12.4 minutes per game until this season.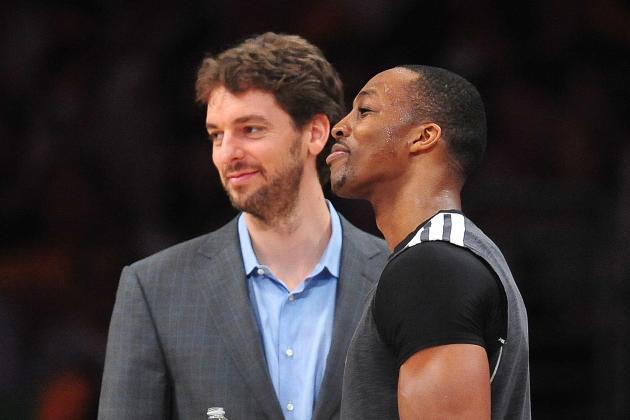 Gary A. Vasquez-USA TODAY Sports

Pau Gasol would have battled injuries whether the Lakers had traded for Dwight Howard or not, but what he wouldn't have had to do was come off the bench.
The Spaniard's inability to play the part of a conventional stretch 4 left Mike D'Antoni no choice but to bench the seven-footer. Los Angeles was being outscored by an average of 1.3 points per possession with Howard and Gasol on the floor together, and demoting Howard was the less viable option.
At 32, it's universally thought that Gasol can still play. When he's healthy, that is. But save for a few outbursts, he hasn't performed well when on the court, either.
Before a partially torn right plantar fascia forced Gasol to the sidelines indefinitely, he was averaging a career-low 13.4 points per game on a career-worst 45.3 percent shooting.
Translation?
His not-so-graceful demise has left some serious doubt as to whether Gasol still has a future with the Lakers in the Dwight Howard era.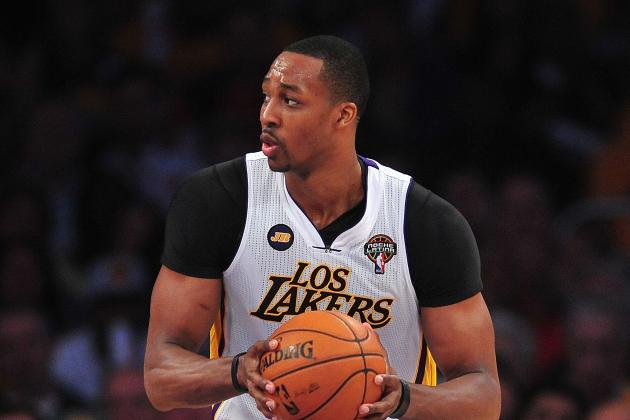 Gary A. Vasquez-USA TODAY Sports

Dwight Howard is in a win-win situation.
He has the option of spurning Los Angeles in free agency and taking his talents elsewhere, which is the type of freedom he has always craved. There will be no voiding his rights to become a free agent this time around.
His time with the Lakers (and Magic) has, if nothing else, taught him that he can't please everyone. He's now in it for himself and isn't afraid to admit it.
Having returned statistically and helped the Lakers re-enter the playoff fold has also put Howard back in the good graces of the Los Angeles faithful.
He finally seems acclimated to his surroundings, and his commitment to helping the Lakers win is no longer being questioned.
Could things with Kobe Bryant be better?
Perhaps, but while the Mamba admitted they're not "best friends," they're still on good terms.
Back to his dominant self, and with ability to shape his own future, Howard is in the ultimate position of power.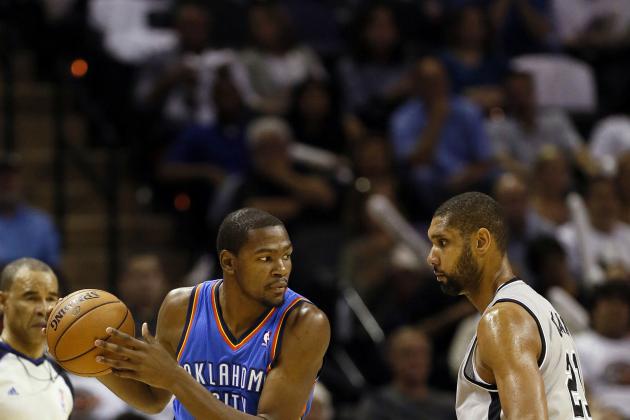 Soobum Im-USA TODAY Sports

This does not insinuate that the Lakers are destined to pull off the first-round upset, but they are going to make the playoffs, and they're going to be a tough out.
For a top-seeded team like the San Antonio Spurs, Oklahoma City Thunder and even Los Angeles Clippers, that's a loss in and of itself.
Though Los Angeles has a combined 1-8 record against these foes (thus far), the team still consists of Dwight Howard, Kobe Bryant and Steve Nash in the same starting lineup.
Potentially having Pau Gasol come off the bench only adds to the intrigue behind what could be the most expensive Cinderella-esque run in NBA history.
Like it or despise it, the Lakers are beginning to string together some victories. The "how" of it all doesn't particularly matter, but the fact that they're winning does.
So long as the wins continue to stack up, one unlucky powerhouse is going to incur a far more arduous postseason trek than they originally bargained for.